Hiring a Private Chef on Maui
Back

Hiring a Private Chef on Maui
Hiring a private chef to cook a meal for you in your vacation home is the perfect way to celebrate a special occasion, or just enjoy a fabulous night with friends and family. There are usually many catering options in popular vacation destinations, however, some are better than others.
To help answer some of the most common questions about hiring private chefs, we reached out to Marluy Andrade and Daniel Radovcich, co-owners of The Beast & Spoon, one of the best private chef services on Maui. Here below they tell us the kind of services that they provide as well as an idea of pricing.
1. Briefly tell us about The Beast & Spoon.
The Beast & Spoon is the brainchild of two foodie-best-friends that quit their corporate jobs in NYC to create a personalized and unique personal chef service on Maui.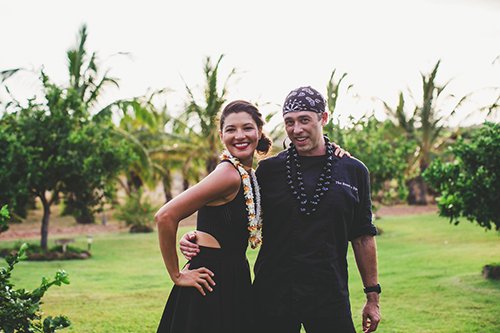 2. Do you offer breakfast, lunch and dinner menus?
Yes, we focus on every opportunity to eat, and are passionate about cooking to our clients' desire.
3. Do you offer both set menus and personally tailored options? And can you accommodate special diets including food allergies?
The menus were inspired by NYC's magnetic food culture and infused with local Hawaiian ingredients. Since we understand that food is subjective and everyone has different needs, our first step is a menu consultation with Chef Daniel - where each menu is tailored to their specific needs including full customization for all dietary restrictions.
4. Will you go to people's vacation homes and prepare meals or do you cook before and bring the food to the home?
Our focus is on the art-form. We arrive about two hours in advance to fire everything on the spot. We feel that most ingredients only have a tiny window of perfection.
5. If cooking in the home, do you bring cooking and service tools or do people need to make sure they have things on hand?
Most homes that we operate in have incredible state-of-the-art kitchens. But to ensure flawless execution we have a log of each property and bring tools that they might not have (salad spinner, platters, etc). We ALWAYS bring our own knives though.
6. Do you serve the food are you able to arrange for servers?
Every dinner party is executed by at least one chef and one server. For larger parties, we bring as much help as necessary for smooth operations.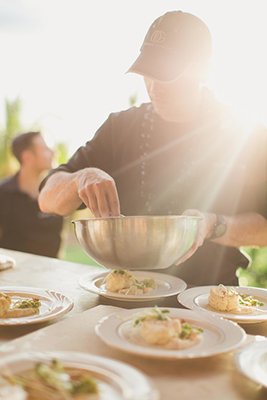 7. How does your pricing work? For example, do you have set menu pricing and pricing for tailored menus?
We try to simplify pricing by charging a "per person fee." It ranges from $100-$300. Keiki under 14 years old are complimentary. Tailored menus are welcomed at no additional cost.
8. To give us an idea, what would the price range be for a three course dinner menu for a family of five? Can you give us a range of rates that would include an appetizer, main course and dessert?
A 3 course dinner, served "family-style", for a party of 5 is $150/person or $750 plus tax. This includes one appetizer, two proteins, two sides and one dessert.
A 3 course dinner, served "plated", for a party of 5 is $200/person or $1000 plus tax. This includes one appetizer, two choices of entree and one dessert.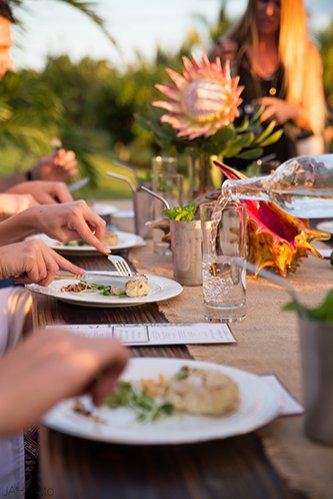 9. What about catering a holiday meal? Do you offer a set holiday menu with favorites like turkey or ham?
Yes, our holiday menu includes leg of lamb and local pheasant, as well as turkey and ham.
10. Some people will be traveling to Maui for New Year's Eve. Is there a menu of hors d'oeuvres that are offered for people having holiday parties? How would it be priced – by person?
Our hors d'oeuvres menu is sublime. It is $100/person with a $1500 minimum during the holidays and includes about 6 different dishes.
11. How far in advance do you recommend people plan to book private chef services?
3 weeks ahead for most of the year, except holidays, which should be booked 3 months in advance to secure the dates you want.
12. What parts of the island do you serve?
We serve all of Maui.
13. Any other tips that you can give people who may not be familiar with using a private chef or caterer?
Be prepared to share the dietary wishes of the entire party. Have an open mind about taking advantage of the local ingredients offered in Hawaii, versus ordering traditional dishes that need to be flown in. Don't be shy about requesting exactly what you want...Chef Daniel was classically trained at Le Cordon Bleu and can cook anything.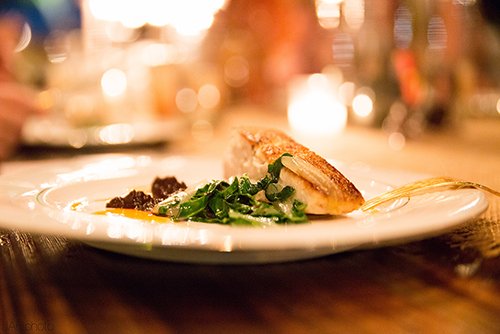 Thank you to The Beast & Spoon for giving us such valuble insights. Check out their website for more information and to plan your special meal before you get to Maui!
http://www.thebeastandspoon.com/