Vacation Obama Style!
Back

John Di Rienzo
November 2, 2015
We have all seen the photos, the First Family on vacation frolicking on a beach in Barrack Obama's homeland of Hawaii. But where exactly are they staying? Is it his family's home or on loan from a friend? Is it available to the public and if so how much does it cost to stay there?
All around the world there are glorious residences that have either hosted famous guests or were owned by them. We are Hawaii specialists, so we will focus on two such homes here in Hawaii that are in our boutique collection of luxury homes.
The first home is on the Hawaiian island of Oahu. The home is not the largest home in our collection nor is it largest in Kailua, where it's located. It is however, one of the more private homes.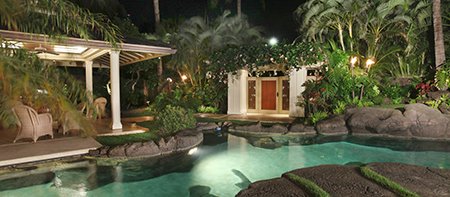 The house is aptly called the Pacific White House Rental on our website. What makes this home so attractive to celebrities and Presidents, besides its luxurious features and epic beachfront views, is its location on a private road within a gated community. With space for four cars, you have room for a "celebrity-level" security entourage. Now, you may not need to have the Secret Service outside your door, but if you want to ensure a private and secure spot for you and your family, for whatever reason, this home has a lot of appeal.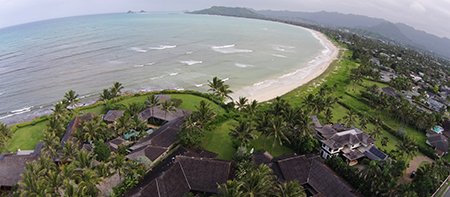 What you will get with the Pacific White House Rental is a large, single-level home with five (5) bedrooms and five and a half baths (5.5). There is a spectacular lagoon-style pool that is the centerpiece of the backyard, which has a Jacuzzi and waterfalls for an over-the-top Hawaiian vibe. The yard runs right out to world-famous Kailua Beach so the ocean is just a short walk away.
The bedrooms are all regal, including one with a four poster bed. The home has a Great Room that offers arched ceilings and living and dining areas that can easily accommodate 10 people comfortably. You also have a media room with a huge flat screen TV. You can almost imagine the Obamas and the odd Secret Service agent hanging around playing games after dinner.
if you're like the First Family and like to stay fit, the home features an exercise room with elipitcals and other gym-quality machines.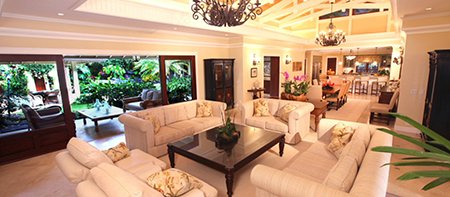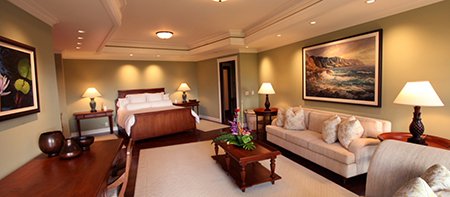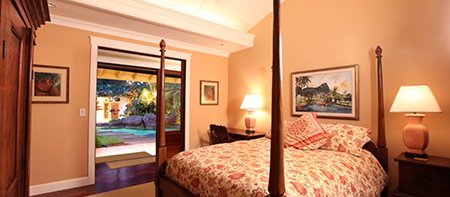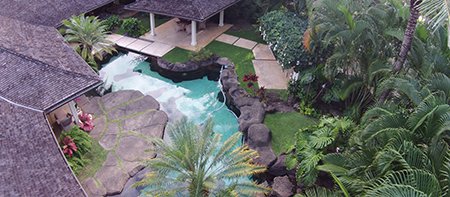 What will it cost to sleep in the same bed that the President slept in? Pricing starts at $4,200 per night. But you can bring up to 10 of your closest friends and family with you to enjoy the ride!
Our second home was owned by world-famous stylist, Paul Mitchell. Also located on Oahu, the Paul Mitchell Estate is more flamboyant and flashy than the Pacific White House.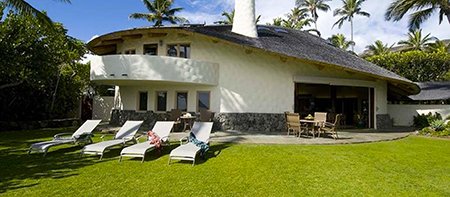 The home is larger, with seven (7) bedrooms and seven (7) full and three (3) half baths, and can accommodate up to 14 guests in all.
Paul Mitchell built the estate, which would be his dream home, in the 1980s. The Estate sits on coveted Lanikai Beach and takes full advantage of the views of the Mokulua Islands off of Kailua. The home has a unique and dramatic style that incorporates a lot of Hawaiian elements in the interior design. The Estate also has a fab pool with a waterfall and Jacuzzi.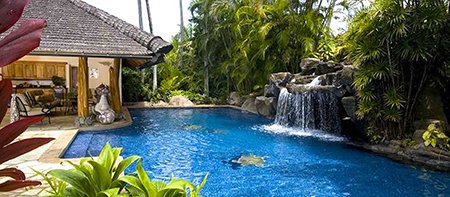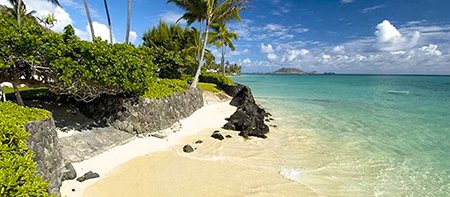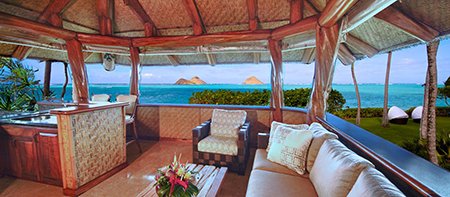 With all of Paul Mitchell's fabulous friends, one can only imagine the cast of characters that has enjoyed staying in the home. To run in Paul Mitchell's circle, prices start at $6,250 per night.
Both of these homes are fabulously located and appointed with all the luxuries you could want in a Hawaiian vacation home. Are they pricey – perhaps. But you only live once and if you are looking for a memorable stay in a home with a grand pedigree, then these properties more than fit the bill.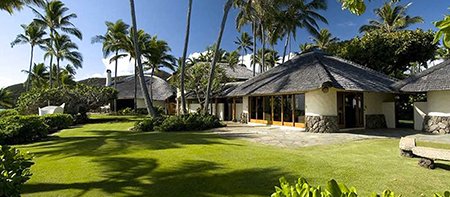 There are other homes in our collection that belong to famous people who prefer to fly under the radar, so you never know! If you ask our Villa Specialists, they may let you in on the secret!
Blog Subjects: Hawaii