Big Island of Hawaii Visitor Guide
Welcome to the Big Island
The Big Island or, Hawai'i (Hawaii), truly has it all and the diversity here is like none other in the world. The Big Island beaches are world-class and the island also boasts lava deserts, beautiful rain forests, an active volcano, and, believe it or not, even snow-covered mountains.
The island of Hawaii is about the size of Connecticut and can fit all of the other Hawaiian Islands within its perimeter. This is the biggest island in the state, so it is commonly referred to as the Big Island. However, its Hawaiian name is Hawai'i. The state was named after this Hawaiian Island because this is where King Kamehameha the Great was born. In short, he's the guy who brought all the islands under one rule for the first time. Generally speaking, most people refer to Hawaii as the Big Island, and we will too.

The Big Island is the youngest of the Hawaiian Islands and features one of the world's most beautiful active volcanos, Kilauea. As the hot lava meets the Pacific Ocean, this unique island grows larger every day. The volcanic activity is concentrated to the far southeast point of the island, about 100 miles away from the popular resort areas on the Kohala coast. Although we have all seen dramatic pictures of lava flowing, keep in mind that the resort areas are pretty far away.
Visitors are sometimes unprepared for the Big Island's vast size and geological diversity. With over 4000 mi.², the island has so much to offer! In fact, this island is so big that it's almost impossible to see all our favorite sites in just a few days.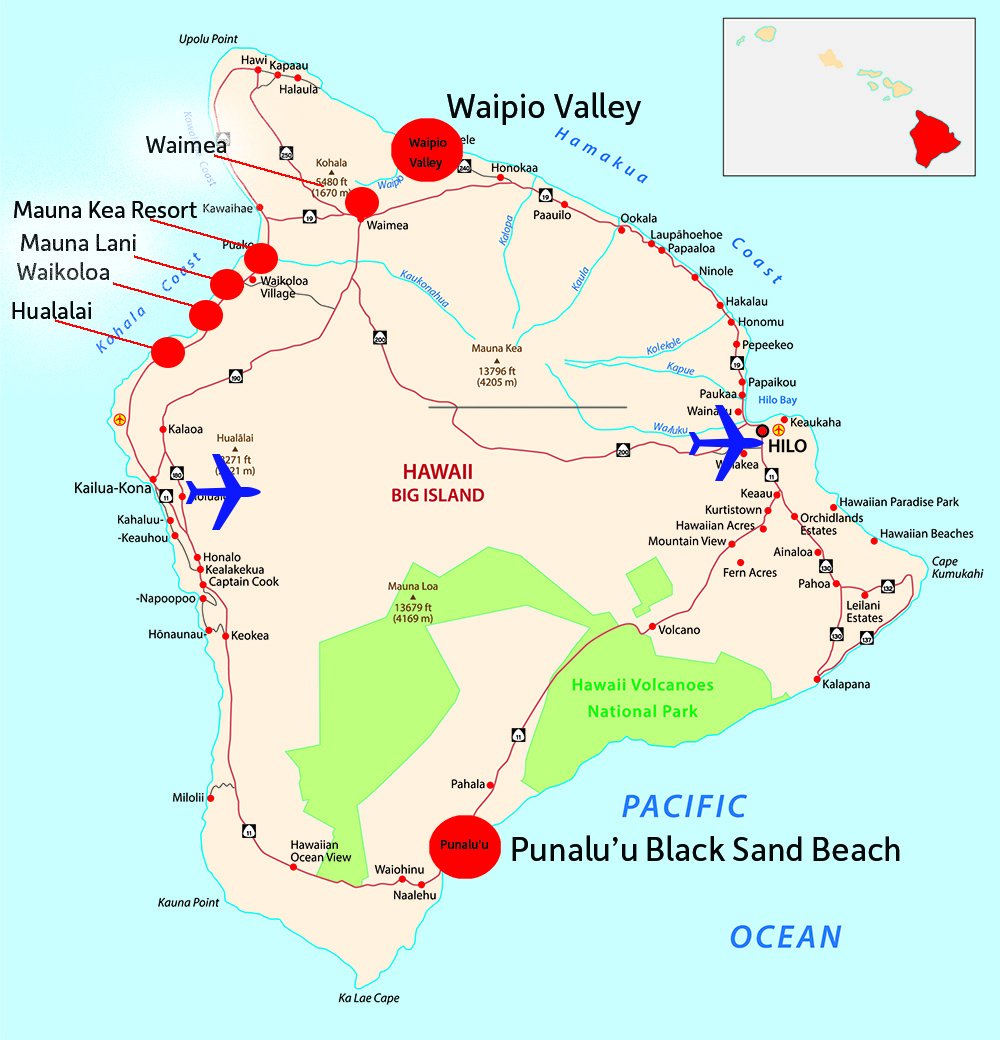 Exotic Estates offers beautiful and inspected villas on the Big Island's most desired resort areas from Hualalai to Mauna Kea. Many of our Big Island Vacation Villas are on championship golf courses, featuring incredible ocean and fairway views.

Big Island Weather
The weather on the Big Island is more diverse than any other island! According to the Köppen Climate Classification System, The Big Island has 10 of the 15 types of climatic zones in the world. No matter what type of weather is your favorite, you will most likely find it on the Big Island.
Traditionally, Kailua-Kona is warm all year round. In February, the average high temperature is 80°F with a low of 64°F. This is considered to be the coldest month. In August, generally the warmest month, the average high is 87°F and low is 69°F. The humidity on the Big Island is usually between 50% and 80%. Interestingly, the temperature change between daytime and nighttime is greater than the temperature change between summertime and wintertime. This is why we suggest adding a light rain jacket and warm clothes on our packing list!
Normal conditions along the Kona-Kohala coast often make for clear mornings, with clouds from thermal heating rolling through in the afternoon. Morning time is usually best for outdoor activities such as helicopter tours, hikes, and snorkeling. During the summertime, evening rain showers sometimes occur.
Most of the rainfall occurs on the Hilo side, which is one of the wettest cities in the United States. Annual rainfall here is rarely less than 100 inches but doesn't fall year-round. For this reason, the Kailua– Kona side is much more popular as most visitors to Hawaii are seeking sunny weather and warm beaches. However, Hilo is not to be missed, and you can get an up close and personal view of the Hilo side from our friends at Paradise Helicopters! Learn about the various areas of the Big Island in greater detail.
Getting to the Big Island
Nonstop Flights from the U.S. Mainland

When planning your trip to the Big Island, it is essential to work with someone who has either traveled to or lives on the island. That's why many vacation renters choose to work with Exotic Estates, our Villa Specialists have collectively toured most of our Big Island villas. They can help you decide which part of the island is ideal for your Hawaiian holiday and help you find the best vacation rental for your group.
Most major airlines provide direct service to the Big Island into Kona (KOA). Alaska Airlines flies nonstop to Kailua-Kona from Seattle, Portland, Oakland, San Jose, San Diego and Los Angeles. If you're traveling from another major city, American, Delta, Hawaiian, United, Alaska, and Air Canada provide options.
Local Tip: if you are not flying direct, you will most likely change planes in Oahu. On the short, inter-island flight, friendly flight attendants will serve you juice, and if you're lucky enough to sit on the left side you will have the best views!

Packing for Your Big Island Vacation
Depending on where you choose to stay on the Big Island, we have put together a list of suggested packing items.
Climate Zones on the Big Island
Think generally about the Big Island areas as follows:
West Low Elevations: Dry/Sunny
South Low Elevations: Wetter/Warm
East Low Elevations: Wet/Tropical
Upper Elevations: Cool
Pack Accordingly
Because you may want to explore the different zones and experience various micro-climates. Here are some packing ideas:
At least two bathing suits, so you can alternate every other day.
Summer dress clothes (for some of the nicer hotel restaurants)
Rain jacket (especially if you are coming during winter or staying upcountry or on the east coast north/south of Hilo).
Hat or another cap for sun protection (all seasons, but essential during summer)
Reef-friendly sun block (Be sure to check)
Hiking shoes (very important if you are going to explore some parks and forests)
Flashlight (if you plan on hiking around caves or lava)
Charged iPhone or DSLR camera
Mosquito repellent for some hikes
Small backpack for easy movement
Reusable water bottle (please, no plastics on the Islands)!
What Not to Pack
Items Readily Available at Your Vacation Rental (Don't Pack)

Kona International Airport
Serving the West side of the Island of Hawaii, Kona international airport (KOA) is one of the island's two major airports. There are two small restaurants, so if you are hungry upon arrival you may want to relax and eat before starting the drive to your vacation rental. Kona International is exactly as you might imagine, decorated with tropical green foliage and free of walls allowing you to take in the gorgeous scenery of this incredible paradise.
Spoiler alert: Some travelers are shocked when they fly into Kona for the first time as part of the airport sits on top of lava flow dating as far back as 1801. Although the striking scenery may seem beautiful if a bit barren and desolate, don't worry, the resort communities further up the coast are lush and beautifully landscaped!
Big Island Car Rental
Nearly every visitor to the Big Island uses a rental car as their main transportation, and for good reason, it's a Big Island and folks want the freedom to explore its many incredible natural wonders!
At the Kona Airport, you will take a short shuttle bus ride to the rental car area. Be sure to reserve your rental car well in advance, since companies can run out during peak times.
Locals Tip: for adventurous travelers who are looking to travel outside of the resort areas of the Big Island, we highly suggest renting a four-wheel drive vehicle. They are more expensive, but there are several roads, beaches, and other sites that you cannot visit without 4WD.
Getting to Your Big Island Vacation Rental & Resort
Once you have your rental car, you will notice the gas is most likely much more expensive than back home (with the exception being California!). Kona is said to have among the highest gas prices in the US, so be prepared to drop some dough at the pump. You will find various stations between the airport and your vacation rental.
If you have a Costco card, make the most of it and stock up on gas and other items! See below.
Big Island Vacation Rental and Villa Renters - Stocking Up
We highly suggest stopping at the Kona Costco before making your way to your vacation home. This is a great way to stock up on local meats, fruits, and even some wine and beer. Don't forget your membership card!

If you're not a Costco member or do not need bulk food for your group, there are plenty of local grocery stores. The Kings Shops and Queens Marketplace at the Waikoloa Resort are a great option for stocking up on grocery items for your vacation rental. You will also find shopping, restaurants, and various diving and snorkeling shops in those shopping centers. Consult with your Exotic Estates Villa Specialist on which grocery store is closest to your vacation rental.

Big Island Scenic Drives
The long and scenic road to your vacation rental is unique in the world and features towering volcanic mountains, rolling hills of volcanic rock, and the sparkling blue Pacific Ocean hugging the rugged coastline.
Hualalai is the first resort north of KOA and takes about 15 minutes to reach from the airport. From here, Waikoloa is the next stop, sitting about 20 minutes further North. A little further down the road is beautiful Mauna Lani and the original Mauna Kea Resort follows, at a little over 30 minutes from KOA. In short, be prepared for a long and scenic drive before arriving at your Exotic Estates Big Island rental, which will typically be located in one of the Kohala Coast resort areas.
How Big is the Big Island of Hawaii

A circular trip around the island would be around 222 miles! If you spent time driving around, you would pass through multiple climates and terrains. If you have the week on the Big Island, we suggest that you spend the majority of your time on the Kona side but set aside two or three days to experience the Hilo side. Hawaii Volcanoes National Park is immense and can take up to two days to explore. It is much closer to Hilo than Kona.

Kona and the Kohala Coast
The Kona side of the Big Island is the most well-known, as it has most of the sunshine. With a perfect climate and plenty of shops and restaurants, most vacationers will spend their time here. The Kona side is also where you will find many of the activities expected on the Hawaiian vacation. The Kohala coast is on the Leeward side of the island, providing the calmest and clearest water in the state, which makes for incredible swimming, snorkeling, scuba diving, and deep sea fishing. The Kona side is also where you will find easily accessible beaches!
Resort Areas of the Big Island
Hawaii Vacation Villas in Resort Communities

Hualalai
Hualalai is just north of the Kona airport and offers for those looking for ultimate luxury during their Big Islands stay. The Kona-Kohala coast was once home to a fishing village and has been transformed into the coastal community it is today, setting the new standard in hospitality. Hualalai is just a small part of this, offering a quiet and luxurious ambiance coupled with the anxious culture and spirit of Hawaii.

Waikoloa
The south Kohala coast is where you will find the Waikoloa Resort and many vacation rentals. Waikoloa Village, just up the slopes, features shops and restaurants. This area also contains the Anchialine ponds, which host a unique ecosystem. Nearby you will also find Anaeho'omalu Bay, which is home to Ku'uali'i and Kahapapa Fishponds. One of our favorite places to watch the sunset and have a few drinks is the Lava Lava Beach Club. Everyone usually makes their way down to Lava Lava at some point during their stay!

Mauna Lani Resort
Nestled further up along the sunny Kohala coast is the gorgeous Mauna Lani Resort. Mauna Lani means "Mountain Reaching Heaven" and is the perfect place to relax and enjoy the gorgeous scenery of the Big Island. This area is the perfect blend of nature, culture, and quiet Hawaiian living!

Puako - Big Island
Puako is a small oceanfront community along the Kohala coast near Hapuna Beach. This is one of the driest areas on the Big Island and offers some charming vacation rentals. In Puako you will find a lot of petroglyphs carved into volcanic rocks. Here you can see over 3,000 of these ancient rock drawings, offering an incredible glimpse into Hawaiian history! Puako can be attractive for couples or those looking for a quiet location. Our favorite activity here is strolling along the shore and exploring the tidal pools home to various marine life.

Mauna Kea Resort
Mauna Kea is one of Big Island's most popular resort areas and offers ocean-view luxury villa and condo rentals. This area was built around the white sandy beaches of Hapuna and Kauna'oa, and gets its namesake from the world's tallest mountain, Mauna Kea. Mauna Kea is only 30 minutes north of the airport and about 2 ½ hours from Hawaii Volcanoes National Park.
Waimea and The Saddle

East, inland, and up from the more volcanic-looking Kohala Coast, you will find Waimea, which is truly different than any other place on the Big Island. Also known as "Paniolo," which means cowboy in Hawaiian, this country town is home to historic cattle-filled ranches, breweries, and Hawaiian cowboys strutting their stuff. Waimea sits at an elevation of 3,000 feet, near some of the most spectacular hikes in and around the Waipi'o Valley.

As you make your way to this small town, you will notice the rolling green hills, home to cows and other pasture animals. Several ranches around Waimea offer an opportunity to explore the pastures and enjoy incredible views of the coastline, surrounding peaks, and volcanoes!
Local's tip: Take a drive through Waimea on a Saturday morning so you can enjoy the farmers market. For lunch, stop at the big Island Brewhouse for a local beer tasting!
Hilo Side
While the Kona side of the island has a stark and rugged beauty, the Kona side has the lush greenery most expect to find in Hawaii. Because Hilo receives around 140 inches of rain annually, it has a classically tropical feel. Hilo also features breathtaking waterfalls that tower over vast green valleys, some of the most beautiful natural sights on the island!
Gorgeous Rainbow Falls is located near Hilo.

Gorgeous Rainbow Falls is located near Hilo.

Volcanos & The Twin Sisters
The Big Island is made up of five volcanos, Kohala is the oldest and is located on the north side. Next came Mauna Kea, followed by Hualalai, Mauna Loa, and last but most certainly not least, Kilauea.

The island's two tallest mountains, known as the Twin Sisters, dramatically rise over 13,000 feet above sea level. These are sacred places to the Hawaiians. Interestingly, Mauna Kea is 13,976 feet and is the tallest mountain in the world when measured from the base, while Mauna Loa is slightly shorter but much wider. If you visit the island during the winter months, you may get lucky and see the phenomenon of tropical snow on the peaks of these giants!
Hawai'i Volcanoes National Park
The Volcano area is primarly located in the South of Kau region.

This incredible national Park is one of the biggest draws to the Big Island. The entire area is sacred to the Hawaiians, as it is home to Madame Pele, who resides in the heart of Kilauea Volcano. The Park reopened to great fanfare after the destructive eruptions of 2018. Visitors who take the time to visit these spiritual places will be rewarded with an incredible landscape unlike anywhere else on earth. Standing in the vast lava fields, one feels as if they are standing on the surface of primordial earth.
Here are some quick takeaways:
The park is massive with more than 330,000 acres
It runs from sea level to the top of Mauna Loa, at 13,667 ft.
Cars pay $25 to enter the Park
The Park is open 24 hours daily
The volcano is not erupting as of November 2019, but that does not take away from the wonder of it all

Kilauea Volcano
Kilauea, arguably the most popular, is quiet after one of the longest-running eruptions in history. The volcano, home to the Hawaiian Goddess of Pele, has added land and increased the size of the Big Island dramatically. This incredible geological wonder is best seen by a Big Island helicopter tour. The scenery here is constantly changing, as trails are absorbed and new black sand beaches created.
Big Island Activities

The Big Island has so much to see and do that it's almost impossible to do everything during your vacation. Among the most popular activities are snorkeling, golfing, hiking, deep sea fishing, and scuba diving. Of course, two of the most unforgettable activities would be visiting the volcano and touring the island by helicopter. Other fun activities include kayaking, horseback riding, boat trips, whale watching, and even snow skiing and snowboarding! If you only have time to experience one excursion, we suggest a tour of the volcano on foot or by air!

Although it is sometimes less expensive to book an activity directly with the individual provider, this is not always the case. You are not likely to see opportunities for booking while out and about, so it's best to prearrange well before your trip.

Our dedicated Concierge can help you book any activity on the Big Island. Contact your Villa Specialist today, who can put you in touch with your private Concierge for assistance with helping you craft the Big Island vacation of your dreams.

Beautiful Beaches & Sights
Although the Big Island has the reputation of being an island without beaches, this is definitely not the case! In the past, the Big Island lacked access to some of its most glorious beaches, but this is no longer the case. Although this Island does have fewer city beaches than the other Hawaiian islands, there are certainly plenty of options along the Kohala Coast.

In fact, the Big Island features white sand, golden sand, black sand, mixed sand, and even green sand beaches! The photo above was taken at amazing Punalu'u Beach on the southern part of the island. In addition, Hapuna Beach is generally named one of the best beaches, and Mauna Kea is another fabulous beach located on the Kohala Coast in the Mauna Kea resort.
The most important thing to be aware of when visiting any Hawaiian beach is the surf. Although it's generally calmer on the west side of the island, some visitors are unprepared for the strength of the Pacific and should approach any beach with caution and consult with local lifeguards on conditions.

Golf on the Big Island of Hawaii
If you are looking to golf exclusively while in Hawaii, the Big Island has world-class options. The island has some of the most beautiful courses in the world. Conditions are usually perfect in the morning, with low winds and warm air. Some courses offer discounts in the afternoon or at 3: 00 PM, so check around to see if this is an option for you and your group.
The best courses are located on the Kohala coast. Two are located in Mauna Kea, both the Mauna Kea Golf Couse and the Hapuna Golf Course. There are two more courses at the Mauna Lani resort, the North Course and the South Course. Down south in Waikoloa, you will find Waikoloa Kings' or the Waikoloa Beach Kings. Waikoloa Beach is another option in this area.

Snorkeling & Scuba Diving on the Big Island
Whether you have come to the Big Island as a certified scuba diver or you are just interested in trying it out, you have landed in scuba paradise! The Kona waters are mostly shielded from winds and the ocean swells, so calm waters are the norm. Here you will experience warm water, averaging 75°F at the coldest (February) and 82°F at the warmest (October). It is not uncommon to have 100-foot-plus visibility!
You can choose between a boat dive or a short drive, and boats usually leave from Kailua Pier or Honokohau Harbor. A typical dive will include two tanks and two different dive sites, and the price range varies depending on the gear rentals you require. The Big Island does not have a decompression chamber, so don't forget the golden rule of not flying after a dive. You also want to be careful of where you are visiting or driving within the 24 hours after your dive, as some of the mountains tower over 13,000 feet. Keep this in mind when scheduling your scuba diving and mountain adventures.
To ensure you're receiving the best experience and service, connect with our Concierge who can schedule your dive with the best and most experienced dive outfitters on the Island.
Snorkeling is a great option for families traveling with kids, and the Big Island offers the chance to see some of the most amazing sea life up close and personal. The Big Island features an impressive 600 varieties of fish. If you didn't travel with your own snorkel and mask, there will be plenty of places to rent or purchase these items.
Please do not feed the fish as this introduces unnatural behavior. Be sure to swim as calmly as possible so that you don't spook the fish and be patient as fish are naturally curious and will eventually come around to check you out as well!
Local's Tip: Be sure to check out the Manta Ray night dive, one of the most incredible experiences the Big Island has to offer!

Fishing on the Big Island of Hawaii
Kona is famous for big game and deep-sea fishing, as the waters off of Kona coast Drop off to great depths providing a haven for large fish. The most talked about fish are Marlin, some weighing in over 1000 pounds. Another popular fish is called ono, also known as wahoo, which is a large and very delicious catch. Also in abundance are mahi-mahi and ahi (Yellowfin Tuna).
Although fish can be found year-round on the Big Island, they are more prevalent in the summertime. Most boats leave out of Honokohau Harbor, which is just north of Kona. If you are looking for a particular fish, keep in mind that most boats don't target anything in particular, an troll for whatever is biting. Be sure to check with your captain regarding whether or not you should bring aboard your own food and beverages.

Helicopter Tours on the Big Island
The Big Island has so many fantastic areas that are breathtaking when discovered by air. If you are looking for a knowledgeable pilot who can take you on an exciting tour with accurate information, book a tour with our friends at Paradise helicopters. You will be blown away by the volcanic activity, coupled with the tropical foliage and the sparkling Pacific Ocean. Early morning tours are the best option, however, there are trips available all day long.
For more details on what you can experience on this unbelievable helicopter tour, visit our blog post!

Hiking on the Big Island of Hawaii
The Big Island features a variety of hikes offering something for any experience level. Whether you want to wander through the rain forest, walk across a volcano, or even stroll along an empty tropical beach, there's something for you.
Depending on where you plan to hike, hiking sandals or light trail shoes will work fine for most of the trails. If you do plan on visiting the volcanoes, we suggest more durable shoes that can stand the sometimes-jagged lava rock and muddy conditions. If you forgot to pack these essentials, you can find temporary options at most of the shops and possibly even Costco.
The best hiking on the Big Island is found in and around Hawaii Volcanoes National Park. You will find hikes for all abilities, including a Birdpark, Devastation Trail (to see how the lava affects the foliage), and the Pu'u Loa Petroglyph Trail.
For a detailed list of current hikes on the Big Island, check out Big Island Hikes, which includes the most up-to-date list of hiking trails and an interactive map. You can also consult with your Exotic Estates Villa Specialist to ensure you are properly prepared for your adventure.
Big Island Vacation Rentals
Exotic Estates Big Island vacation rentals are varied. They run from family-friendly condos to stellar oceanfront villas. The majority are located in the resort areas of the well-serviced Kohala Coast. We think this area is ideal, as it offers the very best of all worlds, with resort-style amenities and private home living.
Whether you're looking for a large, open design with plenty of outdoor living space to spend quality time with the family or for a private and secluded couples' getaway for a honeymoon or anniversary trip, the Big Island will offer options.

Exotic Estates offers beautiful and inspected Big Island luxury vacation rentals along the Kohala coast of the Big Island.
Our villas vary in size, ranging from 2 to 7 bedrooms, with the nightly rate ranging from $495-$14,000 per night. When you book a villa with Exotic Estates, you will benefit from knowledgeable Hawaii-based Villa Specialists who can help advise you on the ideal villa and plan your Hawaiian escape.

Many of our villas are located on championship golf courses and feature incredible Ocean and Fairway views. Our guests enjoy ultimate privacy, private pools and hot tubs, and the ability to cook group meals in fully equipped kitchens.

Our Villa Specialists have traveled to this incredible destination to inspect most of our Big Island villas to ensure they are of excellent quality. We have toured and inspected our villas on the Big Island and the other Hawaiian Islands, experienced some of the best activities, and traveled to the most popular sites. We strive to provide our guests with a luxuriously local experience and can't wait to help you plan your trip!