Paradise Helicopters Offers a Bird's-Eye View of Paradise
Back

Hawaii is one of the most exotic and dramatic destinations on earth, offering gorgeous coastlines, lush green rainforests, soaring mountains, deep valleys ringed with waterfalls, and, of course, the world's most active volcano. If you could take a private tour and gain access into some of the most remote and wild parts of the Hawaiian Islands for only $150, would you do it?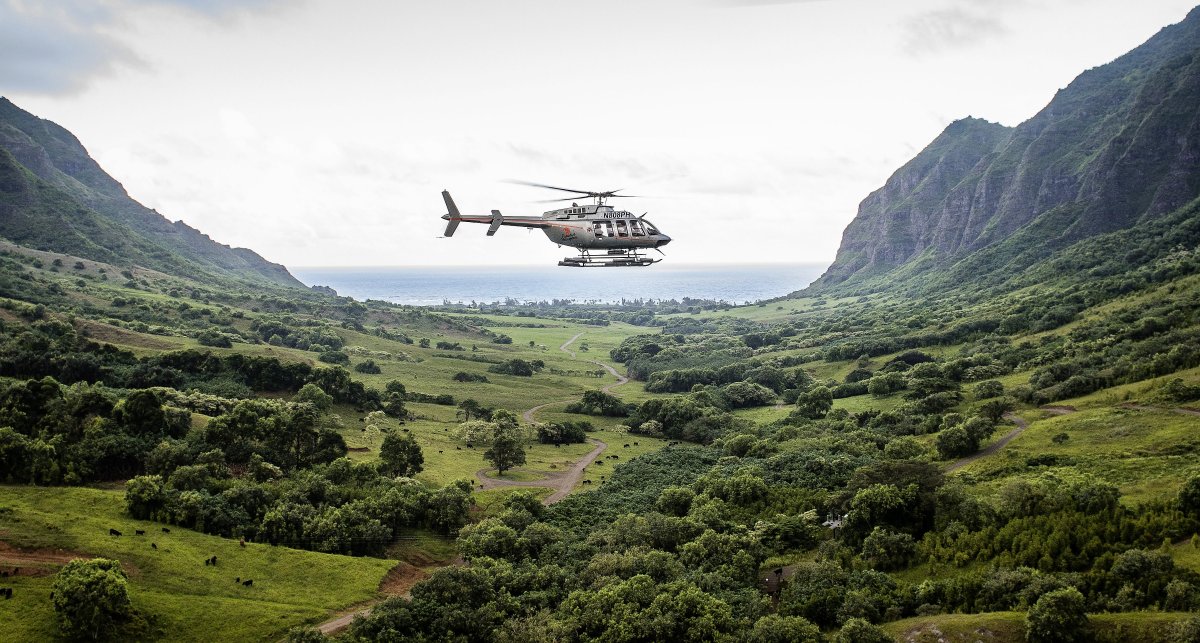 This kind of exclusive access is exactly what Paradise Helicopters offers visitors to Hawaii.
In many ways, a helicopter tour is the only way to experience Hawaii's dramatic beauty up close and personal, and Paradise Helicopters makes it easy for you to incorporate a reliable heli-tour experience into your itinerary, on Oahu, Lanai and the Big Island. Moreover, they offer custom, charter flights, so you can share the experience with your group.
The company's team of highly trained and outstanding pilots will safely fly you over some of the most beautiful scenery in the world. Imagine having a bird's-eye view of the pounding surf on Oahu's North Shore, or the inaccessible nooks and crannies of the Koolau Mountain rainforests on windward Oahu, and, of course, the wondrous, fiery display of Kilauea Volcano on the Big Island.
Exotic Estates recently partnered with Paradise Helicopters on its Hawaii Villa Escape Sweepstakes. The winners of the sweepstakes will enjoy a custom tour of the Big Island and its volcano. We are pleased to be able to recommend Paradise Helicopters and give you a glimpse of what they offer travelers.
Paradise Helicopters - a "Local" Hawaiian Company
Paradise Helicopters, founded in 1997, is locally owned and operated. This award-winning and veteran-owned company is widely recognized for its safety practices and, of course, exclusive helicopter tours.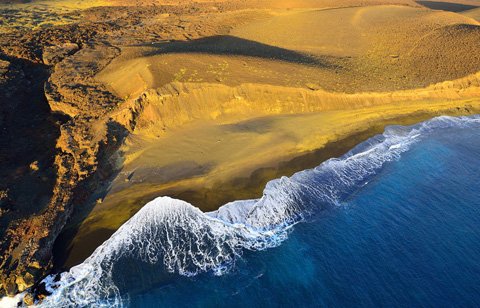 Flights are offered from Ko Olina at Kalaeloa Airport, Turtle Bay Resort on Oahu, Lanai Airport (serving the Four Season Resort Lanai), and from Hilo and Kona on the Big Island.
HISTORY AND WWII BUFFS TAKE NOTE! Paradise Helicopters also features specialty flights on an authentic WWII aircraft, the only tour on a Warbird that flies over historic Pearl Harbor.
With almost 20 years of Hawaii-flying experience, Paradise Helicopters has created long-lasting relationships with local communities, providing you with top-notch service on all of the islands.
These connections allow Paradise Helicopters to offer you some of the best landing spots in the Islands, providing exclusive expeditions on some of the most remote and private spots in Hawaii.
Paradise Helicopters is also an enthusiastic supporter of Hawaii's nonprofit, government and community organizations, and including environmental organizations. The company donates a portion of sales to the Daniel Sayre Foundations, a nonprofit that is dedicating to providing essential equipment and training to the Hawaii Island Fire Department.
Paradise Helicopters also operates flights for invasive species identification and eradication, watershed rehabilitation, firefighting, and tree planting to support the preservation and conservation of Hawaii's forests.
The Best and Most Trusted Pilots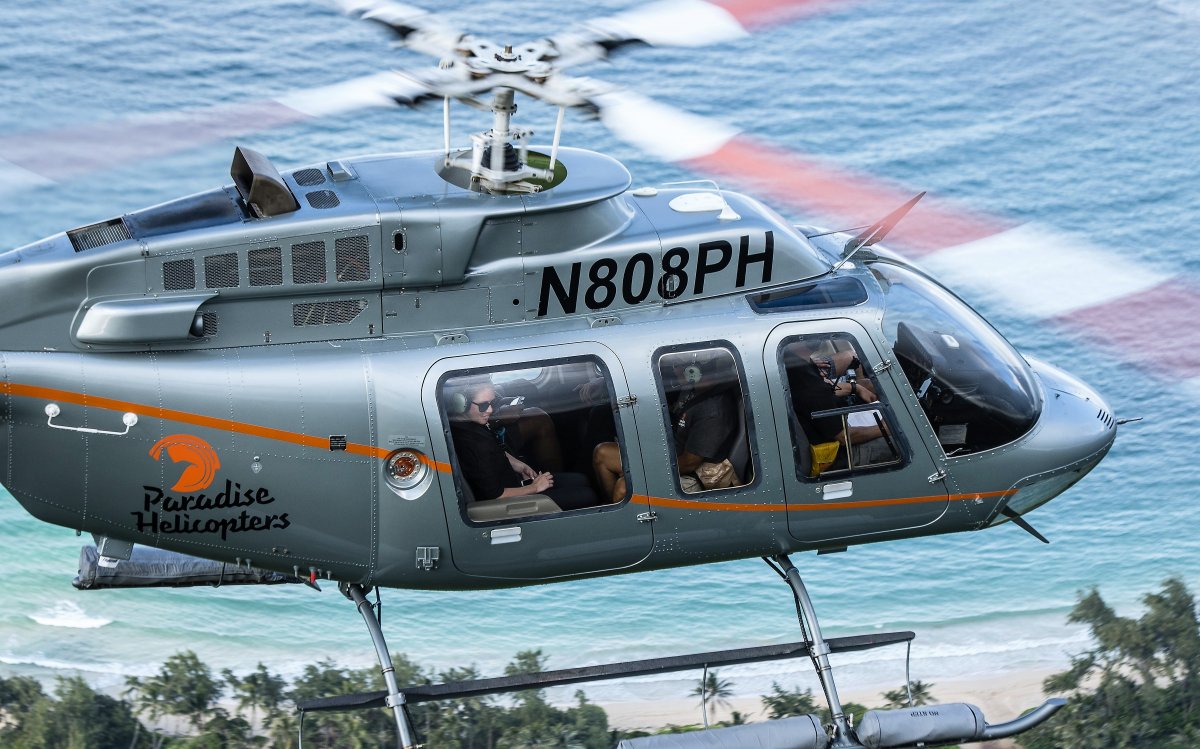 To provide their customers with safe and exciting flight experiences, Paradise Helicopters only hires the world's most trusted pilots. There are several former "Marine One" presidential pilots (that have served three Unites States Presidents), and each pilot has the necessary skills and experience to keep you and your party safe from takeoff to landing, every flight.
Each pilot must participate in annual training and they must also pass a Federal Aviation Administration (FAA) flight check. To add to the safety factor, Paradise Helicopters brings in outside professional instructors to evaluate and train the pilots in the latest techniques. Pilots are also knowledgeable on Hawaii and its geology, culture and history, making for the perfect tour guide!
First in the World
Paradise Helicopters is also the first air tour company in the world to be certified by the Helicopter Association International's new Accreditation Program of Safety (HAI-APS). As a result, Paradise Helicopters was selected to present at the 2016 Helicopter and Safety Summit on their highly effective Safety Management System, which proactively identifies and manages risks. How's that for a commitment to safety excellence!
Experience Hawaii

Paradise Helicopters offers exceptional tours to their guests, creating unique and exciting flights designed to meet the expectation of visitors seeking to experience Hawaii from above. Thanks to Marianne and Martijn, who traveled to Hawaii all the way from Holland, for sharing this shot from their recent custom Big Island Tour!
Tours start at only $179 per person and range from 20 minutes to the entire day. Guests also have the option to create their own distinctive adventure, starting at only $1,310.
Keep reading to get an inside look at a few of our favorite tours!
Family Helicopter Ride and Zipline in Kona
This two-hour tour is an exciting adventure that the entire family can enjoy! Paradise Helicopters will depart from the Kona Airport in a Bell 407 and fly you and the family over Kona's coffee district, which spans over the slopes of Hualalai and Mauna Loa. Then you will head over to Hawaii Volcanoes National Park to find red, hot lava around Kilauea, which is currently the world's most active volcano.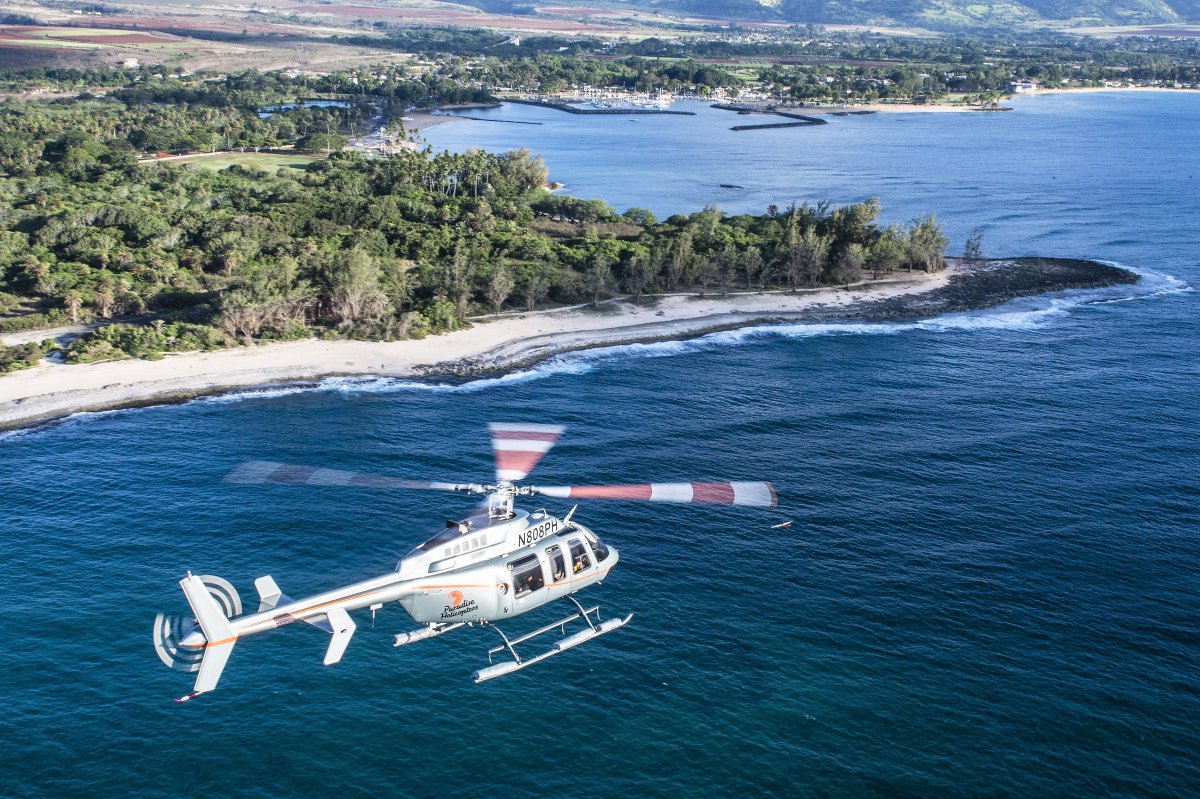 After checking out the wonders of the volcano you will land at Hilo Airport, where you and the family can explore the historic downtown area, which is full of culture, art and history. Then, you will head over to Botanical World Adventure, where your zip-line adventure awaits. You'll choose from seven different zip lines that are suspended over rivers and gardens, and overlook over 5,000 different plant species. You will also have the chance to see two amazing waterfalls, which have only been open to the public for the last two years.
After your zip-line voyage, you will head back to Hilo Airport where your helicopter will be waiting to take you on the second half of your adventure! You will fly over the Kohala valleys, which boast breathtaking views of 2,000-foot waterfalls, and on the way home you will fly over the Big Island's rugged coastline before returning safely to the Kona Airport, just in time for sunset.
Volcano Kohala Landing
This exciting three-hour tour is unlike any other adventure in Hawaii! After takeoff from the Kailua-Kona Airport, you'll fly over the rugged lava rock landscape and the Kona coffee district. Then, you will make your way towards Volcanoes National Park, to explore the activity of Kilauea crater, and see molten hot lava rising out of the earth!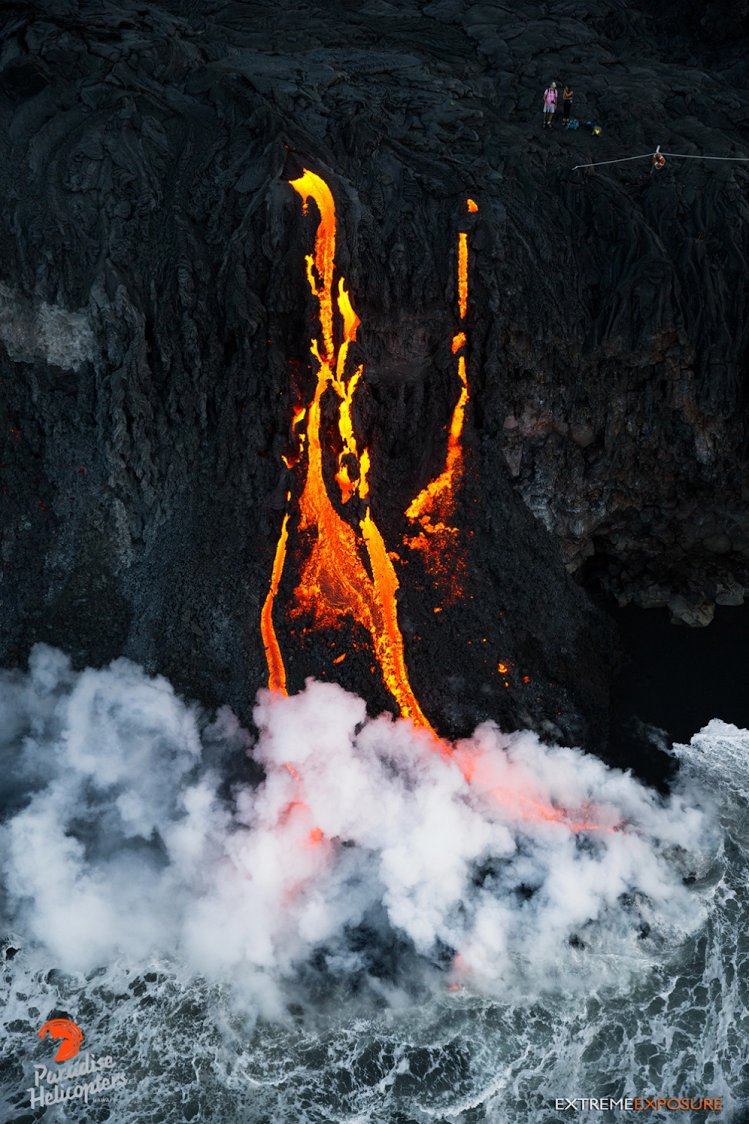 On your way home, Paradise Helicopters will take you deep into the forests of Kohala to an exclusive landing site that usually takes hours of hiking to reach.
Step outside and discover the same landscape and valleys that King Kamehameha walked amongst and take in the natural beauty that surrounds you. Finally, you'll climb back into the helicopter and watch the drastic landscape change as you fly from the windward to the leeward side.
You will also get to see the resorts of Waikoloa on this exhilarating tour!
Magnum Experience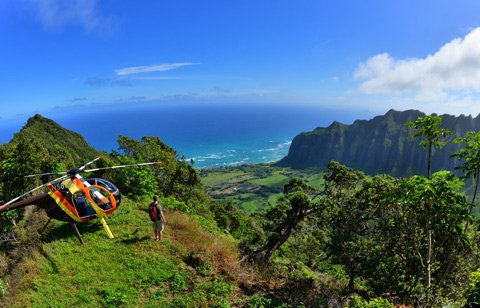 Take an exclusive tour of Oahu's North Shore in Magnum, P.I.'s chopper! The Paradise Helicopters Magnum Experience lasts for an hour and takes you on a tour of all the highlights of Oahu.
Get a birds-eye view of the North Shore, Pearl Harbor, Diamond Head, and Sacred Falls (now closed to foot hikers). You will even get to fly the same route that you saw in the opening sequence of Magnum, P.I., which takes you offshore and above the ocean as you buzz over famous Waikiki Beach!
North Shore Sunset Spectacular in Oahu
This 30-minute evening excursion is just enough time to create memories that will last a lifetime. The tour starts just before the sunset and you'll be able to witness the gorgeous colors of the "golden hour" from the iconic North Shore of Oahu.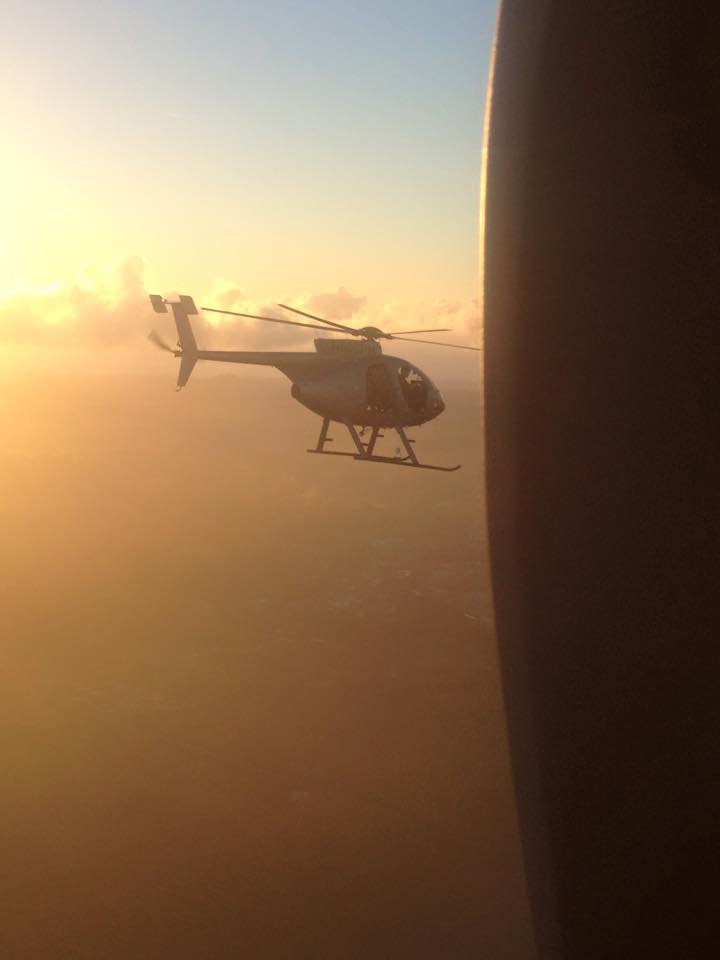 During your tour, you will see the beautiful Hawaiian landscape, and watch the ocean break onshore as the light glistens in the distance. On the way home, you will catch a glimpse of Haleiwa town and secluded Kaena Point, before turning back towards Turtle Bay to catch the final magnificent minutes of the setting sun!
Hot Lava!
Paradise Helicopters has collaborated with pilots, guests and professionals to create the Hawaii Lava Update Blog. This lava blog follow all the activity of the volcanoes and captures high-quality footage of the molten lava heart of Hawaii! Recently, molten lava flowed into the ocean, making for a magnificent site.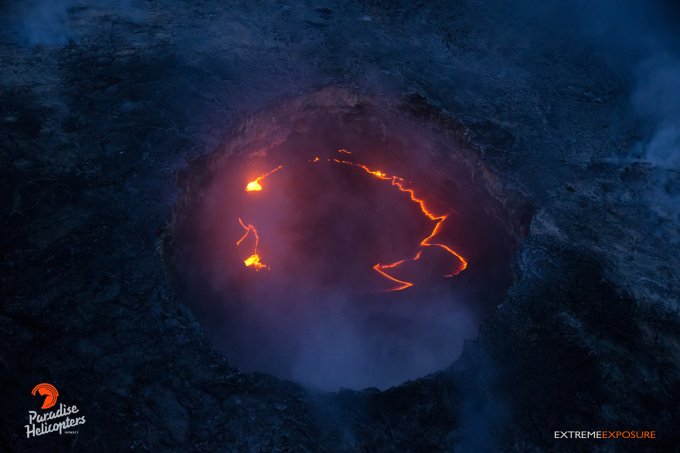 For a complete list of Paradise Helicopter tours and for more information on
Private charters, visit their website at https://paradisecopters.com/.
Blog Subjects: Hawaii, Big Island, Oahu, Maui