Maui Villas & Guide
Maui is the ultimate destination and our home island! We have curated a collection of over 60 vacation homes and vacation villas on this gorgeous island.
Whether you're celebrating an intimate getaway for two, or bringing the entire family for a holiday in paradise, we have a Maui villa that will meet your specific needs. All have been inspected by truly expert Maui Villa Specialists and feature amenities that most are looking for in a luxury-level private vacation home.
The Exotic Estates Team is made up of local experts who live in Maui and tour each villa to ensure that it passes our rigorous inspection. This is the basis of our service, we are your eyes and ears on the ground so you plan the ideal Maui vacation.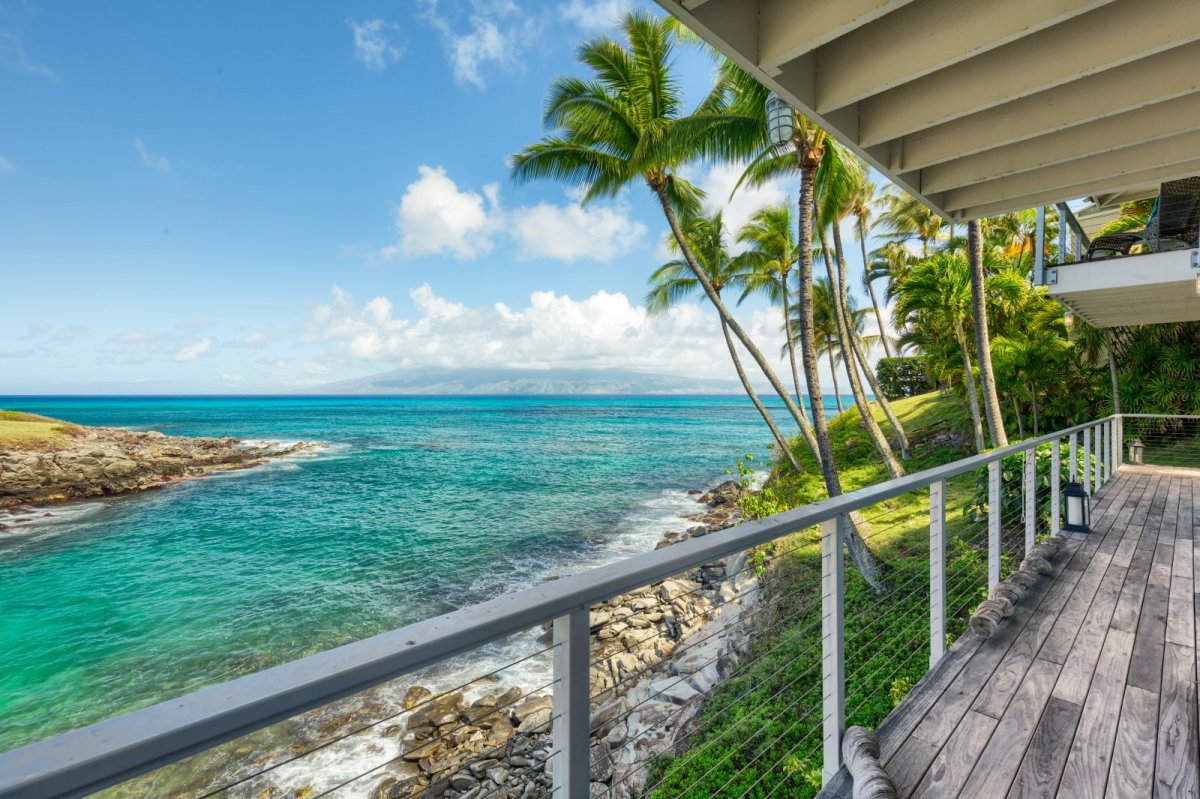 From the West side to the North and South Shores, the Exotic Estates collection features villas that can be tailored to any group. Ranging from $400-$10,500 per night, our villas can accommodate couples and even groups up to 32.
Our Villa Specialists will work with you to find the perfect abode for your getaway. Also, our local, Hawaii-based Concierge is there to help you plan any outing or in-house service that you may desire.
Here's a guide to the island that will help you decide which area of Maui is best for your visit!
Destination Maui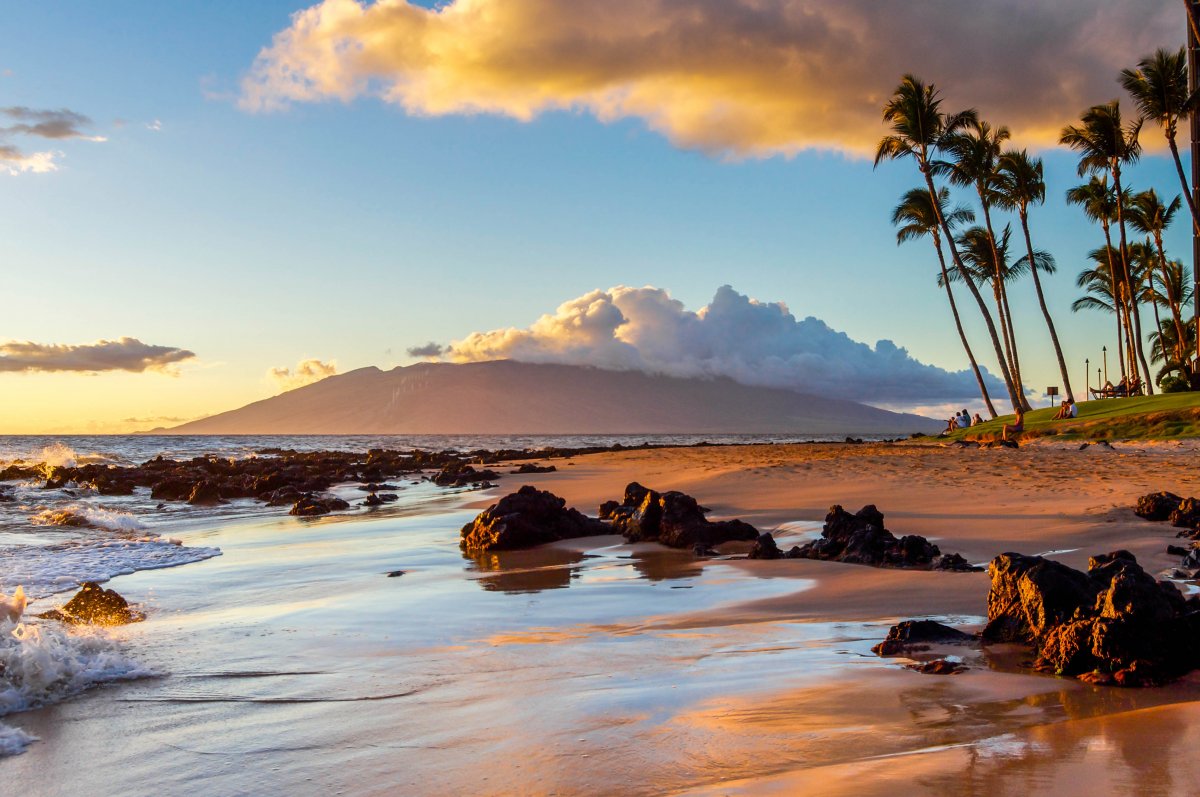 With over eighty beautiful beaches (more than any other island), Maui can be considered the playground of Hawaii, perfect for those who seek sand, sun, and surf!
There is an expression on the island of Maui, "Maui No Ka Oi," which means Maui is the best. With a small-town feel and plenty of activities, Maui is perfect for travelers of all ages and interests.
Maui's entire west coast is fringed with spectacular award-winning beaches, offering adventure below or above water. From Kapalua, Kaanapali, and Lahaina in the north to Kihei, Wailea, and Makena in the south, you will find a beautiful run of beaches and coves, most of which are safe for swimming and snorkeling.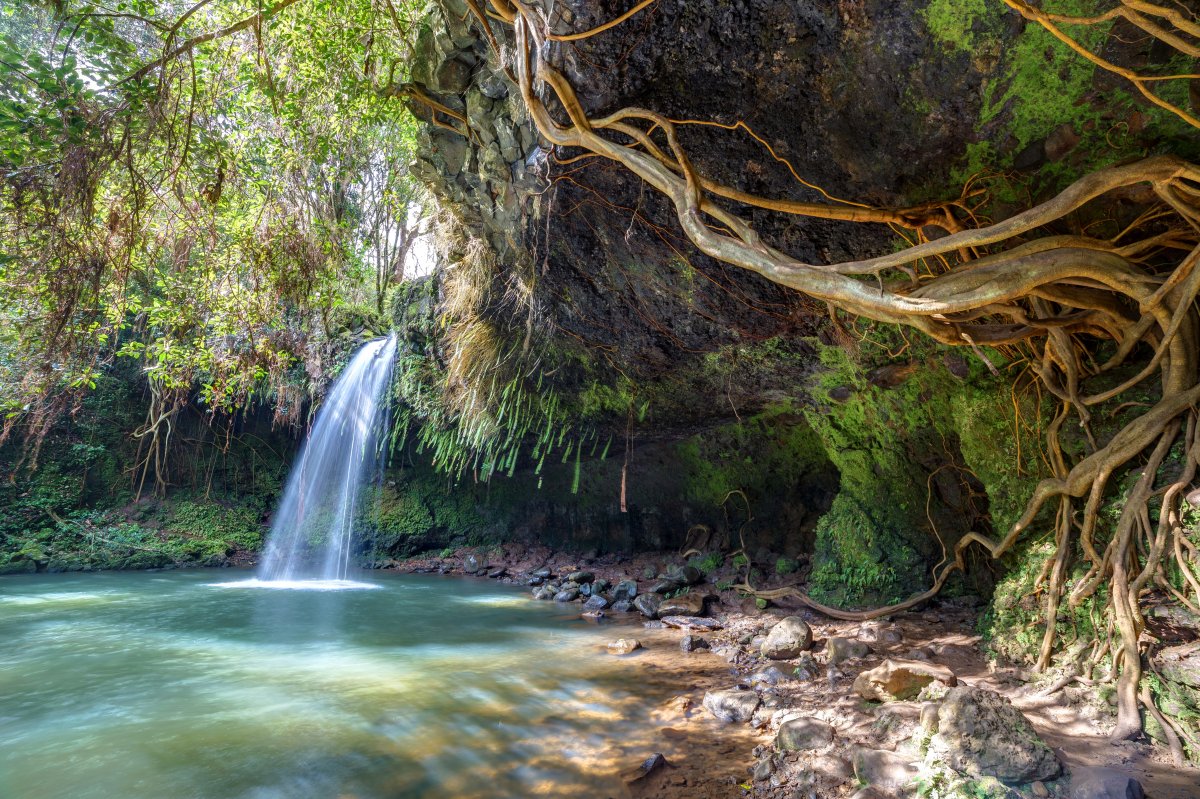 Although its plethora of beautiful beaches is a huge draw, they are not the only thing Maui has to offer. Hikers will love West Maui's tropical mountains and streams, and the north coast consists of tall bluffs and warm bays, perfect for watching whales and other sea life, or hiking through the jungle interior and swimming under Hawaiian waterfalls.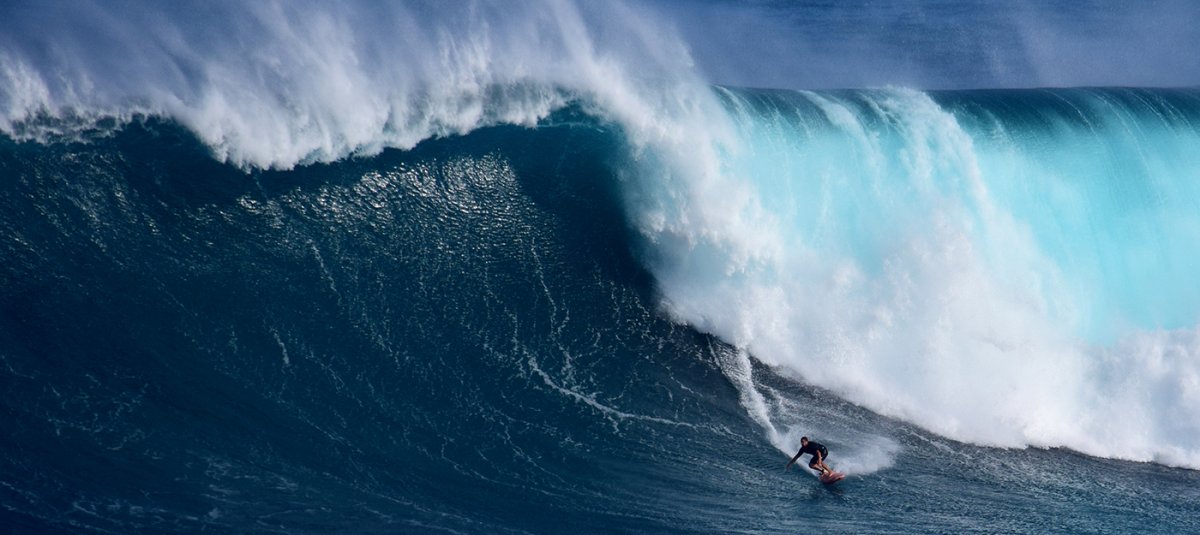 Looking for waves? Each shore on Maui has a different temperament. Whether you're a pro looking for monster breaks – the infamous Peahi or "Jaws" break is on Maui - or a beginner learning to surf the rollers, Maui has the perfect wave for all skill levels. As an added advantage, Maui boasts gorgeous views of her sister islands, Molokai, Lanai and Kahoolawe.
Maui's natural attractions are enriched by its restaurants and nightlife, as you will find both high-end and laid-back dining options. Whether you dine at a 5-star restaurant or a food truck, Maui's eateries make the most of the Island's natural abundance and embrace local food traditions. There are also some well-known food and wine festivals held on the island.
Flying Into Maui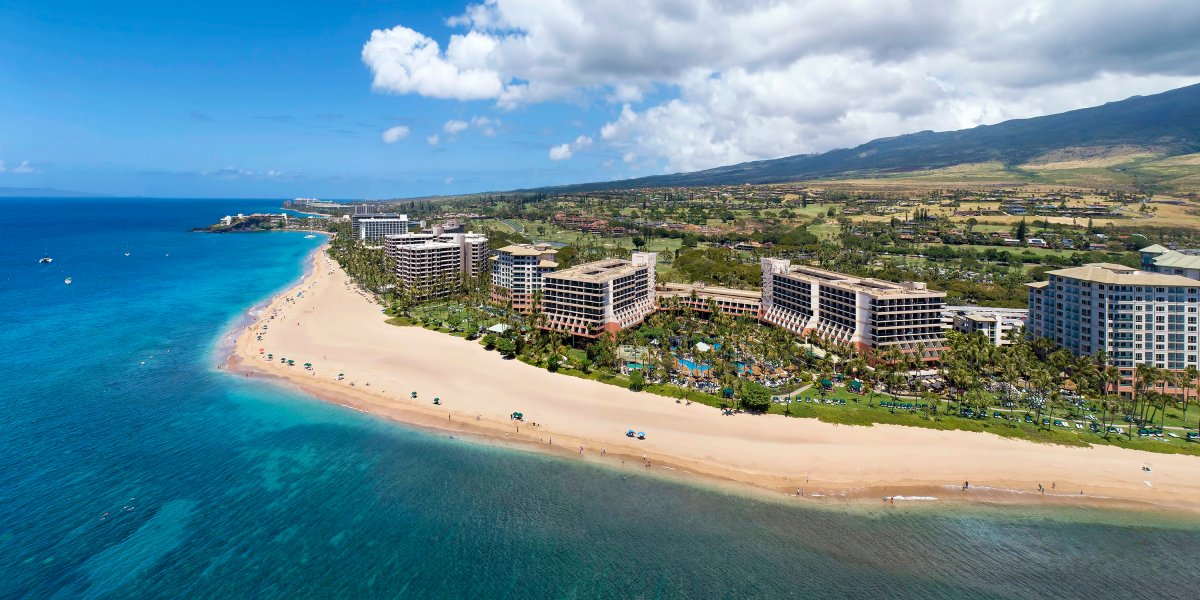 Maui is well served from the US mainland and Canada.
Several airlines offer nonstop service from the US West Coast, including United, American, Delta, Hawaiian, Alaska, and Southwest. There is also service from Dallas, Denver and Phoenix. The airlines serve Kahului Airport (OGG) on the East Side of Island.
Many major airlines offer convenient schedules from the East Coast and other US and Canadian cities, meaning Maui is just a one-stop destination for most North American travelers. United operates a nonstop flight from NY/Newark
Preferred Affiliate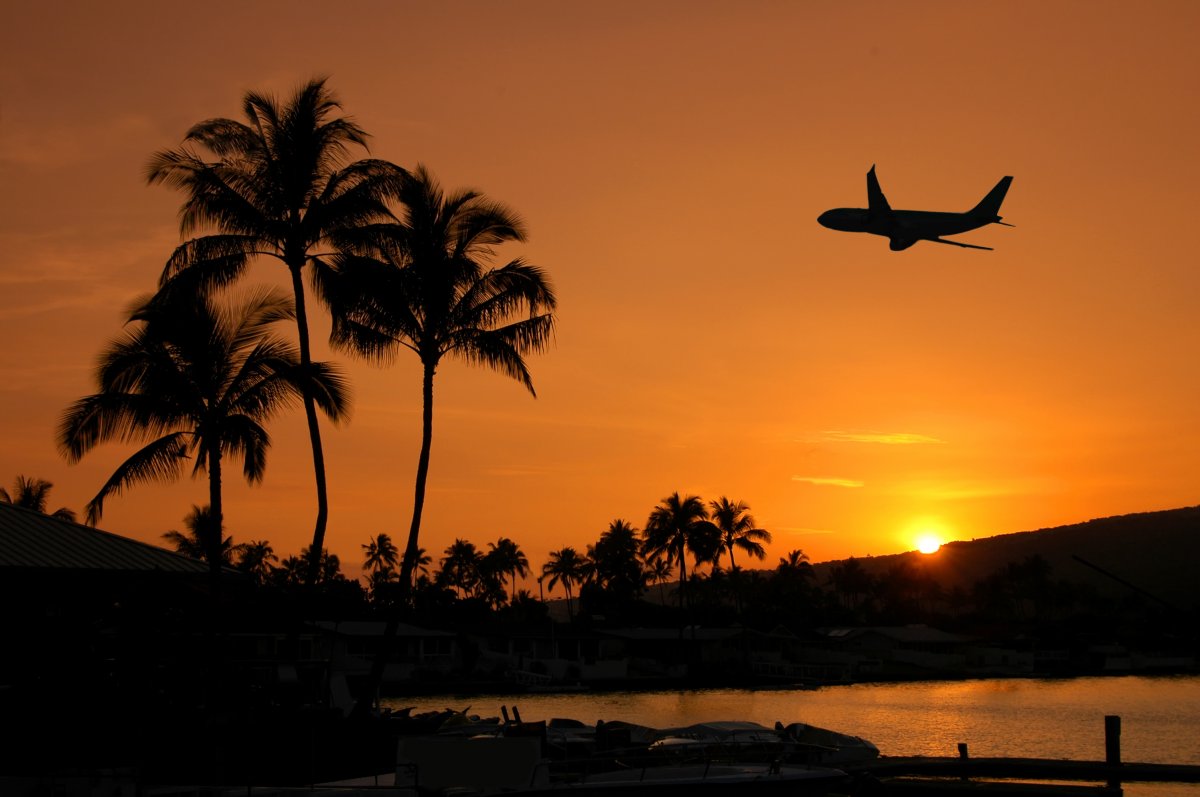 Exotic Estates is proud to be a Preferred Affiliate of Hawaiian Airlines, which offers award-winning nonstop service to Hawaii from 11 North American gateway cities.
Clients save up to 5% on the cost of air travel to Hawaii from the US Mainland when they book air travel on Hawaiian through the Exotic Estates' Preferred Affiliate account.
Location In Chain

Maui is located south of Molokai and north of the Big Island. The island of Maui is the second largest island in the chain, measuring 727 square miles. Maui has a population of just 144,444, which is the third-highest in the Hawaiian Islands.
Thanks to its volcanic origins and the erosive forces of nature over a period of a million plus years, its landscape is dramatic and varied.
Historic Early-Hawaiian Significance
Hawaii has lured adventurers to its shores for more than 1,500 hundred years, and Maui is no exception. The first settlers of Hawaii came ashore around 500 AD, and although historians do not agree upon their origin, most believe they were from the Marquesas Islands.

The next wave of settlers was much more significant in size, coming from Tahiti in 1,000 AD. After memorizing the route and traveling over 2,400 miles, the Tahitians continued to journey between Hawaii and Tahiti for centuries.
One of the most significant events in modern Hawaii's history took place on January 18th, 1778 when British explorer Captain James Cook became the first westerner to see the island of Maui, marking a technical end to 300 years of isolation for the Tahitians who had settled Maui. The first westerner to actually set foot on Maui was French explorer Jean Francois de Galaup La Perouse, for whom La Perouse Bay south of Wailea is named.
Maui was divided into separate kingdoms, with rival chiefs occasionally rising up to battle for control of the island. During the 1780's, Maui's King Kahekili became a powerful Chief in all of Hawaii, but was challenged by Kamehameha the Great, who launched a naval attack on Maui.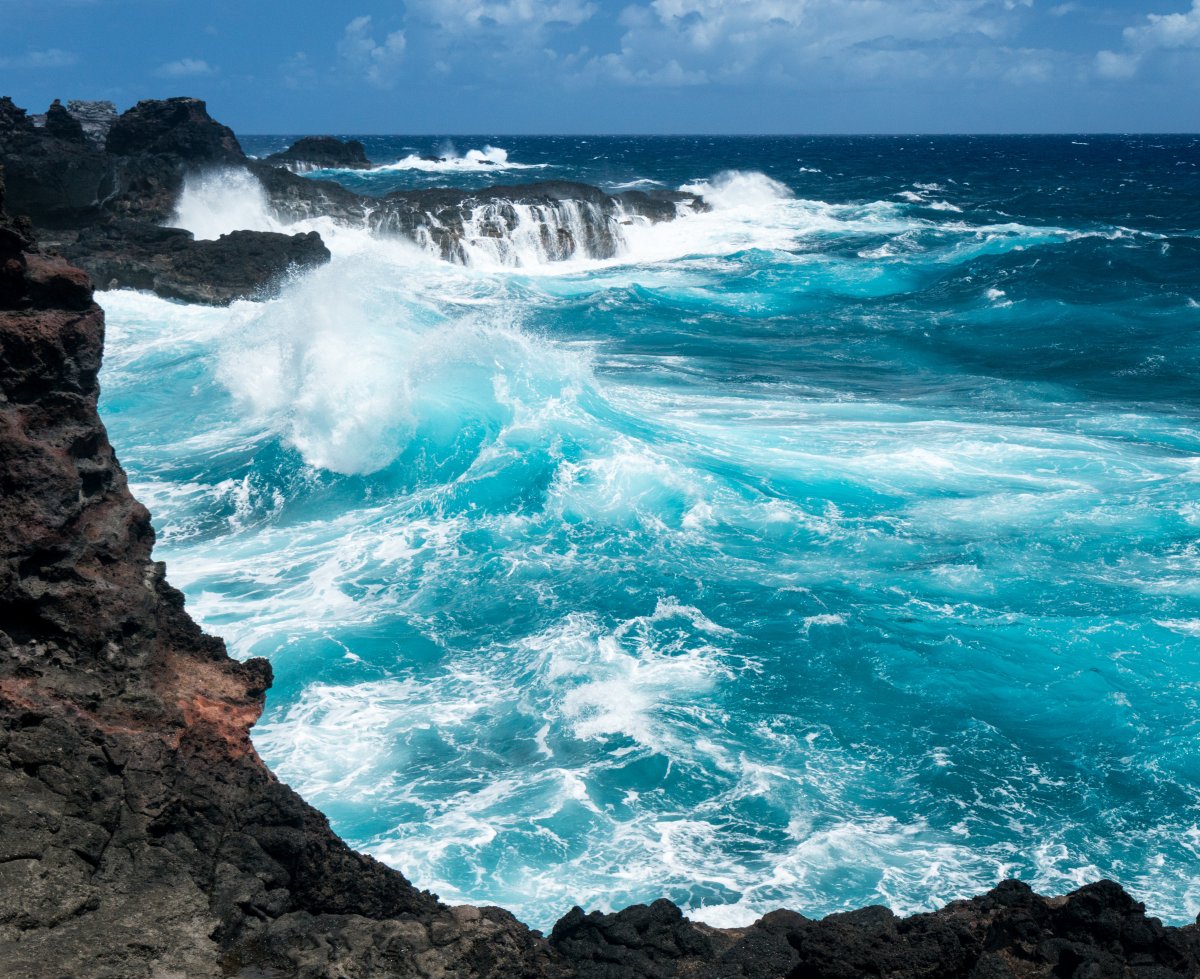 Although Kamehameha didn't win this first battle, he invaded a second time and brought with him over 6,000 canoes. This time, he was able to conquer the island of Maui and, in doing so, became the first king of the Kingdom of Hawaii, establishing his royal court at Lahaina. The town of Lahaina remained the capital of Hawaii until 1845, when King Kamehameha III moved the capital to Honolulu, which continues to be the center of government for the islands.
Maui thrived as a whaling center after the first ship arrived in Lahaina in 1819. Whaling brought over 500 whaling ships into Lahaina each year, and many of the buildings that were constructed during this time can still be seen today, housing the trendy shops, galleries and restaurants on Front Street.
Maui Lifestyle
There is a special bond that unites most of the people of Maui: aloha 'aina, which means "a love of the land."

With strong family ties and a culture that embraces generosity and hospitality, you will feel a deep sense of community upon your arrival in Maui. You will notice islanders using the famous 'shaka' sign as a greeting and, in general, nobody "sweats the small stuff" on Maui.
The Ohana, which means family, is central to island life. In Hawaii Ohana goes beyond immediate family, to include uncles, aunts, and even close friends. Weekends are generally set aside for family gatherings and it's not uncommon to see up to 50 people eating and socializing at a family picnic on the beach.
Because of the beautiful natural environment, with its pristine waters and gorgeous mountains, people on Maui are early risers and will take a run on the beach or a ride on the waves before heading into work.
You will find that Maui is much more laid back than the US Mainland, and even bustling Honolulu on Oahu. Locals often spend their days in casual attire like T-shirts and flip-flops. While they go to work just like everyone else, they tend to keep the big picture in perspective and work to live, not vice-versa.
When you arrive on Maui, try to get onto "island time" and embrace the Aloha Spirit!
West Maui - Lahaina, Kaanapali, Kapalua
Maui's East Shore - The Road to Hana
West Maui
West Maui more or less stretches from Olowau to Kapalua and has a small town, laid-back feel. West Maui is the most visited part of Maui and whether you want to zip-line through the mountains or snorkel with the sea turtles, rent a beachfront villa or a home on an active coffee farm, West Maui is full of options.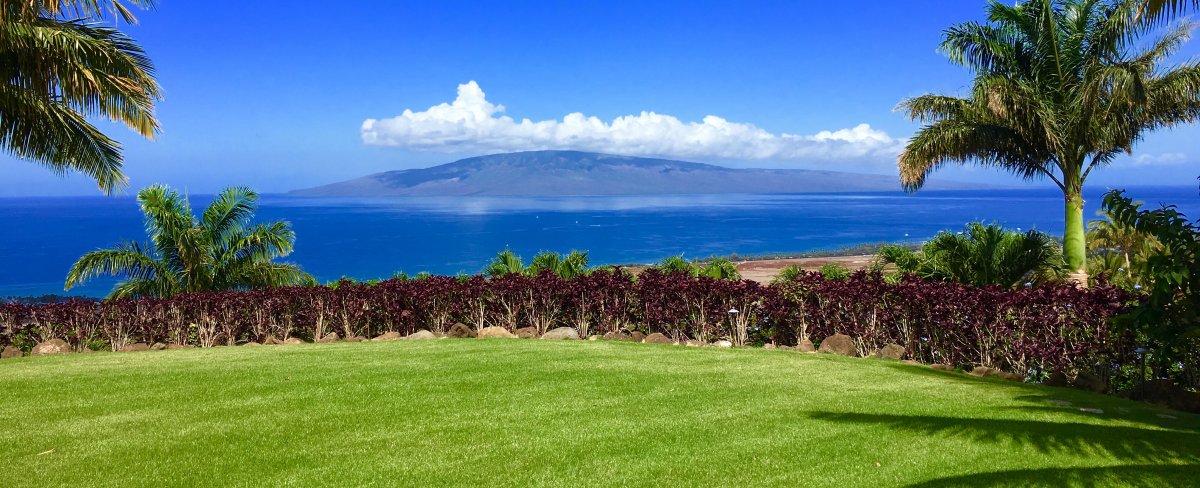 In West Maui, you can golf on some of the world's most beautiful courses, hike through lush mountain forests, or stand up paddleboard on clear, calm waters while you watch the spectacle of humpback whales breaching offshore. There are vistas here that are famous around the world, such as view of the West Maui Mountains behind Lahaina or Black Rock on Kaanapali Beach.
West Maui also offers many cultural activities, such as a vibrant art gallery scene, live music venues and a bustling nightlife with bars and fine restaurants. It is this combination of natural beauty and sophisticated living that makes the area so popular with visitors.
Accessing West Maui is literally a straight shot. Whether you are staying in West Maui or just passing through, you will travel on one road in and out of the area, Highway 30, which is also Highway 340 once you are in more populated areas.
Things to Do in West Maui
Lahaina, Maui

Lahaina Town offers a bustling downtown area with plenty of things to see and do. With wonderful weather all year round, the literal definition of Lahaina is "cruel sun," so expect sunny days and bring plenty of sunscreen!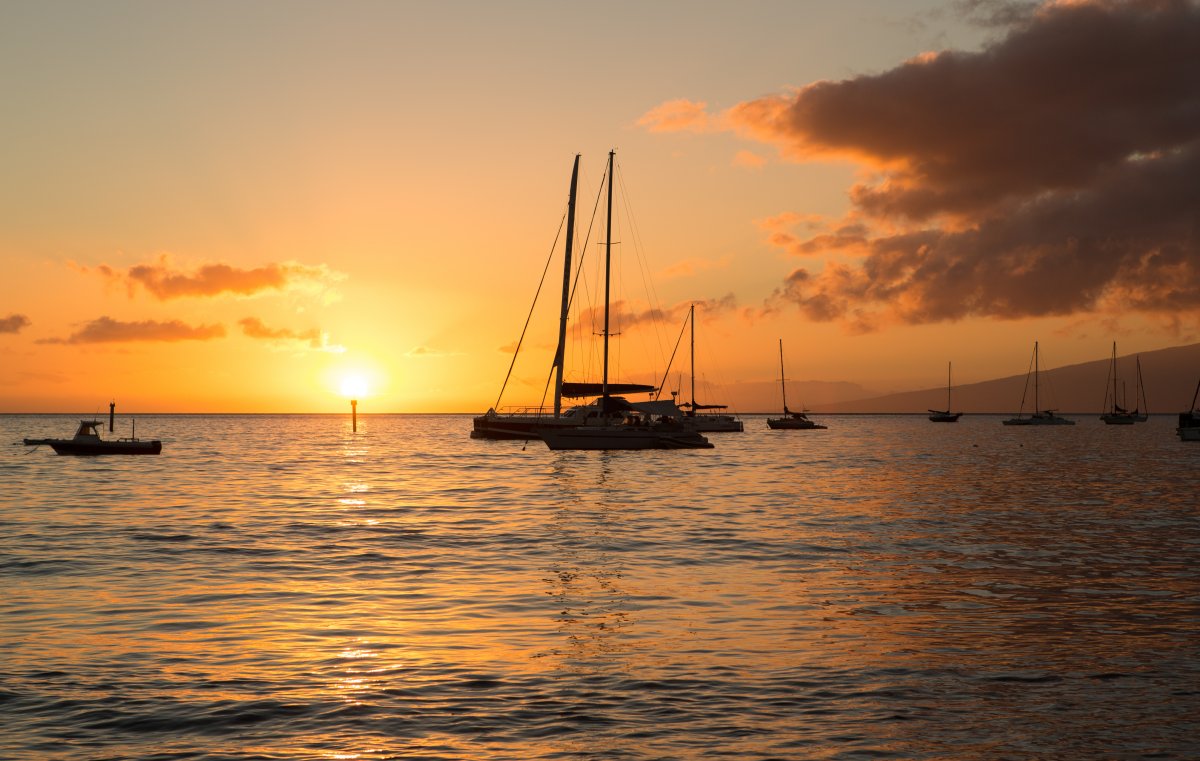 With its beautiful paved path that runs along the beach, you will love take a leisurely walk along Lahaina Harbor to watch the sunset.
Front Street is the most popular entertainment area in Lahaina and is usually busy with people enjoying the cool vibe.
Parking can be tricky, so be sure to give yourself time if you are driving down to Front Street.
Lahaina Area Beaches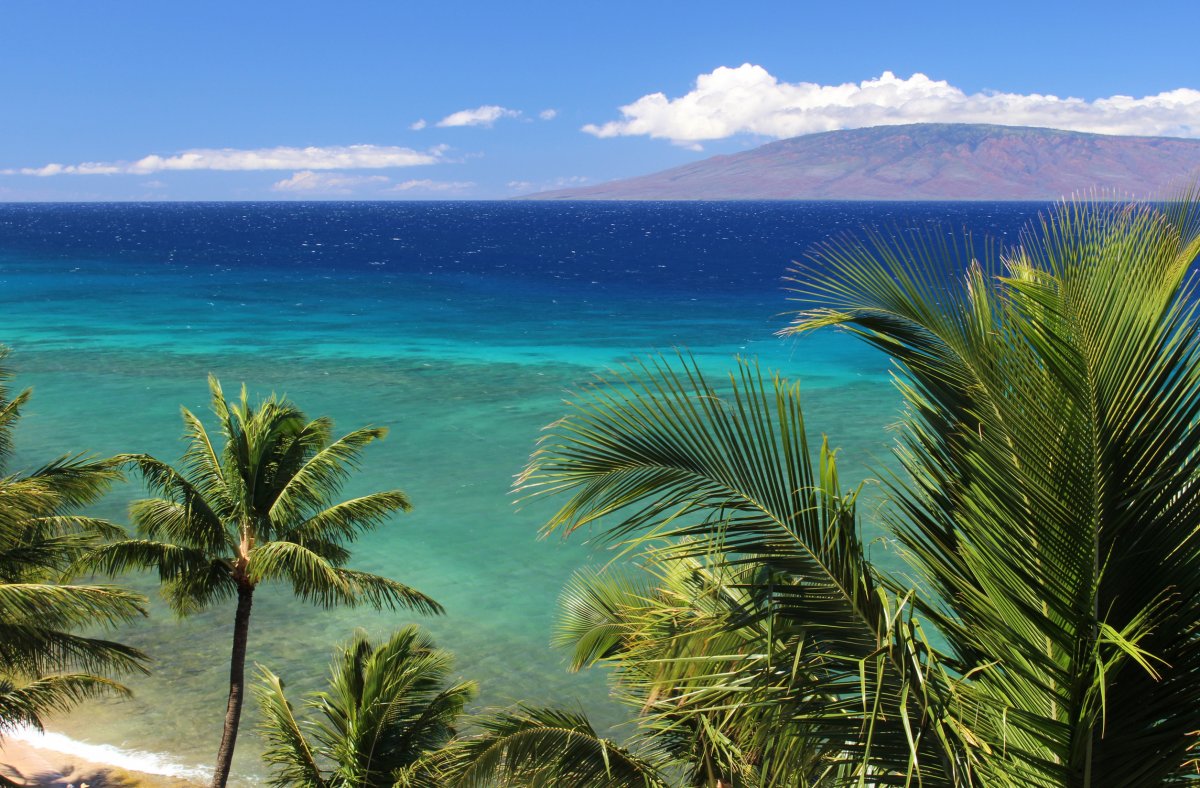 For families with younger children, there are many family-friendly beaches in West Maui that are safe for swimming. Baby Beach near Lahaina is one such beach. At Baby Beach there is a coral reef a couple hundred yards off shore that keeps big swells at a safe distance.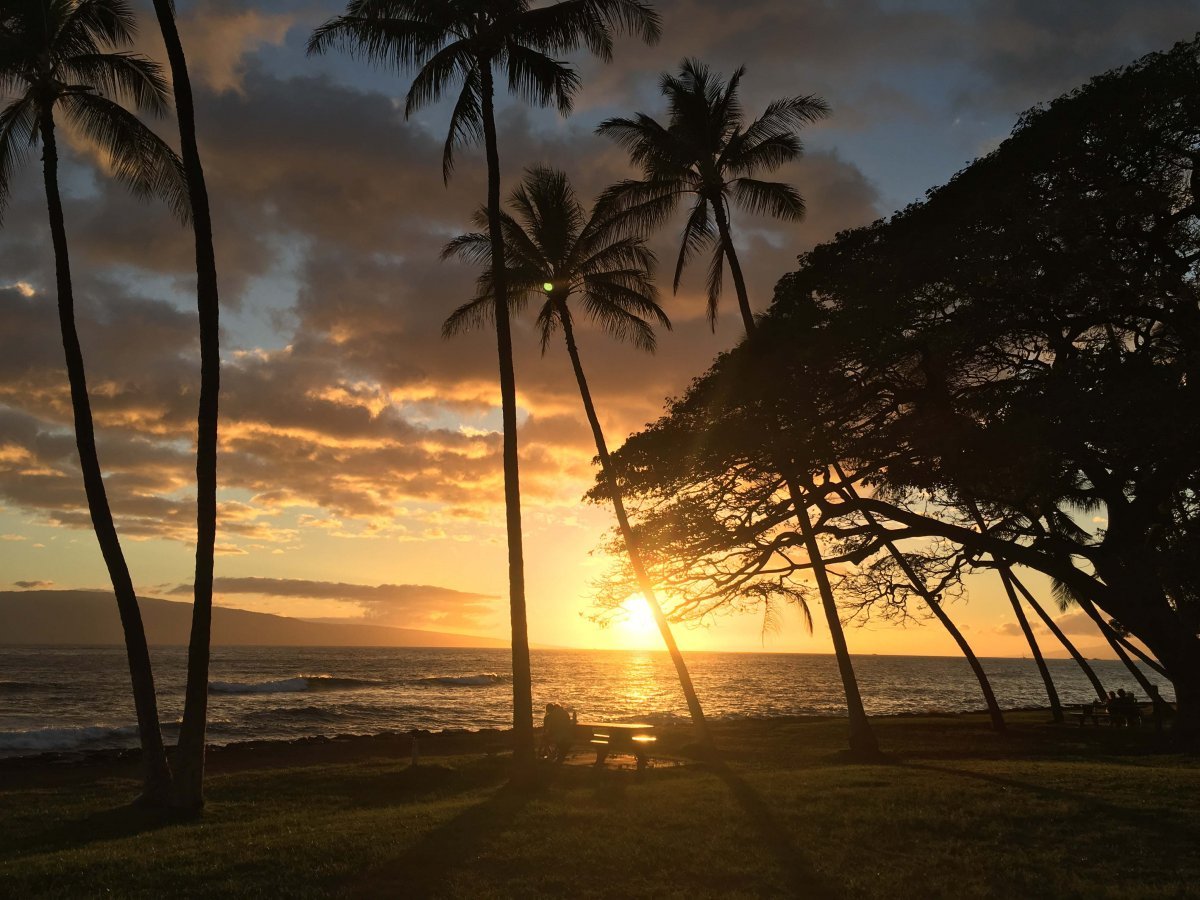 Launiupoko Beach Park also has a natural kiddie pool, so it's protected from the waves and perfect for families with children. Launiupoko is a less touristy beach, so it's the perfect place to set up for a quiet day of sun, sand and surf. There is a convenient grassy area and with grills, park benches, and public restrooms. At Launiupoko there is even a resident Monk Seal that you may get the chance to see if you are lucky!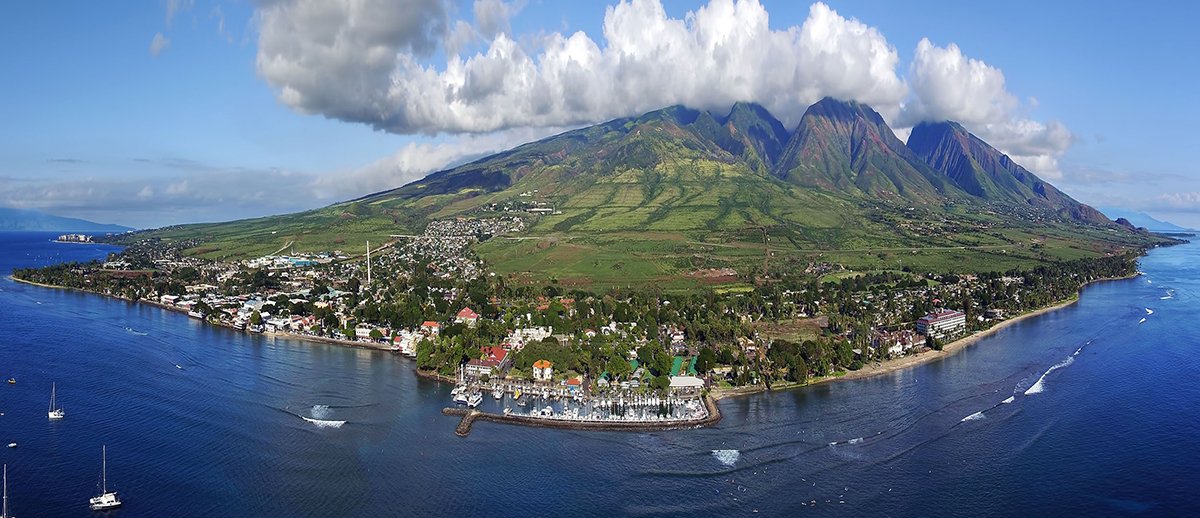 There are plenty of gorgeous, luxury vacation homes located in West Maui. One such home is Lahaina Oceanfront Estate, a big comfortable Maui villa located oceanfront in Lahaina. From this Maui home and others in our collection, you will enjoy famous Maui sunsets from the privacy of your own vacation rental. With six bedrooms total, Lahaina Oceanfront Estate can handle up to 12 guests!
Another fabulous home and location is the Puunoa Beach Estate, located oceanfront, this two-bedroom, two-bath villa is luxurious and conveniently located close to all shops and services found in Lahaina.
Kaanapali, West Maui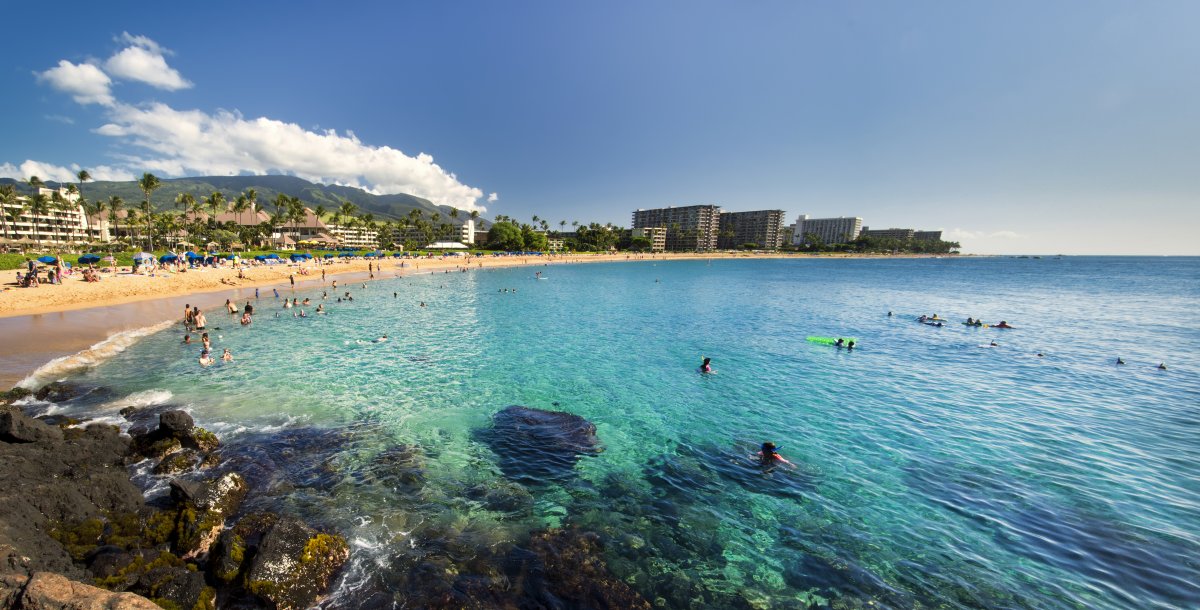 Just north of Lahaina Town is Kaanapali, which is major hotel-zone, dotted with large and busy resorts along Kaanapali Beach.
Kaanapali Beach was named the best beach in America in 2013 and once you see its three miles of beautiful white sand, you will understand why! As one of Hawaii's first planned resorts, many others tourist areas around the world have copied its model – for better or worse.
Separating Kaanapali and Kahekili beaches is beautiful Black Rock Beach. Black Rock Beach is a great place to take in Maui's dramatic sunsets.
As part of the Luau offered by the Sheraton, The Puu Kekaa ceremony showcases a cliff diver who lights Tiki torches all the way up to the top of Black Rock. The diver says a Hawaiian prayer and throws his lei into the water and then dives off of the rock into the ocean. Very dramatic indeed!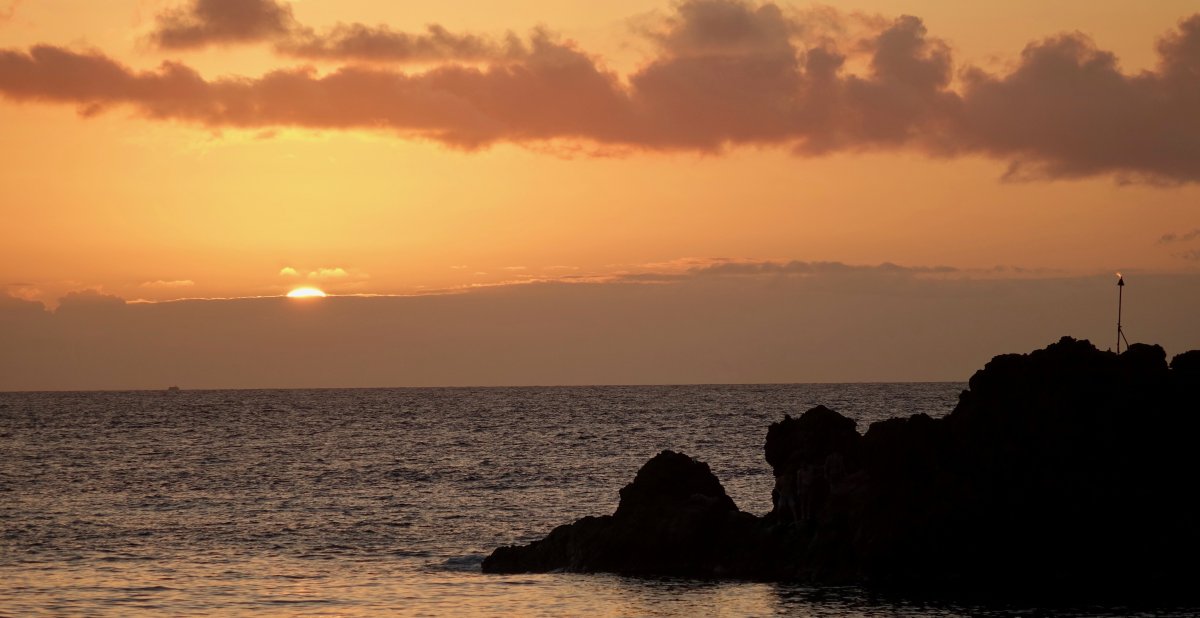 Black Rock Beach is also a great place to snorkel, offering easy entry for beginners to get in the water and check out the reef and all of its many colorful characters.
About 500 acres upslope from Kaanapali Beach, you will find Kaanapali Coffee Farms. This farm lives on real estate that used to belong to a vast sugar cane plantation. Here, a veteran team of local farmers grows, harvests and markets the coffee grown on the estate. You will also find a cute little coffee shop that was transformed from an old sugar mill where you can enjoy your morning brew.
Thankfully, Exotic Estates offers other options besides the nice, if commoditized, hotels in Kaanapali.
One Ka'anapali estate is Hale Nui Villa, with five beautiful bedrooms that can accommodate up to 10 people.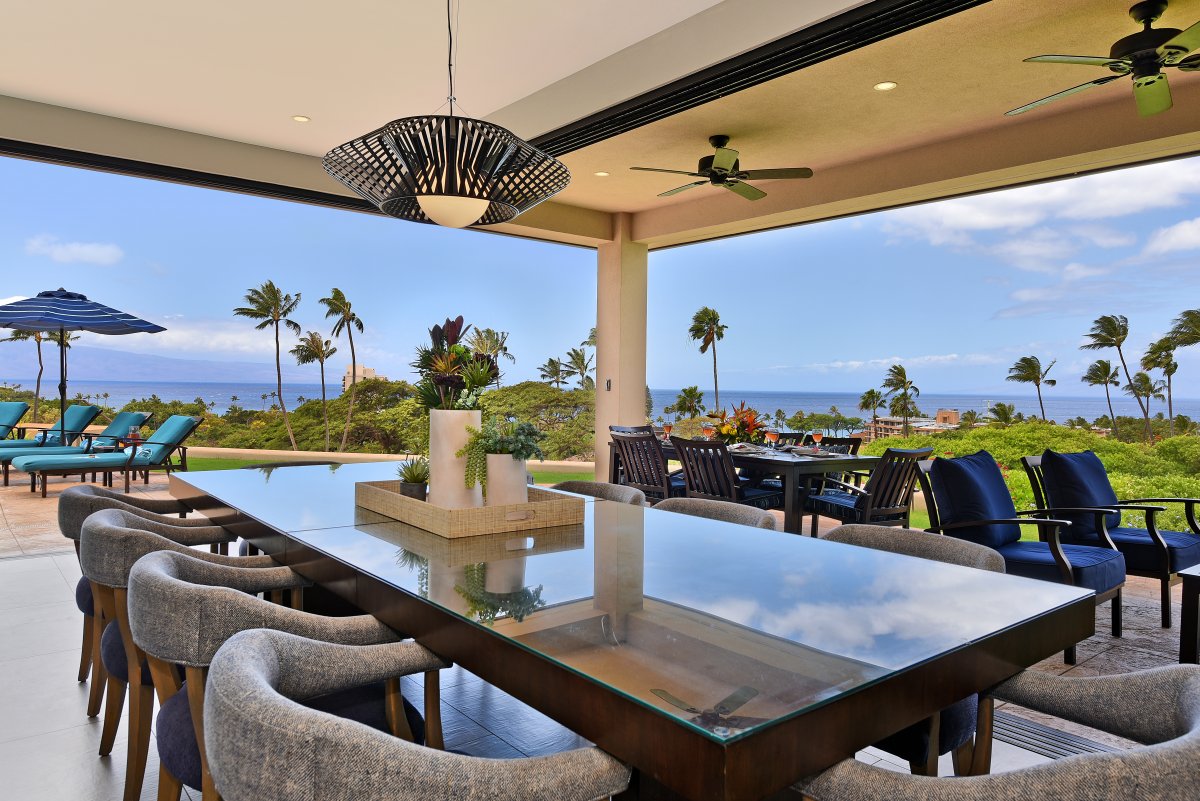 There is also Kaanapali Hale, which is a family-friendly home with five bedrooms and a private pool. Kaanapali Hale is perfectly perched in between the Royal and the Kai golf courses and is an ideal vacation villa for your family vacation!
Another gorgeous vacation home option in Kaanapali is beautiful Maui Rainbow Villa. This premier Maui vacation home is perched above Kaanapali on five acres of land, offering privacy and stunning views of the Pacific Ocean and the outer islands of Lanai and Molokai. This comfortable home is located in the exclusive and gated community of the Kaanapali Coffee Farms.
Napili, West Maui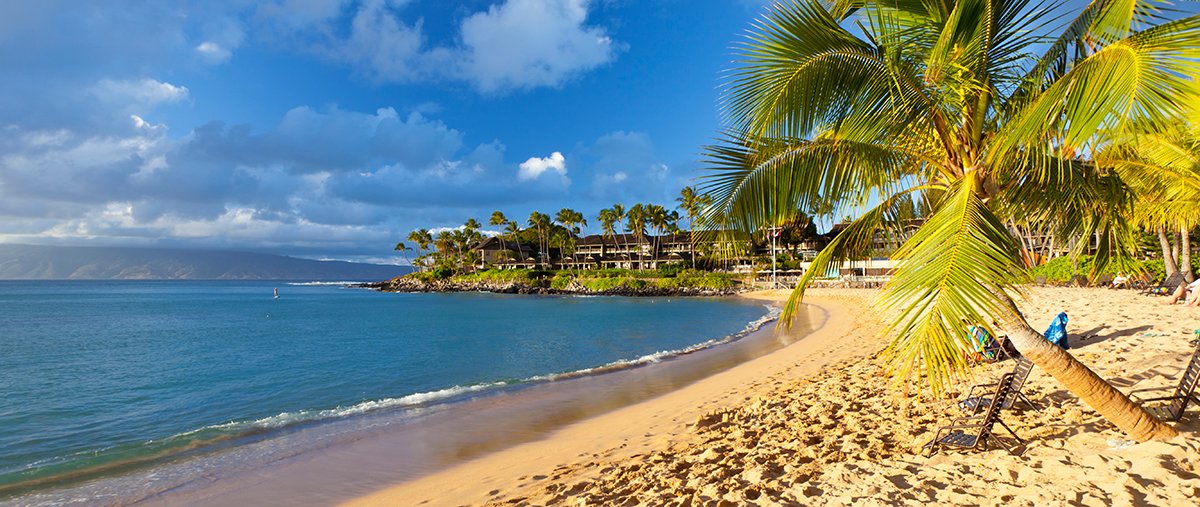 Just north of Kaanapali you will find the beautiful town and beaches of Napili. Napili beach is tucked into the shoreline, making it less susceptible to the afternoon wind.
This pristine beach is considered one of the best in Maui, because of its natural beauty and charm. You will find less people on this beach than those in Lahaina Town or Kaanapali.
Napili Cove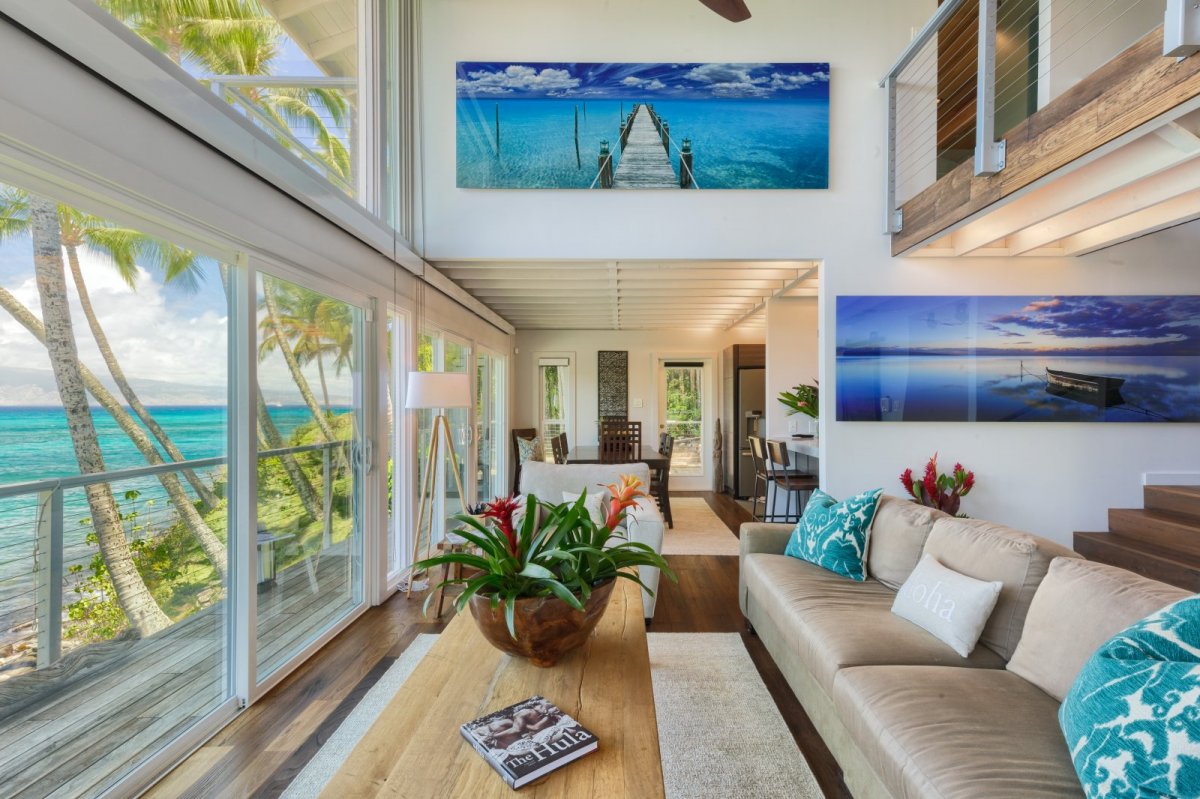 This stunning vacation home is located on a private and gated community in Napili, only steps away from the ocean. This two-bedroom home offers 1,770 square feet and exquisite views and will accommodate up to four adults. With gorgeous oceanfront views in a tropical paradise, Napili Cove is a great way to experience your West Maui vacation!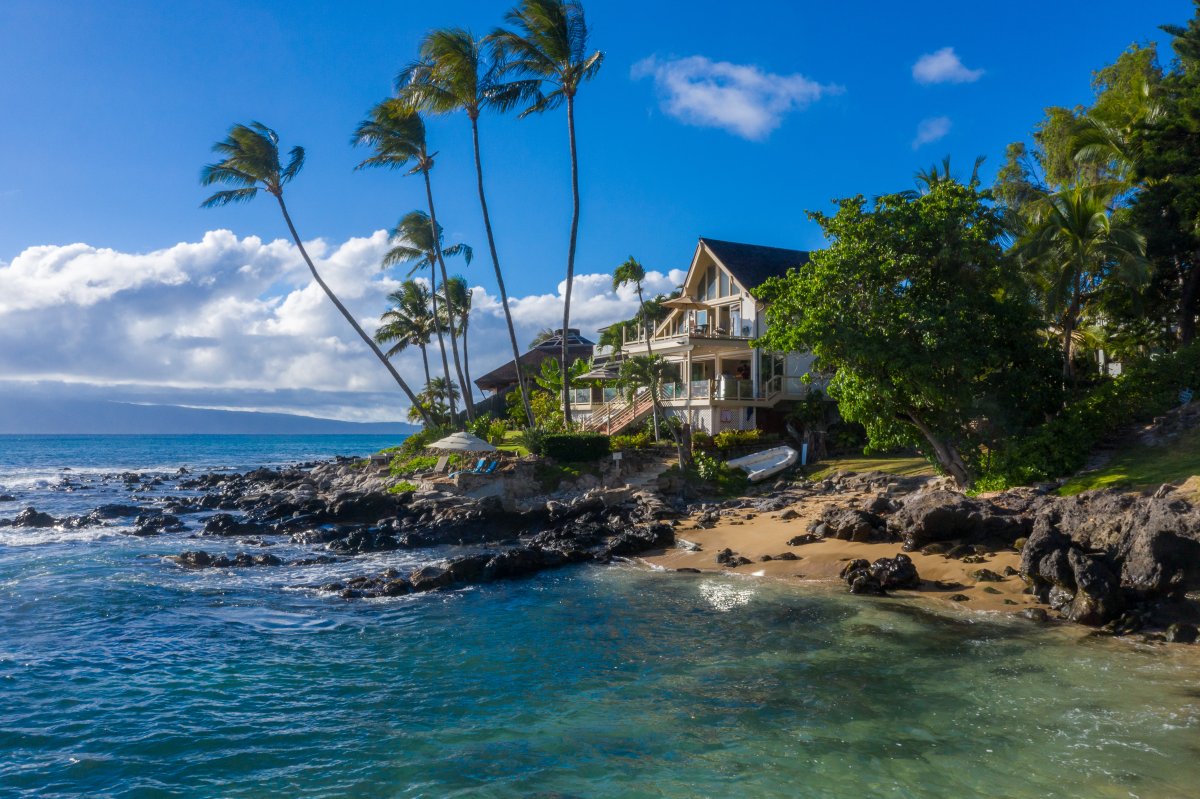 If you're looking for a larger beachfront home, Turtle Cove is a luxury three-bedroom vacation home conveniently located on the water in Napili. At Turtle Cove, you will love the incredible sunset views and elegant Hawaiian-style indoor/outdoor living.
Kapalua, West Maui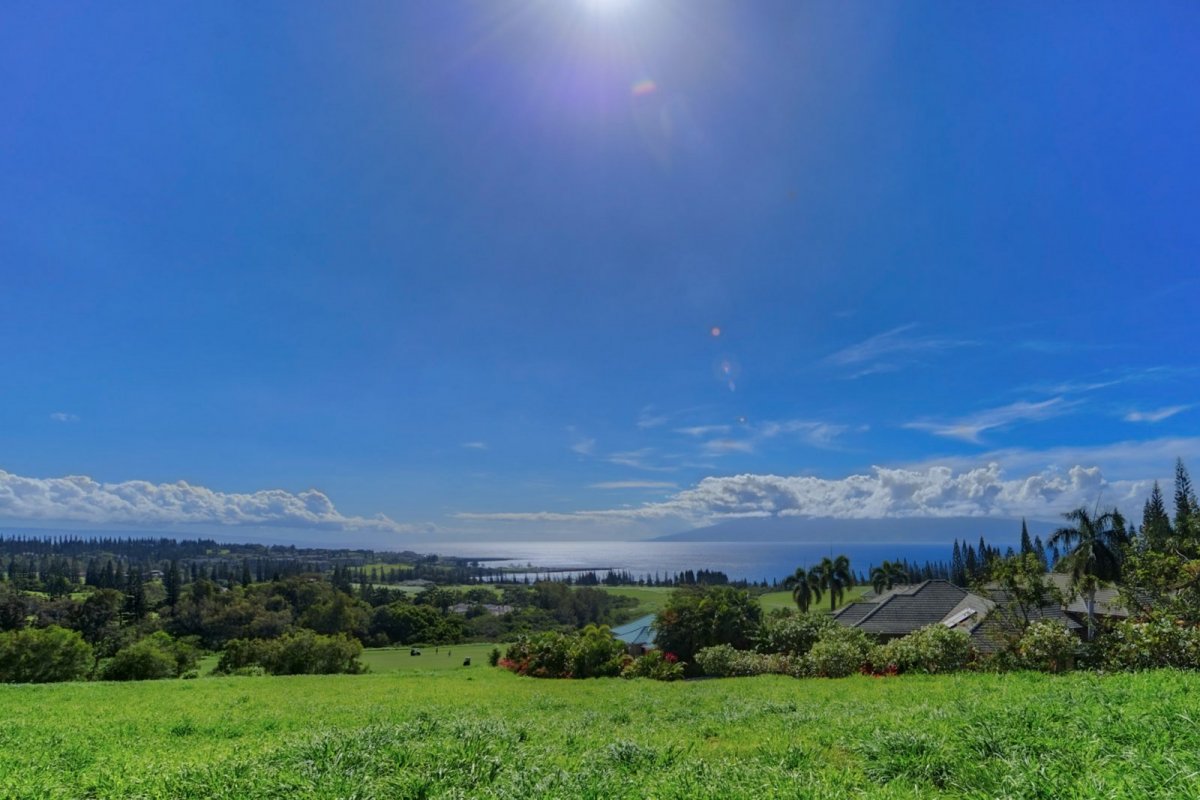 Just north of Napili you will find the gorgeous coastal town of Kapalua. Discover a beautifully manicured oasis of green on this side of the island. Though gorgeous and a bit more upscale, Kapalua is also slightly more prone to wind and drizzle.
The shoreline includes gorgeous bays and white-sand beaches. This is also home to the Ritz Carlton Kapalua, award-winning restaurants as well as a surplus of boutique luxury shops.
In Kapalua, you will also find the famous and prestigious PGA Tour's Hyundai Tournament of Champions (hosted in January). The beauty of Kapalua is truly sensational, with captivating scenery and unforgettable attractions.
Honolua Bay, West Maui

Honolua Bay is located on Maui's most northwest shore. During the calm summer months, Honolua Bay is a great destination for snorkeling and scuba diving.
The waters are a part of the Honolua-Mokule'ia Bay Marine Life Conservation District, so there is an abundance of sea life. During the summer, the visibility is commonly 75-100 feet and area boasts huge and colorful coral harboring lots of sea life. Offering big waves during the winter season, Honolua is a favorite among experienced surfers.
Whale Watching in West Maui & South Maui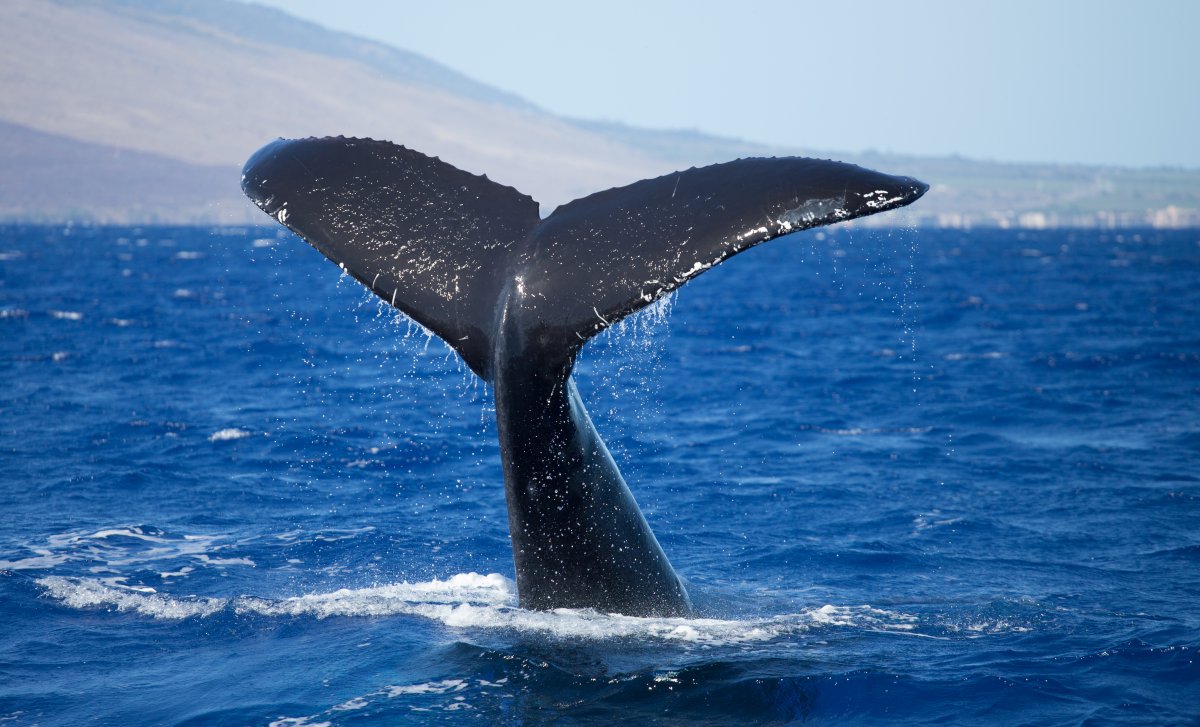 If you travel to West Maui during December through April, you will have the chance to enjoy the sight of the humpback whales traveling through the West Maui basin. The whales come to Maui to have babies and mate in the calm waters and a sunset whale-watching trip is highly recommended!
Hula Grill
In Kaanapali, just up the road from Lahaina, an Exotic Estates favorite is the Hula Grill. This restaurant is split between a high-end atmosphere on one side and a barefoot beach bar on the other. They have live music all hours of the day and guests can look out onto the beach while sipping Mai Tais with your toes in the sand.
Star Noodle
Another staff favorite is Star Noodle, which is a Thai restaurant that offers a local feel. There are also a variety of food trucks found on Dickenson Street.
Merriman's Restaurant
Further up along the coast, Merriman's Restaurant is known for the best sunset view on the island and is great for happy hour. It's located between Kapalua and Napili Bay so you have beautiful views of the Pacific on either side of you (we always recommend to calling ahead of time, as sometimes it's booked out for weddings).
Hawaii Tasting Tour
We also recommend a restaurant tour called the "Hawaii Tasting Tour," which provides an exciting array of local history as you tour and enjoy meals at various eateries throughout West Maui.
South Maui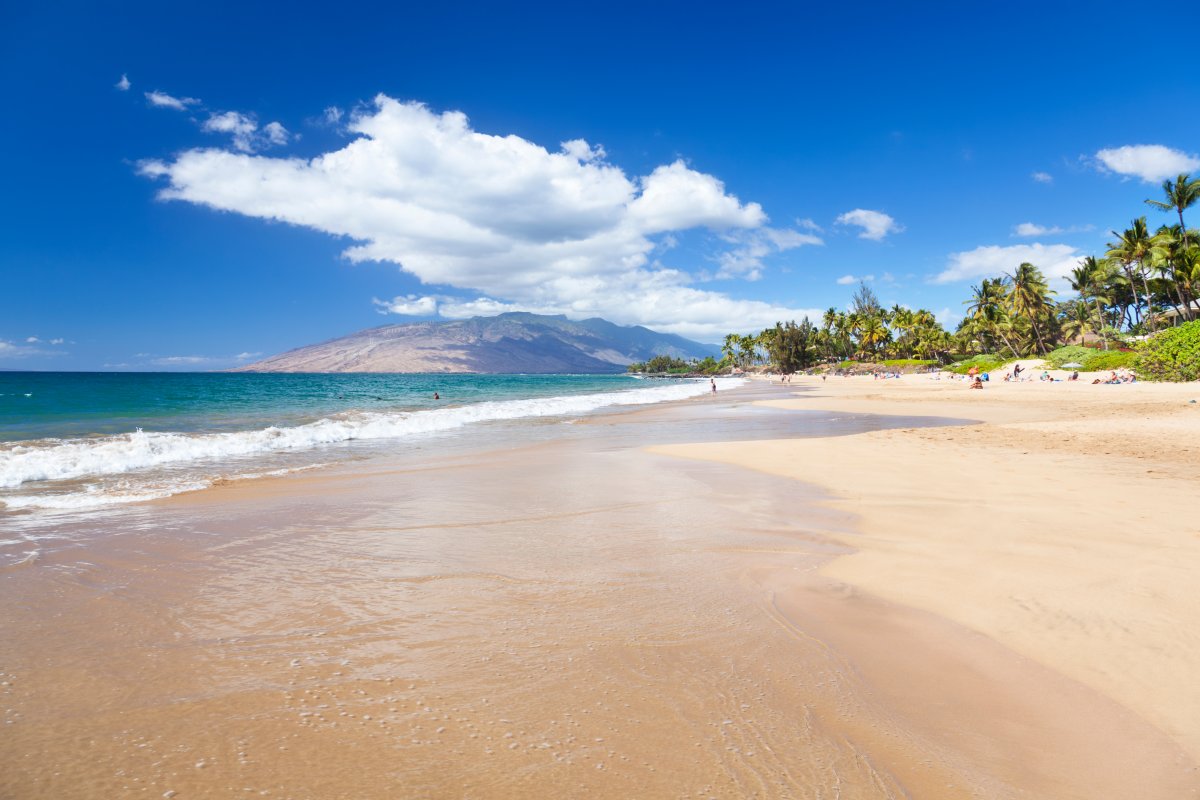 South Maui is the land of beaches and stirring views of offshore islands. The sunsets here are a spectacular nightly display, with the islands in the distance and tropical clouds clinging to their upper slopes.
Offering relaxing beaches, sunny weather, quiet coastal trails and a diverse dining scene and fabulous shopping, South Maui is a very toney place to spend your vacation.
From Kihei to Wailea to Makena, you can enjoy plenty of classic Maui activities, like swimming with sea turtles, kayaking, and canoeing, as well as swanky vacation fun like spa days and gallery browsing.
Things to Do in South Maui
One of the best beaches in South Maui is Big Beach. Located in the heart of Makena State Park, this unscathed beach is considered one of the best in Maui. The golden sands stretch for almost a mile and the beautiful blue waters sparkle before you.
Snorkeling with Sea Turtles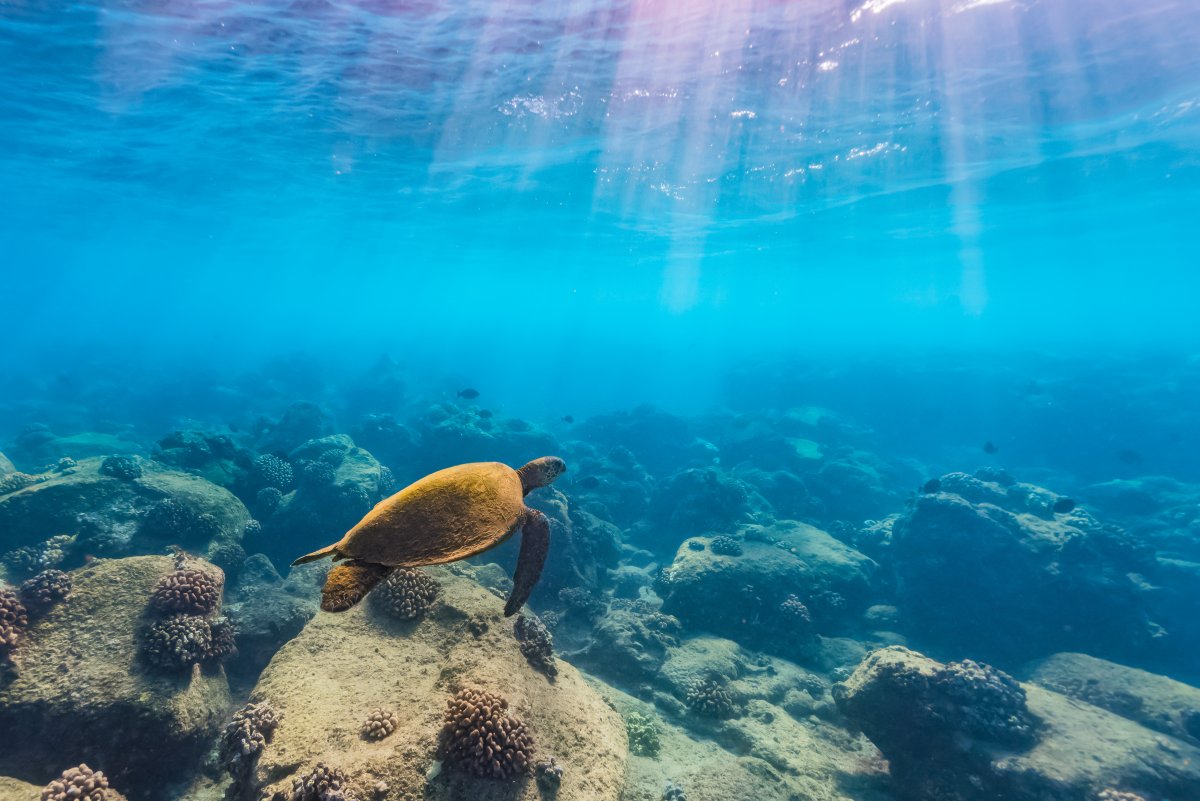 If you are looking for an underwater adventure, South Maui offers excellent snorkeling at Malu'aka Beach where you are sure to find green sea turtles! If you swim about 100 feet out you will also find beautiful coral.
The World's Most Beautiful Sunsets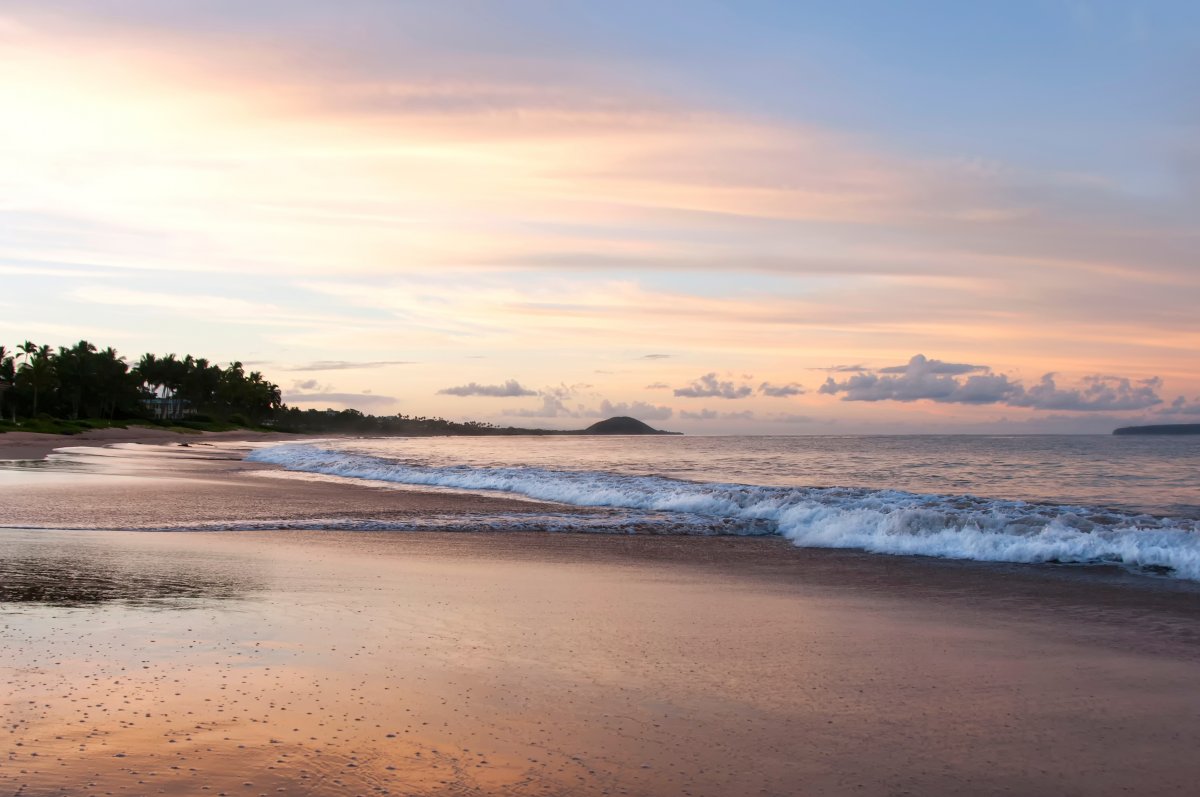 Known for beautiful sunsets, you will find one of the best at Keawakapu Beach. Enjoy the nightly performance from this stunning beach! This is a less crowded beach and a great place to relax and enjoy the cool Maui evening after the light falls. Come back in the morning and enjoy sunrise yoga. Afterward take the snorkel and jump in the water, as the morning is the best time to watch the sea life. During the winter months, if you are lucky, you may even see a humpback whale.
Exotic Estates offers a variety of vacation estates and villas in South Maui, in and around Kihei, Wailea, and gorgeous Makena.
In Kihei, the Wailea Inn can be rented as a large vacation estate able to host up to 32 guests or as separate units! The stunning Nani Pulelehua offers four comfortable bedrooms and a stunning private pool and Jacuzzi, while the Villas By The Cove is a large, luxury rental complex that has a total of 19 bedrooms and is wedding friendly!
South Maui is home to famous villa-resort complexes that offer a hybrid of luxury private Maui villa and resort-style living!
Hale Makena, is a gorgeous luxury villa that overlooks Makena Bay and the island of Kaho'olawe in the distance. This luxury estate offers private vacation experiences nestled in of a location of profound beauty.
Andaz Maui at Wailea
The Andaz Maui at Wailea is a collection of gorgeous villas located inside the Andaz Maui Resort. These contemporary villas offer one to four bedrooms and can accommodate up to 10 guests. Featuring ocean views, private plunge pool, and outdoor BBQ, you will have all that you need to enjoy your vacation on your time.
Wailea Beach Villas
Exotic Estates also has an amazing villa at the Wailea Beach Villas. The Wailea Beach Villas Penthouse is a three-bedroom private vacation villa that offers the personal service of a 5-star resort along with the lifestyle of private Maui vacation villa. The Wailea Beach Villas boast over 10 acres of tropical grounds. Located in one of Maui's most desirable gated communities, you and up to seven guests will never want to leave this luxury villa!
South Maui Food or "Grinds"
Four Seasons - Ferraro's, DUO Steak and Seafood, Spago
For the ultimate dining experience, you will want to visit the Four Seasons. Choose from dining under the stars at Ferraro's Italian cuisine, or experience the chefs working their magic in the open kitchen of DUO Steak and Seafood. You will relish in classic Hawaiian cuisine on the beautiful outdoor lanai of Spago, which is inspired by Master Chef Wolfgang Puck.
Fairmont at Kea Lani
For another luxury dining experience, visit the Fairmont at Kea Lani. This centrally located hotel offers a variety of casual and fine dining options from the Kea Lani Restaurant with delicious breakfast favorites, to lunch at the Ama Bar & Grill, which offers contemporary poke bowls to a plate lunch for a relaxed atmosphere outdoors.
Da Kitchen
For local-style grinds, visit Da Kitchen. The name is Hawaiian slang for, "The Kitchen," and the owners founded this restaurant based on their desire to offer local food to Maui. Offering a delicious menu and big portions, you can't beat the prices of Da Kitchen. Famous for diverse food with an emphasis on traditional Hawaiian cuisine, the casual atmosphere of Da Kitchen leaves you feeling relaxed and satisfied!
Nalu's
Nalu's is a casual, family-friendly dining experience offering a variety of plates from delicious sandwiches to local favorites.
Three's Bar & Grill
Three's Bar & Grill is another casual South Maui hotspot for Hawaiian and Pacific Rim Cuisine that also puts on a fun happy hour!
The 808 Bistro
Often touted as an "unexpected" culinary find by visitors, The 808 Bistro offers a delicious "farm-to-table"-inspired menu and fun libations.
MonkeyPod Kitchen
Located in Wailea, the Monkeypod Kitchen is a place where guests can savor a cold beer and great meal. This restaurant is part of the Merriman's group and a South Maui favorite. Locals voted MokeyPod Kitchen to have the best Mai Tai on the island.
Central Maui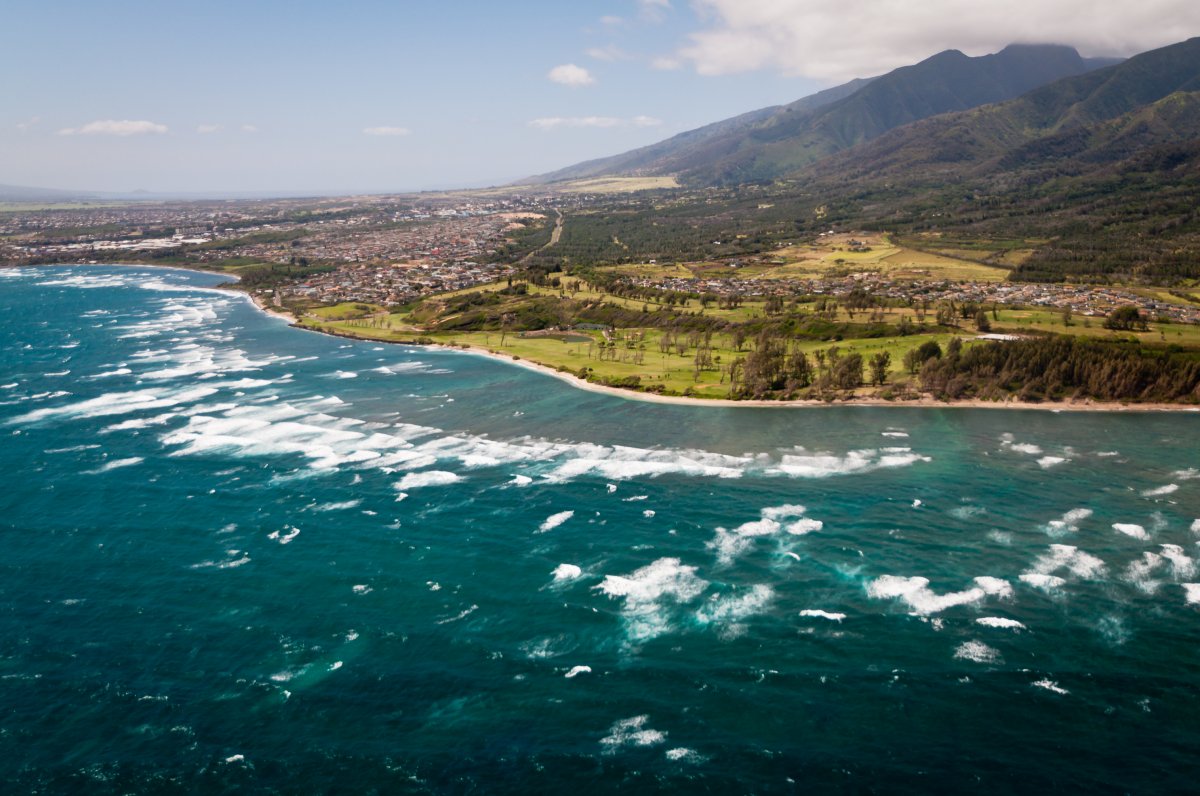 Central Maui is the strip that connects the West Maui Mountains to Haleakala Crater, giving the Island of Maui its distinct three-part shape. This part of Maui was once known for fields of sugarcane, but now features a wide range of interesting attractions.
Things to Do in Central Maui
Iao Valley State Park

Most notably, you will find Iao Valley State Park, which is well known for the famous landmark of the 'Iao Needle. The needle is a prominent point sticking up from the valley. The needle itself is the end of a long, knife-edge ridge. Located in a valley, these are the remains of the central crater of the West Maui Volcano. You will love walking and hiking along streamside trails as you take in the sights and smells of this tropical paradise. Nearby, you also find Kepaniwai Park and Heritage Gardens, which is an architectural park inspired by various immigrant groups.
Kanaha Beach Park
Be sure not to miss Kanaha Beach Park, which is home to Kahului's water-sports mecca. From sailing to windsurfing and kite surfing, you will find plenty of instructors willing to give you a shot at the action right on the beach.
Maui Arts and Cultural Center
You might also enjoy stopping by the Maui Arts and Cultural Center, where you can learn the deep history of the ukulele and enjoy the Schaefer International Art Gallery's latest exhibition!
Central Maui Food or "Grinds"
Ba-le Sandwiches and Plate Lunch
What was originally a French-Vietnamese bakery on Oahu, Ba-le Sandwiches and Plate Lunch has branched out into small restaurants that are sprinkled throughout the islands. Offering Vietnamese pho and delicious sandwich options, this local grind is perfect for lunch on the go, or a casual lunch on the outdoor picnic tables.
Sam Soto's
Satisfy your noodle craving at Sam Soto's. Offering unlimited noodle options such as dry mein, saimin (Hawaiian version of noodles soup reflecting Chinese, Japanese and other immigrant influences), chow fun, or even noodle bowls, you will be licking your plate!
Tin Roof
Chef Sheldon Simeon, of Bravo's Top Chef fame, and the personality behind Star Noodle opened Tin Roof in an obscure location in Kahului. This little, unassuming restaurant has the feel of a place for people "in the know" and offers delicious locally inspired dishes that easily fall into the category of "serious cuisine." Tin Roof is on every foodie's radar and if Chef Simeon is in the restaurant, he's always happy to take photos with fans.
Upcountry Maui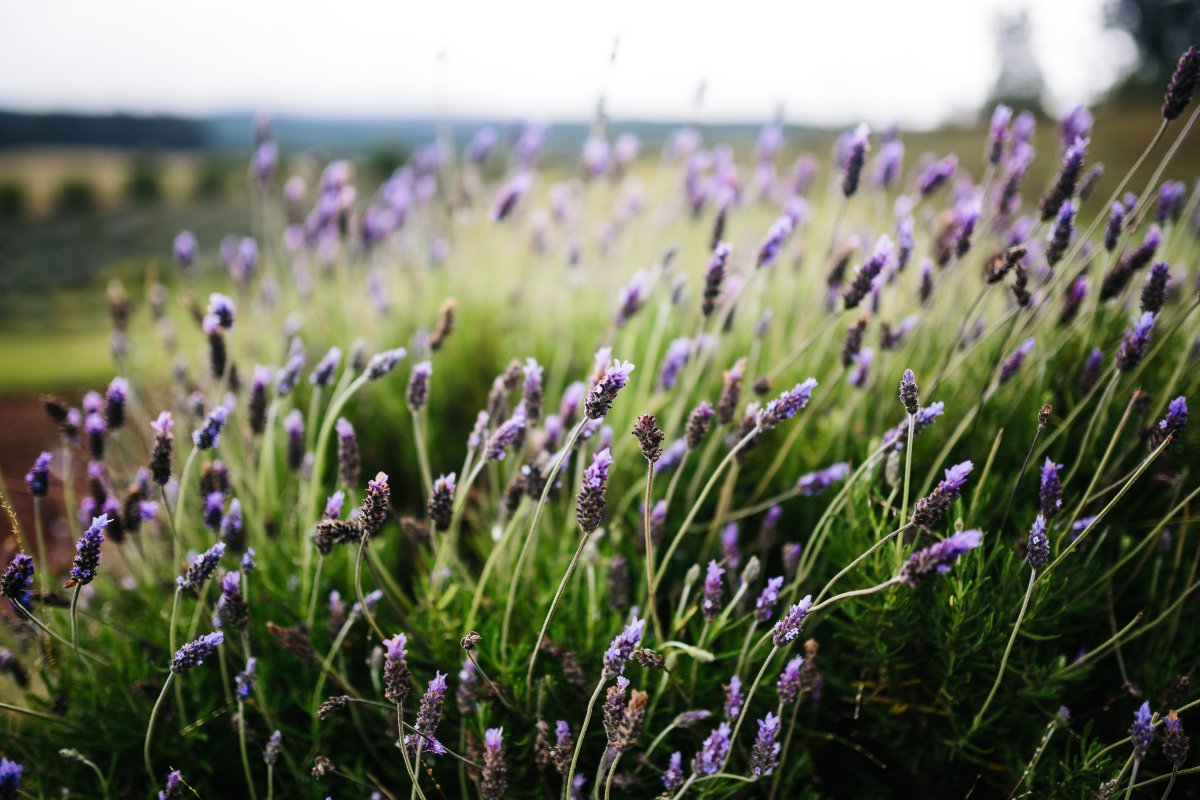 In less than 30-minutes, you can drive from the beaches of the North Shore and break out into the open, upcountry hills of Maui.
"Upcountry" refers to the collection of towns that are located 2,000 to 4,000 feet up the slope of Haleakala Crater. Offering cooler weather and rolling green hills, this part of Maui is definitely worth visiting.
Things to Do in Upcountry Maui
You will feel as though you have gone back in time as cowboys wander the range and farmers work the island's garden belt. The culture of Upcountry Maui evokes an old-west feel.
Start off your Upcountry trip at sea level at one Maui's classic beaches - HA Baldwin Beach Park. Work your way to Polipoli Spring State Recreation area, where you might find yourself alone in the beautiful and unique cloud forest.
Once you have worked up an appetite, you will find delicious organic eateries and wineries. Maui's winery is a perfect place to start your evening, as it provides delicious wine from the lush nearby vineyard. For dinner, enjoy contemporary Japanese cuisine at Nuka, which is known as one of Maui's best dining options.
Before you leave upcountry, be sure to experience the sunset from atop Haleakala National Park. You will also see gorgeous views of West Maui and the valley between the mountains.
Haleakala Crater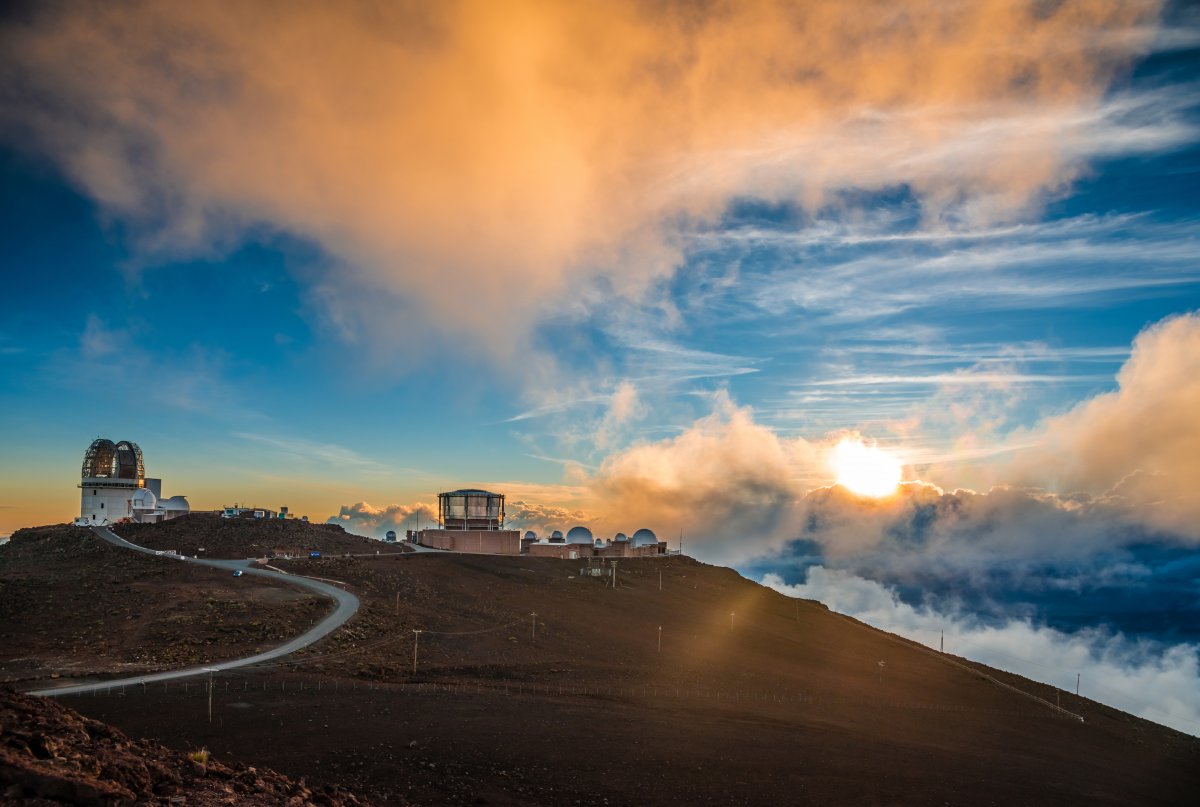 Haleakala means "House of the Sun", and Haleakala Crater in Haleakala National Park on Maui is aptly named. Haleakala dominates the southern landscape of Maui. The dormant volcano is massive, rising to 10,023 feet!
When one flies to Hawaii, often it is the peak of Haleakala Crater that greets you. The flight is long and as the anticipation of arrival builds, the sight of Haleakala is welcome and exciting. You are finally in Hawaii!
On Maui, driving to Haleakala Crater is a must-do activity. It is an all-day affair, as the mountain is huge and the distances are vast; the crater itself is almost seven miles wide and 800 feet deep!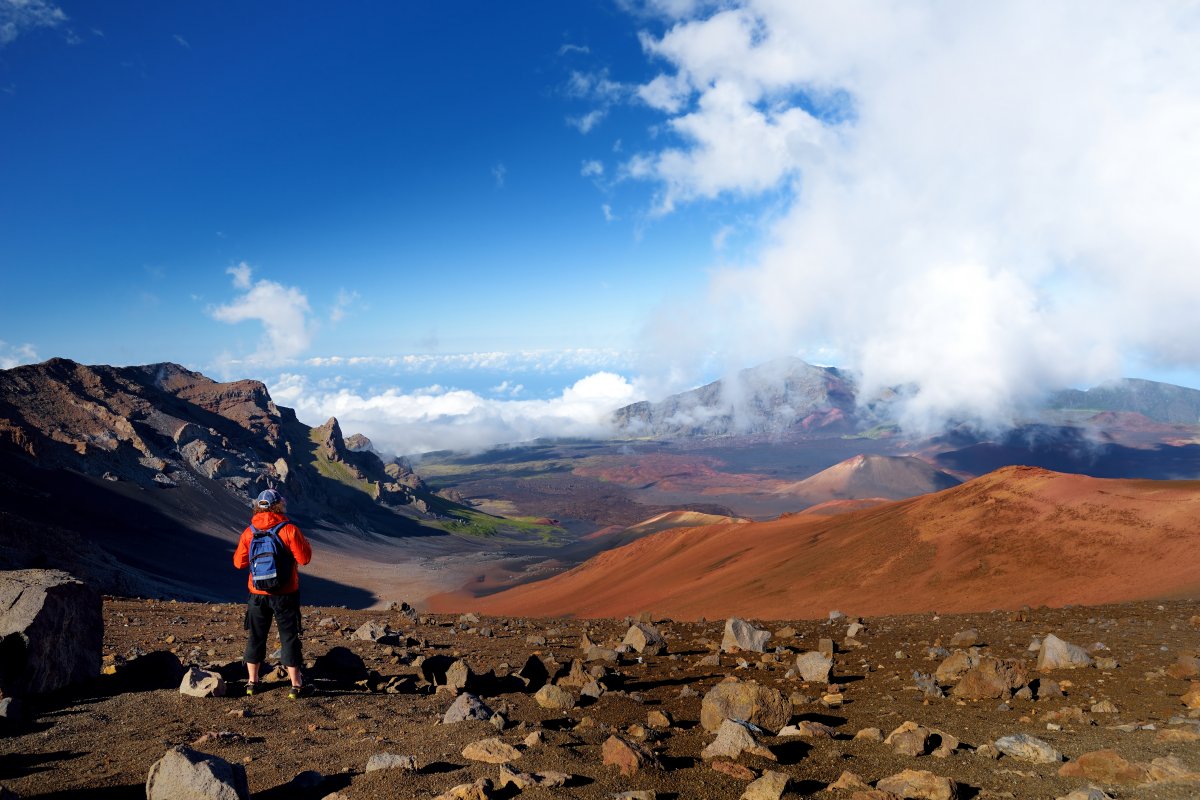 The rewards of Haleakala can be a profound experience. Sunrise at the crater rim has been described by some as watching the earth be born – as the sun slowly fills the primordial-looking landscape.
You may drive up to the Crater on your own, or you can partake in a tour. There are fun bicycle tours of the crater, which involve driving to the Crater rim with a group to watch the sunrise and coasting down the winding roads to the base.
Of course, sunsets can be equally spectacular, and we've been told it's one of the most romantic spots in Hawaii to propose.

On a hike through this strange landscape, you will walk along solid lava, and may see the unique life forms that live there, including the beautiful silver sword plant. Whether you choose to hike through the crater, take a ride along horseback, or mountain bike through, you are in for the ultimate Maui adventure at Haleakala.
A note, Haleakala weather is notoriously fickle, so be sure to check the forecast and plan your visit when the weather calls for clear skies, as you can very well make the long trek to the summit only to find it completely cloaked in clouds.
Maui's North Shore
Maui's North Shore is a much less traveled area compared to Lahaina and the South Shore.
The North shore of Maui is a quiet paradise filled with beautiful waterfalls and stunning views of the ocean. With peacefulness, also comes ruggedness. Oftentimes, when renting a car in West Maui, they will advise that you not travel around to the North Shore from West Maui. Offering narrow and winding roads, make sure to only let the brave drive along this part of the coast!
Although Hana in the south of the island usually gets all of the credit, the North Shore also offers some unforgettable views.
Maui's North Shore is a paradise for water sports enthusiasts, as the wind and ocean swells of Ho'okipa Beach and Paehi, also known as Jaws, make it a perfect destination to kite surf and windsurf! Travel inland and you will find a lush tropical paradise and the lovely town of Paia.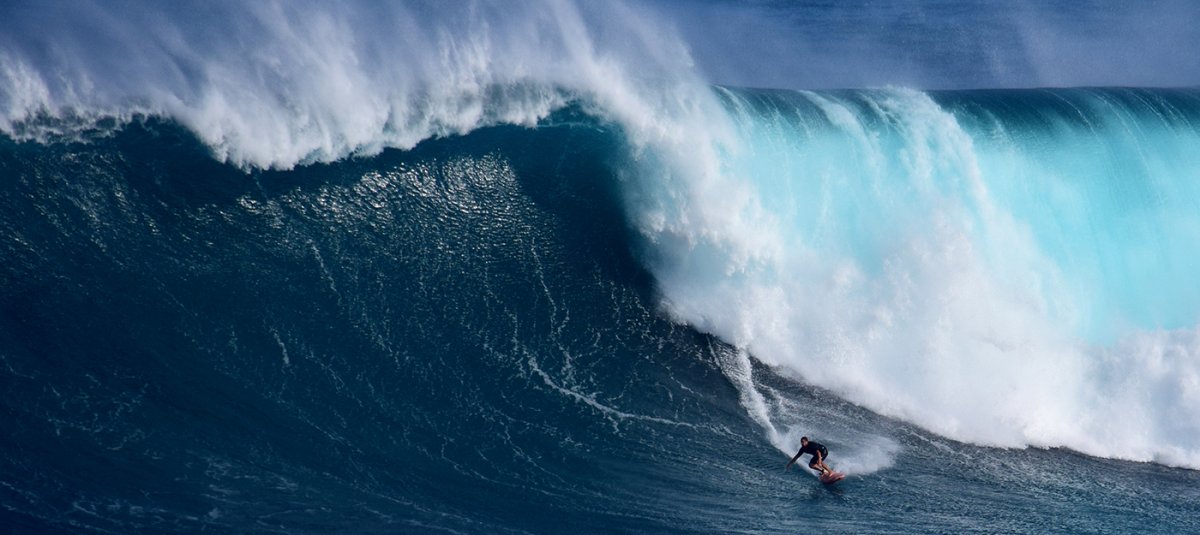 The towns of Paia and Haiku offer small-town culture on and a folksier vibe. Haiku is a great place to experience the jungle of Maui, and you will also find some of the island's most popular restaurants along with quiet and un-crowded beaches. This includes Baldwin Beach Park, which is located just a few minutes west of Paia. Boasting around 17 acres of coastline, this beach is perfect for everyone!
Paia is a quaint bohemian-style town that is a perfect destination for those who love to shop. With roots in Maui's agricultural history, the historical part of town still showcases old storefronts and a country atmosphere. You will find galleries, surf shops, yoga studios, and boutiques.
North Maui is truly off the beaten path. Offering the very best of small-town charm, you will love the peaceful beaches and the breathtaking views of this part of the island!
East Maui and the Road to Hana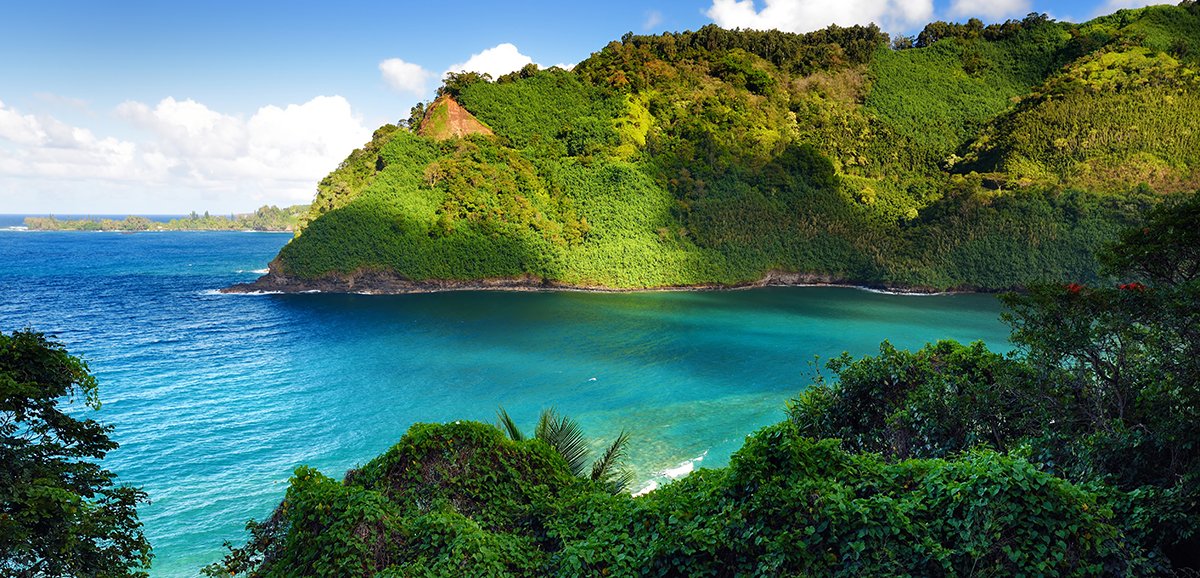 If you plan to drive the much-lauded "Road to Hana," be prepared to experience the most enchantingly beautiful drive in Hawaii!
The legendary Road to Hana spans the northeast shore of Maui and offers truly extraordinary scenery. The road twists and turns between jungle valleys and towering cliffs, and you will be able to stop and gaze at captivating waterfalls from one of the 54 one-lane bridges along the way.
Offering much more than a drive, once you arrive at your destination, you will experience hiking trails, gorgeous swimming holes, and adorable seaside villages. There is also a beautiful black-sand beach at Pa'iloa Beach, in Waianapanapa State Park.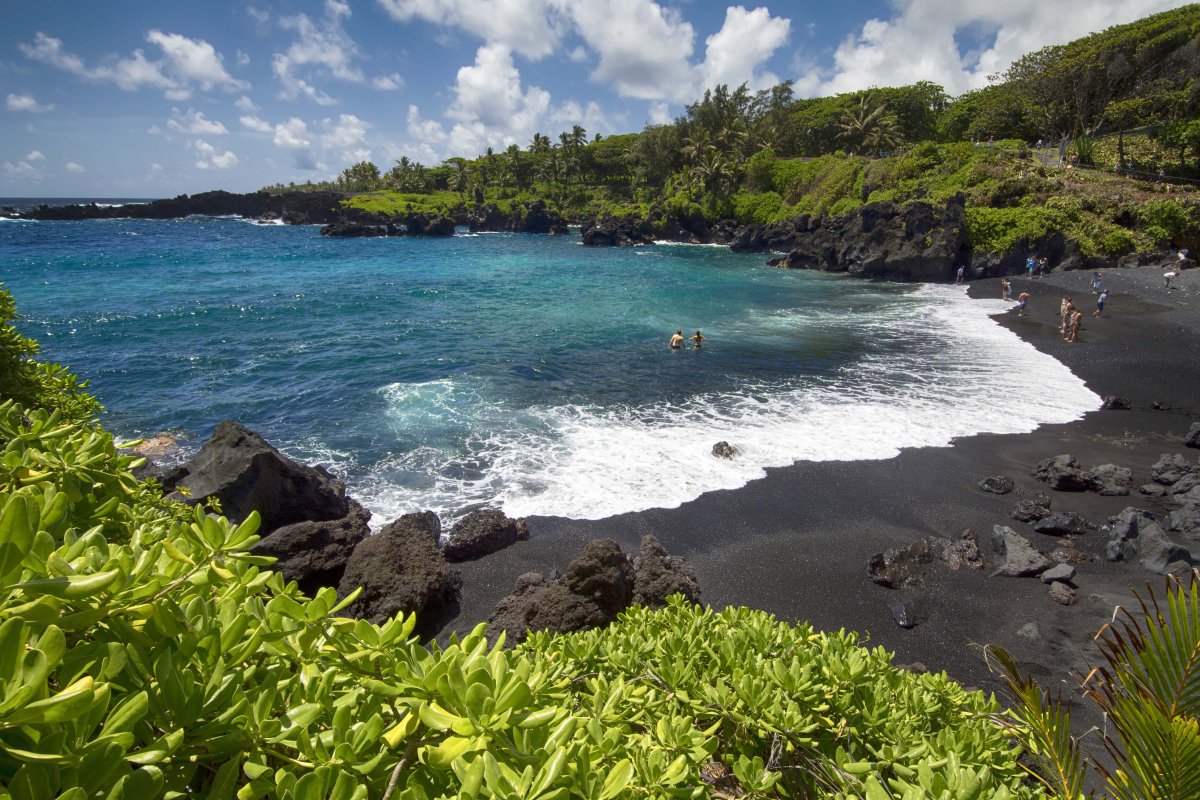 Hana is generally more vulnerable to whatever the trade winds blow towards the island, but still offers plenty of sunny skies. Sometimes systems bring rains, which is a cleansing experience and the root of the lush beauty and waterfalls found on this side of Maui.