Hawaii Whale Watching Guide
Back

Where to Watch Humpback Whales on Maui
By Shanon Searls
Now that you have arrived in Hawaii, unpacked your bags and breathed in the fresh, tropical air, it's time to unwind and have the experience of lifetime!
You have most likely heard about it and maybe even seen pictures, but now is your chance to seize a unique opportunity…viewing humpback whales up close and personal!
Like clockwork every year, majestic humpback whales visit the warm Hawaiian waters from November to May. With so many exciting things to do and see in Hawaii, this is an event that is sure to amaze even the most well-traveled visitor. The peak watching season is from January to March, and trust us, you don't want to miss out!
It is estimated that about two-thirds of the humpback whale population (in the North Pacific) visit Hawaii each winter. These whales travel over 4,500 miles to Hawaii to breed, give birth and nurse their young, seeking refuge from sub-freezing temperatures.
Hawaii is one of the greatest places to watch for whales, since they come here during mating season and are very active. This results in elevated surface activities and whether you watch from your private lanai or, as we recommend, embark on a boat-tour, we guarantee you will be amazed at the sight of these magnificent mammals.
For an AMAZING view of a triple breach, visit our YouTube page here: https://youtu.be/J_olCH4vKVo
Tourists in their own right, whales bask in the delightfully warm Hawaiian waters hopping island to island, putting on a show (and even boosting the economy) before packing up and returning home.
There are many whale-watching excursions to choose from, many of which guarantee sightings with the guide of on-board experts and a little help from modern technology. Most tour operators have microphones that they drop into the water, allowing you to hear the beautiful melodies of the whales in the area.
Preserving the Humpback Whale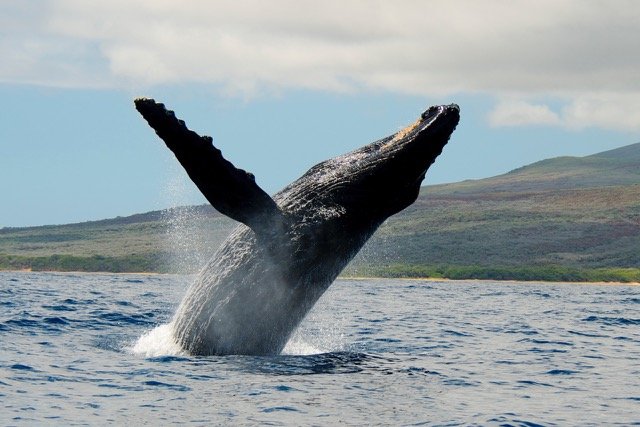 Protecting these endangered creatures is vital and in 1996 after mass commercial whaling, they almost became extinct. Now there are around 30,000-40,000 humpbacks worldwide and although federal law helps protect them, there are also things you can do to help preserve these beautiful animals for future generations.
Out of respect for safety to both you and the whales, federal law requires that all ocean vessels maintain a distance of at least 100 yards from the whales. Don't worry, this is the perfect distance to capture an amazing view as they breach and show off. There is also no rule that keeps whales from approaching people and some experienced tour-guides know how to gently approach these amazing animals to get them to come closer. You may even get splashed from breaching or a tail slap!
Locals' Tips:

Help keep beaches and waters clean and free of debris
Support efforts that help put an end to illegal whaling
Participate in responsible whale watching activities.
It might be overwhelming to choose the best whale-watching experience for you and your group, so we have made it easy and put together a guide for humpvback whales on Maui. Whether you choose to watch the whales from the shore or dive into the waters to hear their songs, this is an experience you won't soon forget.
Whale-Watching Boat Trips
For those looking for the "up-close-and-personal" experience, a whale-watching boat trip is the way to go! This is the ultimate in whale-watching experiences, and a must do for those looking for an unforgettable experience with this endangered species.
Locals' Tips:

Look for smaller boats, such as sailboats or catamarans, for an intimate experience away from the masses! Sailboats also offer a pristine experience on the ocean; feel the tranquil breeze, soak in the Hawaiian sunrays, all without the loud hum of large engines.

Start Early! We know not everyone is excited at the thought of rising early while on vacation, however early morning trips (as opposed to afternoon trips) ensure the least wind and smoothest ride for your excursion. Don't forget, we do reside in the latest US time zone – so while 7:30 or 8:00 a.m. may sound early, your body will most likely feel as though it's much later!

Prone to seasickness? Don't forget the Dramamine, seasickness patches, and ginger in any form. Equally, if not more important than those, don't forget to stand at the rail's edge and keep your eyes on the horizon! This will help your equilibrium immensely. Be sure not to enclose yourself inside (say, a bathroom!) as this will amplify the effects of your seasickness. Lastly, if you do happen to get sick, aim for over the back railing (on the lower level if you're on a two-tier boat!), and don't fret or be embarrassed, the crews are all quite accustomed to it.
Best Option – ask the Exotic Estates Hawaii-based Concierge to connect you to the perfect sightseeing tour.
Whale Watching from Cliffs or Lookout Points
Not a fan of being on a boat? Each island has a multitude of options for vantage points to view whale activity from land. These popular locations are often found cliff-side for an expansive ocean view. Get ready for the water show of a lifetime!
Locals' Tips:

Don't forget your binoculars! While whale activity in Hawaii can be easily seen with the blind eye, you'll wish you had a pair of specs handy to get detail only usually seen up close.

Most lookout points in Hawaii are located right off main travel roads. Be sure to park as to not impede with road travel, and be extremely careful not to walk within roadways while exiting and entering your vehicle.

Stick to the road most travelled! Most known lookout points have clear markers, those without paved parking lots will have obvious beaten paths with flatter areas better for parking. Skip the urge to drive or venture into blocked or undesignated areas off cliff-side roads! Often these areas are heavily rocky, unstable, and unsecured and pose an unassuming safety risk.

Along the same line, be cautious while standing and walking cliff-side. Stay within markers and away from the cliff's edge while whale watching and taking photos. While our Hawaiian lava rocks may look very stable – they can easily scramble and breakaway without notice.

VOG (volcanic emissions of sulfur dioxide) can appear when our trade winds die down (it looks like smog to those unfamiliar), and can affect your visibility greatly while whale watching. If the weather appears "voggy" save your land-based whale watching for a clearer day. Keep an eye on the palms, when they start swaying again that VOG will blow right on out!
Whale Watching from the Beach
Ready to get those toes in the warm Hawaiian sand? You can still soak up the views from the comfort of your beach chair!
Maui is home to some of the best whale watching in the world. The ocean channel between West and South Maui is protected by Haleakala and the West Maui Mountains, setting the stage for endless visibility and shallow waters ideal for humpback whales.
Besides an on-the-ocean view while aboard a whale-watching excursion, the below are some of Maui's best known sites for whale watching.
1. McGregor Point (Honoapiilani Hwy, near Ma'alaea)
This point is home to the McGregor Point lighthouse and sweeping ocean views!
Directions: Between Mile Markers #7 and Mile Marker #8, off the Honoapiilani "Pali" Highway, there is an unimproved rocky road that leads to the point overlook.
2. Papawai Scenic Lookout (Honoapiilani Hwy, near Ma'alaea)
This is the easiest lookout on island to access, and almost impossible to miss!
Directions: While travelling Lahaina-bound on the Honoapiilani "Pali" Highway, near Mile Marker #8 a turning lane entering the paved lookout parking lot.
3. Olowalu Area Beaches and Roadside (South of Lahaina)
This entire area of shallow water just along the towering West Maui Mountains is wonderful for viewing whale activity on a clear day.
Whether you simply pull the car over, stop beachside for a dip, or join a kayak whale-watch excursion in these waters – you're likely in for quite the show!
Locals' Tips:

Just as before, don't forget those binoculars for that perfect visual!

Aim to avoid busier beaches for more ambiance, and less shoreline activity that can detract from watching the horizon for a pod of whales!

Feeling adventurous? Paddle boarding is a great opportunity to enjoy one of our most popular ocean activities, while getting a great ocean view often with whale activity (it can occur much closer to shoreline that you may expect!).

The sight of whale activity right offshore while driving is not uncommon here (especially in the Olowalu and Honoapiilani Highway areas)! We know it's irresistible, but please be cognoscente and alert while driving. We like to call whale season "fender-bender" season, as distracted driving is the cause for many preventable accidents. Don't waste your previous vacation day in the after effects of a vehicle collision – when in doubt, pull over to enjoy the view!
Viewing from a Maui Vacation Villas - Best Seat in the House?
Exotic Estates offers plenty of Maui villas that have excellent whale-watching potential, sometimes right from your bed!
Book one of our exquisite Maui Villas and savor breathtaking views of the gorgeous Pacific Ocean, including awe-inspiring scenes of Humpback whales breaching and frolicking on the ocean's surface during the winter months.
To see a selection of our amazing villas, click here: Maui Vacation Villas
Blog Subjects: Maui, Vacation Activities