Big Island of Hawaii – Kohala Coast Rentals – Waikoloa to Mauna Lani and Mauna Kea Resorts
Back

Kohala Coast Rentals – Waikoloa to Mauna Lani & Mauna Kea Resort
Driving from Kailua-Kona airport on the Big Island of Hawaii north up the Kohala Coast reveals a rugged and arid landscape of dry grasses and vast fields of black lava rock on either side of the road.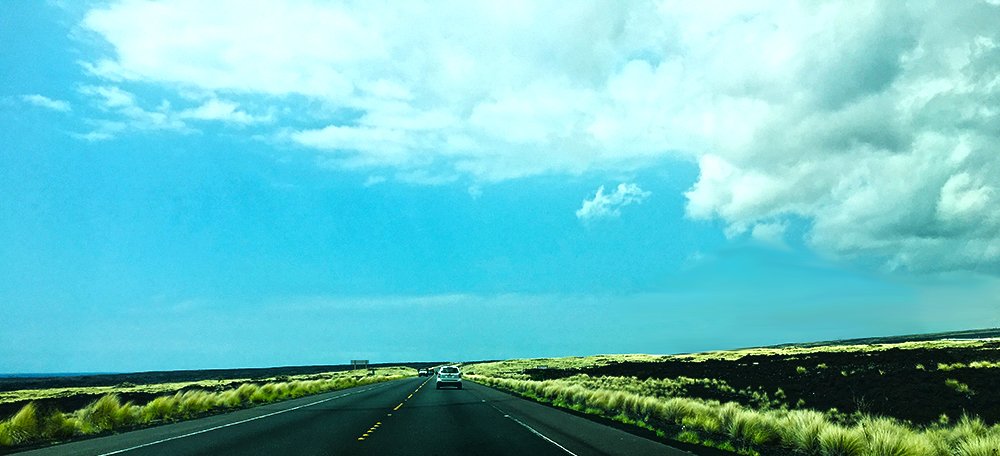 To your right, the island climbs to its incredible heights; Mauna Loa is said to be taller than Mount Everest if measured from its base on the seafloor. While just under 14,000 ft. may be revealed above water, its vertical is impressive since it starts at sea level, not some high mountain plateau, and rises majestically into the sky. To your left, you will see the blue Pacific Ocean, with green vegetation ringing the shoreline.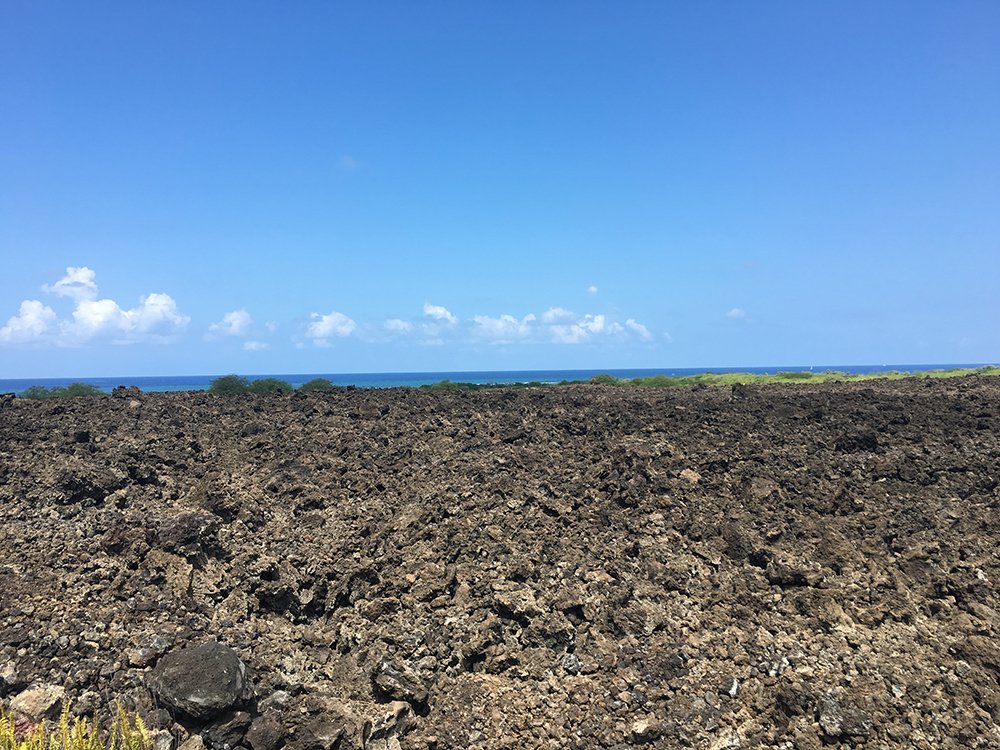 Most Exotic Estates' vacation homes north of Kona on the Kohala Coast of the Big Island are clustered in resort areas. Driving north on Hawaii 19, Queen Ka'ahumanu Highway, you will see turn offs to the resort areas on your left, starting with Hualalai, followed by Waikoloa, Mauna Lani and then Mauna Kea. All of these resort areas feature nice hotels, beaches, and, of course, fabulous vacation villas ringing world-class golf courses.
Because they are located in resorts, many of these vacation homes come with optional resort privileges, which can be a real benefit for beach access and other services like day care and dining. My last post was dedicated to Mauna Kea and the upcountry town of Waimea. This post will cover the resort areas and coast between Waikoloa and Mauna Lani, located to the south of Mauna Kea, closer to Kailua-Kona.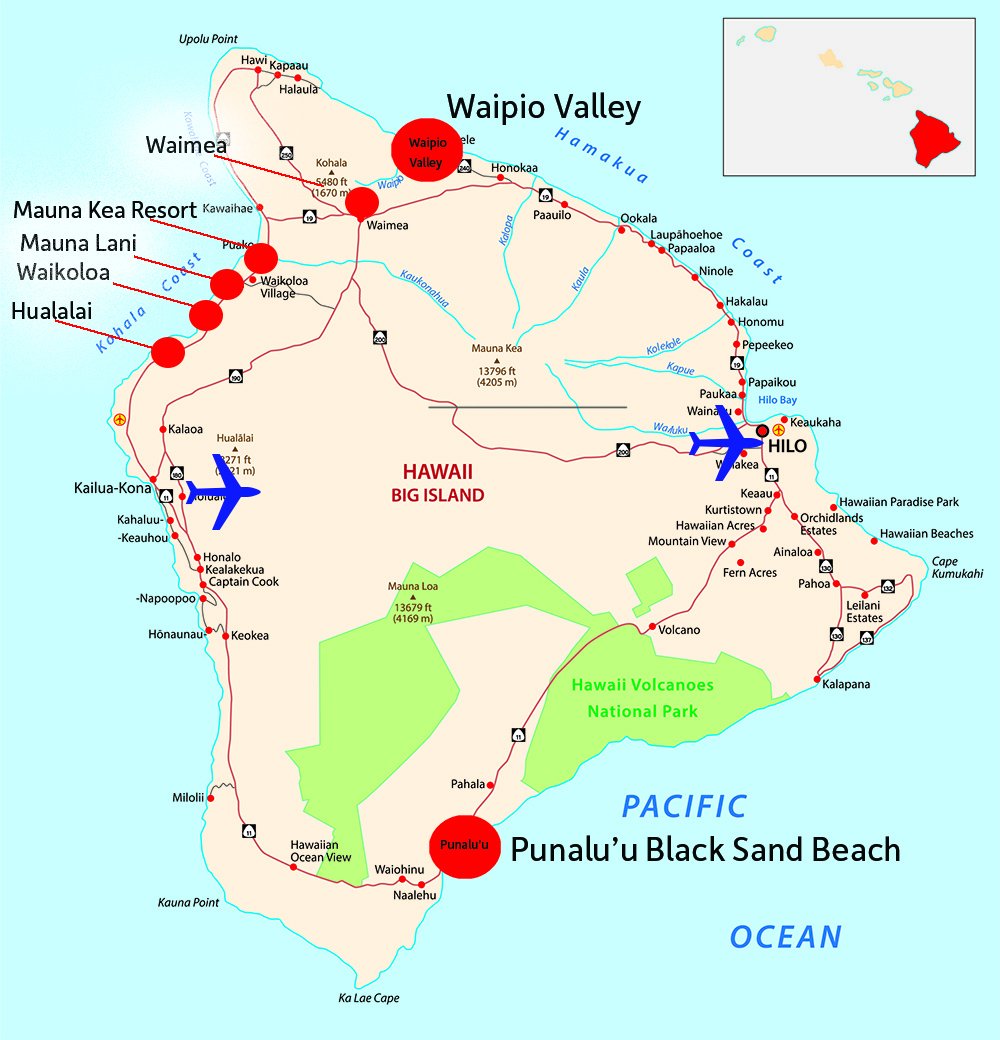 Waikoloa Resort Area - Kohala Coast, Big Island of Hawaii
The Waikoloa Resort, like the others, offers vacation homes and villas, hotels, golf courses, an oceanfront (rocky but beautiful), and a couple top-notch shopping centers that provide convenient services.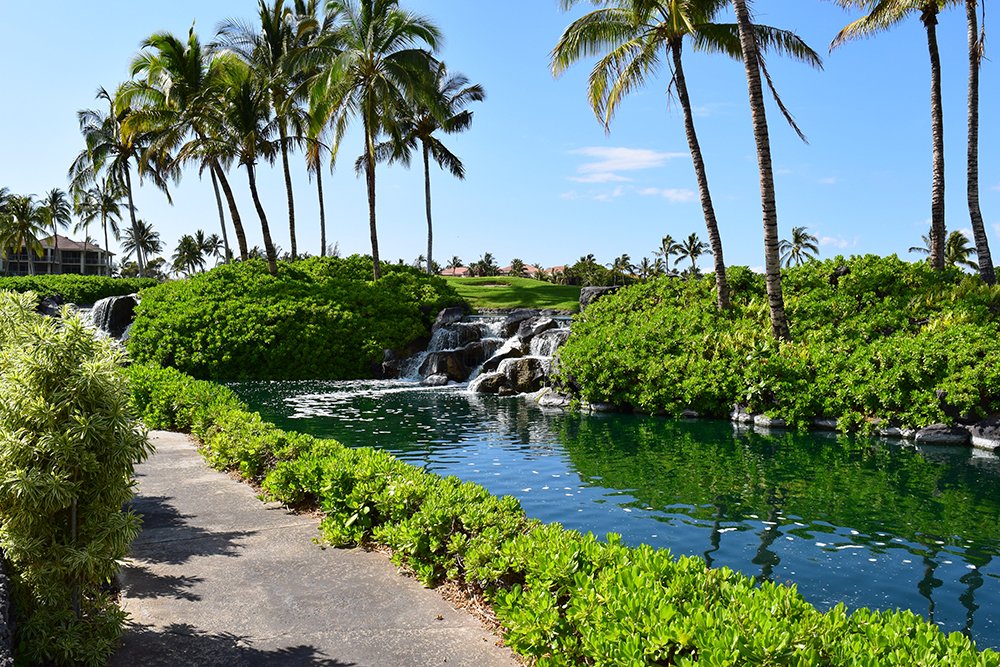 The Queens' Marketplace is the first one you encounter upon entering the gates of the resort from the highway. It has a gourmet supermarket with lots of prepared items (ideal for grabbing dinner ingredients or a quick lunch), as well as well as personal care items and other essentials. You'll also find a Starbucks and restaurants.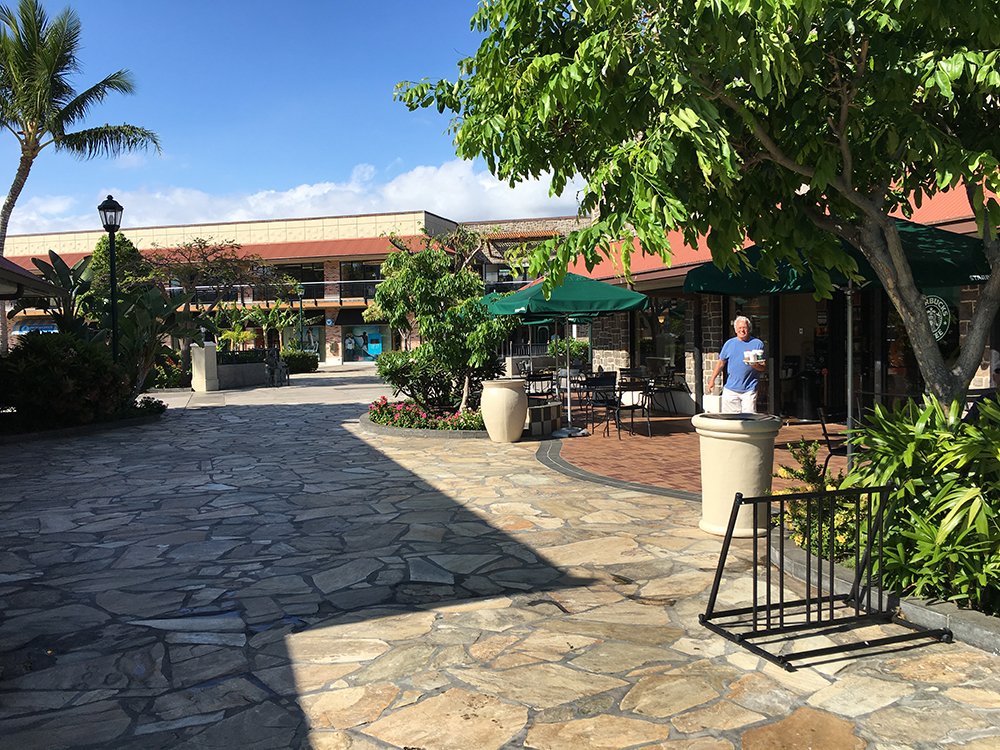 However, a fun, cheap lunch or dinner can be found in the food court, which has an Asian fusion-type restaurant, a DQ and a decent place for local food, with teriyaki chicken plates and the other regular Hawaiian BBQ plate lunch options. If you're on your way back home from a long day of touring and just want to eat something unfussy and crash, this is a good place to stop.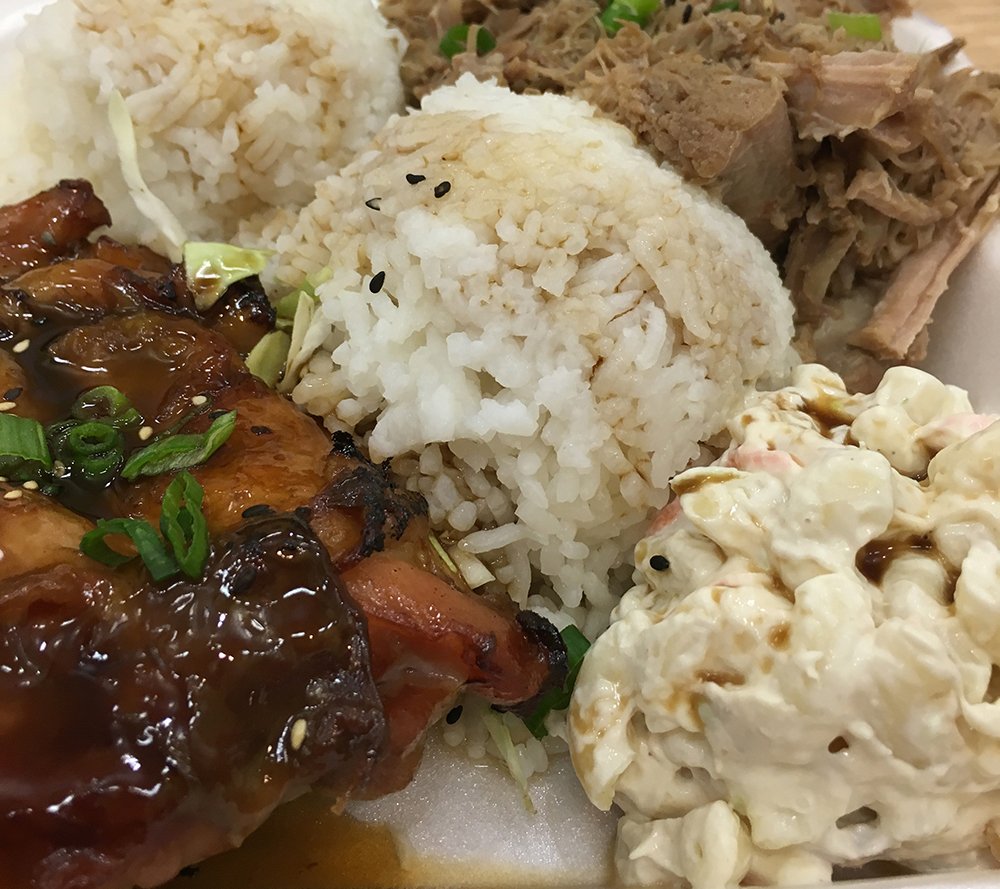 Further down the road, the Kings' Shops are filled with more upscale stores, including Tiffany's. There's a good spot for souvenirs as well.
The Anchialine Ponds - Waikoloa, Big Island
If you keep driving down Waikoloa Beach Drive, and take a left towards Anaehoomalu Point, just before Keana Place, you will find the Anchialine Ponds.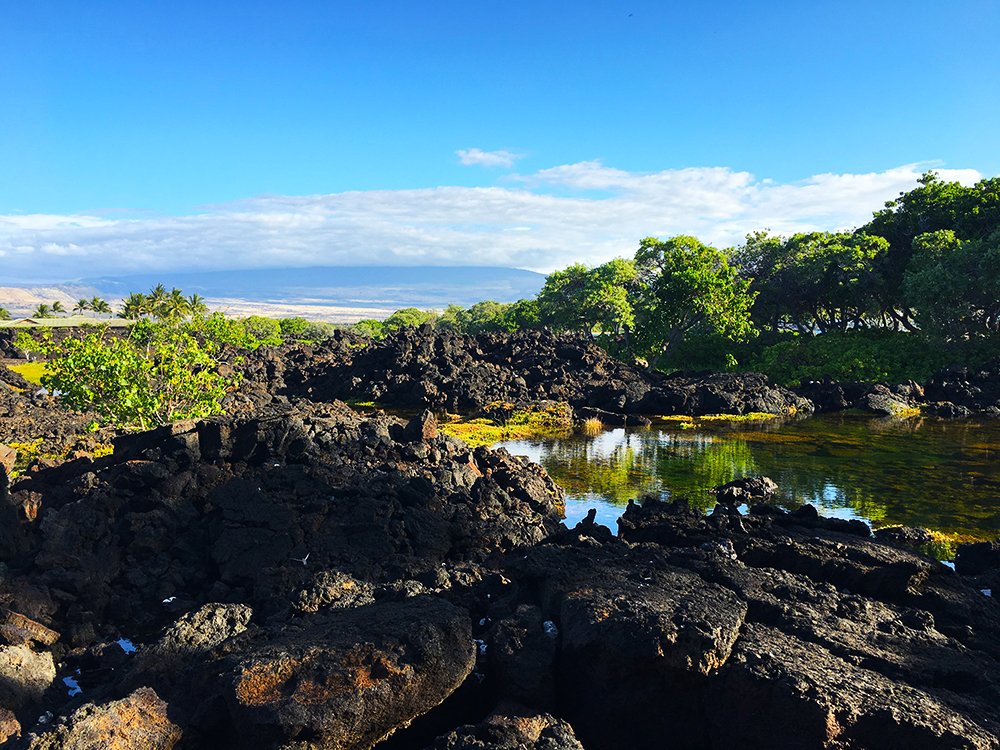 The Anchialine Ponds are part of a very beautiful oceanfront park inside the Waikoloa resort. It looks man-made but it's not, they are brackish water (mixture of saltwater and freshwater) ponds formed in the lava rock that penetrate into the water table and butt up against the rugged, coral-strewn coastline. The have no above the surface connection to the ocean, only below the ground via lava tubes! The ponds are maintained by the University of Hawaii.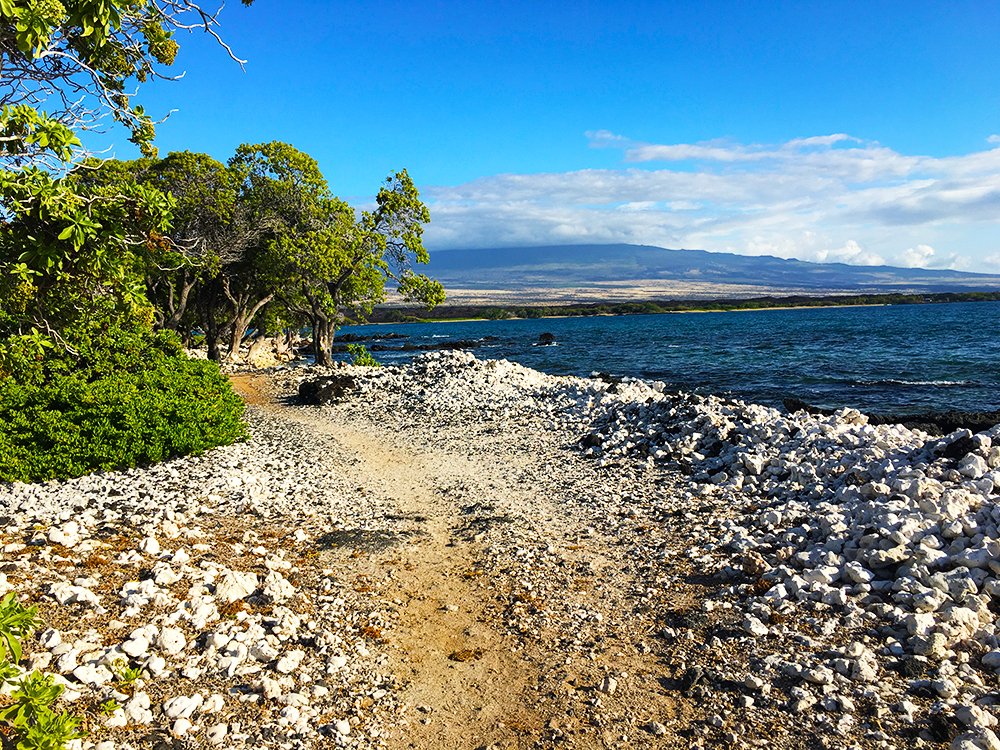 The entrance can be found at the gates to the Hilton. This is a gorgeous place for a twilight stroll, and you'll see fish swimming in the blue-green water as you walk the meandering path out to the coral beach. You can't swim there and the beach is not good for swimming because it is so rocky, but it's a pretty place to enjoy a quiet, reflective moment.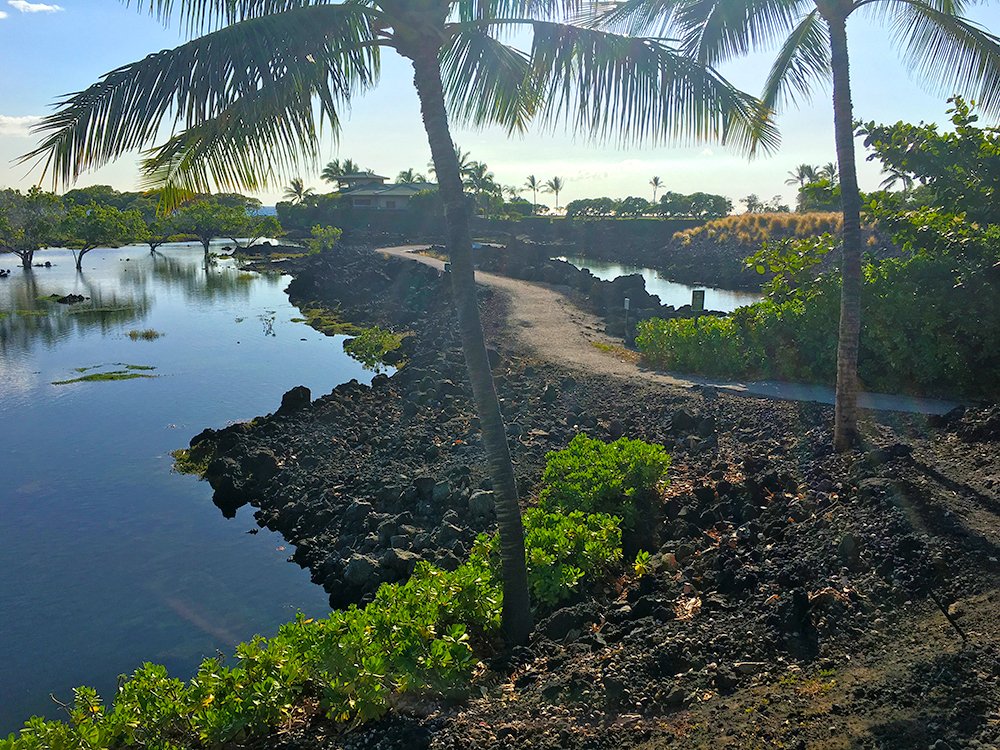 This is a terrific spot to experience the simple joy of a lazy vacation read in relative privacy. There was just one person out on the beach when I was there, a content-looking gentleman who was reading the paper under a shade tree.
The Lava Lava Beach Club - Waikoloa Hot Spot
Here in Waikoloa, you also have easy access to the Lava Lava Beach Club, which is located on a spit of land that offers excellent sunset viewing and a nice swimming beach. The Lava Lava Beach Club is a restaurant, not a club, and the vibe is similar to that of Duke's.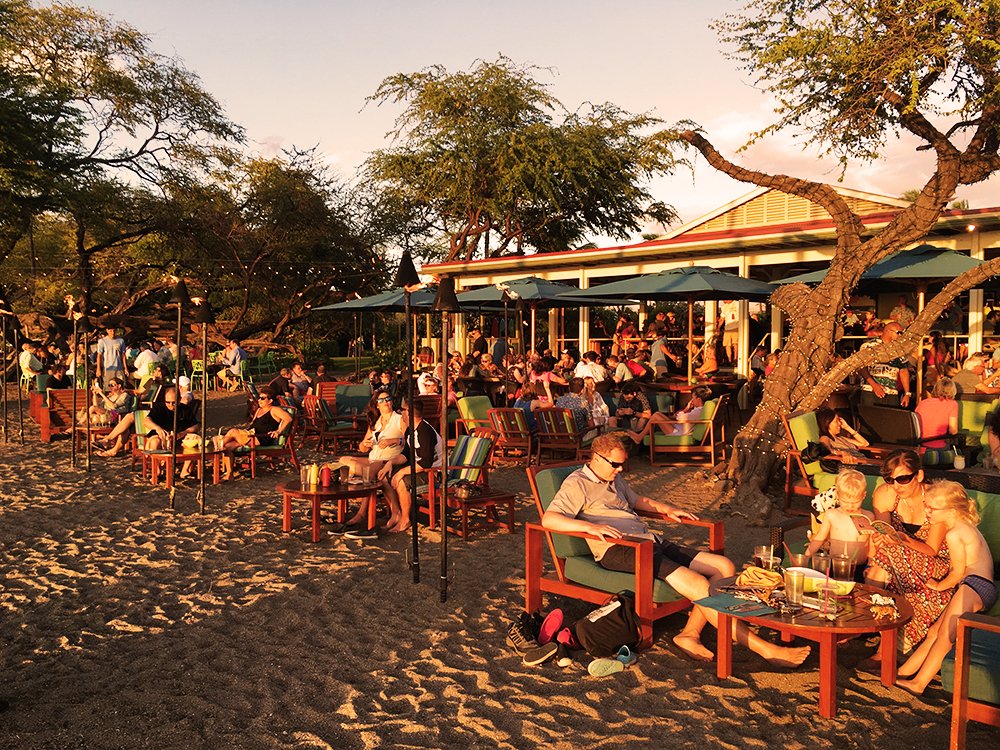 The restaurant is on the beach and affords guests a great view of the ocean along with a cold beverage. At sunset, you'll find a live band creating a festive vibe. Parking is in the adjacent lava field, which is a bizarre sight in and of itself.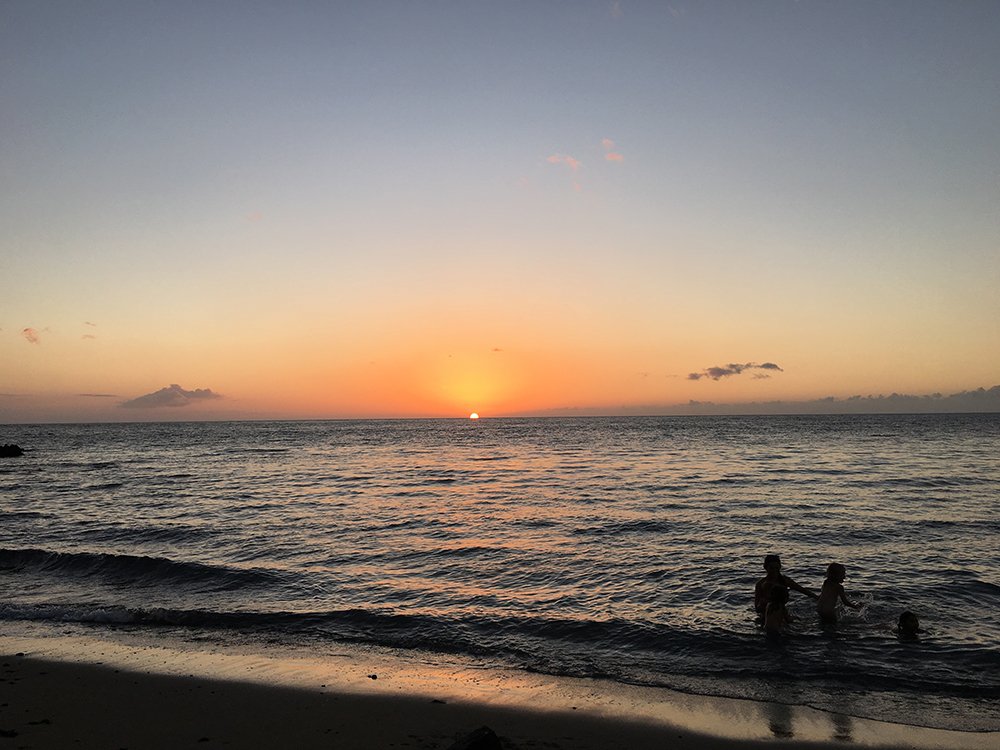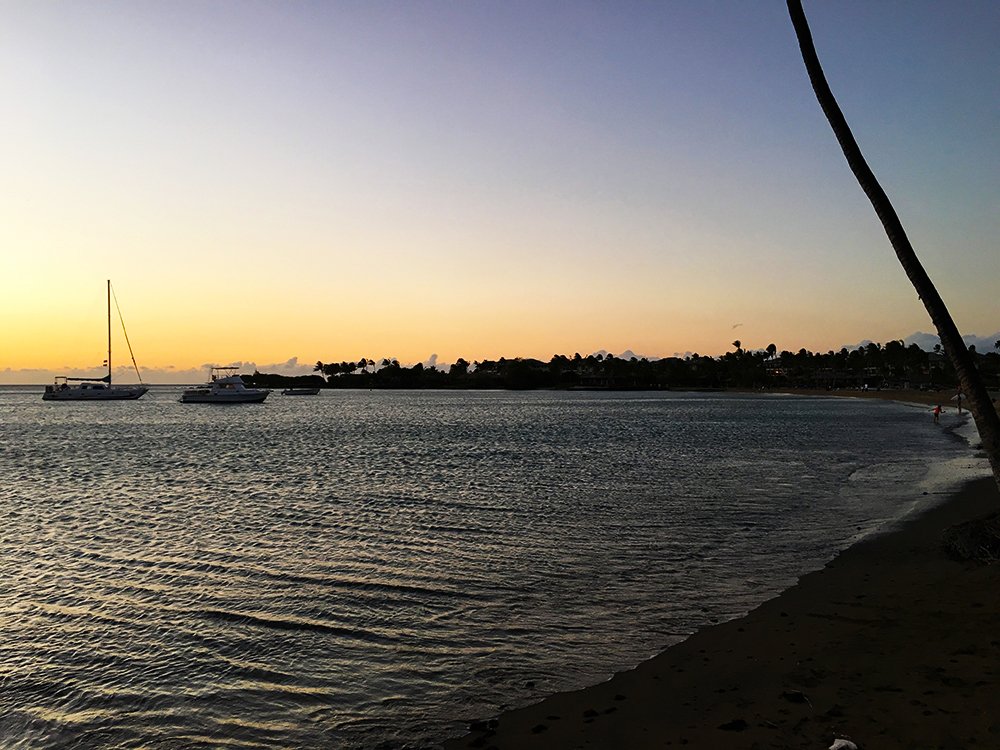 When I was walking out to the parking lot after sunset, a striking full moon was rising over Mauna Kea in distance.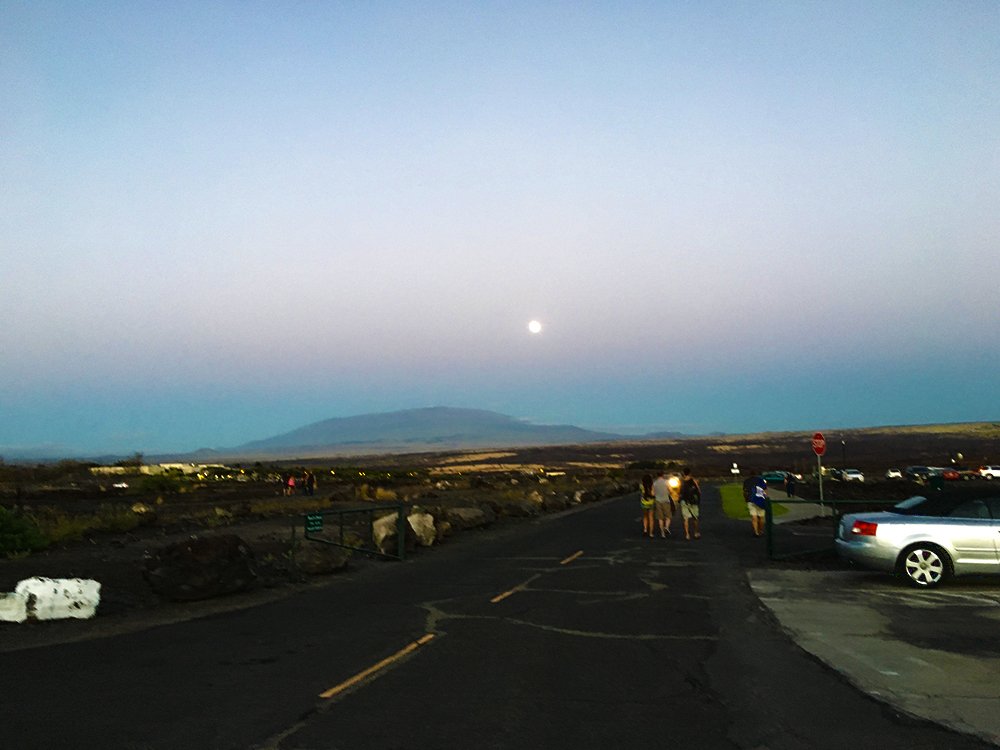 Waikoloa Offers a Variety of Residences
Waikoloa offers plenty of more-affordable condo-type accommodations, as well as some fabulous homes. I toured the Visit Waikoloa condo complex, which has a beautiful community pool and BBQ area.
The complex is immediately adjacent to Tropics Ale House, a very good brew pub with lots of beers on tap and solid bar food (the Teriyaki-glazed wings were great!).
A beautiful oceanfront vacation villa located in Waikola is the aptly named Reef Walk Oceanfront Villa. This home, which can host eight (8) guests, is in a spectacular location and boasts four bedrooms and baths, a private pool and hot tub, and a cool interior design that offers lots of space for socializing. The entire home looks out to the blue Pacific waters off of Waikoloa.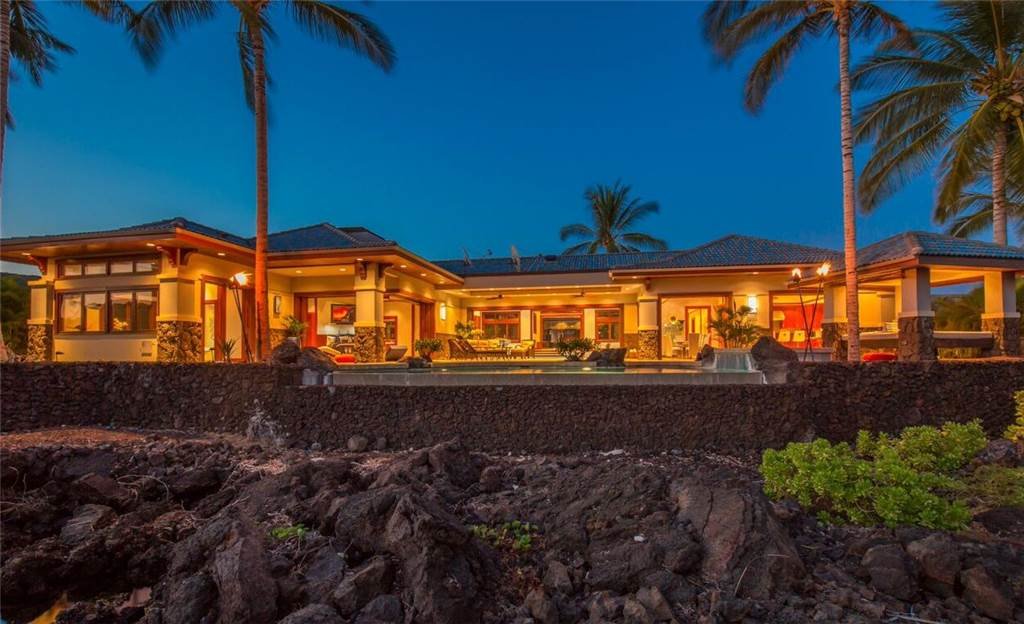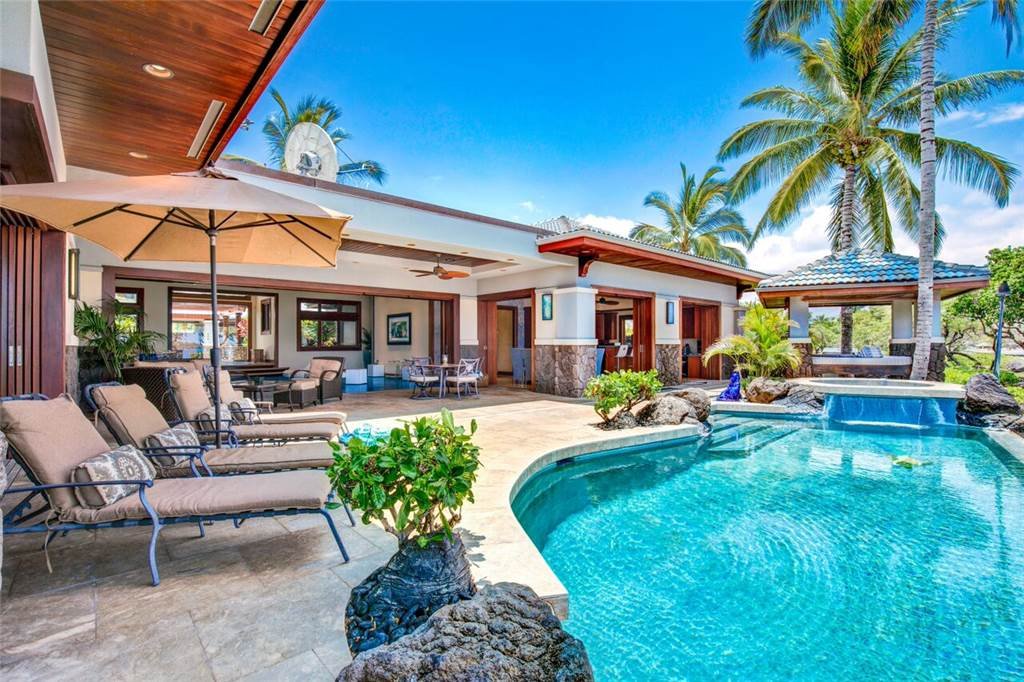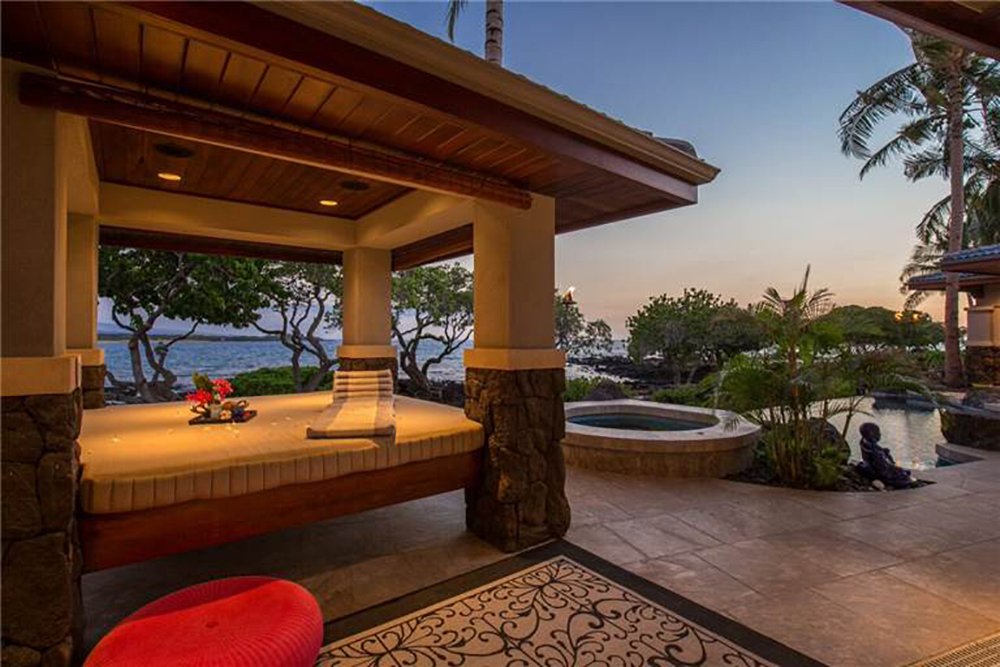 Mauna Lani Resort
Further up Hawaii 19, before Mauna Kea, we run into the Mauna Lani resort area. This area has a more upscale feel than Waikoloa, and features excellent golf courses and vacation villas. Mauna Lani also has a beautiful beach area, Holoholokai Beach Park, which is adjacent to the Fairmont Orchard Hawaii. There are many wild kitty cats hanging around the parking lot there, which seem fairly friendly for feral cats.
Mauna Lani also has shopping centers, including one with a Foodland, which is very convenient if you want to stock up your vacation home or pick-up prepared snacks.
In the same shopping center is a Tommy Bahamas restaurant, as well as a variety of shops and galleries. The night I was there, there was a hula performance as part of a community fundraiser. It was definitely touristy, but still fun and lots of locals turned out to cheer on their friends.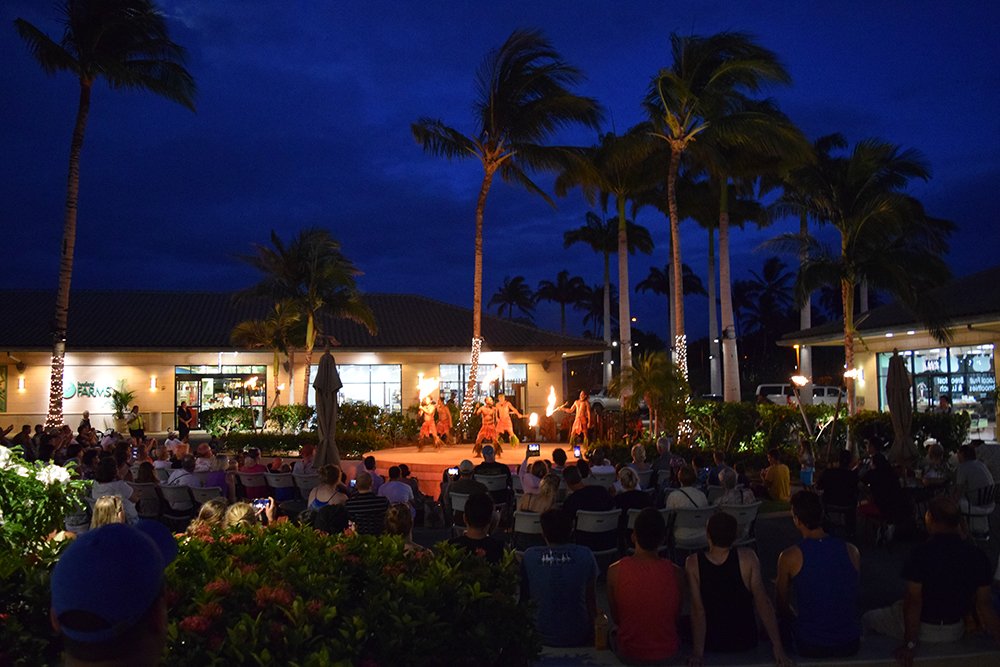 I toured several of Exotic Estates' Mauna Lani vacation villas, but here follows just three that will give you an idea of the quality of the homes and the incredible setting. Most of the homes I toured were in the beautiful Champion Ridge neighborhood.
This property has an incredible backyard and outdoor living area, as well as comfortable bedrooms set up for guests. The home has five bedrooms and sleeps 10, but you will be spending all of your time in the amazing pool and hot tub in the backyard. There is a large BBQ and a covered outdoor dining area, which means rain or shine you can enjoy alfresco dining at this property. This home also offers a lot of privacy between bedrooms, which is always nice.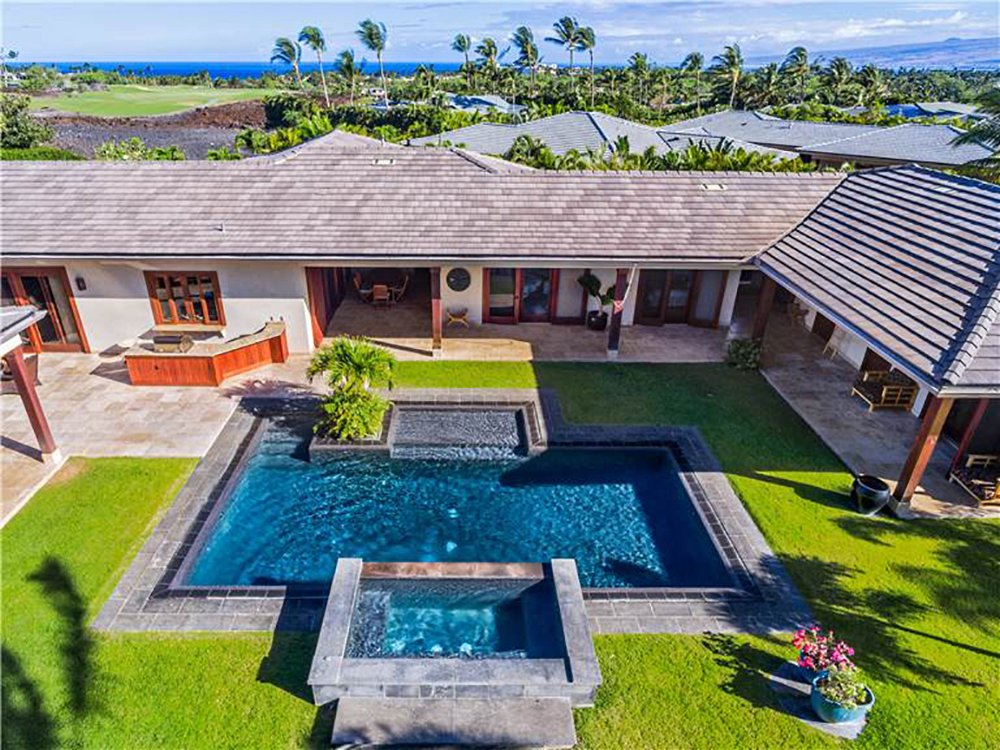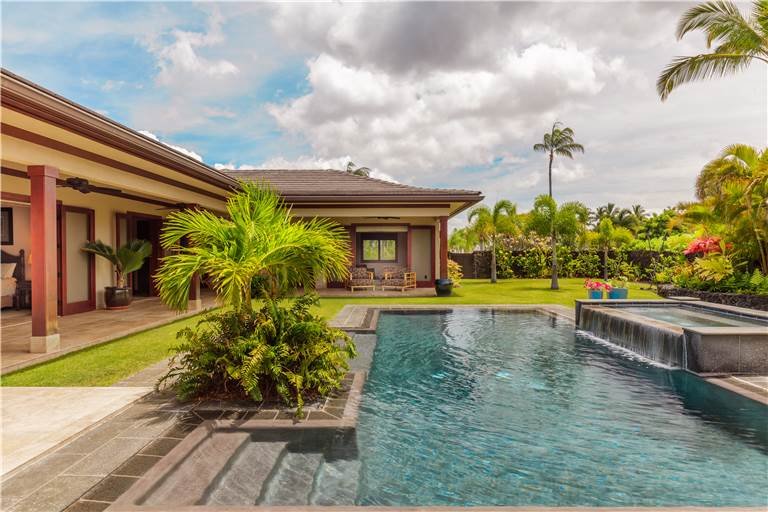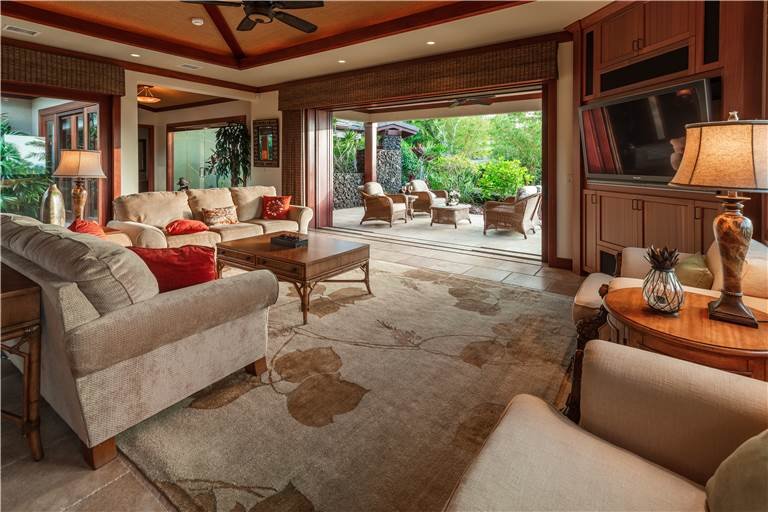 This vacation villa is a beautiful example of the Asian-inspired design theme that you often encounter in Hawaii. The villa is composed of several pavilions, including a main house with a large living area and incredible deck offering excellent views of the green landscape and Pacific Ocean in the distance, as well as separate small structures housing bedrooms.
There are wonderful features like an infinity tub in the master bedroom and a fantastic pool in the well-manicured backyard, which abuts the golf course. The property offers room for eight (8) and is well-suited for families, with its large common areas and picnic-style dining table.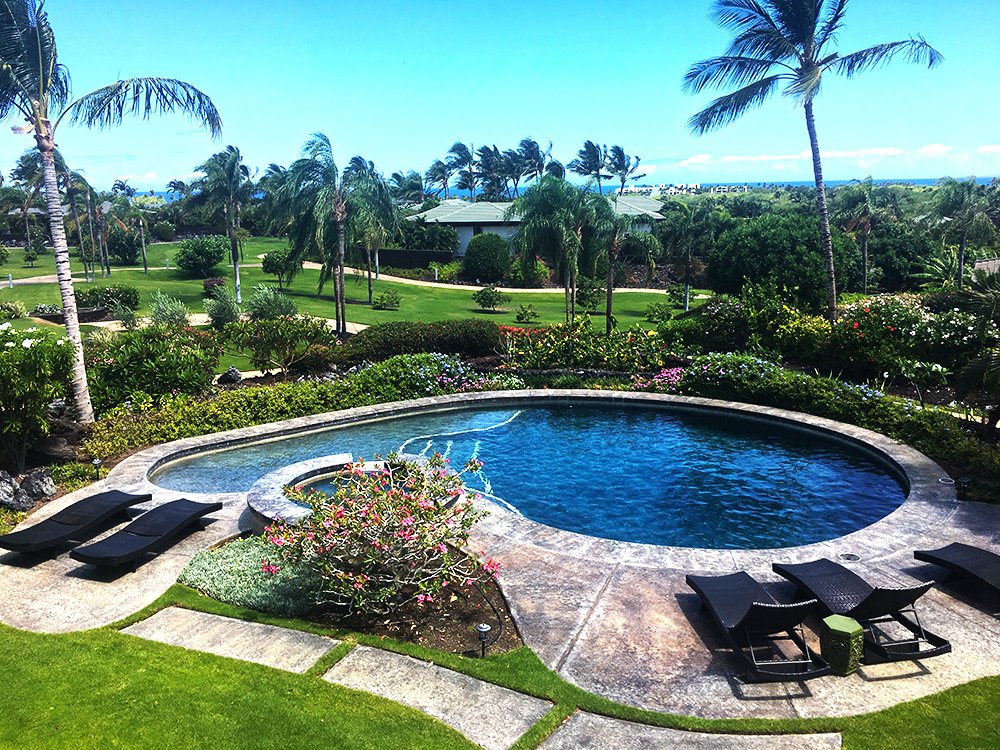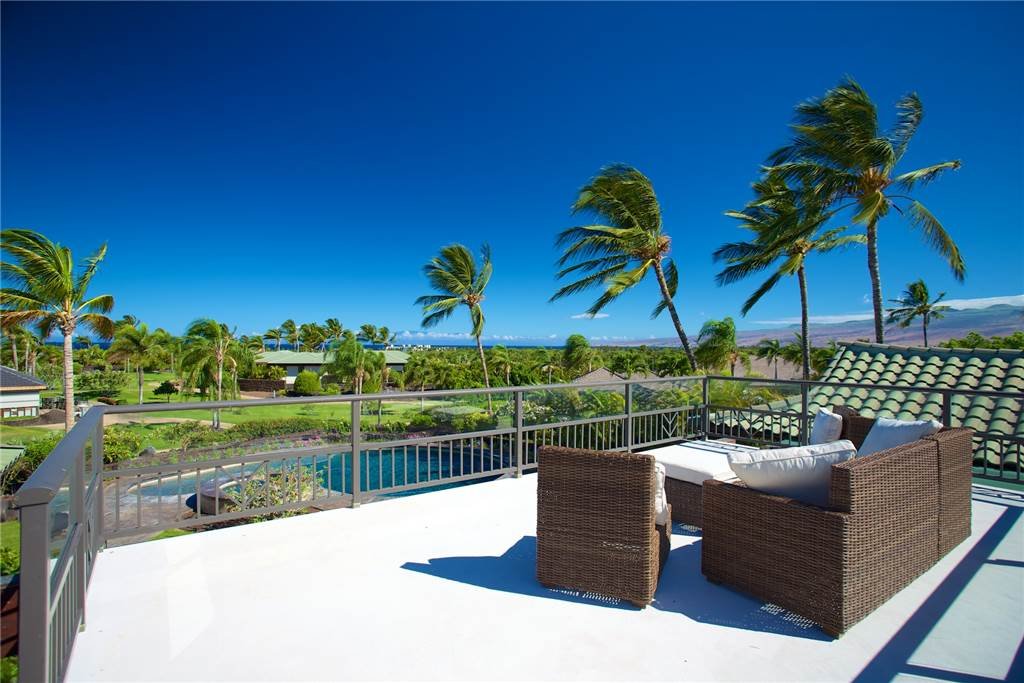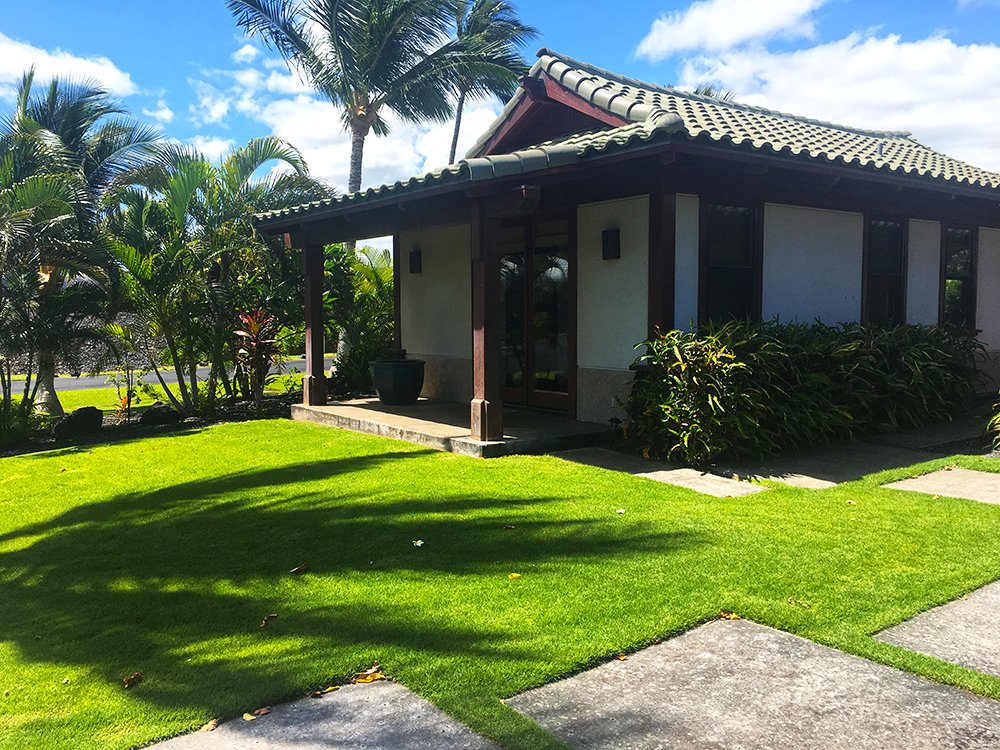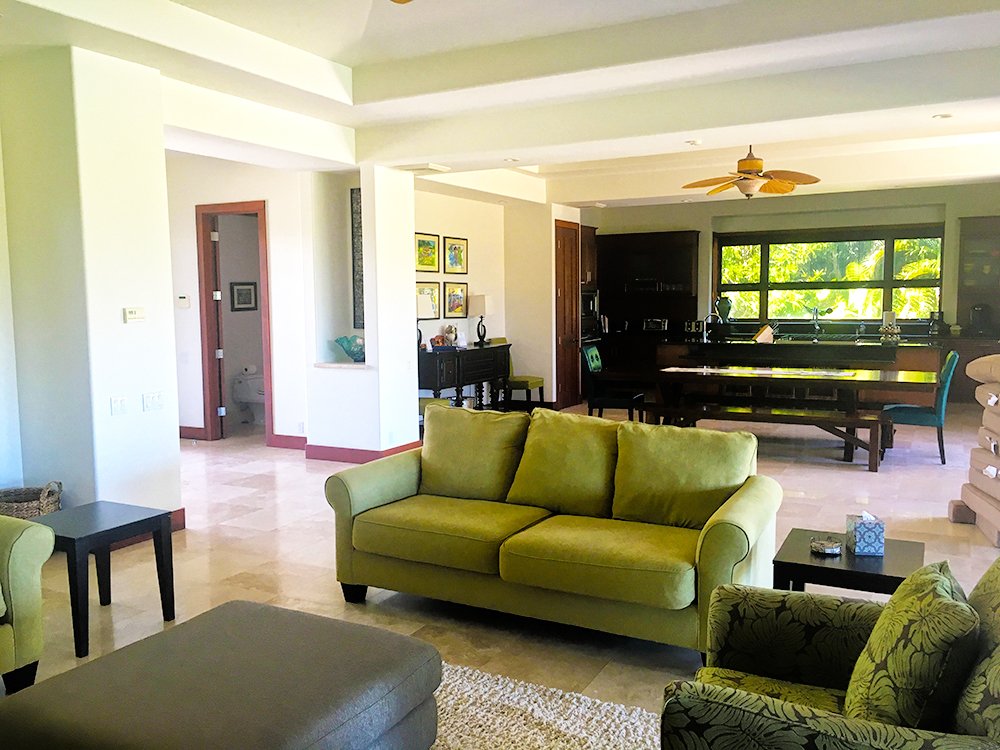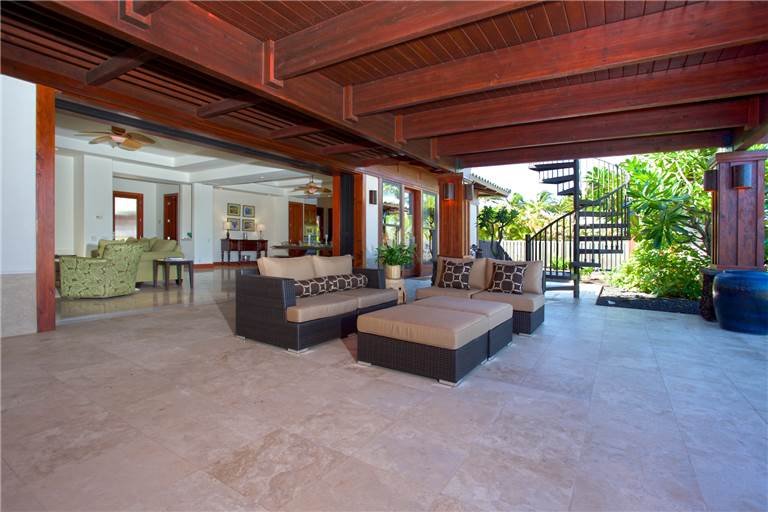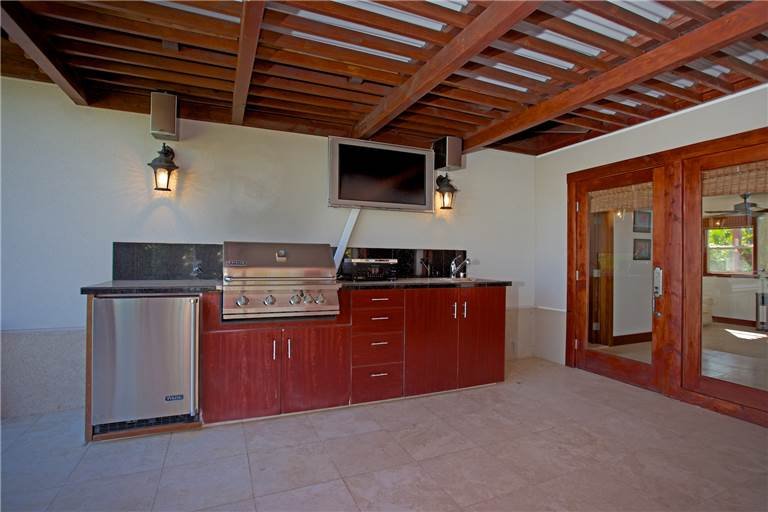 Near the Royal Ryokan Vacation Home is perhaps the best-positioned home in Champion Ridge, and my personal favorite. The Outrigger Villa is a gorgeous three-bedroom home with room for eight (8) that's perched up on the ridge, above the greens. The home is deceptively simple from the outside, but walking into the living area, you are immediately taken by the living room with its architectural ceiling, complete with a wooden canoe hung in the rafters. The living room has pocket doors that open completely to the lanai and the infinity pool, which seems to hang in the air over the landscape below.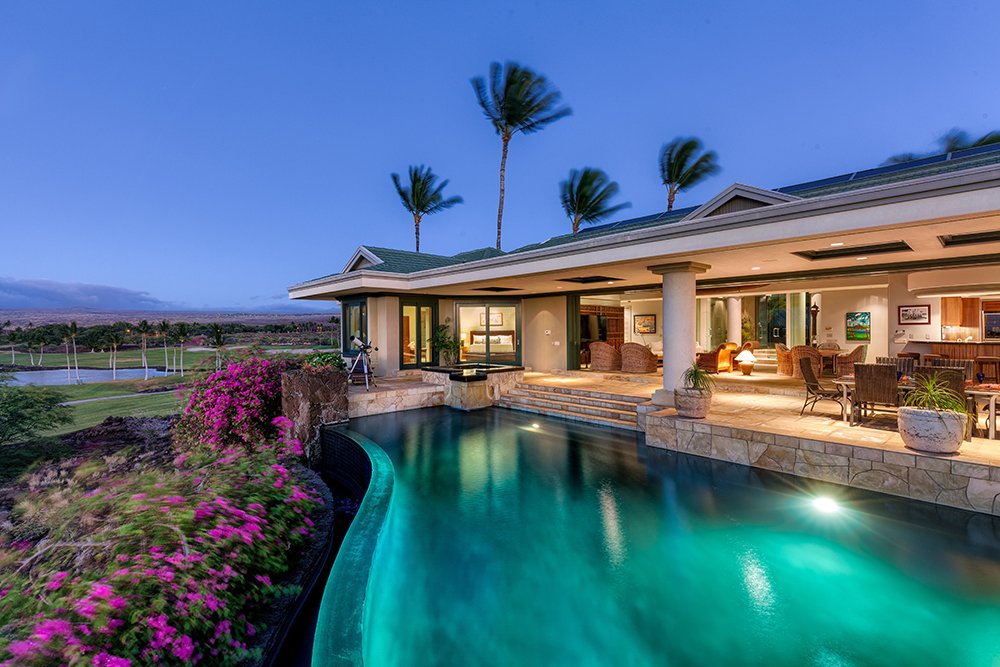 This home has a lot of wood detail in it and reminds me of the interior of a yacht. It is tastefully decorated and has a great kitchen, with a curved breakfast bar perfect for chitchatting with the chef as the meal is prepared.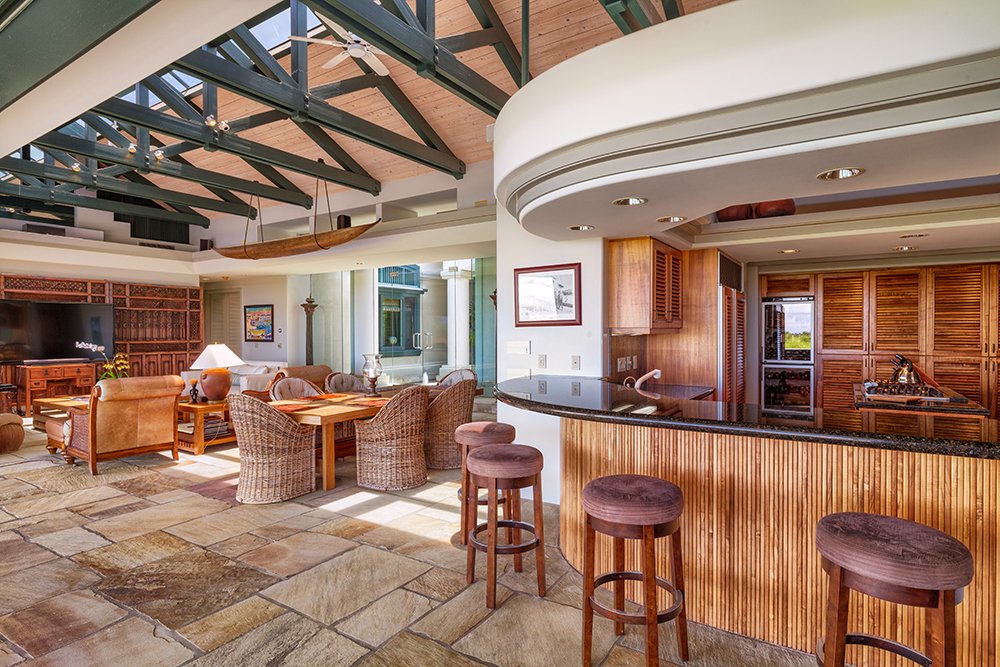 You will absolutely love the pool and hot-tub here, which sits on the lanai just off the living room. Two bedrooms have king beds, while the third has two full/twin bunks, making it great for younger guests.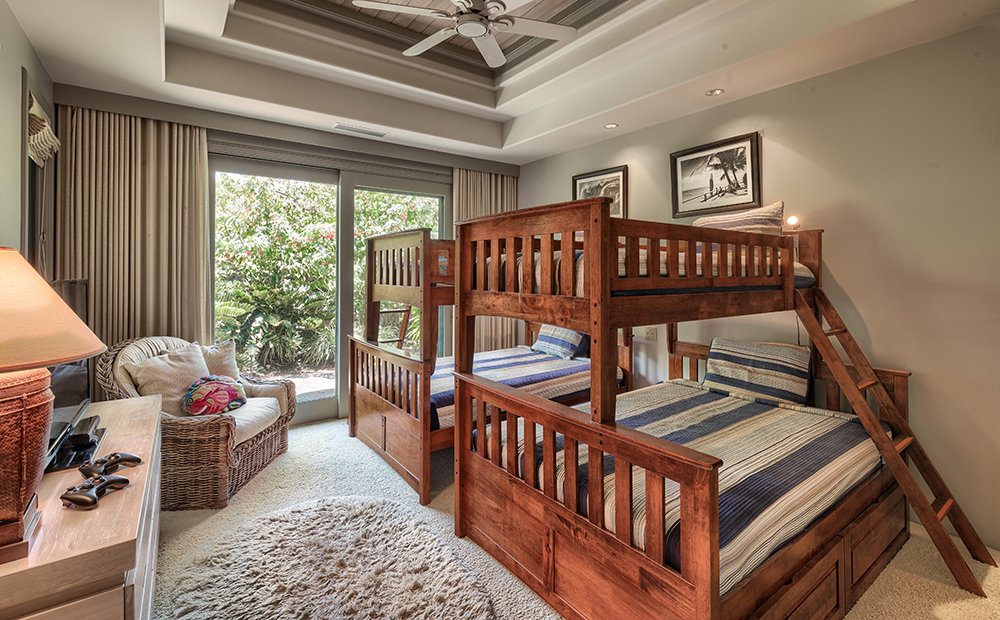 Puako and Beach 69
Continuing our drive up Hawaii 19, before we reach Mauna Kea resort area, there is the town of Puako and a great beach park known as Beach 69. This beach is a popular spot with locals and offers bathrooms and showers. There are plenty of shade trees along the shore, as well as rope swings, and spots that are good for swimming. It's a quiet place, with homes butting up against the sand, making it feel like a private beach.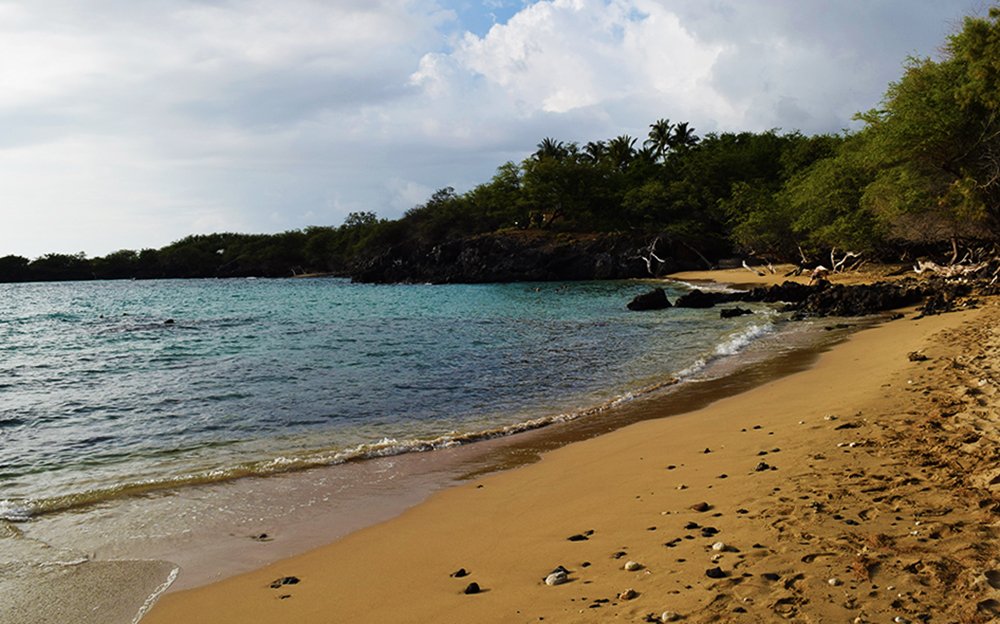 Up the road, Hapuna Beach State Recreation Area is another great spot to spend a lazy beach day, and it is well appointed with showers and changing rooms. Both of these places are easily reached from Mauna Kea (to the north) and Waikoloa and Mauna Lani (to the south).
Mauna Kea Resort - the Beginning of It All
The development of the Kohala Coast began back in the 60's, with the Mauna Kea Resort – still a gem offering one of the best beaches in Hawaii. Interestingly, the hotel was founded by the Laurance S. Rockefeller company; we are told he scoured the Hawaiian Islands by helicopter until he found the perfect spot for his hotel, a fun visual.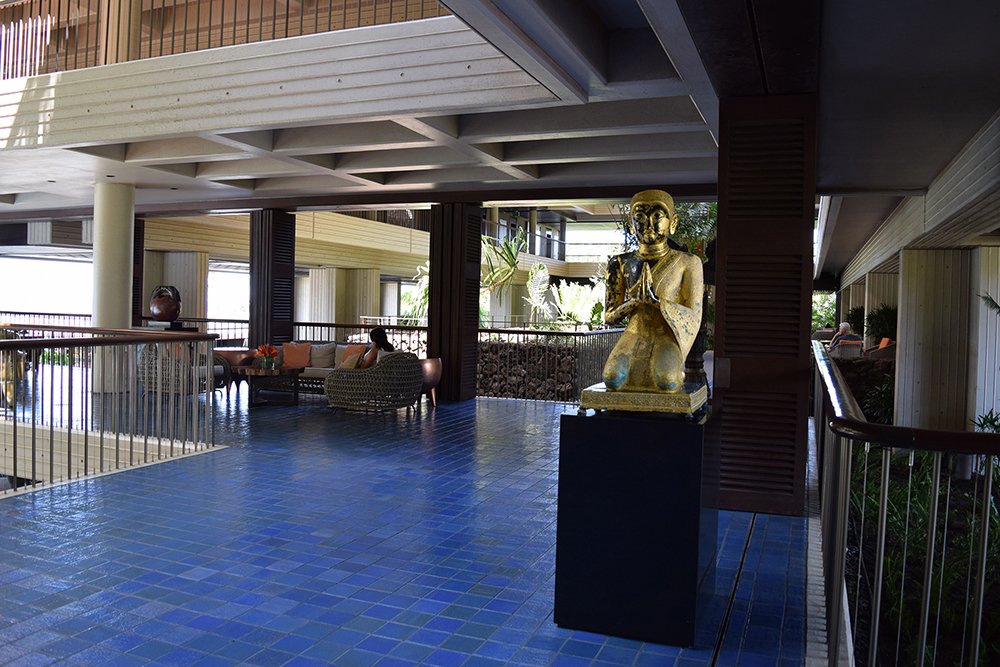 The hotel has stood the test of time and maintains the now classic open-air design that allows breezes to blow freely through the structure. However, as nice as the hotel is, the amazing vacation homes that surround it are the real draw for our clients.
The first homes were built in the 70s, but they are all beautifully maintained and luckily we have some gorgeous ones on offer at Exotic Estates. Many people in the know have been renting Mauna Kea villas for years, but we can tell that the Big Island is taking off as a destination, as people look for new ways to experience Hawaii. However, for now, you can still rent first-class homes there at a lower price point than Maui and Oahu.
A standout home from my tour is the Muana Kea Mid-Century Villa. This home is unique in that it harks back to the classic design of the Mauna Kea Beach Hotel itself. Lovingly restored, the home boasts luxurious details like Frette linens and a wonderful mid-century modern design ethos. The Muana Kea Mid-Century Villa has aptly been described as Palm Springs mid-century chic meets Hawaii.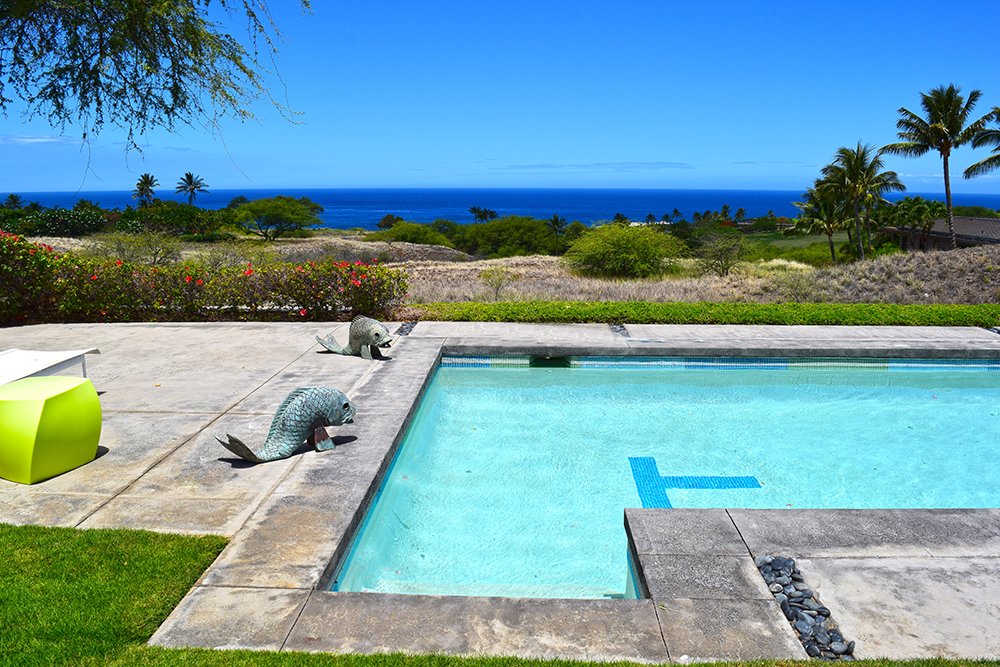 The rear of the home essentially has glass walls with floor to ceiling shades, which, when open, incorporate the incredible views and patio vista into the home experience. The main villa encloses a long lanai that is strategically shaded and features a large outdoor dining area. The lanai leads out onto the backyard, which boasts unobstructed views out to the Pacific Ocean and a gorgeous saline lap pool and hot tub.
Another ideal feature of the home is the layout of the bedrooms. There are four in total, two in the main home and two in a separate bungalow. The two bedrooms in the main home are on either end of the villa, ensuring privacy; each offer en-suite bathrooms with showers. The bungalow bedrooms each have queen-size beds and share a bathroom in between. It is an ideal set-up for families traveling together, multi-generational groups, or families with older teens. Also, because there are no stairs on the property, it works well for those who need to accommodate mobility issues.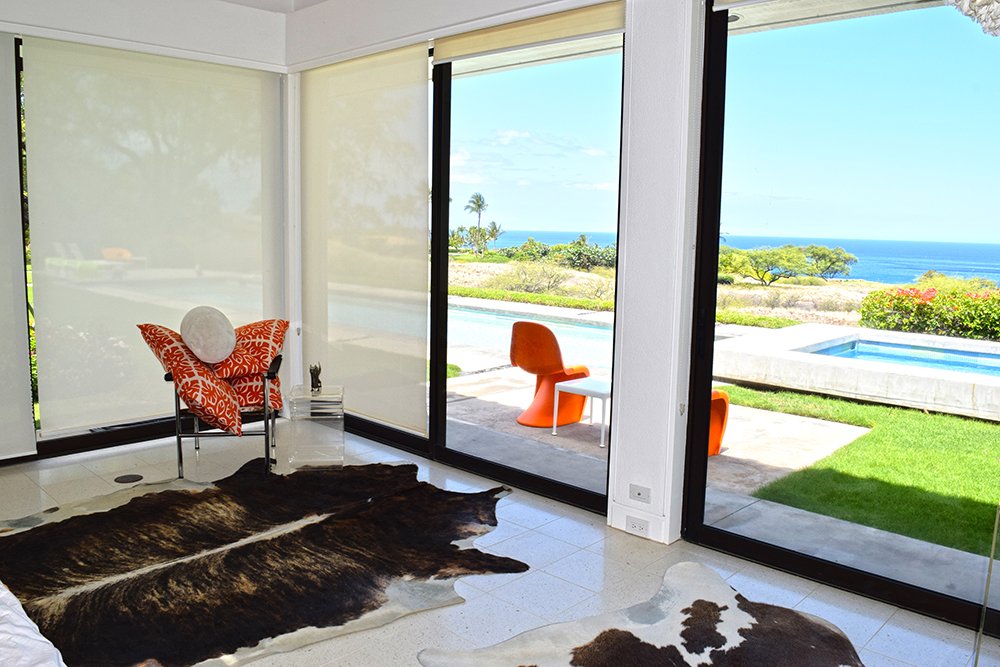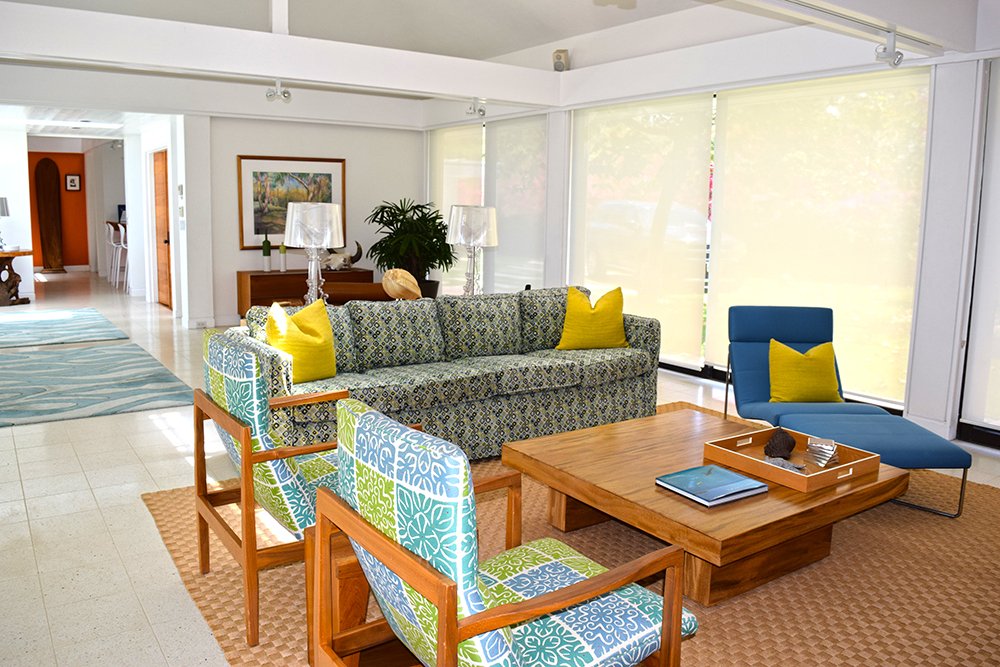 Access to the Mauna Kea Hotel
What is wonderful about staying in a vacation home on the Mauna Kea Resort, or its sister property, the Hapuna Resort, is that guests get access to the incredible, fully serviced beach at Mauna Kea Hotel, as well as the pool, for just $65 a day. This is a no-brainer considering the incredible facilities and amazing sandy beach, which is ideal for swimming due to its sandy bottom, a plus on the rugged and coral-heavy Kohala Coast. The beach is accessible to the public, but on busy days access is limited and having a resort pass will ensure you have a place in the sand!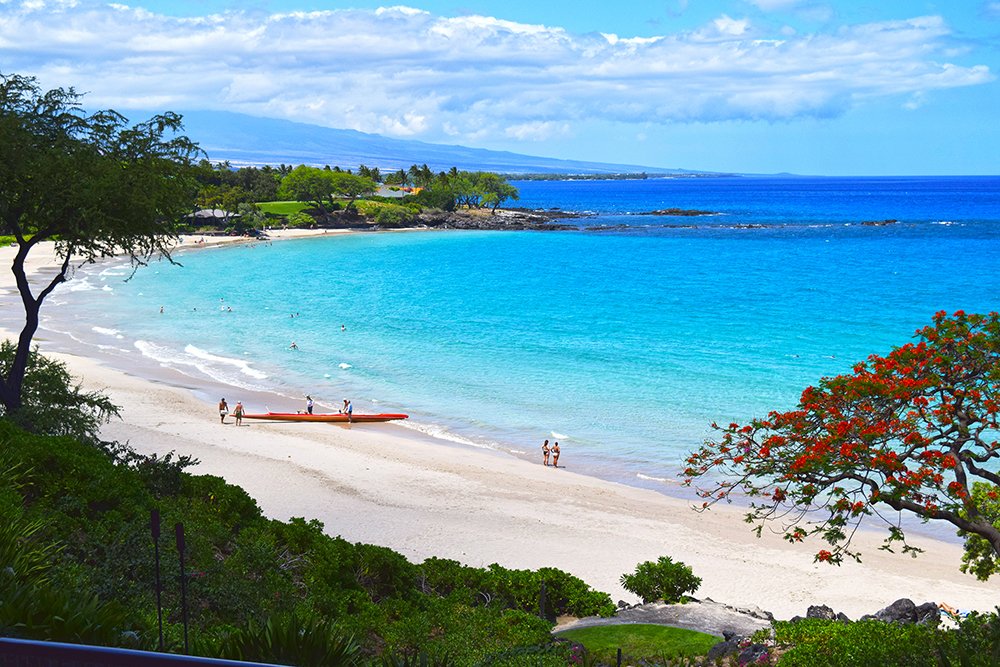 Also, like many of the resort areas along the Kohala Coast, there are excellent golf courses to be enjoyed here, and many of the homes look out unto the greens and fairways.
These gorgeous resort areas are all beautifull designed and offer excellent conveniences. You will find excellent services, ocean activities and world-class golf in each.
You can read a more general Big Island Guide for additional information on this incredible island.
Blog Subjects: Big Island, Hawaii