Finding Your Way to Kona
Back

By John Di Rienzo
Updated Nov 18, 2019

The Real Big Island
As a traveler, I am always searching for "realness" in the places that I visit. Anyone who travels to the Big Island and stays in a Kohala Coast resort community will undertsand the obvious benefits. Resort-style vacations are a very relaxing and even luxurious way to spend time off with friends and family. However, as nice as the resorts are on the Big Island, Hawaii has a lot of culture and soul, and getting out and meeting the people who live on this island will enrich your stay.
Authentic local cooking is always a wonderful way to get to know a culture. For most of us, getting invited into someone's home for a classic meal and probing conversation may not always work out. No worries though, as you don't need to crash the family dinner table to connect with a place through its cuisine. When it comes to food, farmers markets and even regular supermarkets can serve as accessible windows on a culture, as they will contain local products that offer you a glimpse into home life. Also, it's easy to strike up a conversation about a fruit, vege or prepared item with which you are unfamiliar.
If you wish, you will always be able to find some way to make an authentic connection with locals. For me, a trip to a local barber shop proved to be my touchstone for the Big Island.
Hannan's Barber Shop in Kona - The Joy of a Trim & Conversation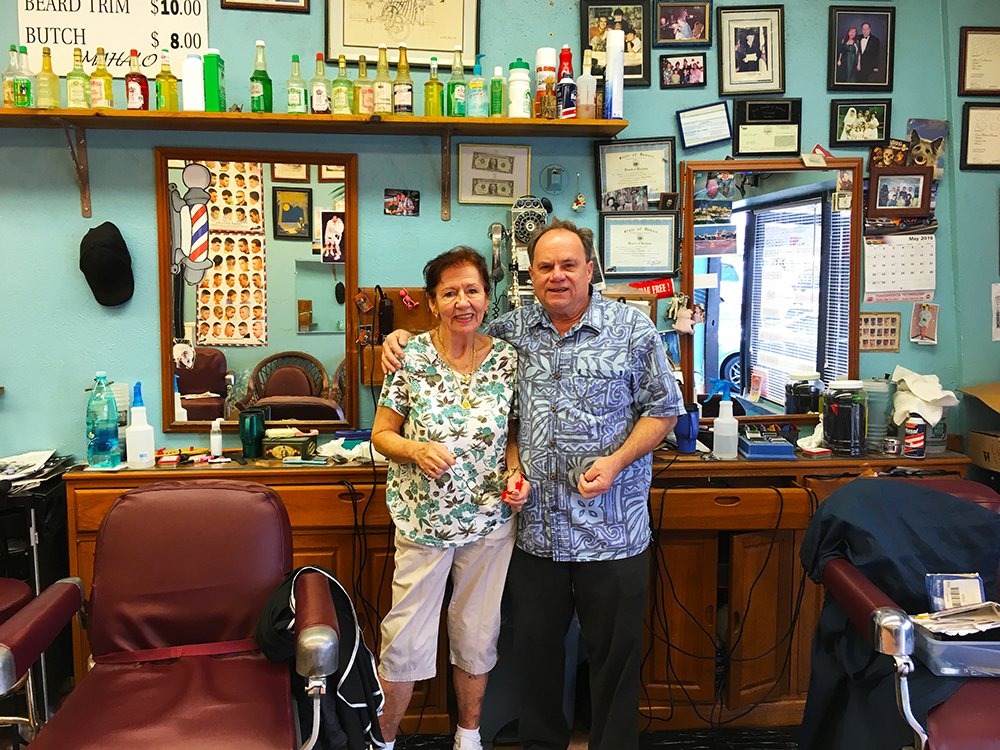 A simple pleasure for any guy is enjoying a visit to a good barber shop. I am not referring here to one of those hipster, fussily retro and absurdly pricey "barber shops" that dot trendy neighborhoods from LA to Brooklyn. Rather, I am refering to a good old fashioned shop that offers a trim and a little conversation at a fair price. Often, the proprietors of these humble institutions have been there for decades and the shop has a unique patina that reflects the community and the personality of its owners.
Just like in fictional Mayberry, these shops almost always serve as little community centers, and if you are friendly, you will be able to enjoy some conversation with locals while you get a trim or a shave - and you might even pick up a dinner invite. You can certainly walk away with local tips on dining, beaches and must-see spots.
Luckily, I found such a place in Kailua-Kona on the Big Island. Hannan's Barber shop was one of the highlights of my visit. (www.hannansbarbershop.com)
Hannan's is a humble place. A simple sign and barber's pole mark the storefront. Walking into the shop, I knew immediately that I was in a "real" spot, known and beloved by Kailua-Kona area locals as much as the "Country Squire" was in my small Connecticut home town. The proprietors of the shop are Marie and Liem, who have been trimming Big Island hair and beards (and eyebrows if needed), for years.
The walls are covered in hand-painted Hawaii-themed murals and adorned with memorabilia from their many years of service, including a collage of all the teens who have come to the shop over the years and since graduated.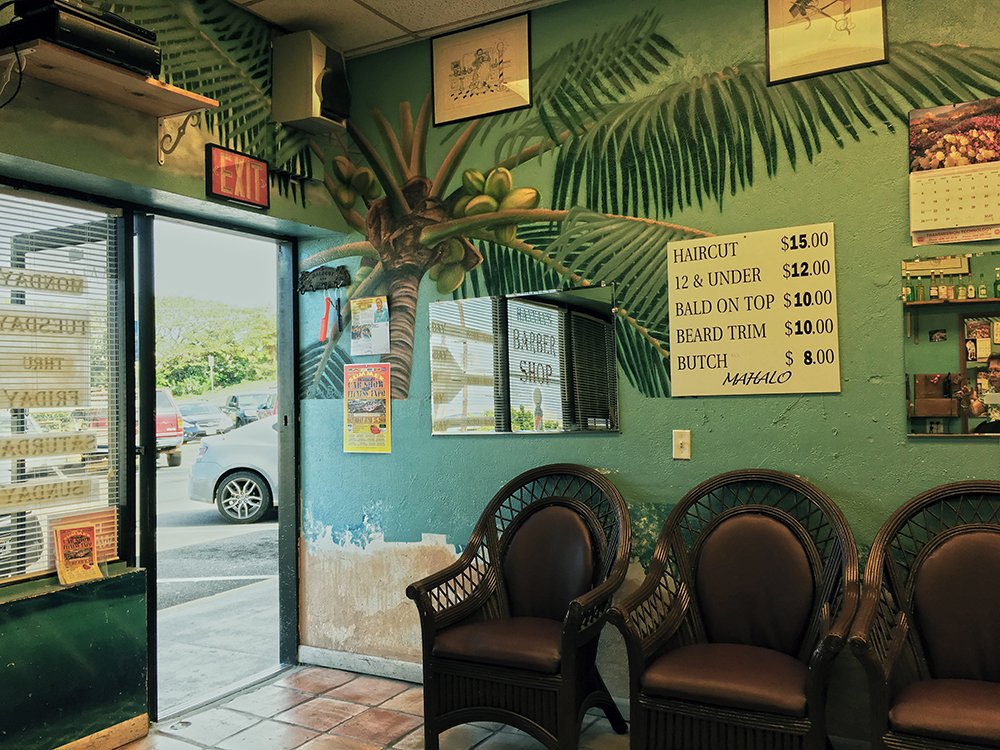 Note that the prices have gone up since this photo was taken: Haircuts are $20 and up. Children 12 and under are $18. "Bald on Top" :) $15.00 and "Butch" $12.00.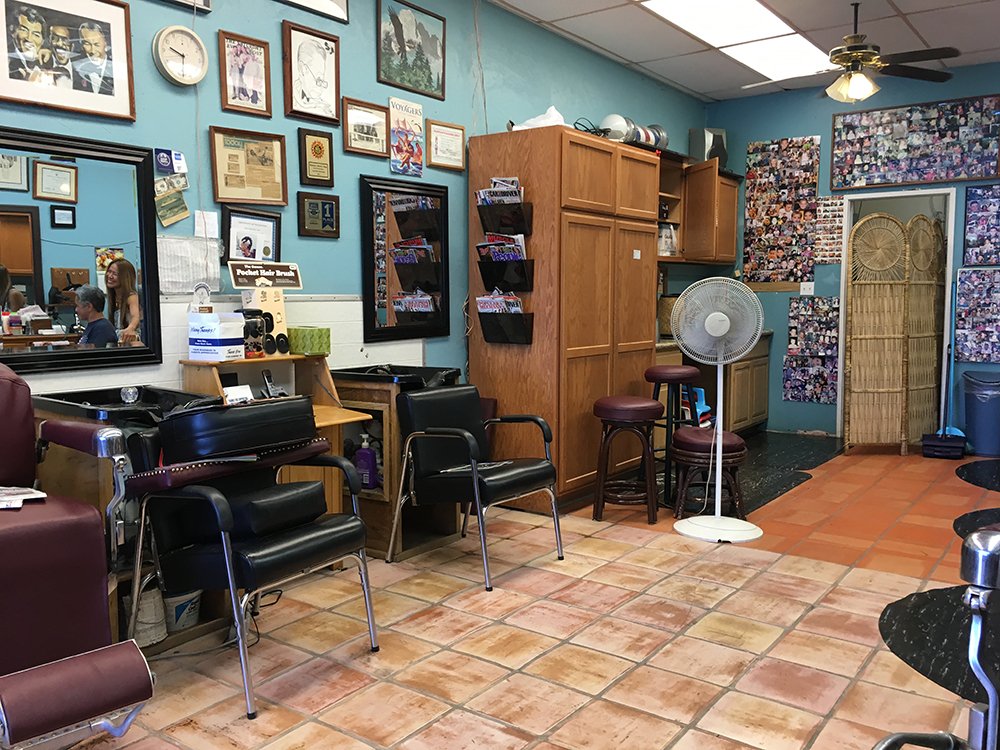 Marie gave me a much needed trim, and while I sat in the chair, she told me their story and how they came to settle on the Big Island. Twice while I was there, a regular customer walked over to give her a hug.
Noticing a picture of Frank Sinatra, Sammy Davis Jr, and Dean Martin on the wall (see above), we found common ground over our love of the classic crooners. Liem happily showed me his ticket stubs from Sinatra concerts and told me how he once took all the barbers to see Lionel Richie perform in Honolulu, paying for everyone to stay at the Royal Hawaiian Hotel in Waikiki because it was such a special occasion to them.
Meanwhile, my hair was expertly buzzed by Marie. I walked out feeling nice and neat, and a member of the "Ohana," or family, which in Hawaii extends beyond blood relatives to the community. I should add that though Hannan's is billed as barber shop, women are also welcome and there were a few regulars who came into the shop during my visit.
This was a wonderful place to get much-needed service and connect with nice people who are members of the community.
Hannan's Barber Shop
74-5467 Kaiwi Street, #10A
Kailua-Kona, HI 96740
ph: 808-326-2371
Note that I went to Hannan's because there were no shops in the resort areas that I could find (opportunity for someone) and the salon in Waikoloa Village that I called said that its stylists, "didn't cut men's hair."
Kona Farmers Market and the Sweetest Papayas on Earth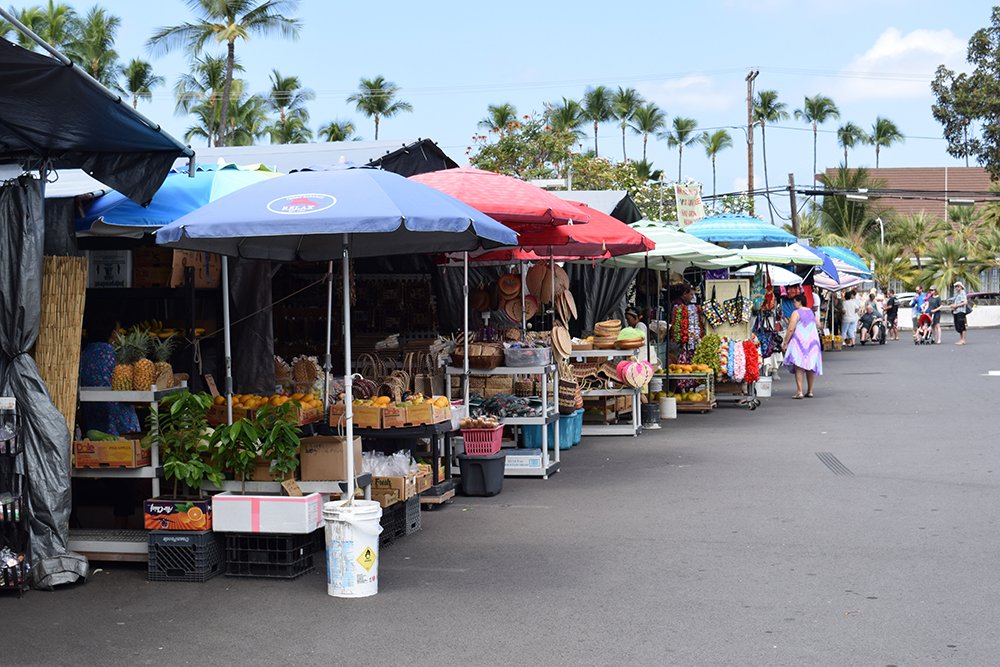 Staying on the Ohana theme, I visited Kailua-Kona on Sunday and walked through the outdoor farmers market. There were locals and visitors alike meandering around the stalls. The market is located near the center of town, on the corner of Ali'i Road and Hualalai Road. What I loved about this market was that it was ideal for stocking up a vacation home with locally produced fruits, veges, and beautiful, cut Hawaiian flowers, at great prices.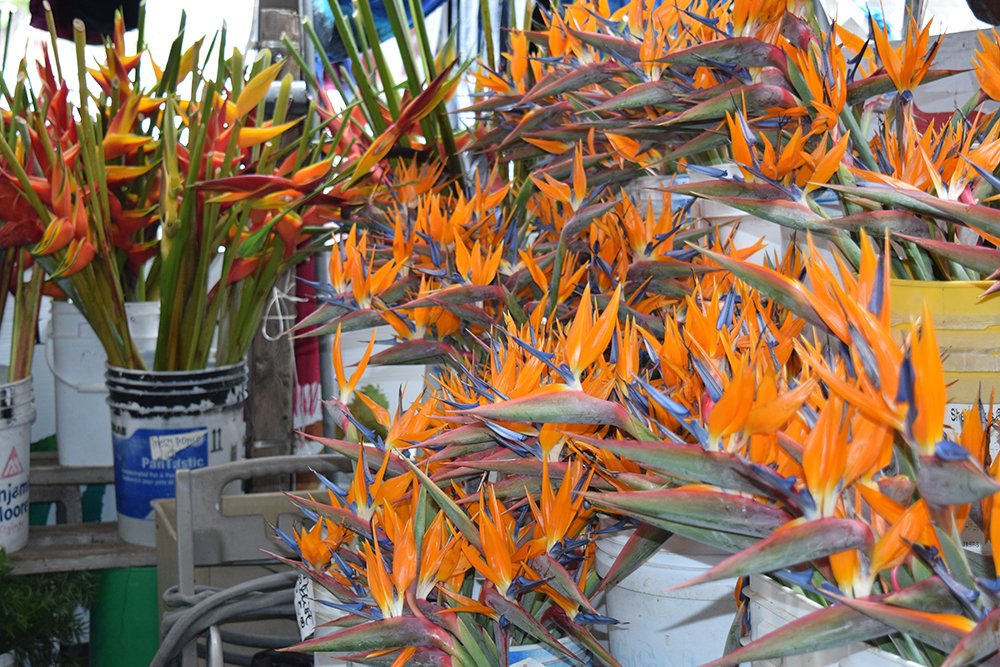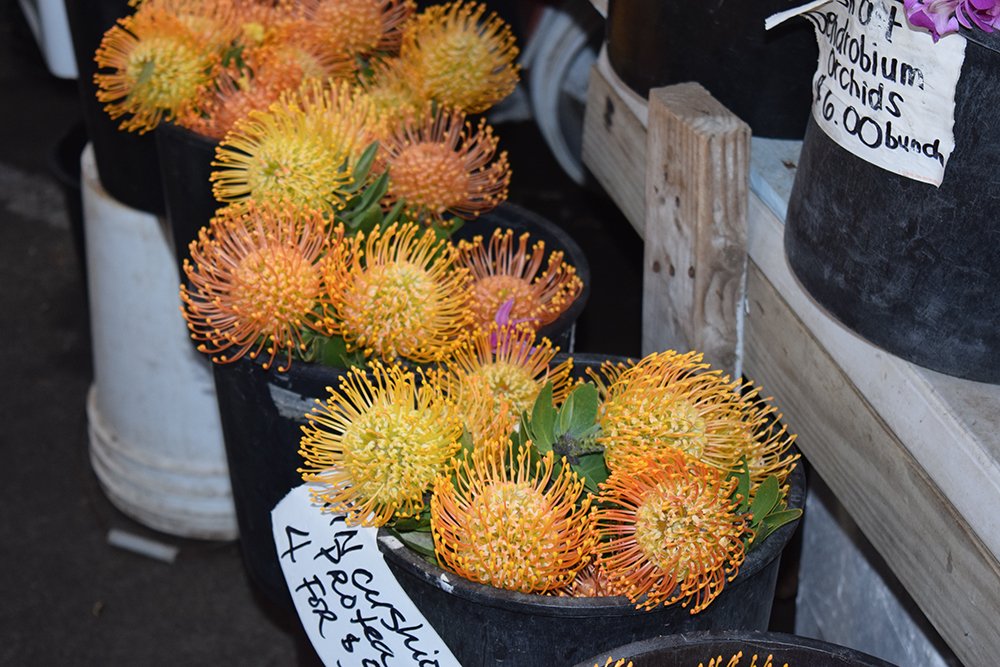 I purchased a bunch of papayas for $5 at this market, and they were the sweetest papayas that I have ever tasted. In addition to papayas, I found pineapples, guavas, bananas and other fruit in abundance. There were also plenty of fresh vegetables, including staples like carrots, celery and lettuce; the cost was probably less than half that of supermarkets.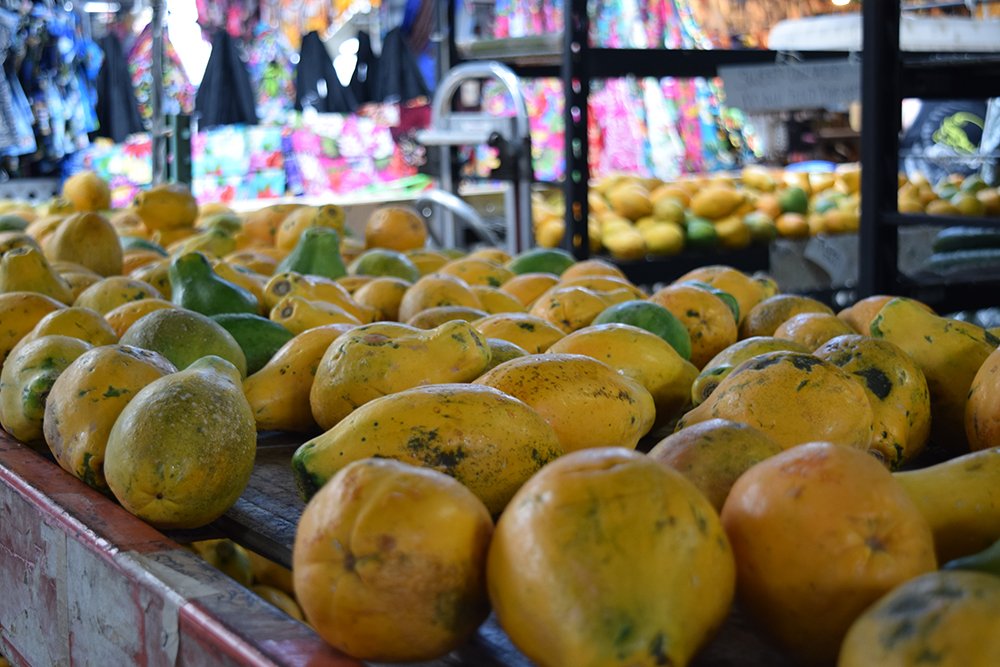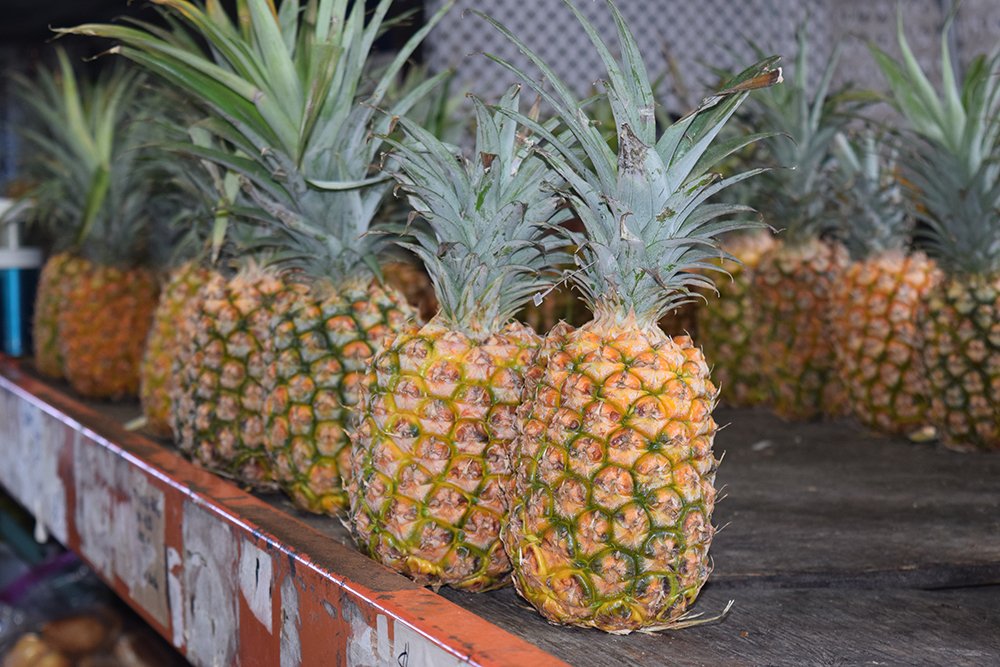 The Kona market also had plenty of tourist souvenirs for sale, many of them sold by the craftsmen who made them, so you could also stop here to pick up gifts for folks back home.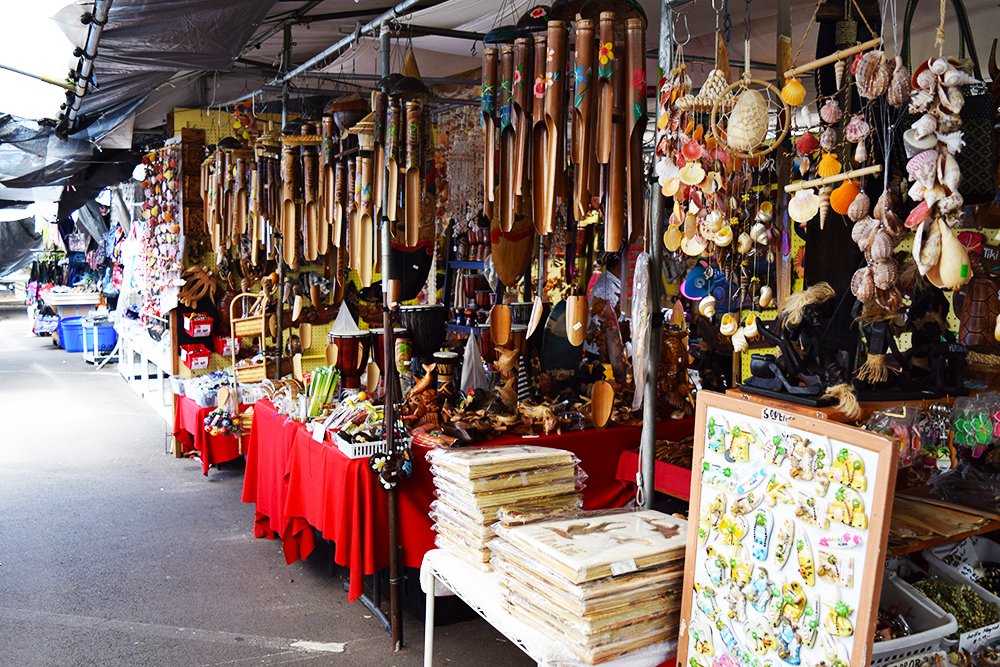 Kailua-Kona - Places of Worship
Right next to the market in Kailua-Kona was a large Catholic Church. In front of the church, there was a unique monument made of coral and adorned with flower leis. This seemed to be a very pretty and popular place of worship, as a service was just finishing and there were many people in front.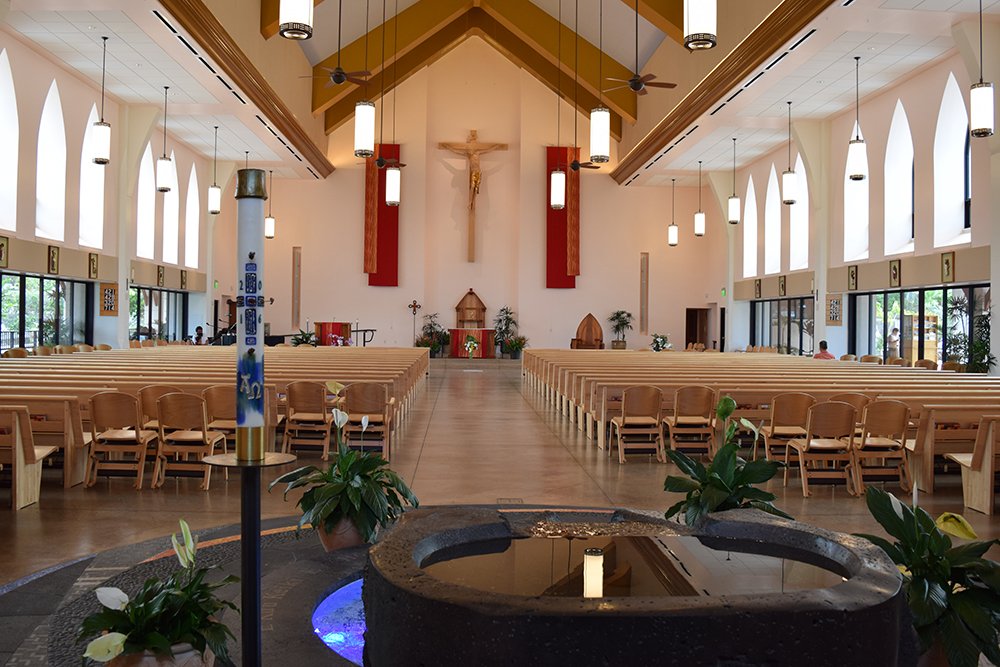 There are also other houses of worship in Kona, including a Synogogue and Mokuaikaua Church, which is said to be the oldest Christian church in Hawaii, so a trip to Kailua-Kona is a nice way to spend a Saturday or Sunday for those who observe.
Enjoy your visit here and look beyond your hotel, resort community or vacation rental for a taste of real Hawaii that is both accessible, friendly and delicious!
Blog Subjects: Big Island, Hawaii, Kona