Exotic Estates Expands Big Island Vacation Rentals
Back

Exotic Estates Brings You Luxurious Big Island Vacation Rentals
As a leader in the luxury vacation rental industry, we are always striving to bring you the most luxurious and well-appointed homes to accommodate you everywhere around the world. In an effort to continue to offer you high-quality, inspected vacation rentals throughout Hawaii, we have experienced prominent expansion to The Big Island.
The youngest and biggest of the Hawaiian Islands, The Big Island is extraordinary for more than just its size. A land of fiery volcanoes and sparkling waterfalls, there is no shortage of activities in Hawai'i. With eight-climate zones, the Big Island is one of the most ecologically diverse travel destinations in the world!
Hawaii's Largest Island with Amazing Natural Wonders
Famously known for Kilauea Volcano that is currently active and in a constant state of eruption, the island actually continues to grow each day, due to fresh lava pouring into the Pacific at a constant rate. There are miles of hiking trails through smoking craters, rainforest, and desert, giving you first-row seats to a glowing lava lake, secluded beaches and ancient petroglyphs carved into hardened lava!
The tallest mountain in Hawaii is Mauna Kea, rising to an astounding 13,796 feet. For one of the most unique skiing or snowboarding experiences, consider a trip from late January through March. You could have the opportunity to shred Mauna Kea, which literally means "White Mountain." The summit is also home to the famous Keck telescopes and once the sun goes down in Mauna Kea, the stars come out leaving a breathtaking night sky. With the world's clearest stargazing above, you will be left with an unforgettable experience!
Take a drive through the lush rainforest, to see the magical 420ft 'Akaka falls. Most impressive during the rainy season, the falls spill ferociously over the luxuriant cliff side, sure to be the most gorgeous waterfall you have ever seen!
If you are looking for an underwater adventure that tops the rest, you can schedule a Manta Ray night dive. With the growing popularity of diving with Mantas, you can be sure to escape the crowds of the day by getting up close and personal in the darkness. Get ready for an electrifying experience! Once you turn on your lights to attract The Pacific manta rays, you will be immersed in the beautiful performance of these elegant and graceful animals.
When is comes to golf courses, the Big Island does it right! The Big Island is known as the golf capital of the state of Hawaii, with some of the most exciting beach-side golf in the world! With courses for every level of experience, the Big Island is perfect for aficionados and enthusiasts alike. Also, some courses are carved out of ancient lava flows, so you will get to experience the most remarkable coastlines in the Pacific.
Exotic Estates Adds 30 Big Island Vacation Homes
With so many activities and sights to see on the Big Island, we are excited to be representing 30 homes across the popular Kohala and Kona areas on the west side of the Big Island, with vacation homes and villas in the resort areas of Hualalai, Kamuela, Mauna Kea, Mauna Lani, and Puako. The properties we have added range in pricing and size, with some located directly on famous Big Island golf courses, providing you with a wide-variety of rental options.
Rainbow Falls - Prestige Big Island Vacation Estate
The centerpiece of our expansion is most notably Rainbow Falls Estate, one of Hawaii's most prestigious new vacation homes! Situated on nearly 10 acres of cliff-side land in Ninole and overlooking two majestic waterfalls that cascade into the Pacific Ocean, the Estate boasts its own golf course, Olympic-size pool and stadium-style tennis court. The property also allows guests to host events, such as weddings and corporate retreats.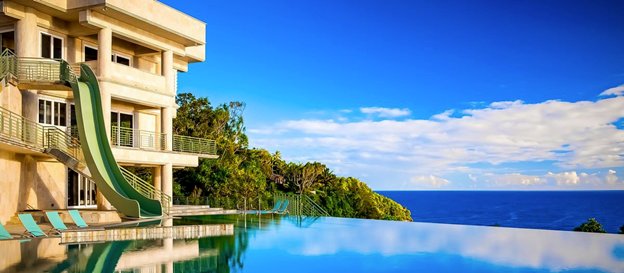 "We are very proud to be representing a home of the caliber of Rainbow Falls," says Tyler Coons, the company's founder. "The property simply offers our clients the highest level of luxury vacation rental in Hawaii."
A true gem added to our inventory is Opal Seas at Puako. This Big Island vacation home offers a tropical retreat that showcases the best of Hawaii and is perfect for a romantic getaway or a family vacation, with four bedrooms and five bathrooms. Hawaii's perfect year-round weather allows you to escape to the endless summer of the Kohala Coast, one of the sunniest spots in all Hawaii. Designed to inspire, the beauty of Opals Seas and Puako connects you with the surrounding environment with 3,000 sq. feet of lanais.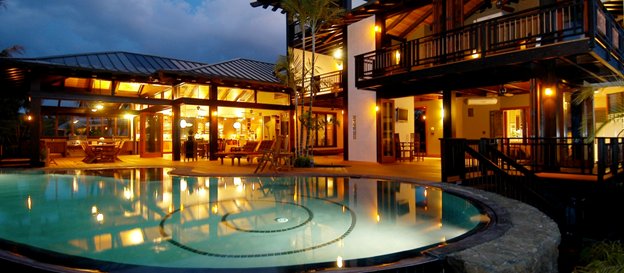 Another gorgeous vacation rental that we have added to our Big Island collection lives at Mauna Kea Resort: Mauna Kea Enchantment Villa. This spacious abode is sure to please the entire family, as it's placed in a private area of the Mauna Kea Fairways, which is perfect for golf enthusiasts! With room for eight people, this four-bedroom luxury villa offers 180-degree views of the Pacific Ocean, Big Island mountains, and the island of Maui.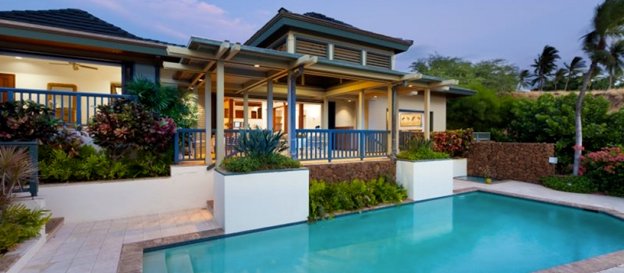 With so many luxurious vacation rentals for every price range, the Big Island is a true contender when traveling to Hawaii. Whether you are looking for adventure or a peaceful getaway, the Big Island is perfect for your next holiday in paradise. We are pleased to invite you to take a look at Exotic Estates' collection Big Island vacation rentals today!
Blog Subjects: Hawaii, Big Island