Adventure Travel in Hawaii
Back

Adventure Travel in Hawaii
Some people enjoy their Hawaiian holiday while sunbathing on the beach or getting a massage by the pool of their luxury vacation home. If you are interested in a more heart-pumping adventure or just need to add some excitement to your vacation, you will appreciate all that Hawaii has to offer!
For those who seek exhilarating escapes in paradise, the team at Exotic Estates has compiled their favorite thrill-seeking adventures!
Extreme Helicopter Ride
Get a birds eye view of the most gorgeous paradise on earth! Let the wind blow through your hair as you experience Hawaii's awe-inspiring and dramatic beauty. Imagine yourself zooming across paradise with front row seats to sparkling waterfalls, magical sea caves, and majestic emerald mountains. If you are truly daring, take the helicopter tour that hovers just 500 feet above the lava and magma flows over Kilauea, or splash through the mist of Akaka falls on The Big Island. Wherever you choose to fly, you will never forget this exhilarating experience!
Scuba Diving
You haven't seen Hawaii until you experience the magical world under the warm waters of paradise. Whether you want to soar with Green Sea Turtles or come face-to-face with a shark, you can plunge into the clear Pacific waters off any island in Hawaii!
At Honaunau Bay, on The Big Island, the waters are calm and rich with marine life. You are sure to spot a sea turtle gliding through Honaunau's bright blue waters.
If you are staying on Oahu, you will love to dive the accessible and family-friendly Hanauma Bay, where the clear waters are ample with reefs and colorful fish.
In Maui, you can enjoy snorkeling and scuba diving on the small island of Molokini, just south of the Maui coast. These waters are so abundant with sea life, that Molokini was named a State Marine Life and Bird Conservation District.
In Kauai, Ke'e Beach is located on the north end, offering a protected lagoon that is ideal for snorkeling. Reefs located offshore provide a great setting for advanced scuba divers.
If you are looking for the ultimate underwater adventure, get up close and personal with the hunters of the ocean in a shark cage dive! Experience the thrill of meeting sharks from the safety of a cage, as you will come face-to-face with the ocean's most majestic hunters in their natural environment while submerged in the deep blue waters of the Pacific Ocean.
Most tours offered not only submerge you with these gigantic sea creatures, but they will also educate you with facts about shark biology and behavior, leaving you with a different perspective of these magnificent animals.
Zip Lining
Sail over the lush and breezy forests and splash through magical waterfalls on a zip line! With numerous zip line tours offered on every island of Hawaii, you will find no shortage of this exciting and safe adventure!
Perfect for the entire family, you can soar over the Akaka falls on The Big Island, glide through Kualoa Ranch in Oahu, or soar through the canopies of Ka'anapali in Maui.
Kite Boarding
Have you ever dreamed of soaring across the water with the whales and dolphins of the Pacific? Take the trip of a lifetime on a tandem kite board on Maui's North Shore.
Developed in 2013, tandem kite boarding is a thrilling adventure and requires no previous experience. An exciting combination of paragliding and surfing, an experienced kite surfer can fly through the waters at up to 50 mph.
Whether you are 12 or 80 years old, you will love cruising effortlessly across tropical waters. With a pilot attached directly behind, you ride like a pro with the comfort of a professional leading the way. You might even get the chance to catch big air! Book your adventure here.
Skydiving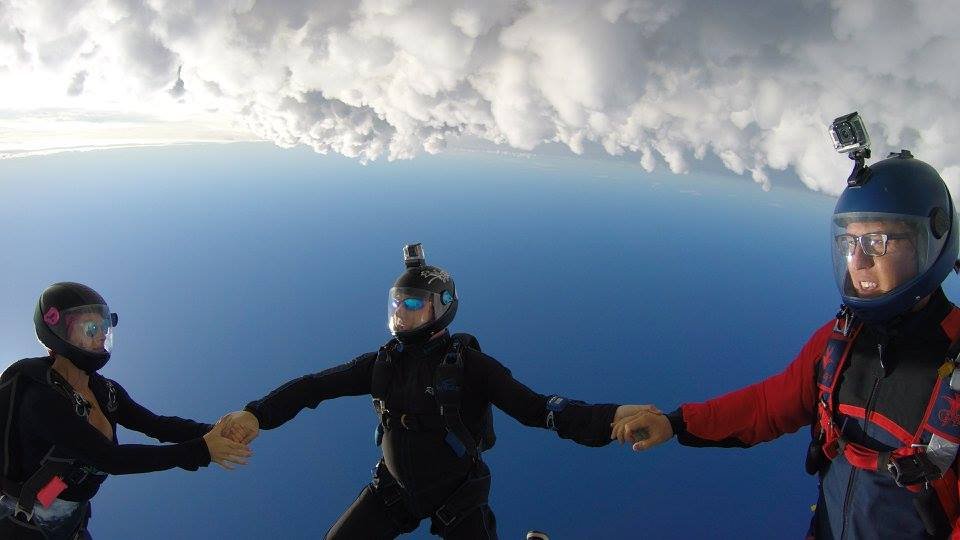 For the bravest thrill seekers, flying above the clouds and jumping out of high-speed airplane going 120mph is the ultimate adrenaline-charged experience! With only a few minutes of instruction, you can experience exhilarating free-fall as you drop from 12,000 feet with an instructor and enjoy the breathtaking views of Hawaii as you descend towards the earth together!
At Skydive Hawaii in Oahu, you can experience the highest tandem in Hawaii, which takes you to 20,000 feet above the earth! Even if you have already been skydiving, jumping over Hawaii is something you do not want to miss. With some of the world's most beautiful drop zones, you will get the chance of a lifetime to see every island as you float over the clouds in the surreal blue atmosphere.
The parachute slows your decent from 120mph to 15mph., where you will have a chance to relax and take in the breathtaking scenery on the ride back down to earth!
The Dole Plantation Maze
Looking for a tame adventure that the entire family can enjoy? Experience the world's largest maze, The Dole Pineapple Plantation. This exciting maze stretches over three acres and includes nearly two and a half miles of paths through 14,000 tropical plants! If you are up for a challenge, the fastest finishers win a prize and enter into the history of Dole Plantation, with their names recorded on a sign at the maze's entrance! Now that's aMAZing!
Snowboarding
For one of the most exceptional skiing or snowboarding experiences of your life, travel to The Big Island and soar down the snow-covered volcano of Mauna Kea, which means "White Mountain."
Between late January and March you will catch the powder from atop this spectacular, nearly 14,000-foot mountain. With no lifts or snow grooming machines, you will need a four-wheel drive vehicle to get to the summit. You will be one of the few to tell your friends that you shredded the mountain and the waves in one day after this adventure!
Surfing
Hawaii is the home of surfing and whether it's your first time or you are an experienced waterman, catching some waves on your trip is a must!
Home to the most beautiful waves in the world; Hawaii offers surf spots all year round. The surf in Hawaii gets big on the North Shores of the Islands during the winter season and on the South Shores of the Islands during the summer season.
In general, beginner and first time surfers will want to stick to the shores with the more mellow breaks. Your instructor will be able to assess the conditions and put you in the right break to ensure your safety and success!
The North Shore of Oahu actually provides great locations for all levels. Haleiwa Beach Park is located south of Puaena Point and is protected from the swells, though it can get heavy on the outside during the winter season and big sets can sneak up. However, typically, if people stay on the inside, Haleiwa offers perfect conditions for beginners.
Some of the most famous spots for watching Pro's on the North Shore are Waimea Bay, Banzai Pipeline, and Sunset Beach. However, unless you are an advanced surfer you will want to stay clear of these large and fast waves and enjoy from the safety of the beach!
If you are staying on Maui, you will not want to miss one of the most famous surf spots in the world: Jaws – or Peahi by its Hawaiian name. With waves topping at 65 feet traveling 31 miles per hours, Jaws is most famous for tow-in surfing and only Pro's dare to ride this wave!
On The Big Island, there are a few spots for beginners, most notably the bays around Kailua-Kona on the West shore, where you will find a Kahalu'u Bay. More experienced surfers can paddle out further to catch the bigger waves while beginners can catch small waves near the beach. White Sands beach also offers small waves, which are perfect for first time surfers and body boarders.
Adventures On Every Island!
Depending on which island you have booked your vacation home, there are so many exciting adventures to choose from. Whether you are diving through the sea or the air, you are sure to experience the thrill of a lifetime on the beautiful islands of Hawaii.
For more information on booking your vacation home and advice on local adventure activities, contact Exotic Estates today!
Blog Subjects: Hawaii