Exotic Estates Maui Beach Guide
Back

Exotic Estates Maui Beach Guide
By Shanon Searls
Welcome to the beautiful island of Maui! Now that you have arrived in this fabled island, you might be wondering which beach you should visit first. Don't worry, we've got you covered!
The local Exotic Estates' team has crafted a Maui Beach guide to escort you through some of the world's most well-known and picturesque beaches. Grab your bathing suit and sunblock and head out to the best beach near your villa!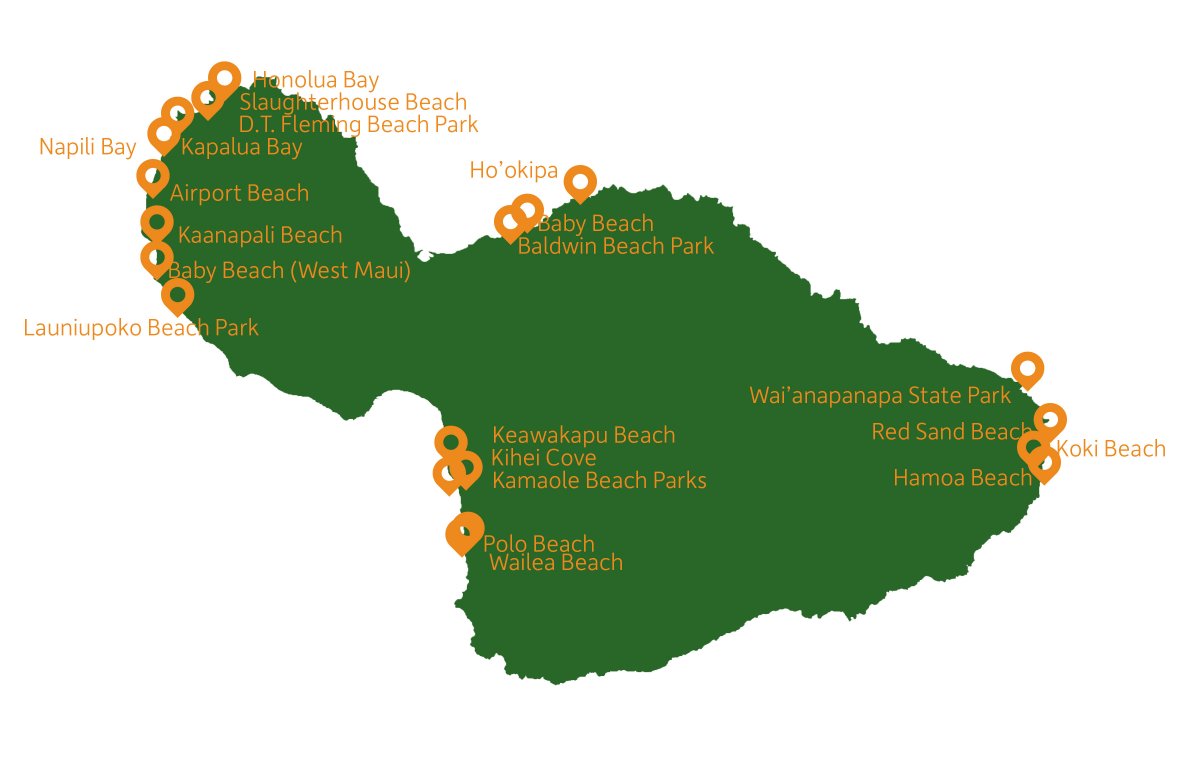 Top West Maui Beaches (from North to South)
Honolua Bay (no beach, strictly snorkeling)
This gorgeous bay is perfect for families or anyone who wants to get a front-row seat to Hawaiian Sea-Life. This beach is best for snorkeling and surfing, not for those who are looking to sunbathe.
Honolua Bay is part of a Marine Life Conservation District, so fishing of any kind is strictly prohibited. This area is closely protected in order to preserve the abundant natural resources for future generations.
Honolua, which means "two harbors" in Hawaiian, is perfect for snorkeling and you will get to see fish, coral, and maybe even a sea turtle. However, be careful as there is not an actual sandy beach entry, and the beach is very rocky. The sea floor is also a bit rocky close to the shore, so you might need to swim further out for decent visibility. Be sure everyone in your party is a strong swimmer!
Slaughterhouse Beach
Located on Mokule'ia Bay, this beach is like Honolua Bay in that is it also part of the Marine Life Conservation district, but there is much sandier beach available making a great option for relaxing in the Maui sun.
The beach's namesake comes from an old Honolua Ranch Slaughterhouse and tanning facility that were located just on the cliff's edge above the Pacific and although the buildings were torn down in the 60's, the name stuck.
During the winter, the waves are much bigger and are perfect for veteran surfers and body boarders. Beware as these waves can be potentially dangerous. However, the summer months provide a much more mellow wave, making it a great spot for the novice waterman.
This can also be a great place to snorkel when the ocean is flat!
D.T. Fleming Beach Park
This is a classic beach located next to the Kapalua Resort and the Ritz Carlton and provides a long sandy sweep of coastline.
The name comes from D.T. Fleming, who is the man that introduced the pineapple to West Maui. A desirable location, this beach is less developed than Ka'anapali Beach and therefore is somewhat less crowded. The beach is also staffed with lifeguards, and features a parking lot, picnic tables, grills, restrooms and outdoor showers, and water taps.
During high surf, conditions of the water can be very dangerous and we advise even experiences swimmers to be cautious. During a north swell, this is great beach for surfing and body boarding. Make sure you bring enough snacks to stay, and don't forget a local pineapple!
Local Tips:
Wear Shoes/Slippers - be sure you're ok with possibly getting muddy during the quick (probably 5-10 minute) trail from the parking areas to the waterfront.

There are two parking areas, one near the Honolua Bay Overlook, and the other just around the bend from there (less than a minute's drive past the first). The trail from the parking area near the overlook is a few minutes longer.

Bug repellant! If there's been any rain recently (which there usually has been up there), that little rainforest that's being trekked through is full of mosquitoes
Kapalua Bay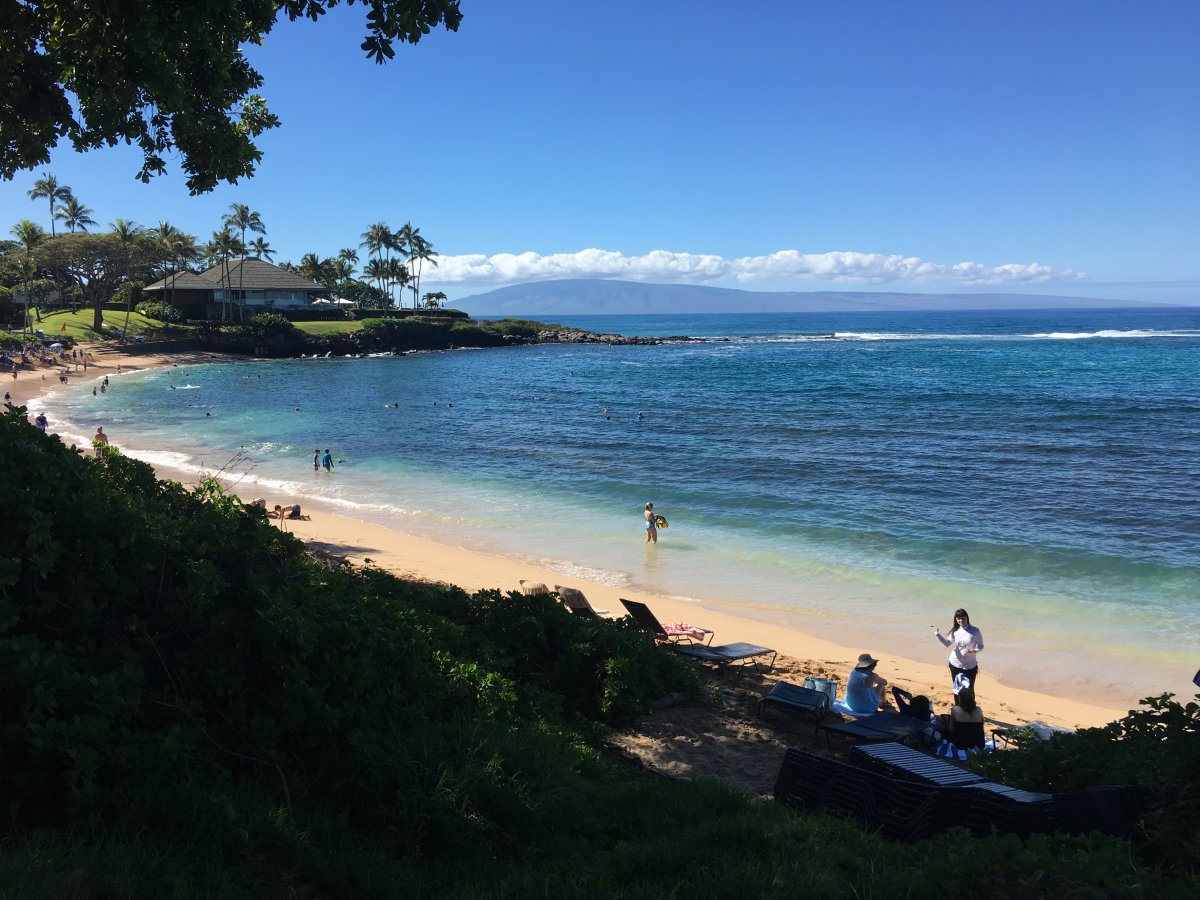 This sheltered and white-sand beach is located on the north-west side of Maui and is protected by two reefs that extend on each end of the bay. The calm blue waters make an ideal spot for snorkeling, swimming, and enjoying everything that Maui as to offer.
The sandy beach makes getting in to the water easy for anyone, and whether you are sunbathing or swimming, this is the perfect beach for families! Make sure you bring your towel and mask, as you are sure to see marine life under the water.
Although this beach is located close to the Kapalua Bay Hotel, there are no concessions so also be sure to bring snacks and water. There is no lifeguard on duty so watch kids and inexperienced swimmers closely.
Local Tips:
The surf here can get big, making water activities a little treacherous for kids/inexperienced people

This is a more heavily local beach, but is a really big beach and has a beach parking lot
Napili Bay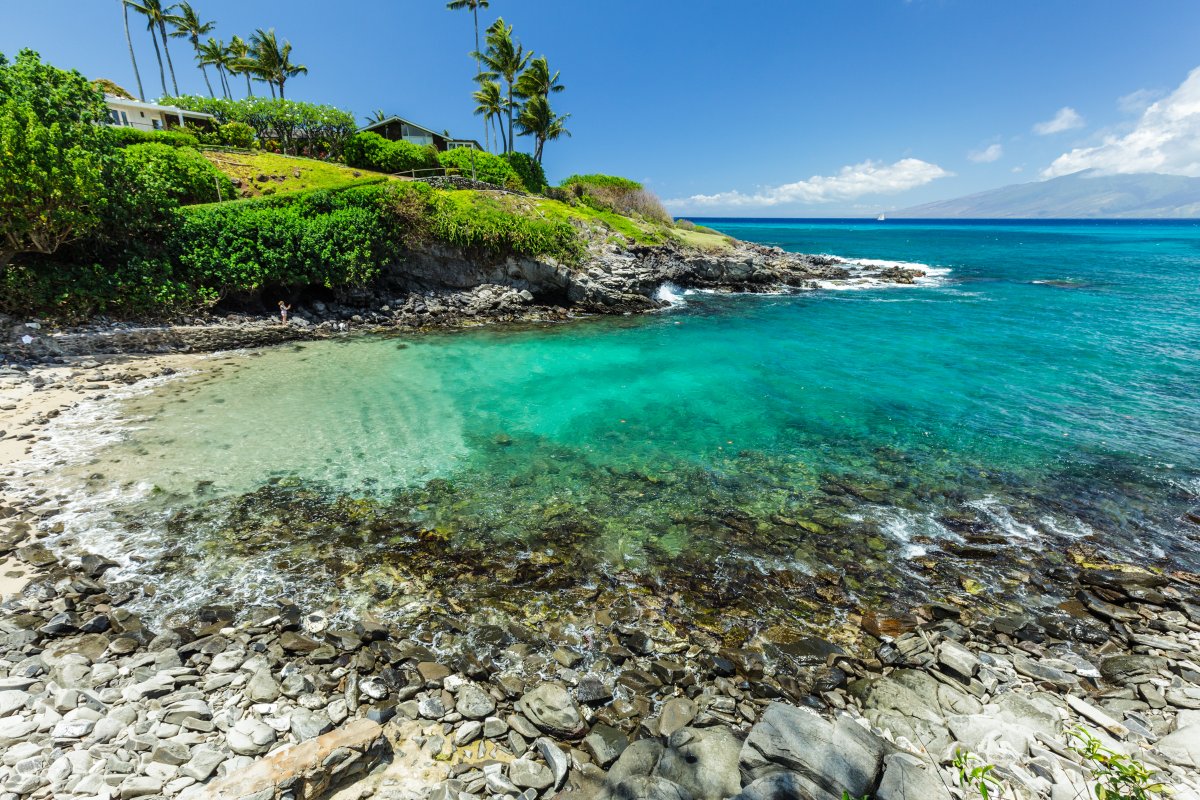 One of Maui's most coveted beaches, Napili Bay features gorgeous white-sand, crystal blue water, and excellent swimming. A well-known favorite, this beach will be a bit busier than the rest, and for good reason.
The bay is protected by outer reefs from most swell directions, allowing for gentle and small waves and great visibility. This beach is the perfect spot for relaxing in the sun, swimming and snorkeling, and enjoying the warm Maui breeze.
Because this is such a popular beach, beware that it can be crowded. There can also be a steep incline to get into the water. Below the waters surface you will find an abundance of coral and tropical fish. There are also no lifeguards on duty and no public restrooms.
Airport Beach (aka North Kaanapali Beach)
Kahekili Beach Park serves as West Maui's only airport back in 1960's and early 70's, thus gaining it's namesake. When the airport was moved to Kahana, the land was used to grow sugarcane and in the last ten years the area has experienced much more development.
This beach is a great spot in Maui for diving and usually provides visibility 50-100 feet below the surface. The bottom of the sea is sandy and there are corals from 5-25 feet.
At deeper depths, you can find a patch of reefs which marine life such as Moray Eels, Lionfish, scorpionfish, and much more call home!
Local Tips:
Great, easy snorkeling spot

There are several areas to park for public beach entrance (no formal beach parking lot), however they do get used up quickly, my favorite is the parking along the side of the road near the Napili Surf Beach resort (there's a beach access path right at the end of the road)

There are often turtles that can be seen feeding near the lava rock formations to the left side of the beach (you walk past them as you're coming in via the above parking area)
Kaanapali Beach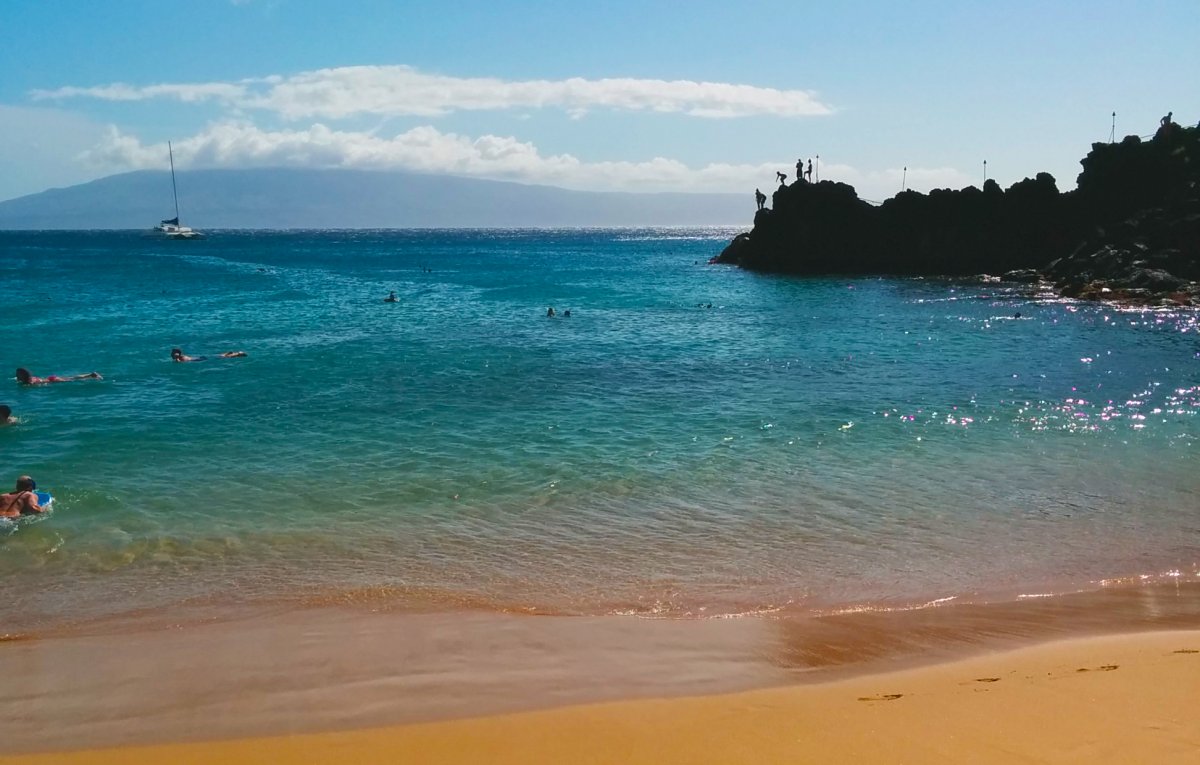 Named as America's Best Beach on more than one occasion, this gorgeous stretch of clean sand and turquoise blue water expands for three miles. Featuring one of Maui's most famous attractions, Kaanapali is home to Black Rock, where there is a cliff diving ceremony off the rock (Puu Kekaa) that is held every evening at sunset.
This beautiful beach rests in front of Kaanapali's hotels and resorts, as well as Whalers Village, which is a world-class shopping complex that has a variety of boutiques and restaurants and even golf courses.
Kaanapali Beach is the quintessential beach in paradise!
Baby Beach (West Maui)

A local favorite, Baby Beach is popular with families with young children. This beach is protected by a reef, creating a calm and shallow pool where there is no fear of waves crashing.
The weather is almost always gorgeous and parents can enjoy the magnificent coast views of the Pacific Ocean and neighboring islands. The sandy beach is narrow, and there is also a lot of coral and rocks so beware that you don't get scraped in the water!
Local Tips:
Parking is super easy - great spot with a big parking lot

There's also a covered pergola/BBQ area as well as restrooms/showers - it's got the works when it comes to amenities (many Maui beaches do not have these)

Weekdays will be way less crowded, it's very popular among locals for birthday parties on the weekends
Shark Pit
Shark Pit is at the south end of Lahaina and is perfect spot for surfing. The name comes from the white-tip reef shark that often hang out here, along with an abundant marine life.
The surf wave breaks right and left with hollow waves, and surfers can paddle out near the boats to the left, across from the channel.
Find parking in the street or at the Lahaina parking lot, and there are also public restroom facilities. There are no lifeguards at this beach.
Launiupoko Beach Park
A longtime favorite of Maui Locals, this sandy beach rest alongside a grassy green park with picnic tables and BBQ stations.
Not only can you enjoy a fun picnic or BBQ with the family, but this beach is perfect for swimming, surfing, or SUP boarding.
Local Tips:
This is a GREAT spot for small kids, or those looking to lounge in the water without the surging waves (there's a reef system off the coast that breaks the waves and essentially creates a shallow pool all along the beach)

There are several entrance areas, my favorite is the farthest to the South (Off of Front St. at the end of Pu'unoa Pl.) - you are not permitted to park anywhere in that cul de sac, but there is a dirt parking area across the street that is available for public beach parking and always has plenty of room available
South Maui Beaches
Kamaole Beach Parks I, II, & III
Kamaole Beach park is a set of three beaches in Kihei. Also known as Kam 1, Kam 2 and Kam 3, this beach is a local favorite and provides plenty of parking, lifeguards, volleyball courts and outstanding swimming conditions!
The perfect gathering places for friends and family, Kamaole beach has grassy and shady lawn areas, picnic tables, and BBQ pits. There are also plenty of palm trees alongside this 36-acre oceanfront paradise!
Over 1.5 miles long, you can enjoy beautiful views of the surrounding islands, Molokini, Kaho'olawe, and Lanai'i. Usually the conditions of this beach are safe for swimmers, but beware of potential large surf and rip currents during storms and south swells.
Kihei Cove (Cove Park)
Surfs up! An Exotic Estates' favorite, this is a great place to learn how to surf and SUP board!
There is no shortage of vendors who are offering lessons and rentals, and many instructors will take you out any day of the week. There is also another cove nearby that is more ideal for swimming.
If you came to Maui to learn how to surf, this is the best spot for you!
Keawakapu Beach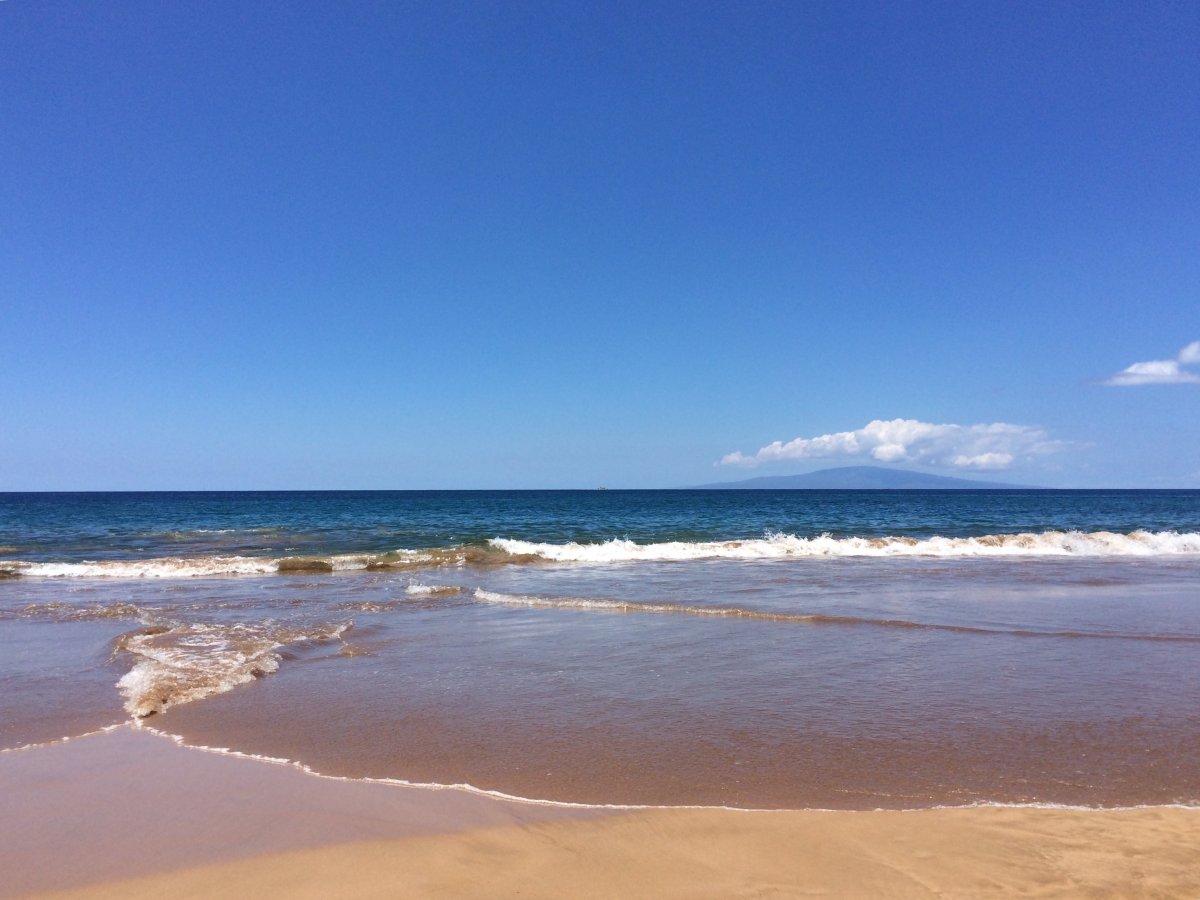 This beautiful beach boasts over a mile of coastline, making it a beachcombers favorite and the perfect spot for a morning run or sunset walk.
The water is great for swimming, boogie boarding and snorkeling and the sandy beach is perfect for sunbathing or reading your favorite book. The shoreline is very developed, so take a break from the beach and grab lunch at a nearby restaurant.
If you are looking for an adventure, you can rent kayaks, SUP boards, and other beach gear at nearby hotels and vendors.
Locals Tip:
On the north end of the beach you can find fun tide pools that showcase the sea life of Maui. There is also good snorkeling around the outcropping.
Polo Beach
This sandy beach rests between the Polo Beach Club and the Fairmont Kea Lani Hotel and is the perfect place for a peaceful stroll along the shore. You will also find a small park with a grassy area, showers and restrooms, and picnic tables and BBQ's.
Wailea Beach
A consistent world favorite, Wailea beach is known as one of the most perfect beaches in Maui.
Offering a resort-style atmosphere, the long sandy coastline is perfect for lounging and boasts views of the outer islands and in the winter, you may even spot a whale!
When the water is mellow, there are a plethora of activities including swimming, snorkeling, boogie boarding and body surfing. You will also find public facilities (bathrooms and showers) and there is even free public parking.
The only downfall is the beach can be a little crowded due to its beautiful appeal.
Top North Shore Beaches (from West to East)
Baldwin Beach Park
This lovely and large white-sand beach is located on Maui's North shore, and features lifeguards, public restrooms and shower, BBQ's and picnic tables, and even a covered pavilion making it the perfect spot for family outings!
During the winter, this is a desired place for boogie boarders, as the swells bring a large shore break. Swimmers can enjoy a protected area on the east and west ends. The long stretch of sand also make it a great place for your morning stroll or run.
The weekends can bring quite a crowd, but there are generally still empty parts of the beach due to its large size!
Baby Beach (North Shore)
This laid-back beach is not just for kids! A protected lagoon, this beach is located just before Paia on the North Shore of Maui. The perfect family beach, everyone will enjoy swimming, snorkeling, and relaxing on shore.
Behind the beach you will find sand dunes and a natural wooded area, providing a buffer from shops and hotels, making this a locals and tourists favorite. Enjoy gorgeous views of the coastline and have a picnic with your loved ones.
Ho'okipa
This beach is ideal for the adventurous, well-known for windsurfing and surfing alike. Although not the best for swimming, it's a great place to enjoy the warm Maui sun while you watch experienced waterman take on the wind and the waves!
A world-class windsurfing site, you may arrive during a professional competition. On any other day, you can expect to find some of the most experienced windsurfers doing their thing and if you are among the skilled, this is the place for you.
Although there are lifeguard towers at each end of the beach, beware not to swim if the surf is big and if you see an orange flag, this indicates that conditions are for experts only!
Top Hana Beaches
Wai'anapanapa State Park
This stunning park on the way to Hana offers beautiful panoramic views and black-sand beaches, evidence of the lava that once flowed.
Surrounded by bright green jungle, this is a popular stopping point for those on their way to Hana. Since most people look and leave, this location is rarely crowded and offers the perfect picnic spot for families and couples.
Surrounding the beautiful beach, you can also find hikes, ocean caves, sea arches, and many more Hawaiian wonders. There is even a nearby cliff jumping site where you can find those brave enough to take a long dive into the water!
Red Sand Beach
Known in Maui as "Secret Beach," this beautiful beach should be on your top must-see Maui destinations! Providing vivid colors of red sand and green foliage that surround the turquoise blue ocean, it's no wonder this gorgeous bay is no longer a well-kept secret!
The sand is red in color do a crumbling red cinder cone, as well as a lava rock wall that brakes the force of the waves before they can thump onto the beach. The cove is protected on the ocean side from this jagged wall of lava rock, making the seclusion and beauty a desirable stop for most.
This bay is safe to snorkel, but ONLY when the water is calm. Please note that this beach is also "clothing optional," so if you aren't comfortable seeing strangers in the nude, this might not be the best beach for you.
Local's Tip:
Part of the trail to this beach is now considered more dangerous due to a landslide. Be sure that everyone in the party is capable of navigating trails and cliff edges that are slippery and/or very rocky.
Hamoa Beach
Another beauty on the road to Hana, Hamoa Beach is a crescent shaped bay that is ideal for spending time enjoying the views of paradise!
The park is equipped with public restrooms and showers, and there is also a foot-wash station for cleaning off the sand after your adventures, keeping cars clean.
The soft sand provides a seamless beach entry, so take a dip into the warm Maui waters! The whole family can enjoy swimming and snorkeling in this beautiful bay, but keep a close eye on the little ones as there is no lifeguard on duty.
Koki Beach
This beach is a local's favorite surf spot and thus swimming is not recommended. Instead, lay out your towel and take in the gorgeous vista, which includes surfers catching waves! There is even grassy park area with picnic tables, which is the perfect spot for lunch.
This beach is where locals learn to surf, and you are likely to only see short boards as the waves are quiet steep. The beach can change radically throughout the year, boasting a soft sandy coast in the summer and a rockier version in the winter once the waves take the sand.
This spot holds cultural importance in Maui, as the large and red cinder hill to the north is where is it said the bones of Pele were left after a fatal battle with her older sister. Interestingly, this hill now belongs to Oprah, who purchased the land (a 105-acre section) from Hana Ranch in 2002.
Explore Maui!
Still unsure of which beach to visit? You really can't go wrong. Even if waves are big, they make for great beach watching. If there is a reef, there will likely be great snorkeling. Get out and explore. Keep you beach bag in the car and go beach hoping for the day. You might just find your own private little cove in paradise!
Blog Subjects: Maui