Exotic Estates Features Telluride, Colorado
Back

Tucked in among the vast canyons of the San Juan Mountains, you will find the charming mountain town of Telluride, Colorado. We invite you to take a moment out of your busy schedule to go on a tour of this legendary mountain town with us. It's a place that is definitely a little fabulous, but also helps you connect with the sights and sounds of Mother Nature.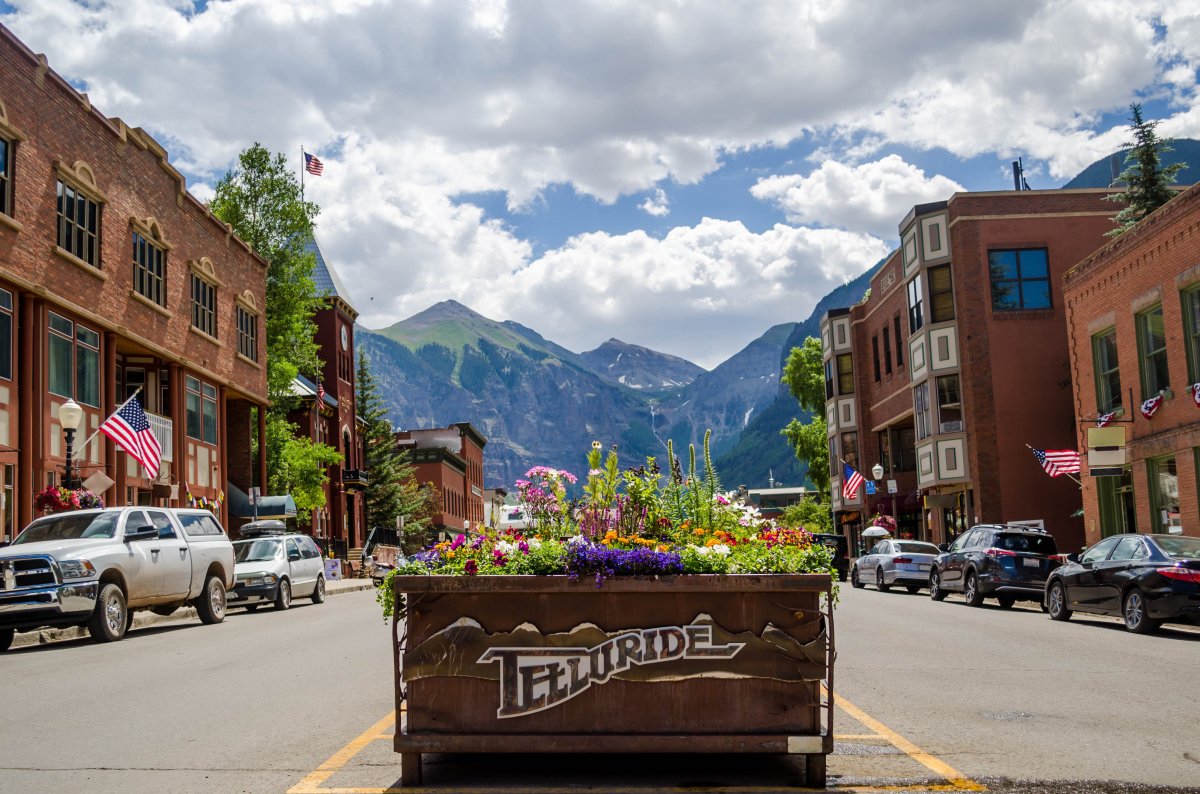 Telluride is in the southwestern region of the Rocky Mountains, offering unparalleled views of the 13,000+ ft. peaks. A town with a rich history, founded by explorers in 1878, Telluride was a former silver mining camp. The town was originally named "Colombia," but due to the confusion between similar names in California, the post office renamed the town to "Telluride" in 1887.
Telluride Offers Year Round Activities
Telluride, Colorado, offers a wide variety of outdoor activities throughout the entire year. During the winter, Telluride receives over 200 inches of snowfall! Those who are planning on visiting during the winter season will have the opportunity to experience some of Colorado's finest skiing, boasting over 2,000 acres of skiable terrain.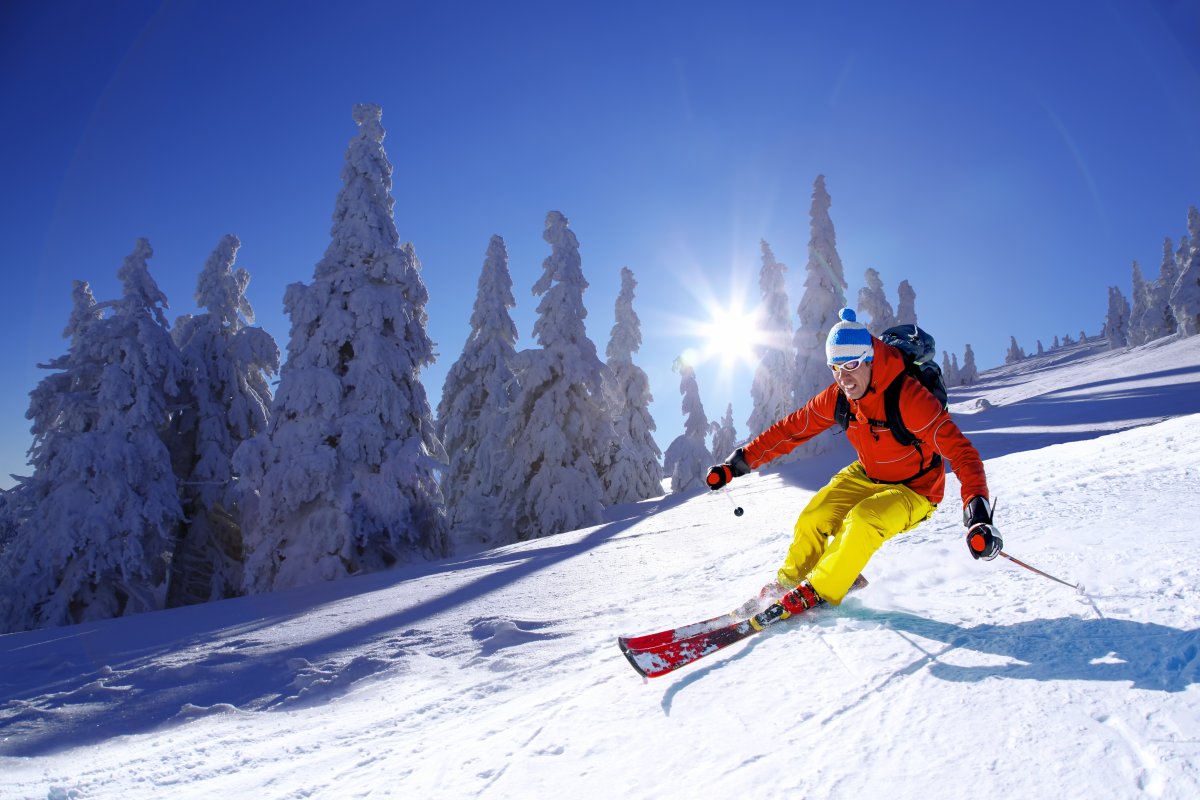 Guests can experience the variety of activities and unique events that Telluride has to offer. As the winter season ends and the snow begins to melt, the summer season will soon fill Telluride with visitors from all over the world. With its stunning landscape, each season has its own charm.
A-List Celebrity Neighbors
Telluride is a wonderful place for families and friends looking for a quaint, but undeniably cool, mountain retreat. While undertstated, a measure of this town's beauty and charm is the number of A-list celebrities who have had homes in Telluride. Stars including Tom Cruise, Oprah Winfrey and Jerry Seinfeld have chosen Telluride for their mountain mansion.
Adventures in Telluride
Hiking Telluride
If you are into hiking, biking or rock climbing, you will love the summer season in Telluride. Hiking in the Rocky Mountains is by far the most popular activity during the warmer months and the sights here in Telluride are second to none. With the wide variety of hiking trails and terrain in the Telluride area, you have the ability to explore many trails, ensuring that you can accommodate your group's skill level. Here are a few of our favorites:
The Bear Creek Trail. Bear Creek is an easy scenic hike located in the box canyon of Falls Park. This amazing trail is only a five-mile round-trip hike and leads you to a gorgeous waterfall at the end. A hike during the winter season will give you views of a gorgeous frozen waterfall and snowcapped mountains, a perfect opportunity for a photo with family and friends! Although its beauty may be breathtaking during the winter season it is highly recommended to be aware of your surroundings as surfaces can be slippery.

The Jud Wiebe Trail. Take a walk through the thick aspen forest on this moderately challenging hike. The climb up may be a workout but the outstanding view at the end will make it worth it. This hike can range from 1-3 hours, depending on ability and the number of selfie-stops.

Bridal Veil Falls Trail: If you are looking for a very challenging, yet rewarding hike, we recommend Bridal Veil Falls trail. This trail is well-developed and can be accessed by vehicle or walking. Bridal Veil Falls sits above the town of Telluride and splits into a river, which gently flows through the town. During this hike, you can also learn about the mining history and enjoy views of the mountains. Bridal Veil Falls is a 1-3-hour round-trip hike.
Be Prepared for Hiking in Telluride
For those looking to hike in the Colorado Rocky Mountains, we recommended to come prepared with the essentials such as water, bug spray, sunscreen, a first aid kit, extra layers, hiking shoes, and proper trail maps.
Rock Climbing, Fishing and Rafting
Other outdoor activities for adventure seekers include: rock climbing and bouldering the peaks of San Juan Mountains, camping and backpacking, and river sports such as fly fishing or water rafting.
If you are looking for a motor-sports adventure, you can enjoy an off-road experience through some of the area's highest mountain passes on a 4x4, ATV, or motorcycle. The Telluride region offers plenty of terrain for power-sports fans to explore!
Mellow Family Fun in Telluride
Although outdoor activities may not be for everyone, Telluride also offers a number of family-friendly recreational activities as well. In Colorado, you can make the most out of your stay by creating unforgettable memories while horseback riding through the beautiful San Juan Mountains. The spectacular views will surely take your breath away! If you are looking for something a little more relaxing, pack up some goodies from the local market and enjoy picnicking outdoors with family.
The Town of Telluride
Head into town and you will find many shops, galleries, and local restaurants that will satisfy a variety of palates. In the town of Telluride, you will also notice there are no chain restaurants or shops nearby, helping to support thriving, local businesses.
While you are in Telluride, don't miss out on some of the top recommended restaurants and local cuisines in town!
Experience an American contemporary dining experience with breathtaking panoramic views at Allred's Restaurant. The restaurant is located in the Telluride Ski Resort, nestled at the base of the mountain near the gondola. Allred's Restaurant overlooks the mountain peaks and town of Telluride, offering an enjoyable evening of hand crafted cocktails, fine wines, and an unforgettable open-space dining experience. The menu offers a wide variety of decadent meals from wild-caught Alaskan halibut to cinder brined Berkshire pork chops. They also offer vegetarian and vegan dishes as well!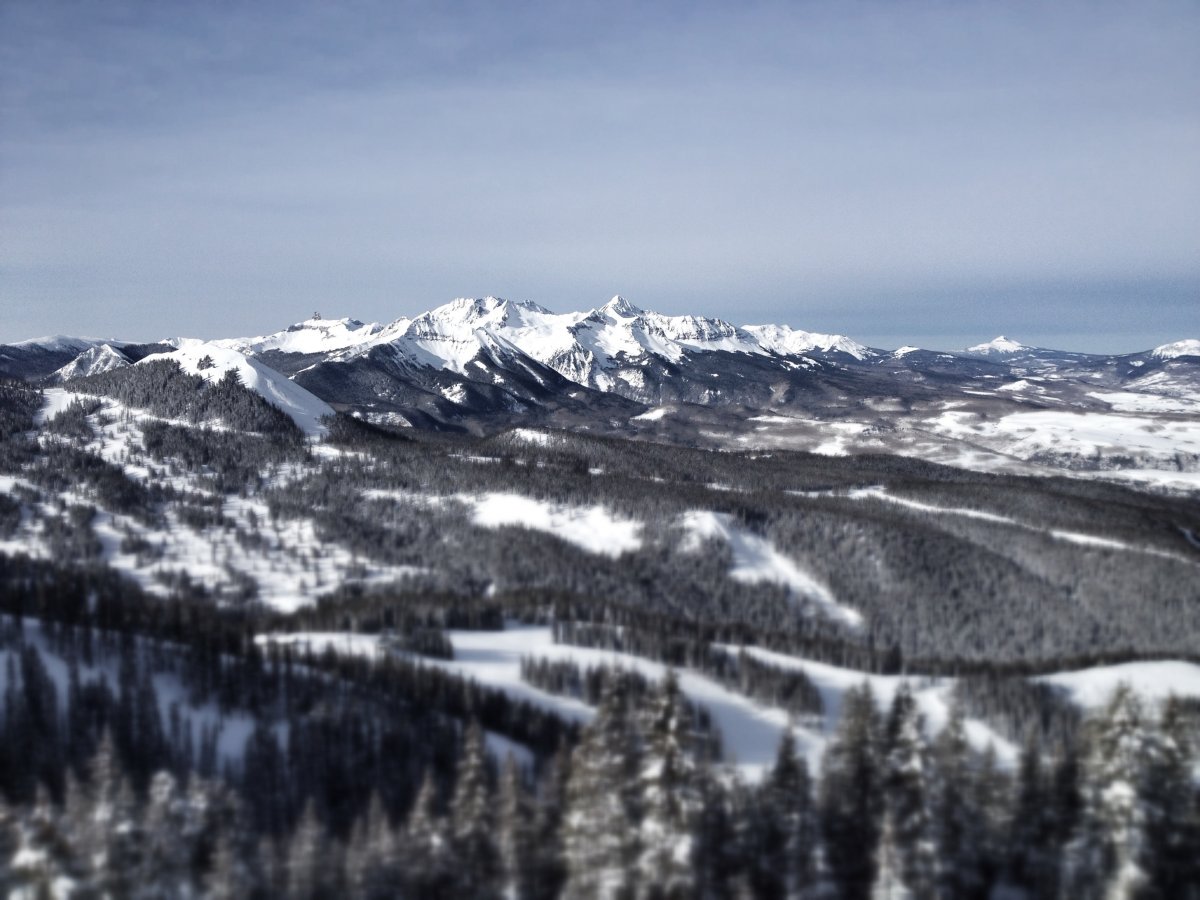 If you are searching for the perfect date night plans, visit the charming 221 South Oak found in downtown Telluride. This charming restaurant offers an extensive list of wine, delicious food, friendly staff and has been renowned for its intimate atmosphere. At 221 South Oak, you can choose from beef, poultry, seafood, and freshly caught game. For those of you that do not eat meat, there is a full vegetarian menu.
About 11,966 feet above sea level, you will find Alpino Vino, the highest-altitude restaurant in North America. Aplino Vino can only seat up to 26 guests and offers a five-course dinner. The current menu is impeccable, and features porcini consommé with mushroom biscotti and a ricotta & spinach ravioli with fresh pea pesto and carbonara. Yum! During lunch, this ski-in/ski-out restaurant also offers the best grilled cheese sandwich and tomato soup. After you indulge, enjoy the outdoors by the wood-burning fire pit or if you feel up to it, take another ride on the slopes!
Finding a Telluride Vacation Rental
Searching for the perfect Telluride vacation home is easy with the helping hand of an Exotic Estates Villa Specialist. We have many homes throughout Telluride and whether you are looking for a ski-in/ski-out condo or a large private home, we can help you find the perfect option for your Telluride retreat.
Telluride Majesty is a cozy condo located on the second story of the San Sophia building, offering guests a spectacular view of Telluride. This ranch-style vacation home has a one-level floor plan that features two bedrooms, two-and-a-half bathrooms, and a spacious main living area. With the ability to accommodate up to four guests, Telluride Majesty is perfect for a small family vacation, couple's retreat, or a group of friends looking to getaway.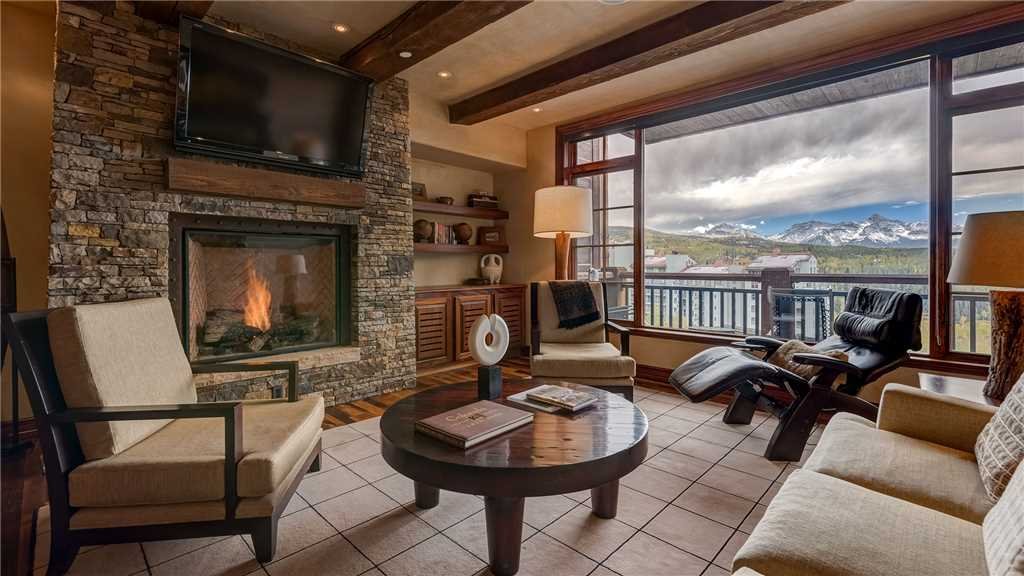 Telluride Peaks Penthouse is a gorgeous vacation rental offering breathtaking views of the Rocky Mountains. This three-bedroom and three-and-a-half bathroom penthouse is the perfect place for an intimate vacation, with space for up to six guests. All of the bedrooms at Telluride Peaks Penthouse feature high ceilings and a carefully selected décor, inspired by the beauty of Colorado.
Looking for a ski-in/ski-out experience? Then you will love our Telluride Galloping Goose Villa. This spacious 3,400 sq. ft. cabin-style home is ideal for families and can accommodate up to eight people. Offering three floors, a stay at this Telluride vacation rental will have you feeling right at home with its rustic and charming interior.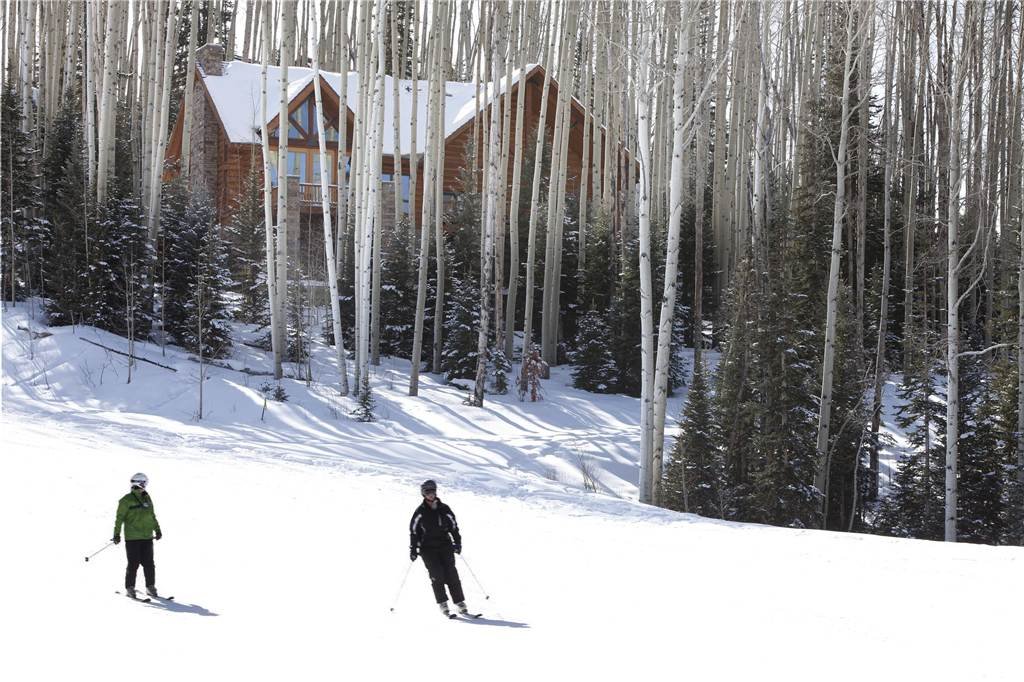 Offering incredible views, many activities, and a rich history, Telluride Colorado will have you feeling refreshed and truly in touch with the outdoors.
Contact an Exotic Estates Villa Specialist today for more details.
Blog Subjects: Telluride, Colorado, Ski Villas