Maui Winter Precautions
Winter season is the best time to visit the beautiful "Valley Isle," also known as Maui. During the months of November through February, the weather is cooler, humpback whales come to play in our warm Hawaiian waters and flights are more affordable! For the guests of Exotic Estates, we compiled a list of the top three (3) winter precautions to keep you safe during your Maui visit.
STAYING SAFE ON MAUI
Generally speaking, Maui is a safe place for both visitors and local residents. Each year, Maui welcomes over two million visitors of which the worst experience is most likely a sunburn (don't forget your reef-safe sunscreen)!
Although the islands beauty and charm are inviting, it is important to remember that Hawaii's ocean waters and mountains are both wilderness environments.
As such, visitors should always take appropriate precautions before hiking the rugged valleys and mountains or visiting the beaches of the Hawaiian Islands. Because we want our guests to be safe and enjoy their tropical getaway, it is important to always stay informed and aware when traveling.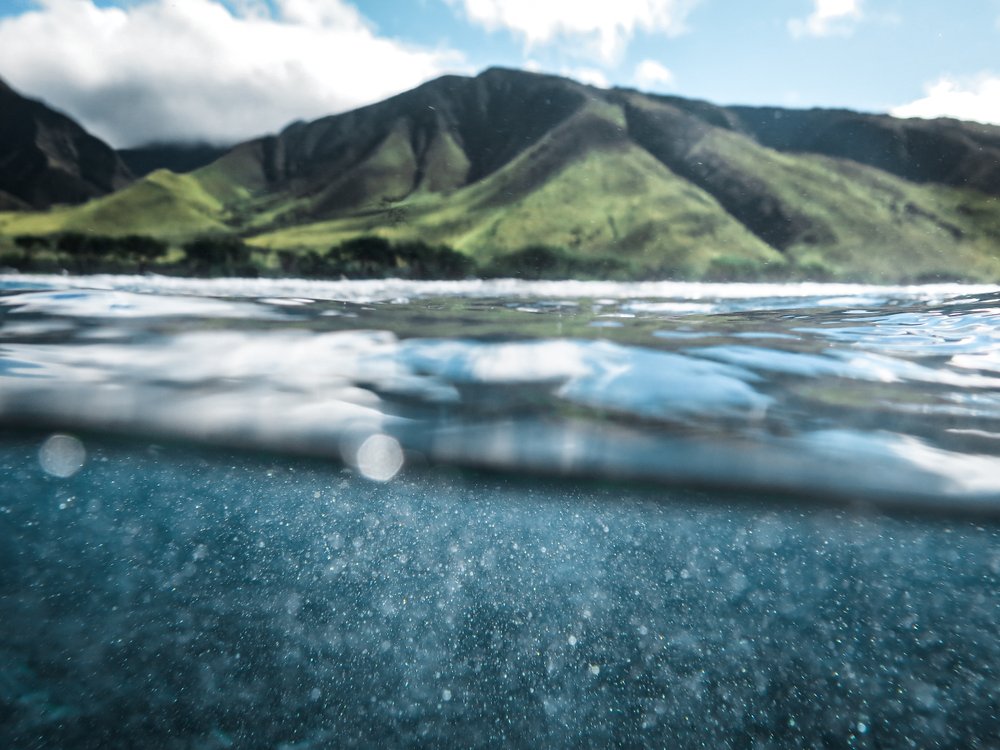 WHAT WEATHER TO EXPECT DURING WINTER IN HAWAII
The winter season, also referred to as the "wet season" starts from November and lasts through March. It is tricky to describe Maui's weather in the winter, as it offers so many different climate zones and could also depend on what part of the island you are visiting.
If you're looking to visit the southern part of Maui, this is considered the 'dry side'. Kihei and Wailea areas are well-known for their gorgeous beaches that adorn the coast for many miles. While Maui's west side areas of Lahaina and Ka'anapali are also fairly dry, just north toward Napili, Kahana and Kapalua you will see a significant change in weather with increased rain showers. The upside of the wetter parts of the island is incredible lush foliage.
Temperatures on Maui during the winter typically range between mid 70's to low 80's with a breeze during the day and drops to the mid 60's at night. During this time of the year, you may also experience what the local residents call "Kona Storm" which tends to roll in from the southeast and brings steady rain to the drier parts of the island.
Other parts of the island such as Haleakala, upcountry or any within a higher elevation (Fun fact: Maui's Haleakla can see snow on its 10,000 ft peak), you may notice a significant change in weather, usually dropping to the mid 40's and 50's. It's always best to dress warm and bring an extra layers, as it tends to warm up during the day.
THREE (3) PRECAUTIONS TO KEEP AN EYE OUT FOR

1. OCEAN CURRENTS
Be on the lookout for posted ocean safety signs. Posted signs are there to help protect and warn you of the hazardous conditions in the area. Some signs are permanent, while others are posted daily, depending on the beach and the conditions. If you are unsure about the sign or beach conditions, it is best to avoid the area or find the nearest lifeguard stand – this leads to the next point.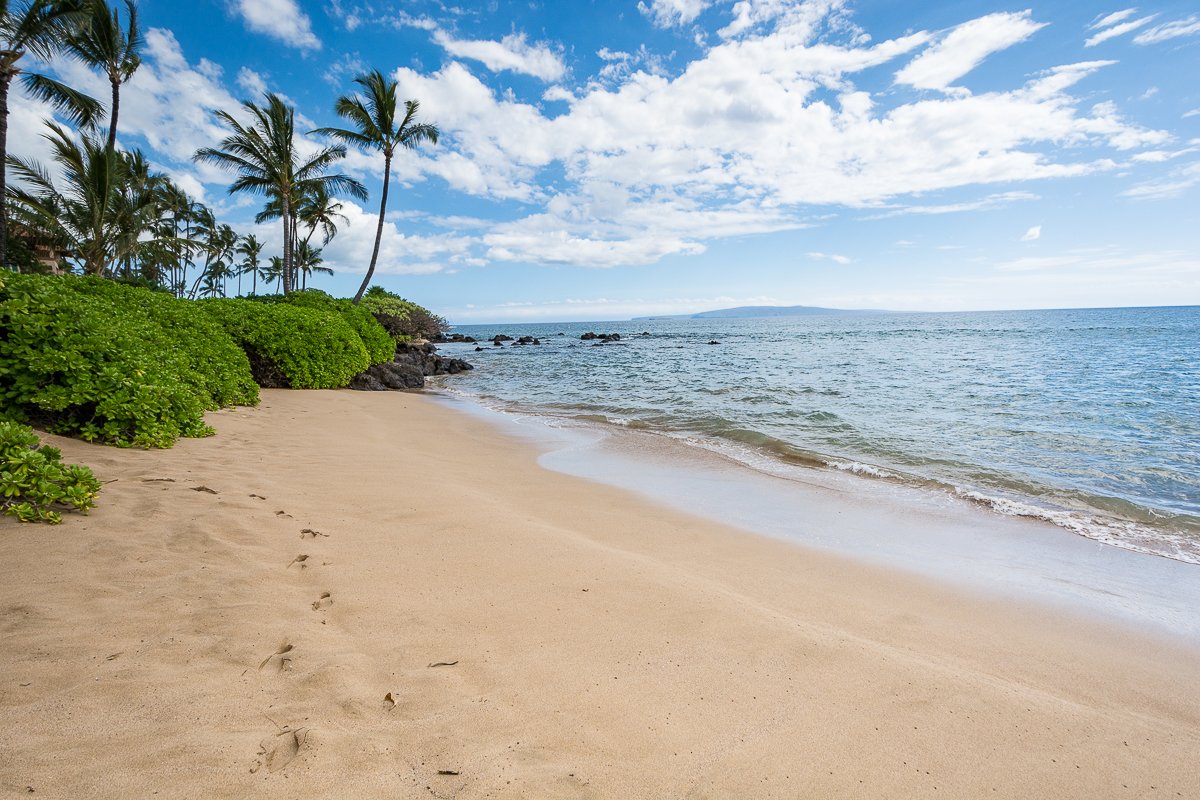 Quiet beach somewhere in Kihei, Maui.
Do not swim when there are no lifeguards on duty. You may be a strong swimmer, but even the best swimmer in the world won't be a match for Hawaii's ocean currents and random weather changes; there need not be huge waves for there to be dangerous currents. It is always best to watch your children and avoid the shores when there is no lifeguard in sight or on duty. The lifeguards are there to watch over everyone's safety on the beach. It's best to use the buddy system when entering the water and if there is an emergency and you find yourself in need of lifeguard assistance, raise your hands above your head to get the attention of a nearby lifeguard and other swimmers or beachgoers.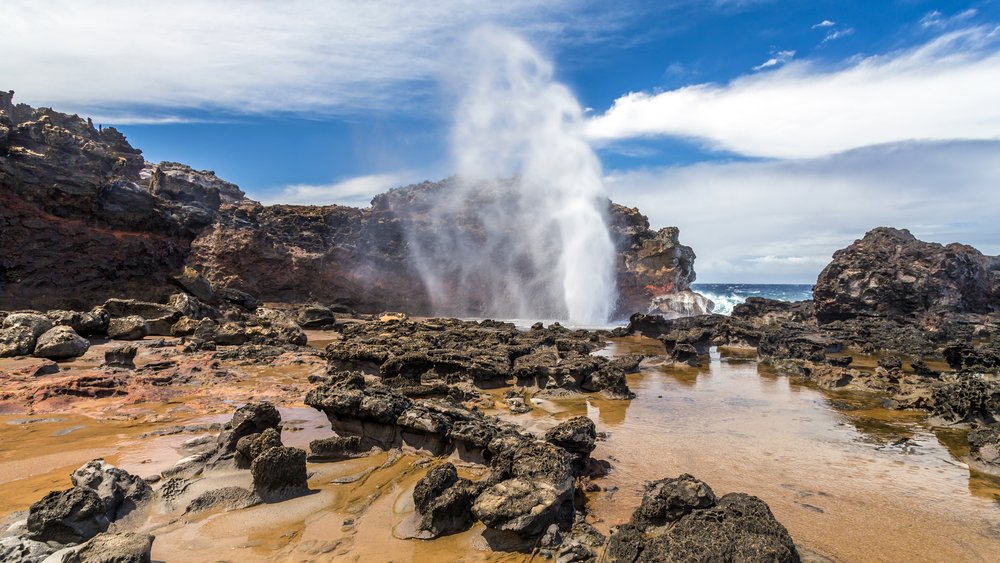 Nakalele point on the island of Maui, Hawaii. famous for a blowhole which produces powerful geyser-like water spouts with heights of up to 100 feet generated with the waves and tides
Northern storms also bring in winter swells. If the storm from the north is large enough it may also bring surf to the normally quiet south shores, followed by rain that is then followed by trade winds. While it may be exciting for windsurfers, storms from the north will bring large swell along the east and north facing coastlines making it dangerous to swim or snorkel. It is always important to plan ahead and always stay up to date with the daily weather report. The upside is that the viewing can be spectacular, with the world's best surfers and windsurfers turning out when the swell gets big.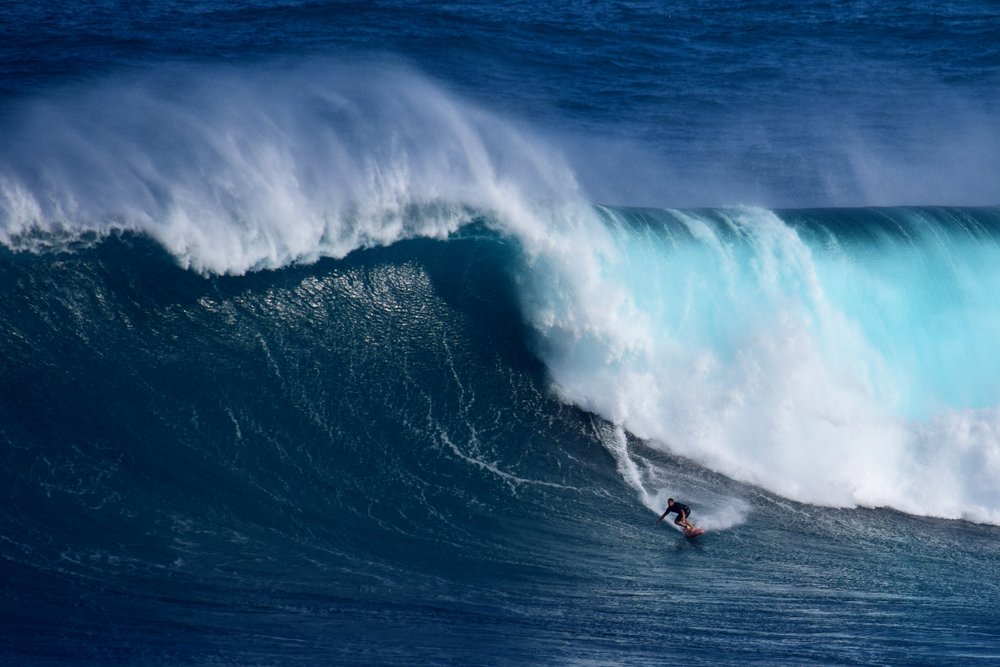 A surfer catches a massive wave at Peahi, also known as Jaws, off Maui's eastern shore
Never turn your back on ocean waves. The ocean may look calm for a moment, but don't forget there might be a wave on its way, especially in Hawaii. Always play facing the waves to avoid any surprise sets and injuries. The waves here, including crushing shorebreak that is a natual marvel to watch, can be much stronger than waves you are used to at home.
2. MOUNTAIN HAZARDS
If you do decide to explore inland, take caution when hiking the valleys and mountains of Hawaii, as the terrain is steep, often slippery, and rocks may be loose. When hiking in the Islands, it is recommended to have a map and stay on designated trails - better yet work with a guide! (note that our Concierge can assist on this front). If a sign is posted at a trailhead that the trail is closed, find another to explore, as this often means that the rocks and ground are unstable, and someone has already been injured.
Also, be sure to check the weather prior to hiking, as conditions can change quickly and dramatically, especially with heavy downpours in higher elevations. Do not hike under bad weather conditions and do not hike alone. For your safety, always tell someone where you are going and watch for caution signs. Every now and then there are stories of lost hikers that make the national news.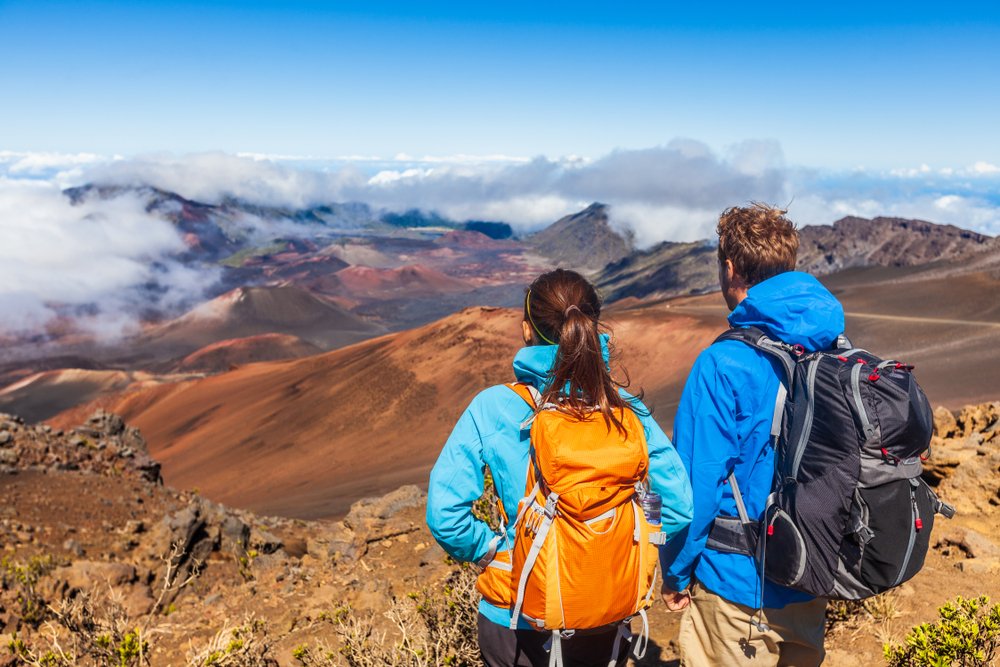 Hikers on Haleakala Crater in Maui, Hawaii.
When on a long or arduous hike in Hawaii, it is recommended to pack essential gear: proper foot wear depending on the terrain, a backpack to hold your gear, water, a cellular device, flashlight, extra batteries or portable chargers, sunscreen, hat, rain jacket, first-aid kit, extra food, trekking poles, whistle, a mirror for signaling, and always carry a map. When in doubt, do not hike.
If you plan on making a trip to Hana during winter season, be on the lookout for flash-flood warnings. Waterfalls along the Hana highway may be flooded during the winter season and can be very dangerous in some areas. If this is your first visit to Maui, it is best to travel with guides or local experts. Hana Van Tour will show you the best spots along this memorable scenic drive.
3. TRAFFIC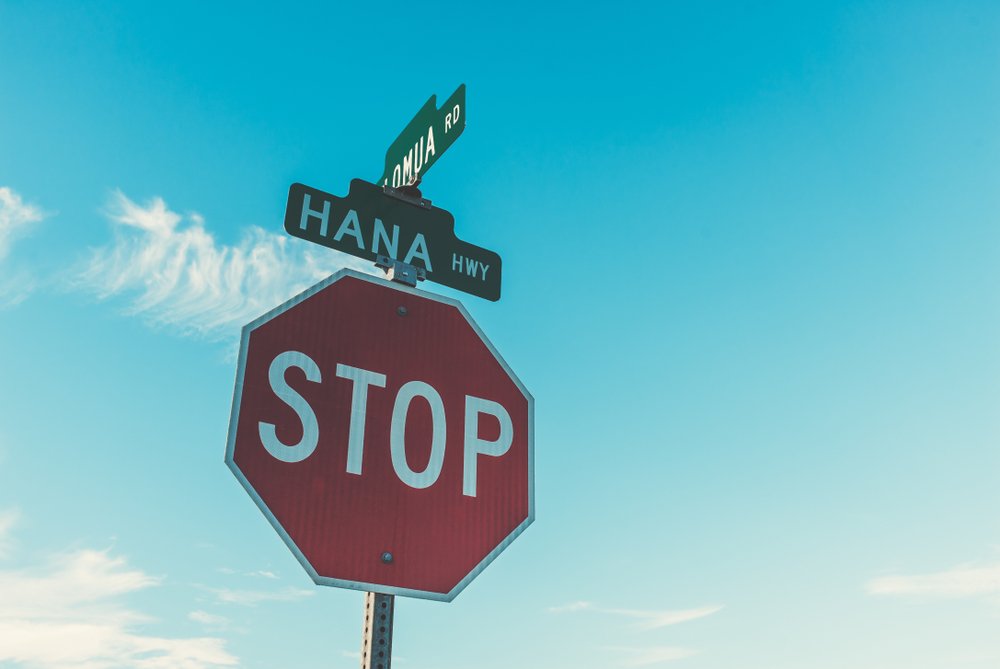 The Beginning Of The Hana Highway In Ho'okipa Along The North Shore Of Maui
Keep in mind, traffic slows down to a crawl when it rains. It's best to leave about 30-40 minutes in advance to get where you need to go, especially if it is raining. If you've booked activities, it is important to call in advance to see if the tour or activity is still scheduled. All tour companies are happy to reschedule if your tour is canceled due to bad weather. Check the local weather forecast online at Maui Now or you may also stay updated by watching the evening news.
DRESS FOR SUCCESS
If you plan on making a visit to Maui during the winter season, it's best to pack a light rain jacket or windbreaker for venturing out on rainy days. Refrain from bringing an umbrella as winter on Maui tends to have sudden gusts of wind and rain.
Pack at least one pair of hiking shoes (ones that you don't mind getting dirty or muddy) and pants, in the event you decide to visit the Haleakala Crater. That's it really. Basically, a good dose of common sense goes a long way in Hawaii as it does anywhere else!