Beat the Weather Blues with Winter Travel to Hawaii
Hawaii is a breathtaking area of the world and has been a top vacation destination for almost a century. Whether one chooses an Exotic Estates Maui villa or oceanfront condo, this beautiful island state offers something for all budgets and lifestyles.
If you plan to travel to this enchanting area to escape the cold and snow, you will be pleased to discover that the weather in Hawaii does not change very much throughout the year. This makes it an ideal location, regardless of when you choose to book your getaway. Below are some essential facts about Hawaii's weather and some tips about its most popular attractions and activities!
The Ideal Climate
Hawaii has only two seasons, which Hawaiian natives have named Hoolio and Kau. These refer to winter and summer, respectively, but even during Hawaii winter weather, temperatures rarely drop below 75°F, which means the island offers an ideal climate for most individuals year-round.
The warmest months are May through October, with an average daytime temperature of 86°F. From November to April, Hawaii temperatures typically range from 75 to 80°F, with the rainiest months being October through February. Rainfall is less common on the southern and western coasts of most Hawaiian Islands.
On some islands, such as Oahu, it may be raining on one side of the island, but you can simply travel to the other side and find abundant sunshine. In this way, you are virtually guaranteed sunny weather if you are willing to do a bit of beach hopping or just enjoy the beautiful island weather as it comes!
Things To Do and See
Before you book your visit, you should give some thought to the types of attractions and activities you enjoy ensuring you choose the best location. Although you can always contact one of our villa specialists to help you plan a custom Hawaiian holiday, the following are some favorite activities among visitors and locals alike.
Whale Watching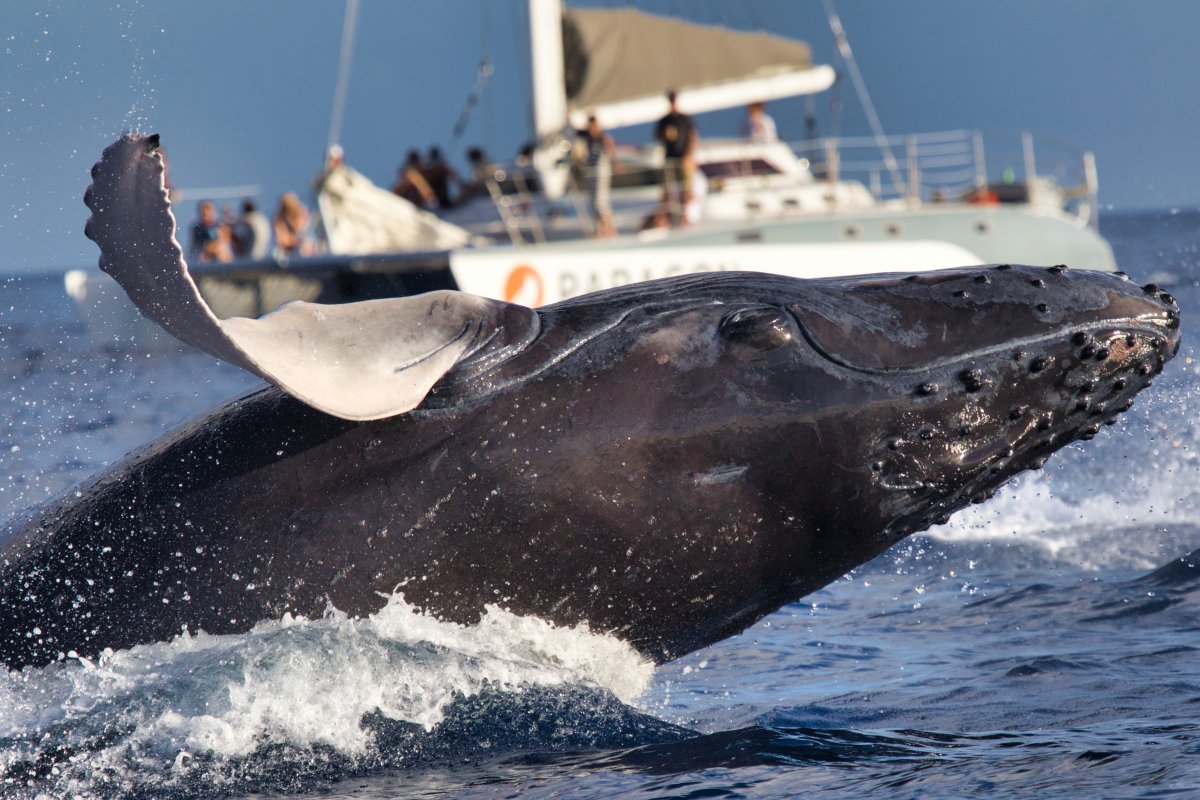 Hawaii is an ideal state for the sport of whale watching. It is also the only state in the US where humpback whales can be seen traveling with their young. The best time to spot whales is between November and May, but the peak season for this activity is January through March. Some of the best spots to watch for whales are Kilauea Point National Wildlife Refuge on Kauai, the Sanctuary Education Center on Maui, and the Halona Blowhole on the eastern shore of Oahu.
One of our favorite homes for enjoying whale watching is Lahaina Oceanfront Estate. The home boasts exquisite ocean views, and guests can take in the picturesque sights from sunrise to sunset!
There is even a Maui Whale Festival which takes place in the month of February each year and goes for the entire month. Activities include everything from whale films to races and events, and all proceeds help fund the Pacific Whale Foundation's humpback whale research in parts of the Pacific, including Hawaii.
Year-Round Flora
If you are a flower lover, you will be thrilled with the island's lush, tropical greenery and flowers. Even during Hawaii winter weather, tropical flowers bloom continuously, making a walk through one of the state's many parks and gardens an ideal activity.
Many of our Kauai, Oahu, and Big Island homes are set amongst the island's lush landscape, allowing guests to take in the tropical setting.
Every Exotic Estates vacation villa features native tropical plants and flowers, and renting a private villa allows you to enjoy the beautiful scents and sights all to yourself!
Festivals
Even though Hawaii is not about snow and typical winter scenes (except at the top of Mauna Kea on the Big Island at over 13,000 ft!), winter holiday festivals are still very popular on many of Hawaii's islands. This is because winter weather in Hawaii is so mild; it is like summer in other parts of the country. For this reason, outdoor festivals can be held during Thanksgiving, Christmas, New Year's, and other traditional American holidays.
Among the most popular is the yearly Honolulu City Lights Festival, which takes place in the center of Honolulu from the beginning of December to the beginning of January each year. Here, you can enjoy a 50-foot-high Christmas tree decorated with thousands of lights and a beautiful display of wreaths and community decorated trees inside the town hall. Hawaii is also a terrific place to welcome the New Year, with festivals and celebrations taking place in virtually every major city and town.
Also in December is the North Shore Christmas Festival on Oahu, which runs each year from approximately December 8-23. The Festival includes a Christmas tree decorating contest, live music, food, games, an art market, a wreath making contest, and Reindeer Rides (by reservation only). Make. Sure to bring your holiday cheer, this is a festival you won't want to miss.
Surfing
Winter offers the world's best surfers and fans the ultimate test of their skills and bravery, as the waves from January through March are not only exciting to watch but ideal for surfing competitions. The North Shore of Oahu is legendary for its large waves, and it still attracts some of the world's best surfers. Check out the following locations if you plan to hon your surfing skills while visiting Hawaii:
North Shore, Oahu – Pipeline House can accommodate up to 6 people and features 2,400 sq. ft.! This home sits on the beach, front and center at the world famous Bonzai Pipeline. In the winter months you can enjoy watching the most powerful, breath-taking surf in the world right from your lanai.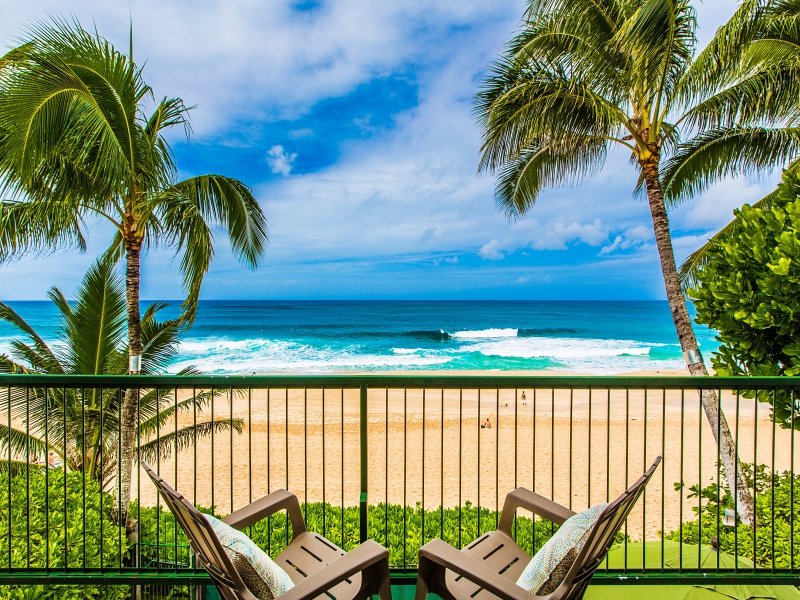 Hanalei, Kauai – Our Red House in Hanalei Is only a two minute walk from the Hanalei Bay Pier. This location features ample sandy spots and a crescent shaped bay which makes for an ideal surf spot for beginners.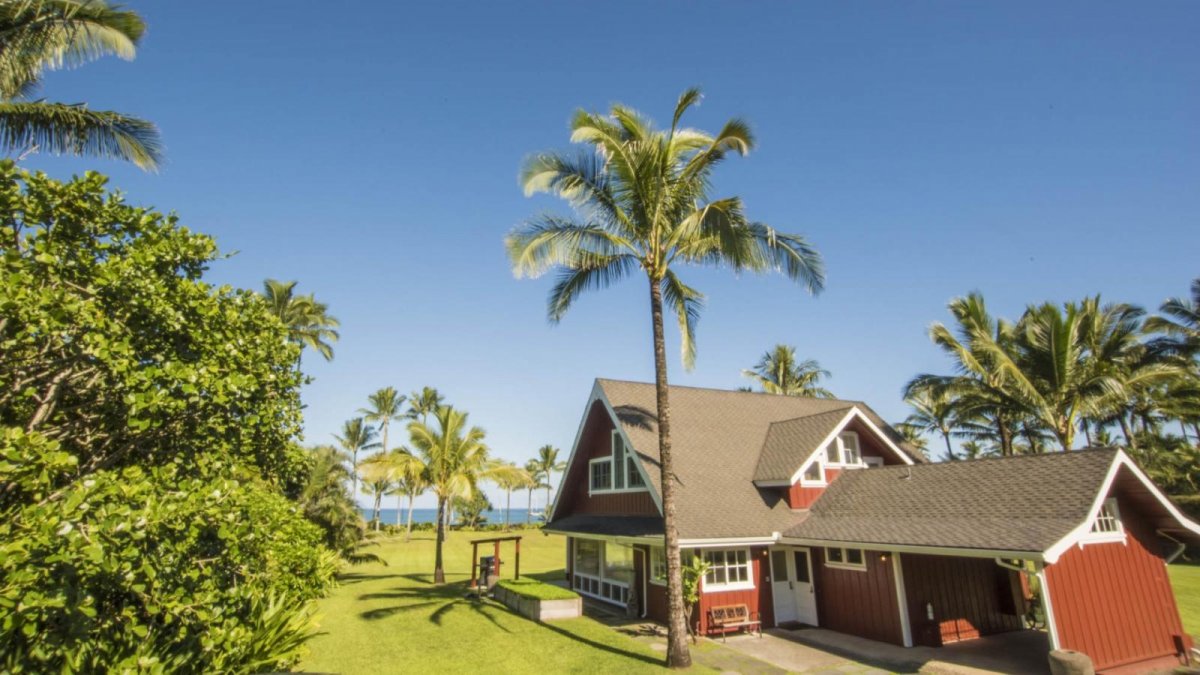 Sights to See
Pearl Harbor, The USS Arizona Memorial
If the weather winter Hawaii offers has drawn you to Oahu, consider visiting The USS Arizona Memorial when sightseeing around the island. This memorial honors the 2,388 Americans who died during the Japanese attack on Pearl Harbor. A trip to this location is especially enjoyable when taking a guided tour. This is because tour guides provide educational facts about the impressive monument and intriguing points about its history. Make sure to reserve tickets if you plan on attending; this attraction draws large crowds throughout the year.
Iolani Palace
Located in Honolulu, the Iolani Palace is a wonderful attraction for anyone who wants to better understand what Hawaii means to the people who live there. Built in the late 1800s during King David Kalakaua's reign, the Iolani Palace is a National Landmark, and regarded by numerous historians and archaeologists as the United States' sole royal structure.
Dole Plantation
If you have a fun-loving nature, you should spend a morning or afternoon touring the infamous Dole Pineapple Plantation located on Oahu. At this fun and interesting attraction, you can attempt to navigate one of the largest garden mazes in the world, take a tram ride through the plantation grounds, or indulge in some fresh pineapple, which is sold at various times on the plantation's property.
Kualoa Ranch
Curious as to where Jurassic Park was filmed? If you plan on heading to Oahu, check out Kualoa Ranch, where you can tour on ATVs or horseback. There are even guided tours specific to the locations of Jurassic Park, so get your adventure hat on!
Planning Your Getaway
If you want to enjoy winter Hawaiian style, you should plan your getaway carefully! For example, peak season prices for Hawaiian vacation rentals can be quite high, and flights are often more expensive during winter holidays. However, booking your getaway far in advance can help you to save a substantial amount of money, regardless of the time of year you plan to travel.
Additionally, many visitors discover that renting a private Maui villa is the best choice when traveling with family or a group and allows guests to enjoy privacy and the comforts of home. While all-inclusive packages are a decent choice, those looking to enjoy the authenticity and culture that Hawaii has to offer might prefer to be in a private villa and purchase their own food from local farmer's markets and grocery stores and cook together as a family in a private, gourmet kitchen.
Regardless of what type of vacation you have in mind, you are sure to be pleased with the beauty and charm of the lovely island state of Hawaii!
In light of the pandemic, the state of Hawaii is still enforcing Covid-19 protocols like social distancing, wearing a mask, and providing proof of vaccination to ensure the safety of residents and travelers. So when you are planning your Christmas vacation this year, make reservations, call ahead and ask about the Covid protocols in place at events & businesses, and stay safe!
All photos property of Exotic Estates