Take a Tour of San Jose del Cabo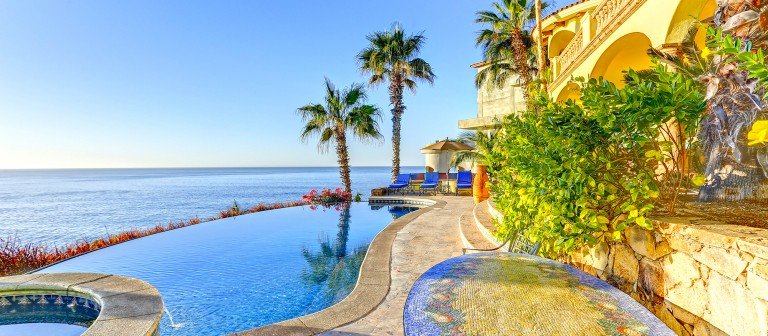 San Jose del Cabo is located 20 miles north of Cabo San Lucas and boasts 18-century colonial architecture and a laid-back vibe. Situated at the end of the Baja California Peninsula, San Jose was founded in 1730, when the San Jose del Cabo Anuti Mission was established.
This low-key town rests along the Sea of Cortez and boasts beautiful beaches, a historical town center, and an easygoing ambiance. Known as the artistic hub of Los Cabos, visitors can explore the picturesque architecture, murals, and vibrant art galleries.
Exotic Estates has added nine new vacation homes in San Jose del Cabo and we have compiled our list of favorite things to do in this culture-rich town. Take a tour of this lovely village and then select the perfect Exotic Estates villa for your next vacation!
San Jose Del Cabo Main Square (Plaza Mijares)
Get to know the living history of this Mexican town and pay a visit to the main square, where you will find art galleries, shops, and delicious local cuisine.
Check out the delicious eats available at a food cart, or enjoy the Thursday-night art walk. Dine alfresco and people watch. This adorable square is fun for everyone in the family!
Playa Palmilla
This lovely beach is ringed with white sand and is perfect for an evening walk during sunset. Clean and well maintained, you will find an abundance of local families and children.
The rocks offshore break up the large waves, which make this a good beach for swimming. Be sure to bring your own beach toys and fishing gear. The beach is also a popular place to snorkel!
The Estero San Jose
Experience a beautiful nature walk along the estuary of the local river and bird sanctuary. This is a unique place, where the freshwater of the Rio San Jose meets salt water.
This trail extends 1.5 miles and is the perfect spot for bird watching, kayaking, and morning jogs. Conveniently located, this trail connects the beach hotels with the downtown district.
Mision de San Jose del Cabo Anuiti
Experience Sunday Mass at this historical Mission. Founded by the Jesuit Priest, Nicolas Tamaral in 1730, the Mission of San Jose is an important regional landmark.

Despite the damage from a hurricane in 1918, the Mission still holds the original structure and some of its walls, and inside you will find a unique mosaic. Deep in history, this is a great place to take the family!
Ivan Guaderrama Art Gallery
San Jose del Cabo is home to a plethora of beautiful art galleries. This gallery was established in 2004 by artist and founder Ivan Guaderrama, with its original location in Chihuahua, Mexico. It is located at the end of Art Walk Street and offers different styles and genres, but specializes in contemporary Christian artwork, and expressions of love, faith, and music, and also features interactive art displays.
A local's favorite, you will find colorful and uplifting art that will inspire!
Frank Arnold Gallery
Frank Arnold's artwork is referred to as "Personal, yet Universal," as it connects with each viewer's emotions.
Frank Arnold works in oil on canvas and cast bronze from his studio, and you will see his love of light in each unique piece. The elegant gallery is full of modern art and paintings, and is also home to the artist himself.
Extreme Sports
If you need a break from the quiet atmosphere of this historical town, dare to go on an adventure!
Start with a Hydro FlyBoard, which is considered one of the top things to do in San Jose del Cabo. You can experience a personal flight lesson in the un-crowded marina at Puerto Los Cabos. This is the perfect place for your first jetpack experience and is sure to create memories of a lifetime for the entire family. Learn more here.
Soar through a beautiful nature sanctuary on a zip line! Check out the rugged forests of San Jose del Cabo from above, on this exciting thrill ride. One of our favorites is Canopy Costa Azul, where you will find only the safest equipment for your ride above the bush!
For a wide range of tours and activities, visit Transcabo. Choose from city tours, adventure tours, whale watching, golfing or sunset cruising. One of our favorite adventures is to take a deep-sea fishing day trip, for which Los Cabos is widely known. You will have plenty of fresh fish to grill at your private villa after a day out on the boat. Whatever your fancy, Transcabo will have the perfect activity for any family or group!
Find Your Villa
Exotic Estates offers nine villas in this beautiful town, so you are sure to find the perfect San Jose del Cabo vacation home for your holiday among them!
Casa Cortez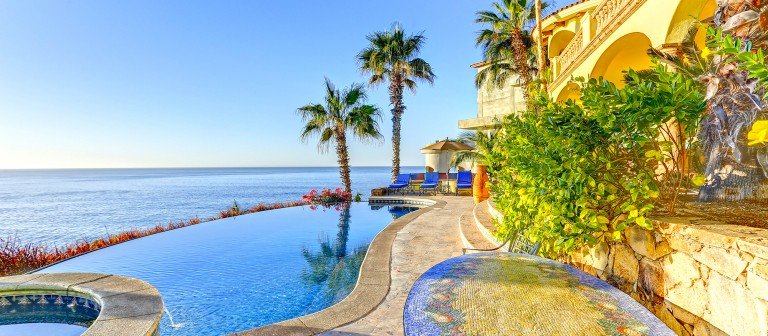 This San Jose del Cabo vacation home was built to perfection and overlooks the Pacific Ocean.
This gorgeous villa is located in the gated community of Palmilla Sur and Cerro Colorado. With 6,500 square feet of stylish Mexican design, Casa Cortez Beach Villa is large enough to accommodate multi-generational groups or a couples' Mexican vacation!
You will love the spectacular views of the Sea of Cortez and the rugged coastline of Baja Mexico! Among the charms of this luxuriously private villa are five glorious master suites, an infinity pool and spa, a large terrace with stunning views, outdoor dining areas, a gourmet chef's kitchen, comfortable sleeping accommodations and a state-of-the-art media room!
This home is perfect for your Mexican vacation!
Cabo Candlelight Villa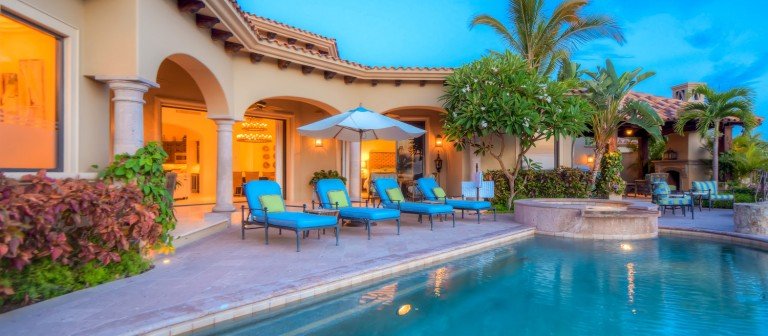 This lovely San Jose del Cabo villa is located in the gated community of Del Mar and is beautifully decorated with Mexican-inspired designs. The panoramic ocean views of the Sea of Cortez are spectacular and guests can enjoy over 3,200 square feet of living space.
Offering a private pool and Jacuzzi, the terrace is sure to be the most popular spot in the villa! Relax poolside with your favorite book in the shade, or take a dip in the heated swimming pool or unwind in the outdoor Jacuzzi. There is also a covered area with a fire pit and an outdoor barbecue, which is the perfect evening conversation spot.
At Cabo Candlelight Villa you are close to many shops and restaurants and Club Ninety Six, Del Mar's private beach club. Guests will also have access to the private beach and restaurants, which are only a short walk or golf-cart drive away.
Offering four bedrooms, this villa can accommodate up to eight guests and is perfect for family vacations!
Villa Cabo Cielo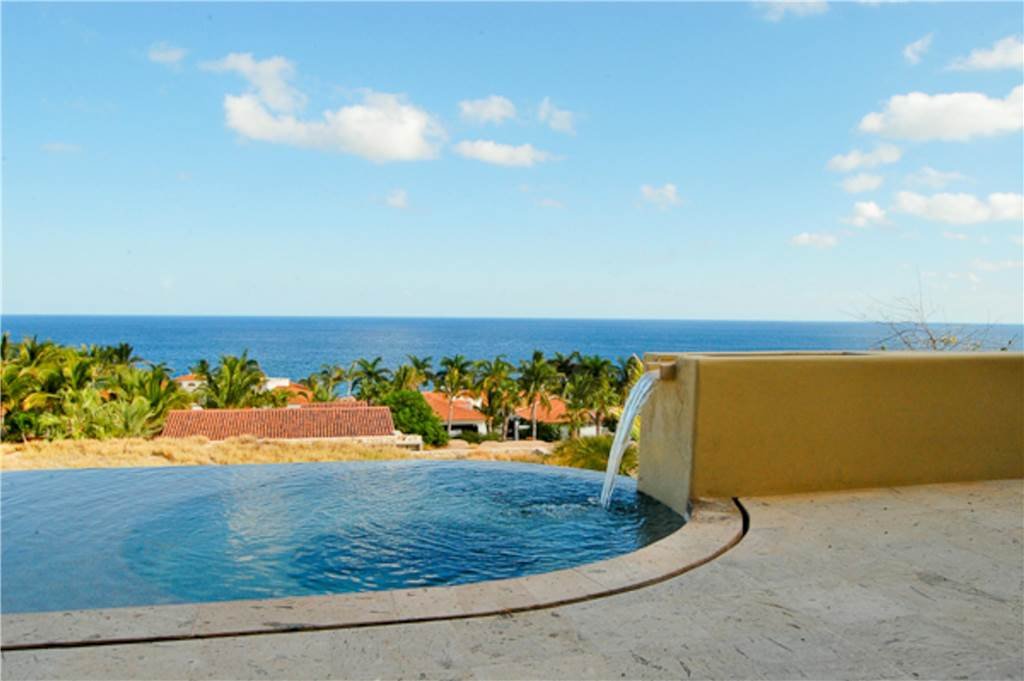 Villa Cabo Cielo, or Villa Cabo "Heaven", is a beautiful four-bedroom and five-bath villa located in the beachfront residential community of Punta Bella.
This two-story villa can accommodate up to ten guests and boasts incredible views of the Sea of Cortez from almost every room! Offering over 3,400 square feet, this San Jose del Cabo vacation home is the perfect escape for families and friends!
The panoramic ocean views are stunning and guests will create memorable moments at this Villa Cabo Cielo. Spend time in open living area or outside on the terrace, which floats above the landscape below. Guests can lounge poolside under the sun and then take a dip in the refreshing pool to cool off.
Come experience a Mexican paradise at Villa Cabo Cielo!
Photo Credits
San Jose del Cabo Main Square: Courtesy www.mexican-folk-art-guide.com
Playa Palmilla: Courtesy www.cabosanlucasbeaches.com
Mision de San Jose del Cabo Anuiti: Courtesy www.discoversanjosedelcabo.com
The Estero San Jose: Courtesy www.sanjosedelcabo.org
Frank Arnold Gallery: Courtesy of www.frankarnold.com
Ivan Guaderrama: Courtesy of http://www.ivanguaderrama.com
Flyboard: Courtesy of www.hyrdoflyboard.com
Ziplining: Courtesy of www.costaazulziplines.com