Exploring Cabo San Lucas with Exotic Estates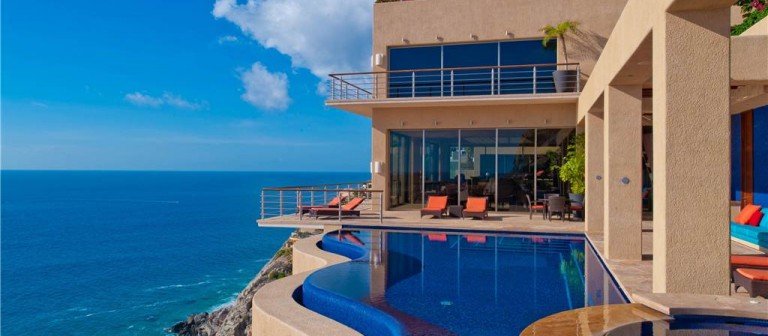 Historical Cabo San Lucas is a fishing village at the tip of Baja California, but the present day Cabo San Lucas is a thrilling and popular destination! With picturesque beaches, impressive scenery, year-round beautiful weather, and, of course, an exciting nightlife, it's no wonder that Cabo San Lucas has flourished as a popular place to rent vacation villas.
Exotic Estates is introducing over 50 villas in this gorgeous destination and we are happy to take you on a tour of fun things to do during your stay.
Beautiful Beaches
Playa Medano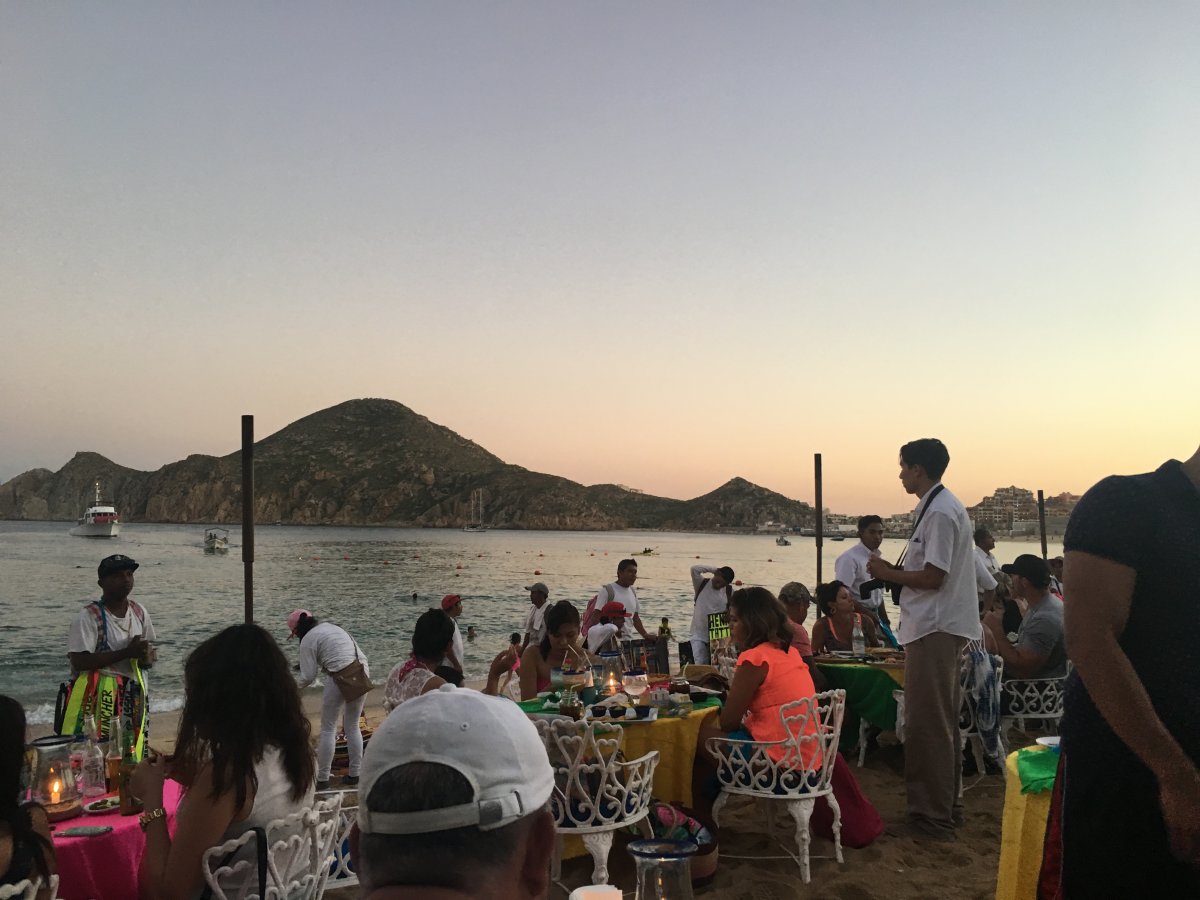 This is one of the most popular beaches in Cabo San Lucas and has a reputation as the safest swimming beach. Beginning at the east side of the harbor, this beautiful beach extends along the bay of Cabo San Lucas and into the Villa del Palmar.
This beach is known for all-day happy hours and has plenty of amazing beach vendors to fulfill any food craving. This is an awesome spot to people watch and there are plenty of water activities to enjoy year round.
Playa Medano is a great place to take the family to learn how to surf or go for a swim in one of many designated areas. This is where everyone comes to enjoy beach days on their Cabo vacation. You will also find beach volleyball, as well as jet-skis and wave runners, kayaks, sailboats, and parasailing.
Land's End (Arch of Cabo San Lucas)
The Arch of Cabo San Lucas is referred to as Land's End and is a distinctive rock formation known as "El Arco." At this point, the Pacific Ocean becomes the Gulf of California. This spot is a very popular place for local sea lions and is also a Cabo San Lucas favorite for watching sunsets!
Playa del Amore
This beautiful beach is a vacationer's paradise. You can swim and snorkel in the bay and admire the gorgeous sea-life. The Pacific side (known as Divorce Beach...lol) is where the waves come in strong, and is a must-see! Make sure to pack plenty of food and water as there are no services offered here. This beach can only be accessed via water or by a glass bottom boat from the Cabo San Lucas marina. You can also paddle here by kayak from Medano Beach.
Chileno Beach
This recently improved beach is another local and tourist favorite, and features new palapas (providing shade), a wooden walkway, and signs. Weekdays are the best time to visit as the crowds can grow large during the weekends. Families can enjoy one of the many taco vendors and the water provides a safe place to swim for children and adults. There is also a nearby reef that is great for snorkeling and spearfishing! Although there are restrooms provided, be sure to bring your own toilet paper.
For a complete list of Cabo San Lucas beaches visit http://www.cabosanlucasbeaches.com/
Fun Attractions
Buccaneer Queen
This boat tour is a must-do for families and groups! The Queen was a pirate ship built in 1968, and is the only theme boat that sails around the Los Cabos Bay area. You will have front-row seats while you sail past the Arch, Lover's Beach, and the coral reefs of Chileno Bay.
Running tours four times per day, you can choose between whale watching, a sunset tour, or you can even book a private tour for you and your guests. For an entertaining perspective on Cabo's hottest ocean attractions, take a tour with the Buccaneer Queen.
Cabo Expeditions
Experience a Cabo adventure on land or sea with Cabo Expeditions! From snorkeling and scuba diving, to zip lining and parasailing, Cabo Expeditions offers adventures for all abilities and ages. Take the family to The Wild Canyon's Kingdom, where you can interact with exotic species from around the world, or enjoy a kayaking and snorkeling tour in a clear-bottom kayak! The possibilities are endless!
Cabo Sky Tours
Take a tour of the beautiful skies of Cabo San Lucas in a powered hang glider. Get a true bird's-eye view of the landscape and Pacific Ocean while your trusted pilot flies your glider.
You don't need any experience, just let the licensed pilot take charge and sit back and enjoy! Find out more about this adventure at Cabo Sky Tours.
Iglesia de San Lucas - Town Square
Get a taste of culture at the Church of San Lucas. This landmark is the main church of Cabo Can Lucas and is a great place to take the family to get to know the history of this beautiful town.
The Church has been relatively unchanged since the 19th century and you can participate in a Mass on Saturday evenings or Sunday mornings. Check out architecture and learn about local traditions at this Catholic Church that was built by a Spanish missionary in 1730. Surrounded by a pristine plaza, you can enjoy lunch at one of the many nearby restaurants and take a tour of the shops.
Cabo Wabo Cantina
This chain of nightclubs in the perfect destination for your night on the town! Founded by rock musician, Sammy Hagar, this nightclub is one of the most popular destinations in Cabo.
At Cabo Wabo, you can enjoy live music and entertainment daily. The restaurants are open during lunch and dinner, seven days a week. From seafood to classic-Mexican dishes, and tequila's to cervesas, this is the perfect spot to unwind and enjoy the Cabo Can Lucas lifestyle!
Learn more about Cabo Wabo
Exotic Estates in Cabo San Lucas
You can find rent many beautiful villas in Cabo San Lucas in a variety of exclusive areas. Take a tour of a few of our Cabo San Lucas vacation homes.
Cabo Hacienda 11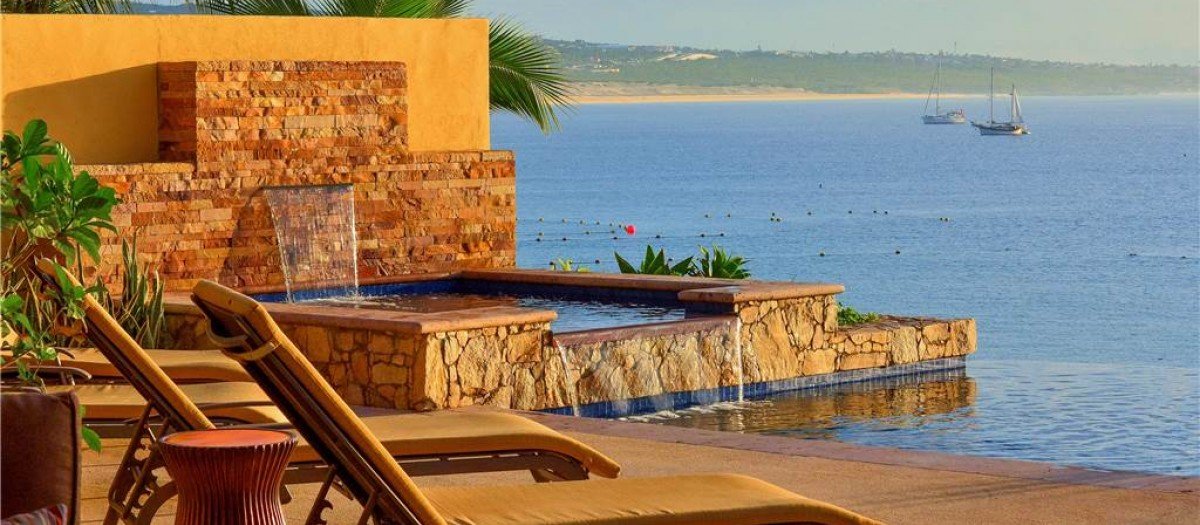 This Mexican vacation villa overlooks Medano Beach and boasts some of the best views of Land's End. With a prime oceanfront location, you can experience all of the action in Cabo!
Offering four bedrooms, this villa can accommodate up to eight guests and offers a private pool, 3,500 square feet of living space, and spectacular views of the ocean. Each bedroom is outfitted with lavish linens and has its own private bathroom.
Guests staying at this Mexican retreat will have all the comforts of a luxury home and receive exclusive access to the Hacienda Beach Club and other facilities. If you are looking for an exceptional, one-of-a-kind vacation experience in Cabo San Lucas, this stunning oceanfront Mexican villa should be at the top of your list!
Villa Cabo Bellissima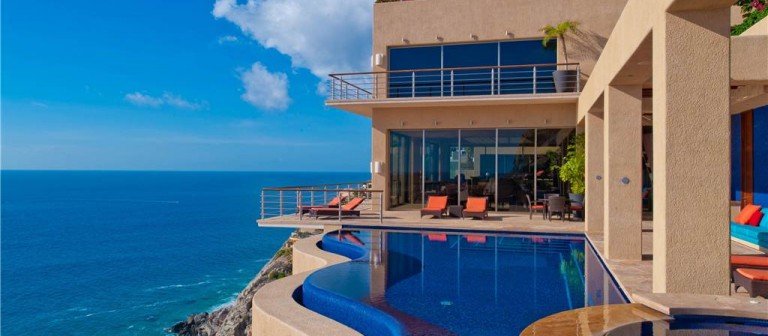 This stunning eight-bedroom villa is located on the hillside in the private Pedregal community of Cabo San Lucas, in Mexico. This Exotic Estates Cabo vacation home displays the perfect blend of modern architecture, luxurious amenities and boasts unobstructed views of the Pacific Ocean.
Featuring eight-bedrooms, eleven spa-like bathrooms, a gourmet kitchen and spacious living accommodations throughout, guests are sure to love this gorgeous Cabo vacation villa.
This exquisite property is a great choice for special events, and can easily accommodate up to 150 guests, making this villa a dream location for weddings, anniversary parties, milestone birthdays, IPO celebrations and cocktail parties!

Relax in paradise and experience haute Mexican living at this beautiful villa in Cabo San Lucas, Mexico!
Cabo Villa de Tres Hermanas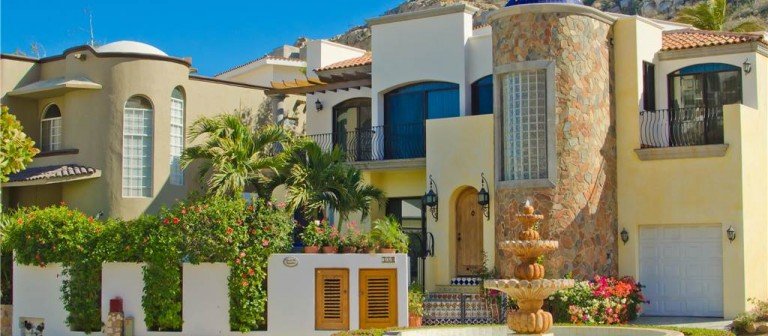 This Exotic Estates Cabo San Lucas vacation villa is the perfect rental for families and groups looking for a centrally located villa in Cabo. Offering four bedrooms and three-and-a-half bathrooms, this home can comfortably accommodate eight guests and features a private swimming pool and Jacuzzi.
Guests will love being within walking distance to the marina and the beach, the perfect place to spend all those sunny Cabo days! This vacation villa is also close to downtown Cabo Can Lucas, where you will find shopping, dining, and an exciting nightlife!