Why Cabo is a Great Place for Your Destination Wedding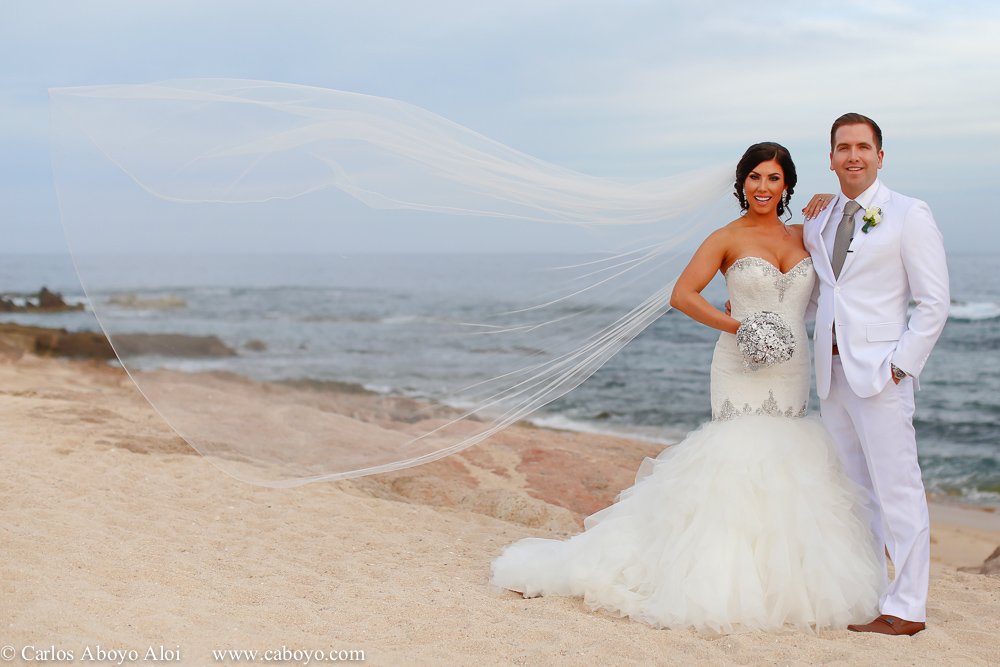 The Challenges of Hawaii Destination Weddings
We get the question all of the time, "Are there any homes that can host a small wedding on Maui or Oahu?" The answer is always the same, "There are a few, but there are restrictions, fees and most mandate that you work with a wedding planner, which is sometimes pre-determined based on the property."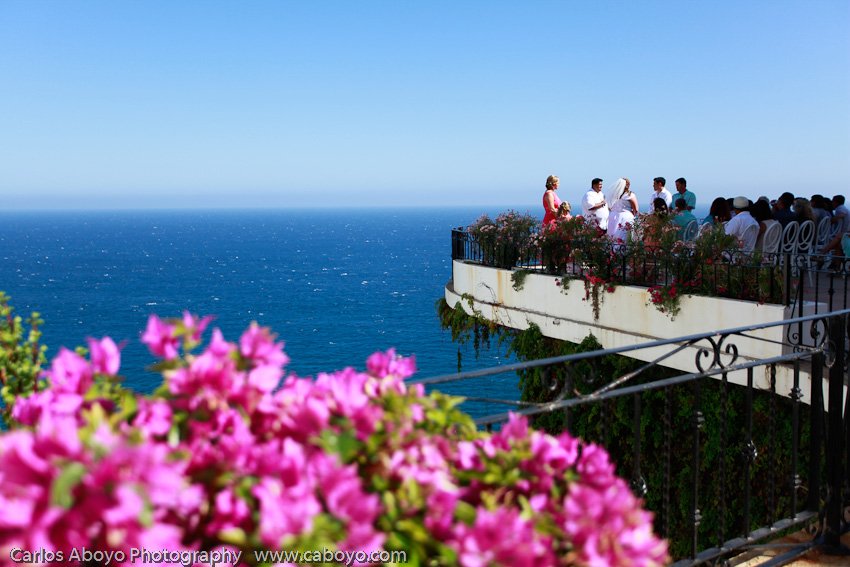 Why not just go to a resort? Because many want the elegance, intimacy and hominess of a beautiful villa for their ceremony and reception, not to mention the environment it affords for family togetherness before the event. But Hawaii is simply not that wedding friendly when it comes to hosting an event in a permitted vacation villa – this is the hard truth.
Hawaii – a Limited Inventory of Event-Friendly Permitted Villas
The reason is that there are not many permitted homes that allow events, either because of the parameters of the home's permit and HOA rules, or homeowner concerns. Also, if you do not work with one of the bonded state event planners, who knows and follows the many local laws governing events, including beach ceremonies, you run the risk of having your ceremony or event shut down; not a good way to start off your life together.
There certainly are some permitted and approved villas in Hawaii that are in incredibly beautiful settings, and when it's done right, a villa wedding in Hawaii is spectacular. However, the limited inventory of event-friendly permitted villas can be a challenge, and homes come with event fees that can reach as high at $6,000.
Moreover, due to the highly aggressive and complex regulatory environment, it is essential that you hire a bonded and licensed planner to coordinate your wedding. All of these factors add up, making it more challenging to realize your ideal special day in Hawaii.
Why Los Cabos for Your Wedding – San Jose del Cabo and Cabo San Lucas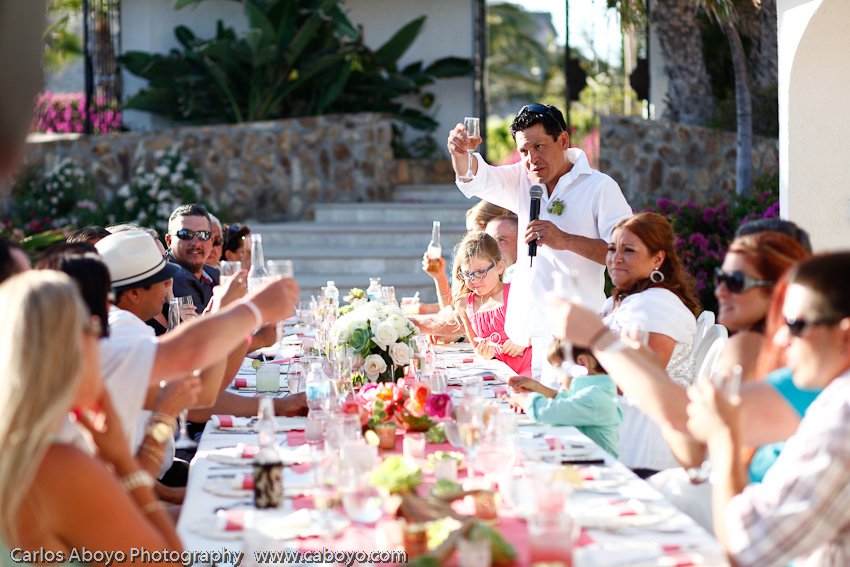 Imagine a place that has abundant sunshine, warm temperatures and stunning vistas, filled with gorgeous wedding-friendly villas that range in size from two to 10 bedrooms: this is the glorious stretch of land at the end of California Baja Sur known collectively as Los Cabos.
Exotic Estates has recently expanded in a major way to Cabo, adding more than 100 villas in the area from Cabo San Lucas to San Jose del Cabo, as well as a few more remote villas on stunning beaches located just to the north. Almost all of these villas are wedding friendly, which means you have a large portfolio of gorgeous villas to choose from. You can plan your intimate, uniquely-you event without worry of being shut down because your wedding planner didn't get all the right permits in order, as can happen in a place like Hawaii.
The more that we learn about Cabo, the more we love it. If you are thinking about planning a destination wedding, we encourage you to read through our Cabo wedding guide below!
Holding Your Wedding in Cabo San Lucas at an Exotic Estates Villa
When done right, the cost of a destination wedding can actually be comparable to, or even less costly than, hosting the same kind of event in your hometown. When searching for a venue, you are certainly looking for a unique spot that will make a beautiful and memorable setting for you and your guests.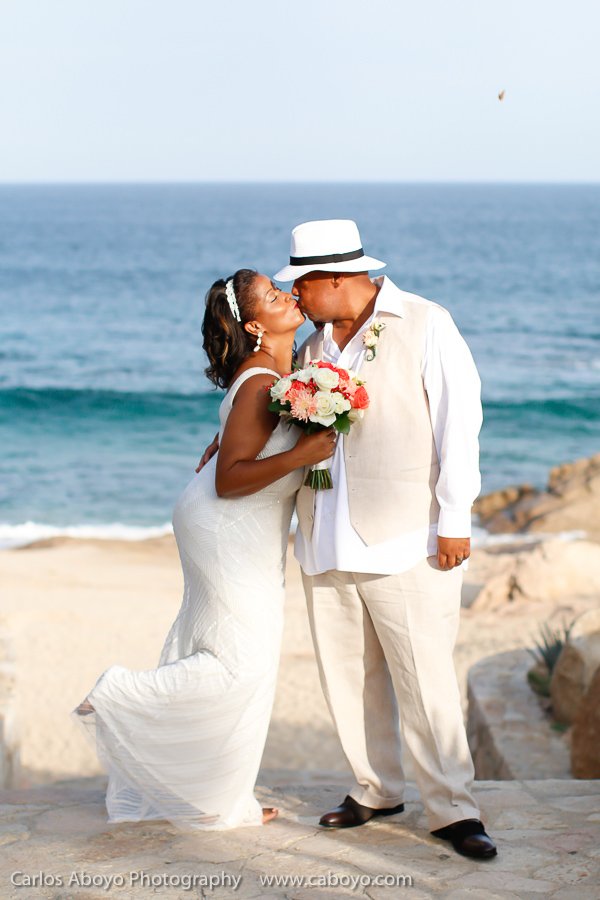 Finding the Perfect Villa – a Scouting Trip
Taking at least one trip to the destination before the big day is ideal for scouting and securing the best location, vendors, and even testing your food options from the caterer. This is also a great time to do your trial hair and makeup and find fun activities for your guests to enjoy during the wedding festivities.
Since you will be leaving a lot in the hands of vendors, taking a trip will give you a chance to meet face-to-face, making the wedding planning much less stressful as it is easier to be clear about your needs and demands in person. You can also schedule meet and greets with your wedding planner.
Villa Fee
The typical rate to hold a wedding at one our Cabo villas is an additional night's rent. There are also some villas with HOA's that require a special permit to hold an event at the home; this is usually around $550.
Beach Ceremony Fee
For those who are looking to hold their ceremony on the beach, permits are required in the neighborhood of Pedregal. In Cabo Del Sol, beach ceremonies are not permiteed. All other developments do not charge to use the beach for ceremonies.
For a permit in the Pedregal neighborhood, this is dependent on whether guests plan to have a reception and if they are staying in the development. There are certain HOA regulation and fee's associated, which run from $100-$500. Please ask our estate specialists for more details.
Learn about Mexican Marriage Requirements
The legalities of planning a wedding abroad can vary from country to country, and we have gathered everything you need to know about the requirements for Mexico.
There are two types of ceremonies you can have, a civil ceremony and a religious/symbolic ceremony. The former officially deems a couple "married" and is recognized worldwide as a legal marriage. However, this requires documentation and more time spent in Cabo.
Holding a Legal Ceremony in Mexico
The following is a list of requirements that you will need to meet if you wish to hold a legal civil ceremony in Mexico:
A judge must perform the ceremony and the vows must be done in Spanish (you can use a translator). The entire ceremony lasts about 20 minutes (The judge will cost $475 and a translator is an additional $100).
You are required to have copies of your birth certificate and current passports as proof of ID.
You must have lab work completed in the state in which you are getting married ($200).
You must have copies of your tourist immigration form.
A divorce decree (if applicable).
4 witnesses over the age of 18.
Symbolic Wedding Ceremony in Mexico – Easier and Often Preferred
The symbolic ceremony may be preferred, and here are the reasons why:
A symbolic ceremony is not considered a legal ceremony and doesn't change your marital status.
You can use your own vows, and this is more similar to the typical wedding you would find in the United States or Canada.
You will have control over your minister and your vows.
After the ceremony, you will sign a certificate of marriage (along with two witnesses and the minister) and you will then file the paperwork in the U.S. at your local clerk's office. This is generally the easiest route for couples and requires less work and time leading up to the event.
For more information on holding a civil ceremony, click here.
When to Plan Your Cabo Wedding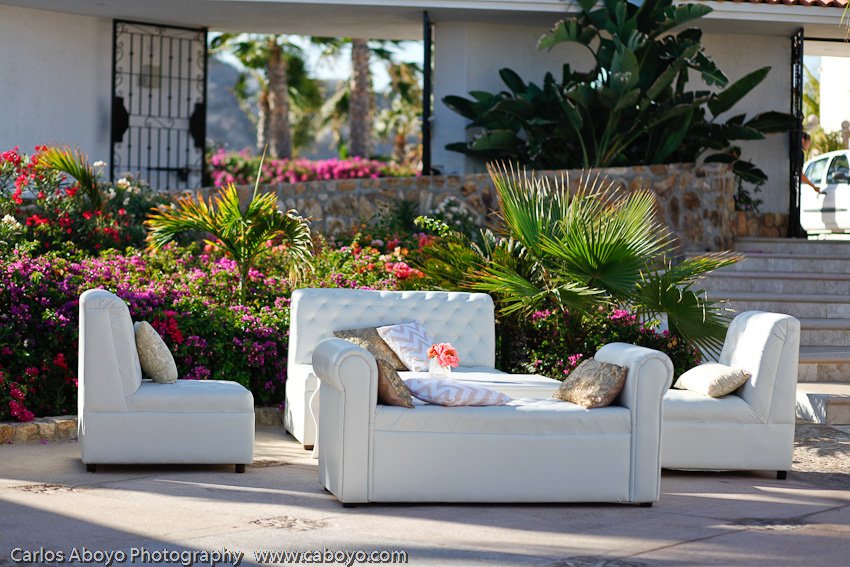 Although Cabo has gorgeous weather throughout the entire year, there a few months that are warmer than others and some months you might want to avoid. November through April is the high season and has some of the best weather both day and night. This is your most ideal time to hold a wedding. August to October is generally hurricane season, and, if they strike, storms can last anywhere from one to five days, which could definitely rain on your parade!
However, Cabo is still one of the sunniest places on Earth, with a more arid climate and very low rain during the more temperate months from November through May. This is in contrast to Hawaii, which has a more classically tropical climate and more regular rainfall (why the Islands are so lush and green). During the winter months, the rainy season, there is the potential for longer rainy spells, which means a higher chance for a partial or total washout on your special day.
Don't Plan Alone
Hosting a destination wedding is exciting, but it can also be much more challenging than planning a wedding at home. Using a wedding planner, regardless of destination, can help lighten the load of researching and securing vendors and suppliers, and they will deal with all of the important small details and logistics that you may overlook.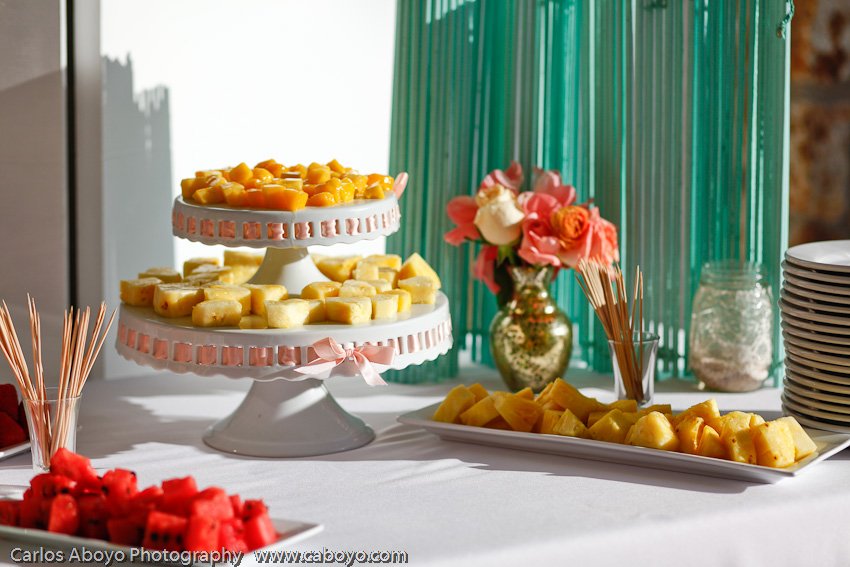 There are plenty of planners in Los Cabos who are recommended and trusted. You may also want to bring a planner from back home, but just be sure that they really understand the area. You will also have to consider covering the wedding planner travel costs if you choose that option.
Creative Destination Events is a local planning and design company and includes an experienced team of planners ready to perfect every detail of your special day!
In general, it is common to set aside about 10-15% of your budget for a planner.
Taking Care of Guest Arrangements
When planning a wedding in your hometown, it's common to set aside a block of rooms in a local hotel. When planning a wedding in your own private villa in Cabo, you can also book nearby villas for your guests!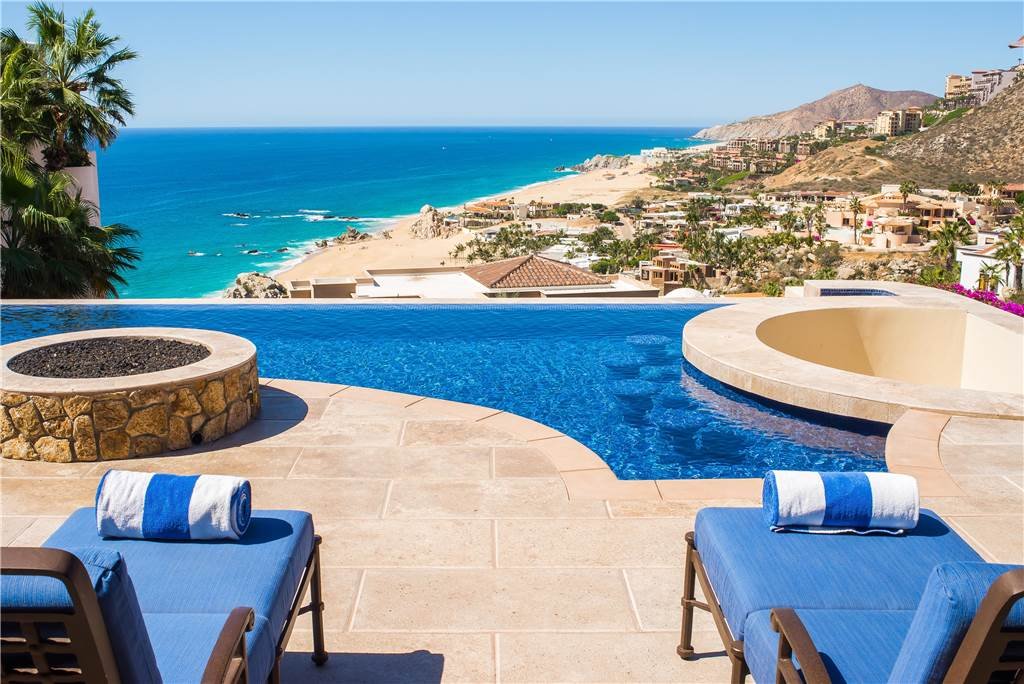 This can be far a more fun (and often cheaper) option for guests than hotels. They will be closer to your venue and they will share in the exciting and truly bonding experience of staying in a private villa.
If you are more comfortable booking a hotel, be sure to coordinate with your wedding planner and select a hotel that is close to your venue.
Find a Great Local Photographer
Don't forget one of the most important parts of the wedding - the photos! There are plenty of wonderful local photographers in the Los Cabos area. We caught up with one of our favorites, Carlos Aboyo. Carlos is an extremely versatile photographer and works with natural light to take candid and story-telling photos.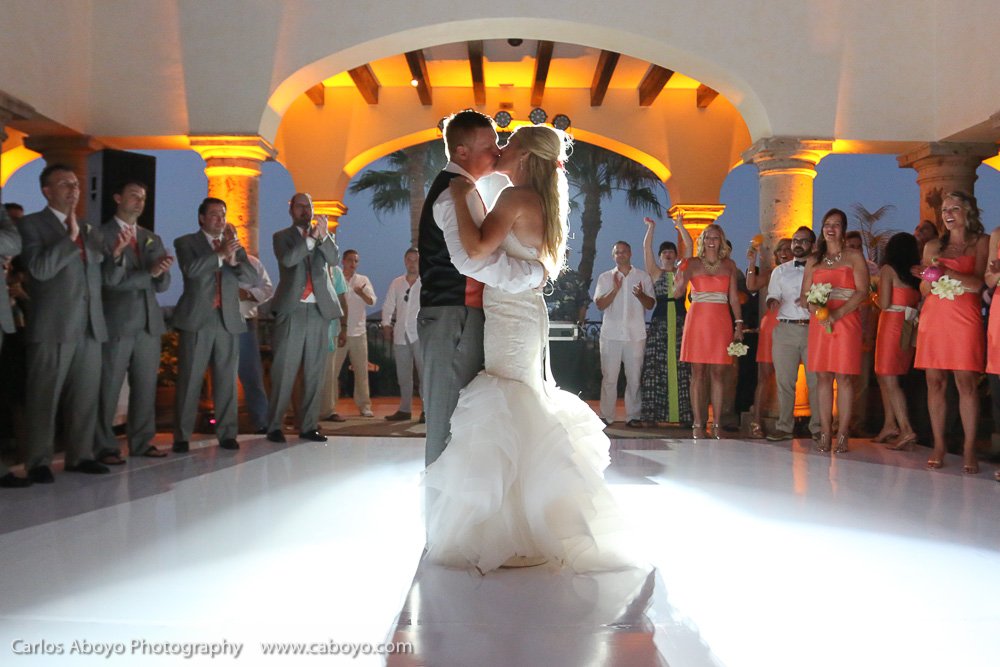 Carlos is a pro and knows how to control and adapt artificial light when the situation calls for it. Carlos says, "I see myself as a creative, but honest wedding photographer. For me, it's not about the poses, but the stores inside the image. I like to preserve the energy, love and relationships that is happening in that moment and also cover the expectation of having great portraits and family photos!"
Well said, Carlos! You can check out more if his work at his website.
Area Safety
Since you are hosting your wedding abroad, you and your guests might have some questions about safety.
The beach towns of Cabo San Lucas and San Jose Del Cabo are both part of a large and generally safe area called Los Cabos. This area is a tourist mecca and and your biggest concern in Cabo will likely be avoiding a sunburn or a hangover.
It is still good practice to leave your money, valuables and passport in the villa safe. Flying into the well-run Cabo San Lucas airport is advised.
Planning for Nightlife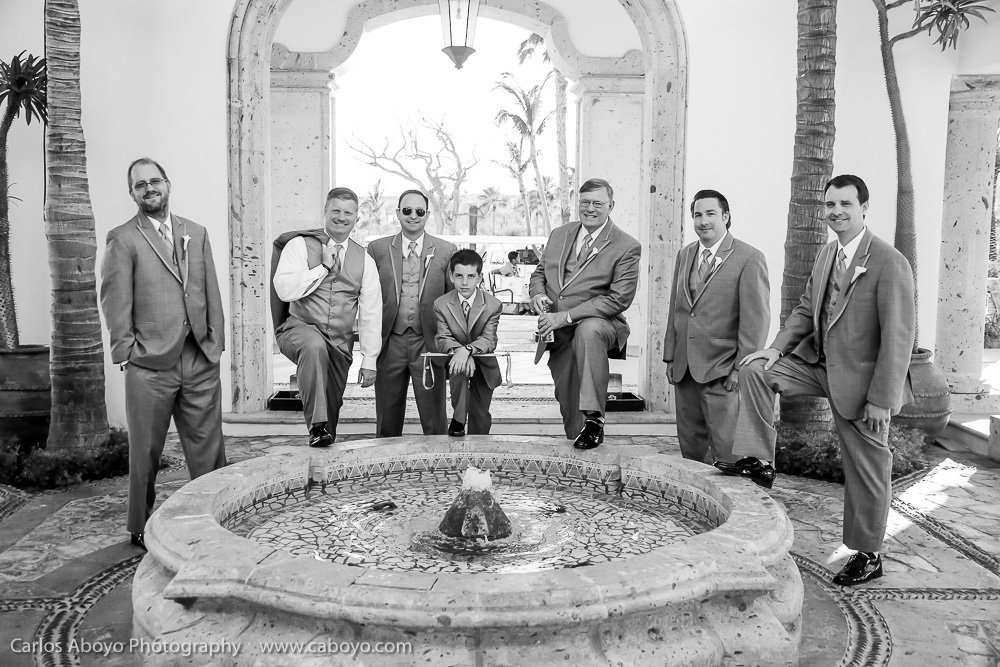 The area of Los Cabos is a great one-stop-shop for your wedding, as well as your bachelor and bachelorette parties! With one of the most exciting social scenes in Mexico, Cabo San Lucas is a great place to celebrate your wedding with your family and bridal party.
Make sure to celebrate a few days before the wedding, and to get hydrated before the big day!
Be Smart About the Dress – It's Warm Down There!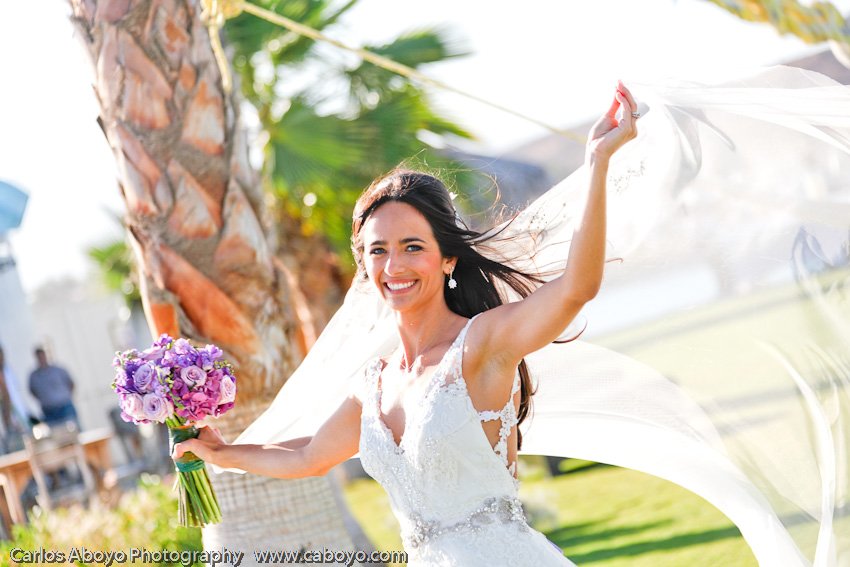 When planning a destination wedding in Cabo, don't forget to pick an appropriate wedding dress. The climate is comfortable year-round and ranges from the mid-70's in the winter months to the mid-90's in the summer, with very low annual rainfall.
This, as mentioned, is a huge advantage over more tropical destinations like the Caribbean and Hawaii, which can see rainy weather during winter months.
Other considerations
Make sure you leave your guests (and yourselves) enough time to plan. Nine to 15 months out is the most ideal amount of time for securing your villa and vendors. This also gives plenty of time for your guests to make their travel arrangements.
Tourism Immigration form
The Tourism Immigration form that you will receive when arriving is very important and should not be lost. You may be required to show this certificate at any given time during the wedding.
Exotic Estates wishes you happy planning and we are here to assist you every step of the way!
Here are just a few wedding-friendly villas from our Cabo collection. From stunning views of the ocean, to white-sand beaches and private terraces, take a tour through these gorgeous Los Cabos villas and start planning your special day!
Villa Cabo Bellissima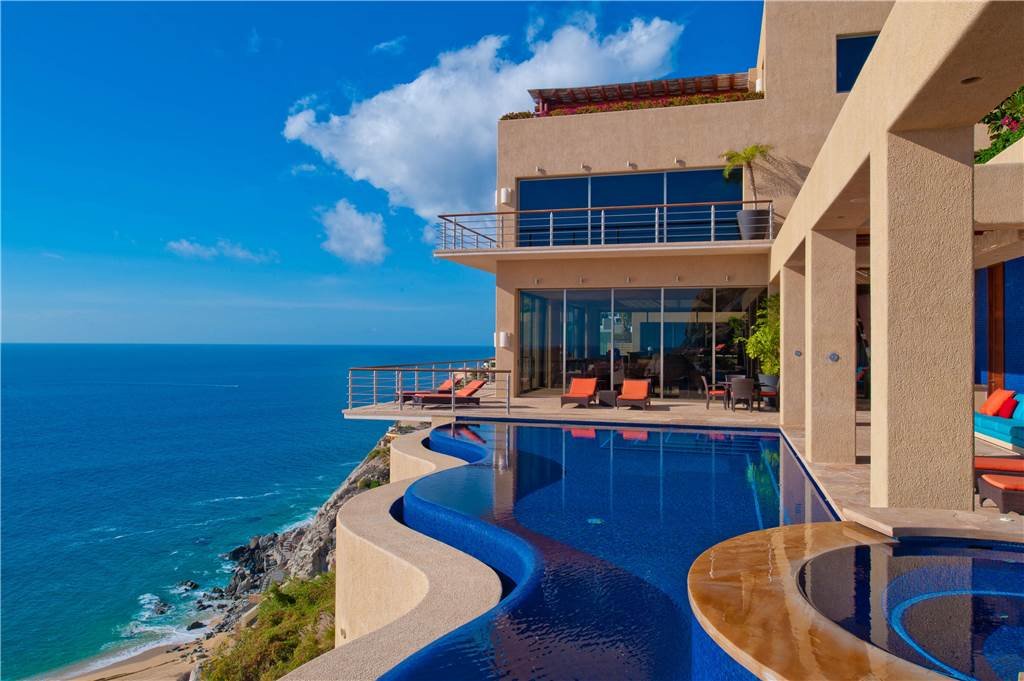 You and your guests will live on the edge at Villa Cabo Bellissima, which is located on the hillside of the private Pedgregal community of Cabo San Lucas. This stunning villa displays the perfect blend of modern architecture, luxurious amenities and boasts unobstructed views of the Pacific Ocean and beyond.
Villa Cabo Bellissima has eight-bedrooms, eleven spa-like bathrooms, a gourmet kitchen and spacious living accommodations. You and your bridal party will enjoy the comfortable atmosphere of the contemporary architecture and elegant furnishings, all designed to maximize the impressive hillside location. The large glass doors and windows offer beautiful lighting and direct access to the furnished terrace with panoramic ocean views, the perfect background setting for your ceremnony.
With the ability to accommodate up to 150 guests, this is a dream villa for your destination wedding!
Villa Penasco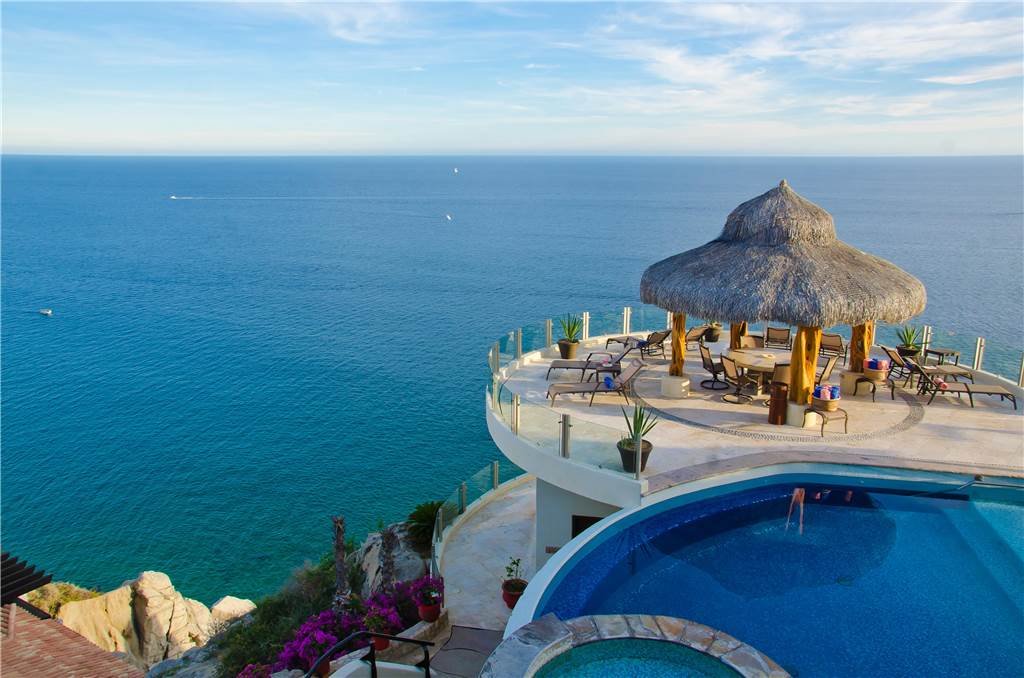 A true getaway, this luxury villa is perched cliffside and overlooks Land's End, where the Pacific Ocean meets the Sea of Cortez and is sure you take your breath away. A nominee for Best Villa in Mexico in the 2017 World Travel Awards, this six-bedroom home offers only the finest amenities and first-class luxuries and guests will never forget their time spent at Cabo Villa Penasco.
You and your guests will look out onto the beautiful ocean during your ceremony and you will appear to be on top of the world. This well-manicured villa can accommodate parties of up to 50 guests, perfect for small and intimate weddings.
Cabo Villa Cielito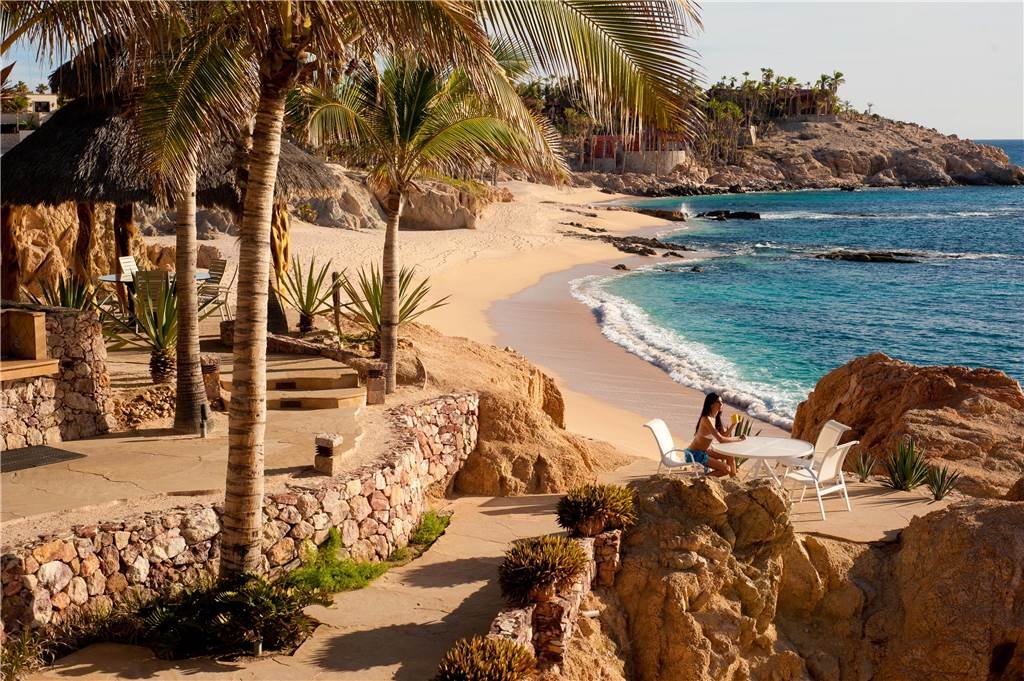 Cabo Villa Cielito is the perfect retreat for your wedding in Mexico! Located on the Chileno Bay, this seven-bedroom Mexican vacation villa offers fantastic panoramic views of the sparkling blue ocean and a delightful infinity pool, creating the perfect place to unwind before the big day.
Cabo Ceilito offers a gourmet kitchen, marble baths, comfortable furnishings, an entertainment system, and Wi-Fi. Only steps from the white-sand beach, this home can accommodate up to 60 guests for your event and sleeps 16 guests. Take the stress off your destination wedding and stay at the relaxing Cabo Villa Cielito!
Villa Del Mar Cabo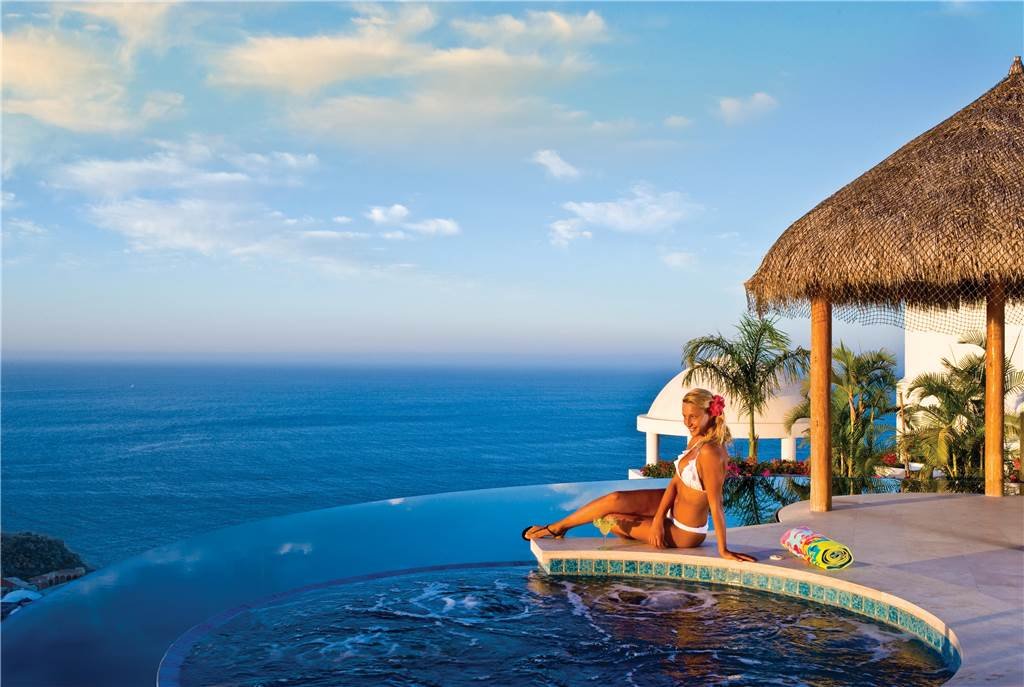 Private luxury and resort-worthy amenities make Villa Del Mar Cabo the perfect retreat for your Cabo San Lucas wedding!
This villa can sleep up to ten people, perfect for the bride or grooms family and features five bedrooms and seven bathrooms. With stunning views of the Pacific Ocean throughout, you will love every minute in this well-appointed Cabo vacation villa!
The spacious terrace features 2,500 square feet of living space and boasts a shaded palapa, fire-pit, and chaise lounge chairs offering an outdoor paradise! Guests can enjoy an intimate wedding with 50 guests (standing) or 30 guests (sitting).
Cabo Villa De Los Suenos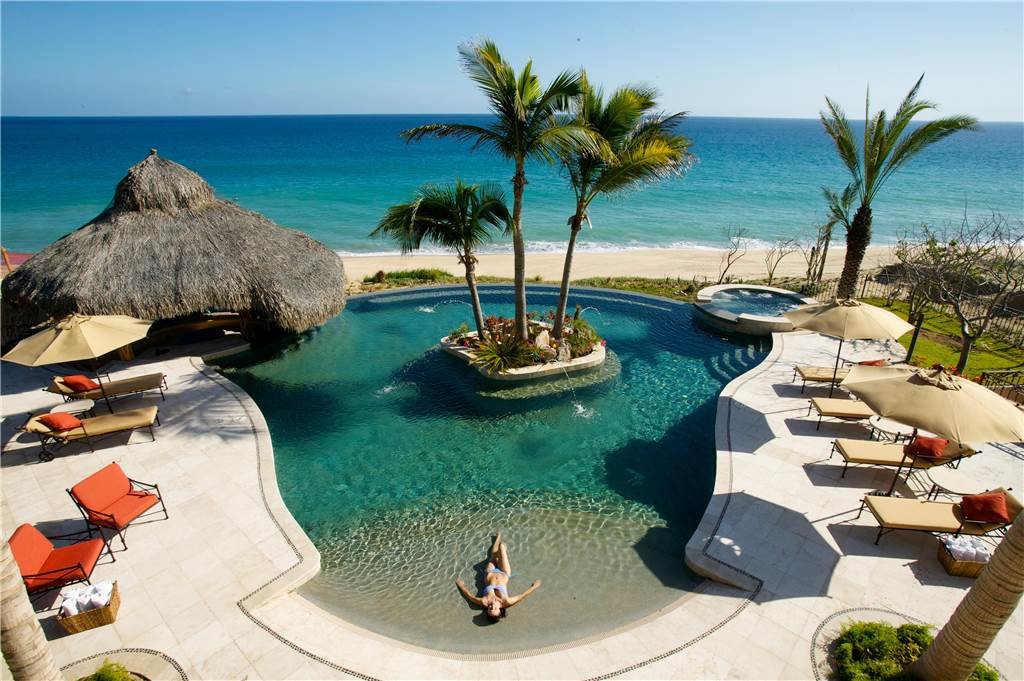 This breathtaking beachfront villa offers world-class views of the Sea of Cortez and is only steps away from the golden sand. With seven bedrooms and eight bathrooms, and the ability to sleep up to 14 people, this Cabo vacation villa is the ideal retreat for wedding parties.
Experience the destination wedding of a lifetime at this luxurious villa. With over 5,500 sq. ft. of living space, there is plenty of room for everyone to relax, including the bride!
The stunning terrace boasts a truly unique beach-entry pool, which features its own tropical island in the middle, along with a swim-up bar! Walk into the water and you will find the lines blurred between the edge of the pool and the ocean beyond - the ultimate infinity experience!
To get more ideas for your big day, email an Exotic Estates Villa Specialist or check out the complete collection Exotic Estates Cabo Villas.