Cabo Villa Inspections
Back

Exotic Estates in Cabo
Cabo San Lucas is an important destination for Exotic Estates. We believe that Cabo should be on everyone's vacation list. The reason is simple: high quality villas and a well-functioning infrastructure in a gorgeous setting.
The team flew into Los Cabos International Airport and made their way to one of our showcase Cabo vacation rentals - the Casa Cortez Beach Villa. While the home does not sit directly on the beach, it enjoys a commanding view of the coastline, and the beach below feels private, due to the controlled access into the area.
You see here how the infinity pool offered the perfect place for Glenn to review the inspection itinerary and get into a Cabo state of mind. Imagine reading a good book from this seat!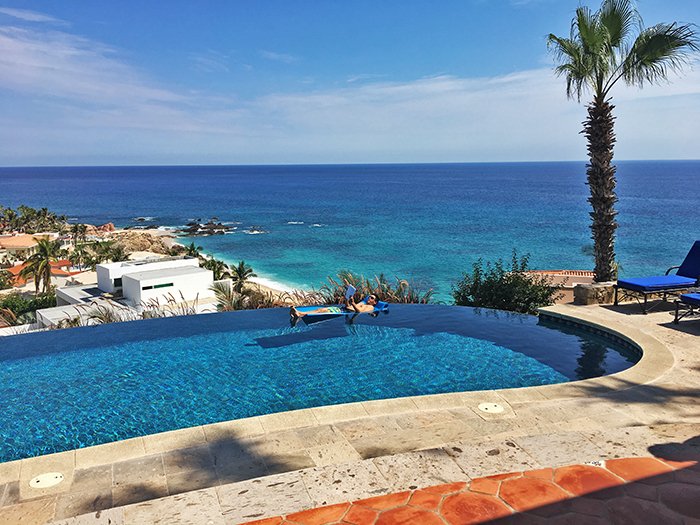 Casa Cortez Beach Villa - Glenn in Infinity Pool Overlooking Private Beach
Exotic Estates works with the best local partners in areas to ensure that it can offer you a reliable ground contact, no matter where you may book. The team will go out to tour villas on occasion to see what's new, but the local vendor is like a team member that has the most intimate knowledge of the destination, and together we can give you the best service possible and, most importantly, connect you with the perfect vacation villa.
If I had to sum our experience up in one word, it would be "AMAZING"! From accommodations to food to local hospitality, I can't sing enough praises for Los Cabos."

Glenn, Exotic Estates Villa Specialist
The agenda in Cabo was intense, as the team fanned out to see and experience as many villas as possible. The inspections included San Jose del Cabo villas, villas on the Los Cabos Corridor and Cabo San Lucas villas. Come along with Jenn, Glenn, Shanon and others on their inspections of these amazing luxury vacation rentals.
San Jose del Cabo Villas - Quiet Luxury
We're happy to share highlights from our inspection tour of our San Jose del Cabo villas, including homes in the prestigious Fundadores area, which is a gated community of luxury villas that are exceptional in both setting and design.
One of the benefits of renting a villa in San Jose del Cabo versus its louder cousin to the west, Cabo San Lucas, is the relative quiet. Another perk is the historic town center, which is home to restaurants, shops and a grand plaza that hosts public concerts. When the Exotic Estates team was there, a free classical concert took place in the historic square and the team spent several nights exploring the main street, with its many restaurants and boutiques.
"This beautiful area of the Baja Peninsula is surprisingly quiet, while still providing the upbeat nightlife people hope to find on vacations to Mexico."

Shanon, Exotic Estates Marketing Manager
Here are some behind-the-scenes snapshots of the team touring our amazing San Jose del Cabo villas in the gated community of Fundadores.
Cabo Villa White Rock
Cabo Villa White Rock is a gorgeous home sitting above the Sea of Cortez. It's a beautiful place with placid interiors, fantastic art pieces and one of our favorite pools.

Cabo Villa White Rock Entrance Courtyard - Orientation

Cabo Villa White Rock Shanon at the Entry Sculpture

Cabo Villa White Rock Beach View

Cabo Villa White Rock - Shanon and Ty in the Master

Cabo Villa White Rock - Glenn & Shanon at the Bar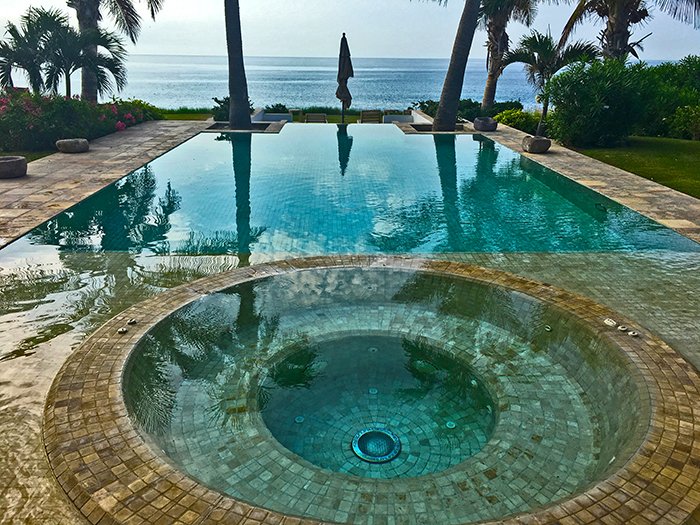 Cabo Villa White Rock - Pool
Cabo Villa Tranquility
Another home visited on the tour was Cabo Villa Tranquility. The beachfront villa is massive, at over 16,000 sq. ft. There are seven bedrooms with room for 14 guests, and a massive 26,000 sq. ft. terrace. The team was impressed by the grand architecture, its location on a warm, sandy beach and luxurious amenities such as an elevator that makes the villa more accessible for guests with mobility issues.

Cabo Villa Tranquility - Jenn and Glenn Saying Hello at the Entrance

Cabo Villa Tranquility - Entrance Pool with Fire Feature

Cabo Villa Tranquility - Shanon on the Beachfront Terrace
Seaside la Casita
Moving down to the Palmilla Resort, we have Seaside la Casita, an impeccably designed villa located in one of the biggest resorts in the area. This home has a commanding view of the Los Cabos coastline and boasts a warm décor that is welcoming and refined. We love the pool area at this villa and the amazing terrace, with its fire pit and covered sitting areas. The team got a top-to-bottom tour of the home, which was being prepped for a lucky guest's arrival!

Seaside la Casita Entrance and Pool Area - Getting Ready for Guests

Seaside la Casita Jenn and Glenn Tour Bedroom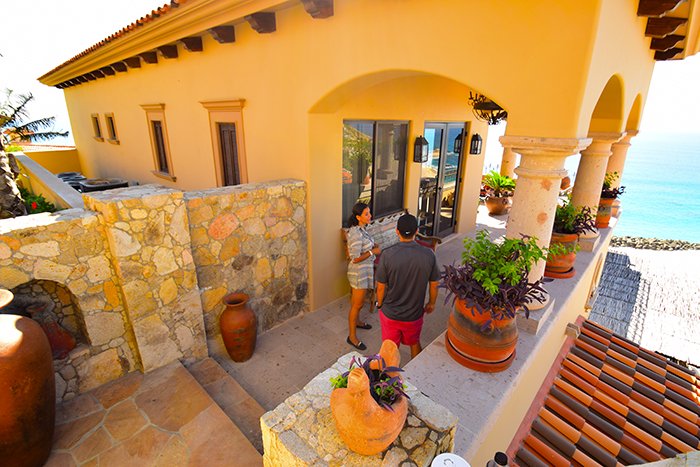 Seaside la Casita - Glenn and Jenn Villa Orientation
Cabo Resort Corridor - Expansive & Empty Beaches
Cabo Villa del los Faros
Down on the Cabo Resort Corridor, among the many homes we viewed, the team toured the Cabo Villa del los Faros, which is a true family vacation villa. The home has an amazing water feature on entry, a large living space including a fab kitchen, and an adorable living space for children, complete with tea room, built-in bunks and its own bath. The backyard is a great space for relaxing, with a gazebo and small lawn area, letting little travelers enjoy playtime where you can observe them from the Jacuzzi.

Cabo Villa del los Faros - Jenn by the Jacuzzi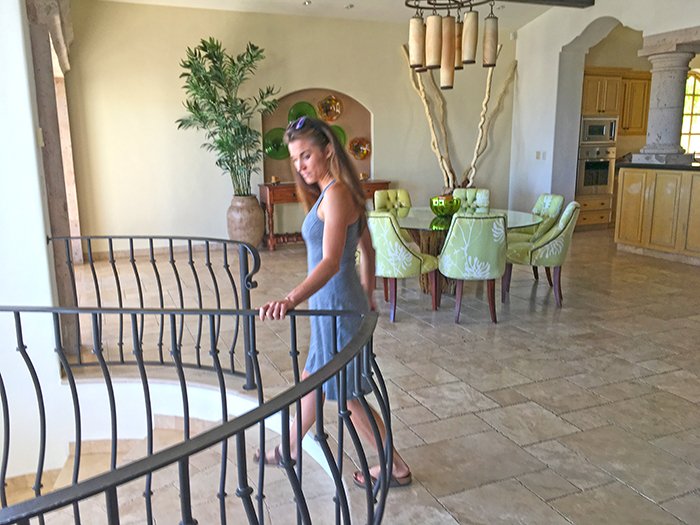 Cabo Villa del los Faros - Jenn in the Living Room Area

Cabo Villa del los Faros - Jenn Checks out Children's Trundle
Cabo Whale View Villa
Nearby, still on the Cabo Resort Corridor and closer to the beach, is the Cabo Whale View Villa. This villa is a true show stopper. The five-bedroom villa, which accommodates 16, is new and large, yet channels the essence of a historic structure that's been converted for modern living. The team inspected the villa's bedrooms, bathrooms, kitchen and even checked out the hammock! Outside, besides the home's expansive pool area, the team walked the putting green and stepped into the private wine cellar, which is used for intimate catered events.

Cabo Whale View Villa - Jenn Relaxing in the Hammock

Cabo Whale View Villa - Glenn and Jenn at Entrance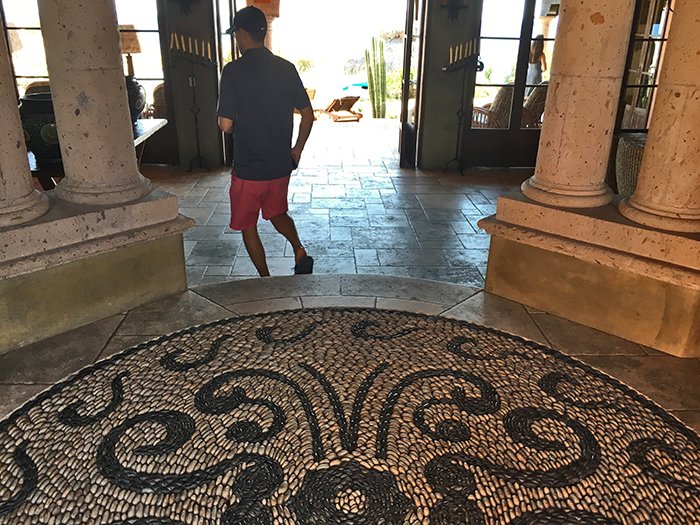 Cabo Whale View Villa - Entrance Floor Mosaic

Cabo Whale View Villa - Jenn in the Backyard

Cabo Whale View Villa Living Room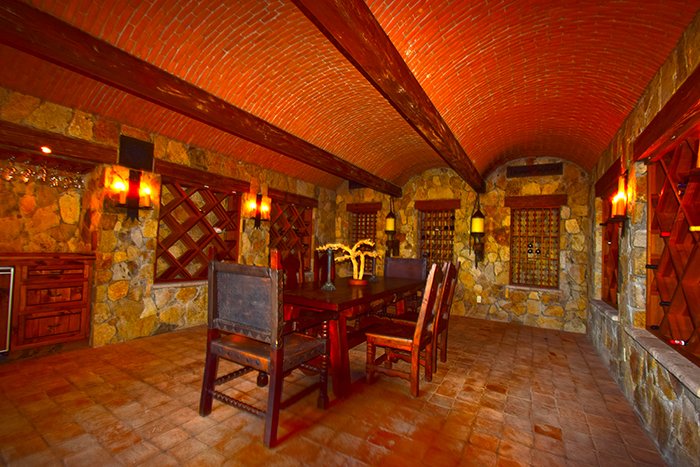 Cabo Whale View Villa - Private Wine Cellar and Dining Area
Cabo San Lucas - Where Luxury Comes to Party
Down in Cabo San Lucas, the team toured many homes peppered throughout the area, concentrating on the Pedegral neighborhood. The homes here are all diverse and achieve a high luxury standard.
I was blown away with Cabo and pleasantly surprised with how safe it felt and how convenient it was! The warm ocean water, the incredible food, unique shops and the local hospitality offer something that people of all ages can enjoy."

Jenn, Exotic Estates Sr. Villa Specialist
Cabo Villa Marcella
One house that was particularly interesting was Cabo Villa Marcella, which is unique because it sits on a very quiet corner of the beach! Cabo Villa Marcella is a sprawling home, with smooth stone flooring, which make sense for a home on the beach, as sand is easily swept up. The villa has a gorgeous private pool that runs along its side, directly abutting the sand. At Cabo Villa Marcella, you will wake up to panoramic beach views, and have the option of beach or terra- a true luxury!

Cabo Villa Marcella - Jenn at the Entrance & Mosaic Floor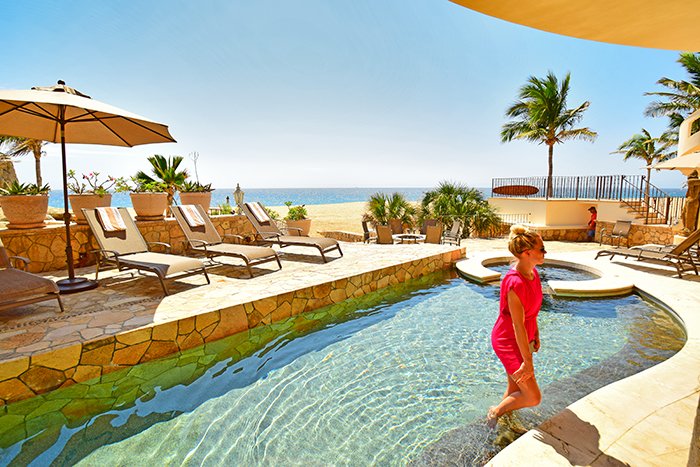 Cabo Villa Marcella Pool - Shanon Testing the Water
Villa Cabo Bellissima
Back up on the hill in Pedegral was another spectacular villa called Villa Cabo Bellissima. This home is another giant. Built into the rugged hillside on multiple levels, it makes the most of its position and offers commanding views of Land's End and the beaches below. The home has not one, but two spectacular pools, each boasting incredible views. The home is also filled with playful art and affords lots of room for entertaining. The team cooled off at this palace overlooking the Pacific. Take a look for yourself!

Villa Cabo Bellissima - Shanon Checking Out the View

Villa Cabo Bellissima Jenn Cooling off in Pool

Villa Cabo Bellissima - Shanon in Living Room

Villa Cabo Bellissima - Shanon Checking out Living Room Art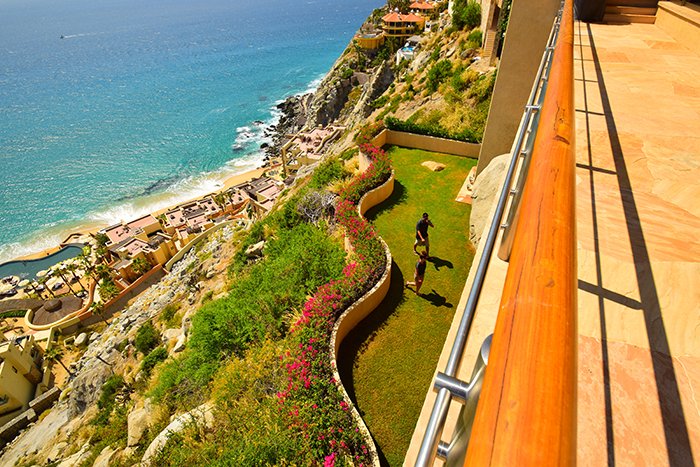 Villa Cabo Bellissima Jenn and Glenn on the Lower Lawn
We work hard to know our homes and destinations - and we work with only the best to make sure you have only the best. Take advantage of our team's expertise and email an Exotic Estates Villa Specialist today!
Blog Subjects: Cabo