Get Away from It All: 8 Relaxing Things to Do in Hawaii
Back

A trip to Hawaii comes with soothing mental images of relaxing beach or poolside days. However, there are other things that you can do when visiting the Aloha state that are both easily accessible and ultra soul soothing. Some of these seem obvious, but if you make a conscious effort to make time for these calming activities during your holiday, you'll maximize your recharge and get a lot more stoke out of your Hawaiian vacation.
So, in addition to hula shows, poolside reading and tropical cocktails, here are some relaxing and often free activities that can feed your soul.
1. A Glimpse of the Cosmos: Stargazing
For those of us who live in more urban areas, it can be difficult to do any stargazing due to light pollution. However, when you're in Hawaii, you can take advantage of the expansive natural beauty and dark skies that are free from the hubbub and light pollution that comes with urban living.
If you want to spend a night or two searching the stars in Hawaii, you may want to visit Mauna Kea on the Big Island. Mauna Kea is home to the Mauna Kea Observatories, which are privately run and exist at the 14,000+ ft. summit. It's set there to take advantage of the height and dark night skies. While you cannot go inside, you can watch the sunset from the peak. However, beware that the air is much thinner than at sea level and there are often extreme weather conditions - including snow! Altitutude sickness is very possible at these heights.
However, visitors can stop to stargaze at the Mauna Kea Visitor Station, where amateur astronomers will set up telescopes for folks to view the cosmos. The center is at 9,200 ft., so the temps can be quite chilly and there is a risk for altitude sickness for those who are very sensitive. But, because you are driving, it's easy to get down to a more tolerable altitude if anyone feels off.
**It's important to note that as of Aug 2019, the Station is closed for construction, though some basic facilities are available during the day along with portable restroom facilities.**
Famous Haleakala on Maui is another great location to go stargazing. While sunrises at Haleakala are so popular you need to reserve a spot, you can more easily plan to watch the sunset from one of the overlooks then stick around for some astronomical observation. The skyline is unobstructed with minimal light pollution, so it's an excellent place to take a break and just watch the stars. It's truly dazzling.
Note that Hawaiian mountains, especially these two famous peaks, are sacred to the Hawaiian people. Respect the places as sacred and take care of the land as a responsible visitor, asking for guidance from Park staff if there are any questions about protocol.
Otherwise, just being on a dark Hawaiian beach or in the backyard of your vacation rental is going to offer clearer skies than you find at home, if you are visiting from an urban area. Take advantage of your time and look to skies after the sun dips into the Blue Pacific.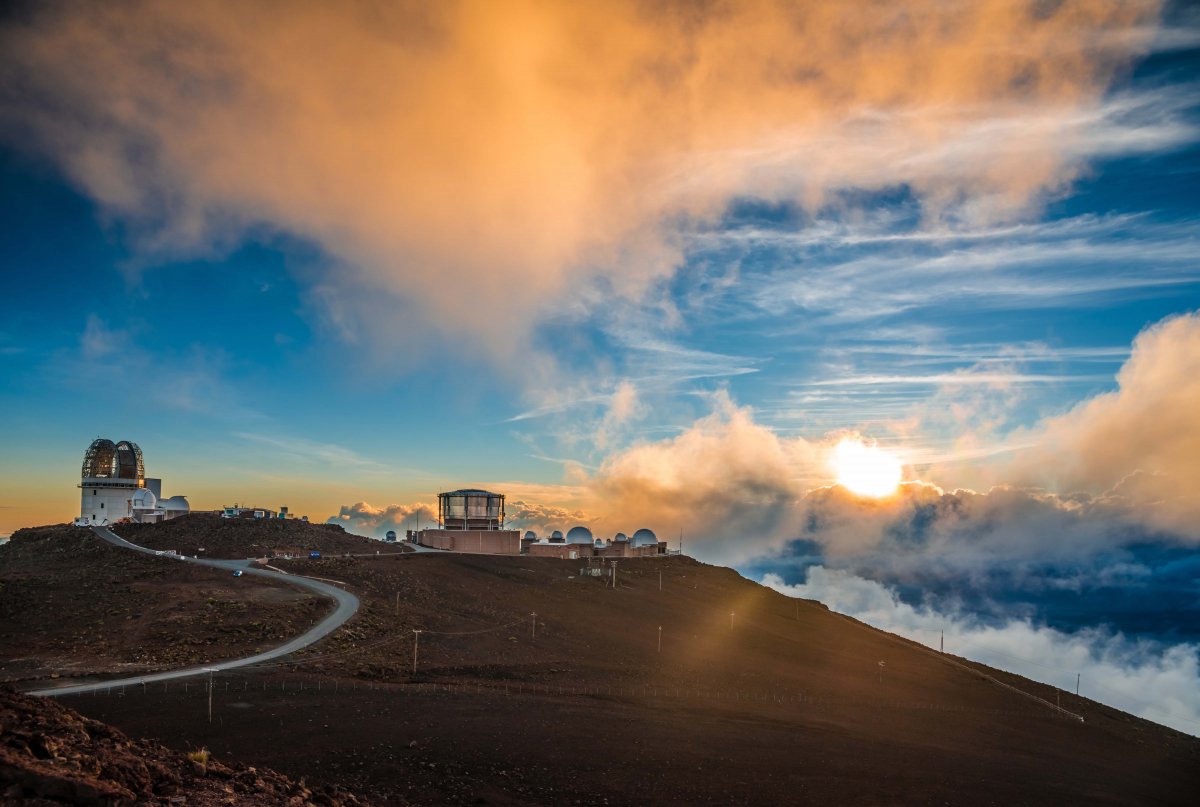 Mauna Kea Observatories, Big Island of Hawaii
2. Explore the Natural Beauty of Hawaiian Forests
Hawaii is home to a variety of natural wonders. If you want to go beyond a day at the beach, try out a walk, bike, or hike through the verdant tropical landscape. The Islands have varied climates depending on if you are on the leeward or windward sides, with the windward or east-facing coasts being generally much wetter and greener than the west coasts.
A gorgeous spot is the Waipio Valley on the Big Island of Hawaii. It is one of the most stunning day trips you can make during your Hawaii vacation, and it's also considered to be a sacred place in Hawaii as a home of ancient Hawaiian kings. While hiking here will be a bit of a workout, it will bring you mental relaxation as you take in the gorgeous views of the valley, the Waipio River, the sounds of the forest and the roar of the waves hitting the darks volcanic sands.
Another easy spot for those less adventurous is Oahu's Manoa Falls in the Manoa Valley behind Waikiki. It's easy to access and offers a sense of the jungle experience even on densely populated Oahu.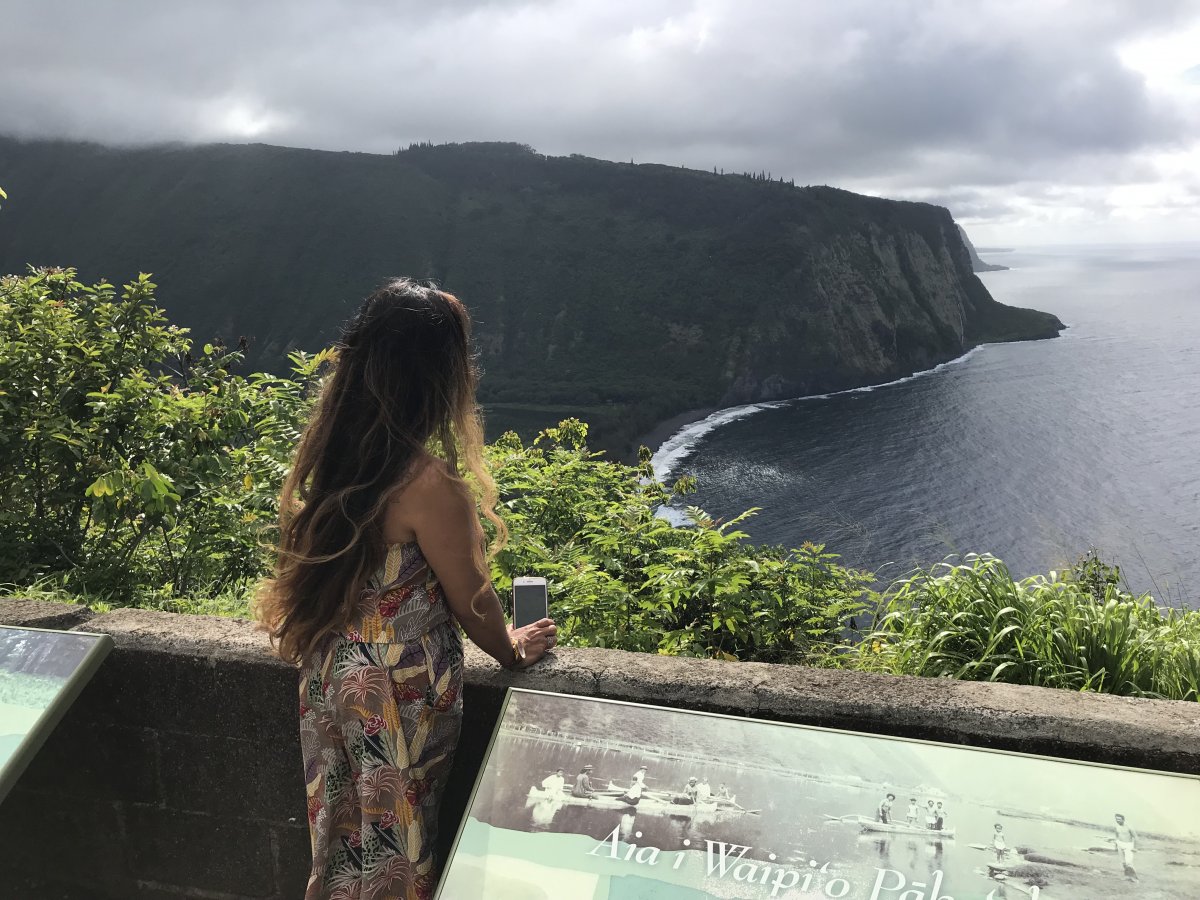 Waipio Valley, Big Island of Hawaii
3. Yoga
Yoga fanatics will find their place in Hawaii. You can sign up for daytime retreats on one of the islands or have a solo yoga session at your vacation home. If you don't practice at home, your time in Hawaii can be the perfect time to start this healthy activity that is both athletic and balancing. Schedule time to explore if yoga is for you.
Yoga on the beach can be challenging unless you're in the right spot, but there are many wonderful parks that can offer a quiet morning location for yoga. Kapiolani Park near Waikiki is a great park for yoga and Tai Chi, as are the many parks in Lahaina, Kihei or Wailea, on Maui. Of course, there is nothing wrong with your vacation villa backyard. If you're staying at a resort, there are often organized yoga sessions or well-manicured locations for a little yoga.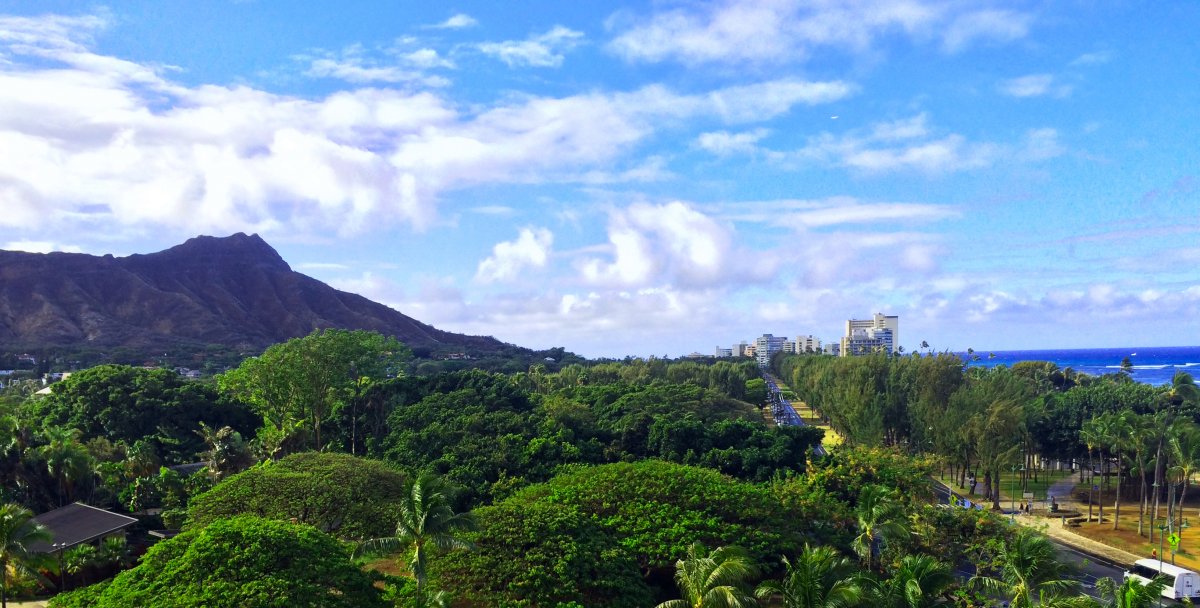 Kapiolani Park, Oahu
4. Meditation
When it comes to clearing your mind and finding some inner peace, meditation is the perfect way to get centered and feed some positive energy back into your soul; Hawaii is the perfect place to do it!
For those already experienced in the art of meditation, you might be searching for a more secluded place to focus on your mindfulness. In that case, consider heading to Akaka State Falls Park in the Big Island. The highlight of the park is Akaka Falls, a 422 ft waterfall. It's the perfect place to meditate, as you sit among the combined beauty of the falls, the lush foliage, bamboo groves, and orchids.
If you're a beginner, consider joining a guided meditation at a location such as the Mu Ryang Sa Buddhist Temple on Oahu, which offers both yoga and meditation. The temple is a beautiful place of serenity, and they offer a free guided meditation every Saturday afternoon. Be sure to check their website for details.
Another beautiful spot is the Bydo-in on Oahu's windward coast. This place is fairly well traveled, but it's still stunning and offers relaxing grounds on which to medidate. There's even a gong to ring at the start of your visit. You'll pay a small fee to enter the grounds.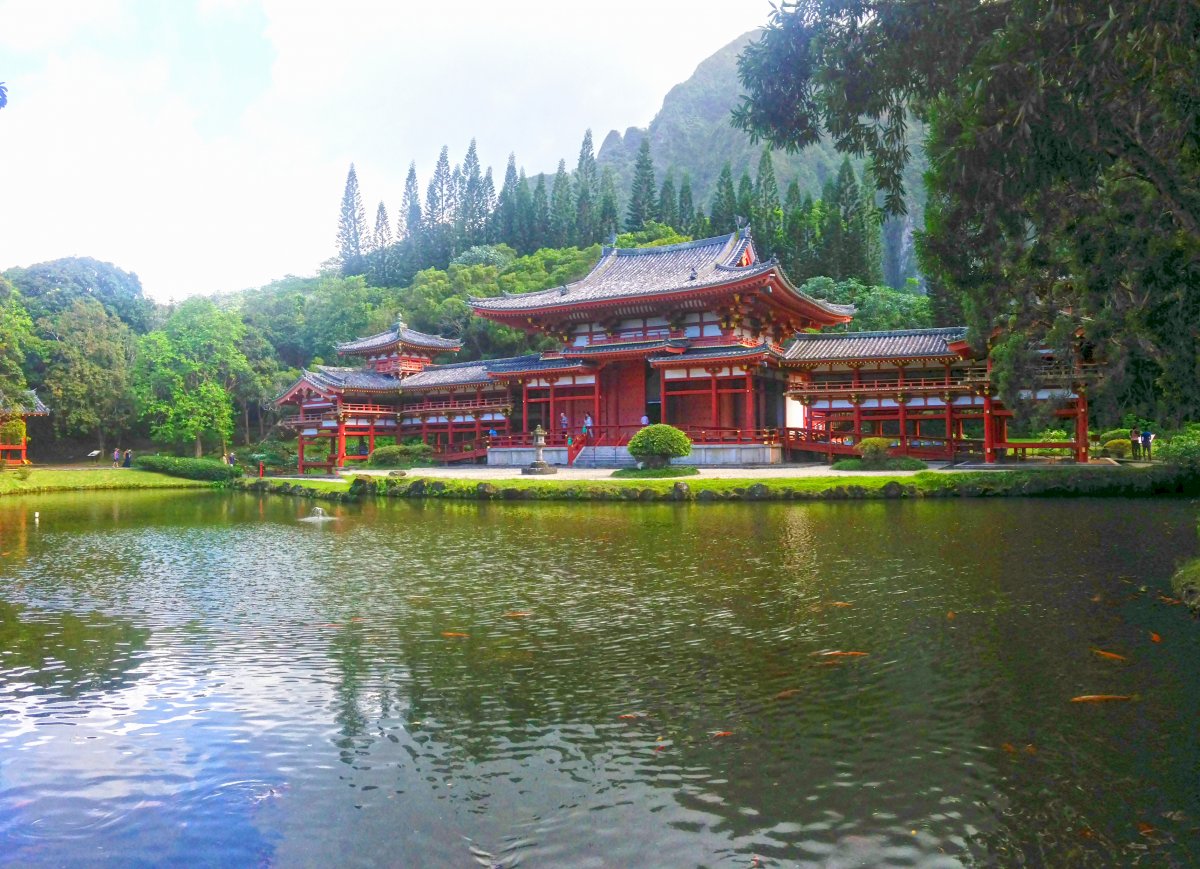 Byodo-In Temple, Oahu
5. Wake Up Your Inner Artist: Stroll Through an Art Gallery
Whether you're an art fanatic or not, you'll find a thriving art scene in Hawaii. From public museums to private galleries and art fairs, there's plenty to choose from on all the islands. The Honolulu Museum of Art is a stellar little museum, which also runs tours of Doris Duke's Shanri La, a staggeringly beautiful estate that heiress called home for many years. There is also the Pegge Hopper Art Gallery.
Perhaps one of the most well-regarded is the Louis Pohl Gallery in Honolulu. The gallery showcases the art of Louis Pohl. Considered an artist's artist, Pohl worked in all mediums, ranging from printmaking to cartoons, and went on to teach art classes in Hawaii schools. Along with art by its namesake, the gallery also features and promotes art from local artists and Hawaii-connected artists, rotating the collections monthly.
Also, Front Street in Lahaina is a great spot to browse galleries before or after dinner.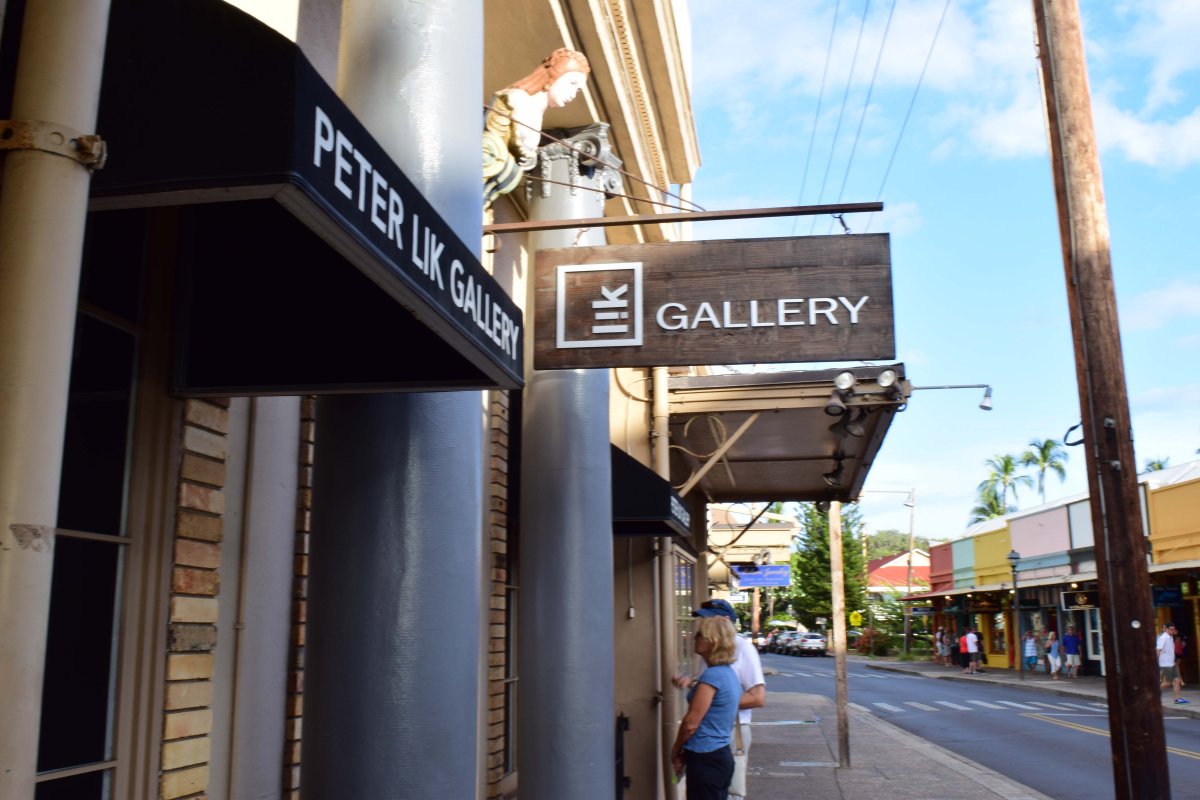 Front Street Lahaina, Maui
6. Spend a Day in a Botanical Garden
With so much incredible natural beauty around you, you may wonder why you should bother going to a cultivated garden in Hawaii. However, Hawaii boasts several unique and stunning gardens, which will help you learn about the tropical flora of the Hawaiian Islands and beyond.
If you're a plant lover, plan a trip to the Ho'omaluhia Botanical Gardens. Located on the windward or east side of Oahu, these gardens are free and full of lush greenery. Within the gardens is the Ho'omaluhia Lake and a botanic library. If you visit the day after a rainstorm, you can watch the waterfalls spilling down the ridges of the gorgeous Ko'olau Mountains.
The Limahuli Garden & Preserve on Kauai is another place to visit, especially if you're looking to get a better understanding of the Hawaiian people and their intrinsic connection to their beautiful land. The garden is home to many native plants, as well as endangered plants, which horticulturists work to maintain and preserve.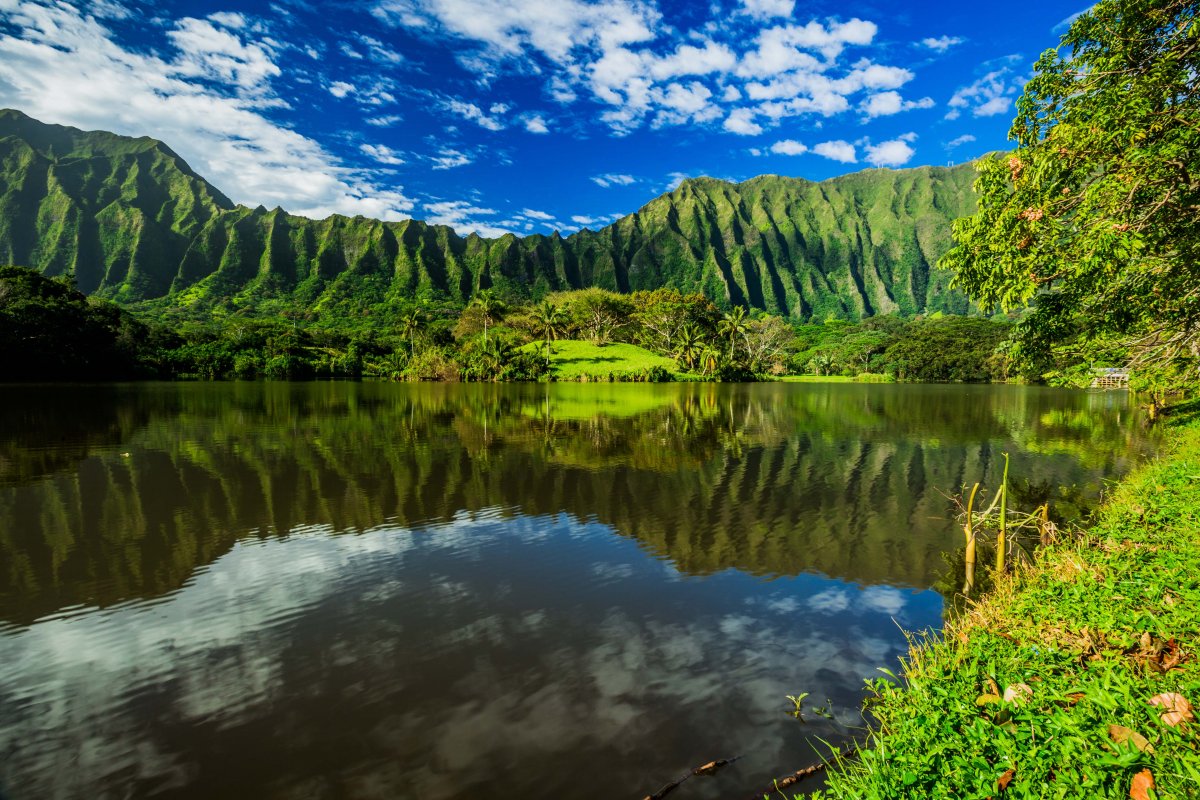 Ho'omaluhia Botanical Gardens, Oahu
7. Fun in the Sun: Boating
Naturally while in Hawaii, you'll want to take advantage of the blue ocean waters.
There are plenty of options when it comes to boating. You will find a kayak, sailboat, or yacht tour off just about any major tourist beach or cove you are near.
On Maui, several Lahaina tour boat companies also offer whale-watching and snorkel trips. Consider spending a day on the water to clear the mind. You can book these excursions along with your villa.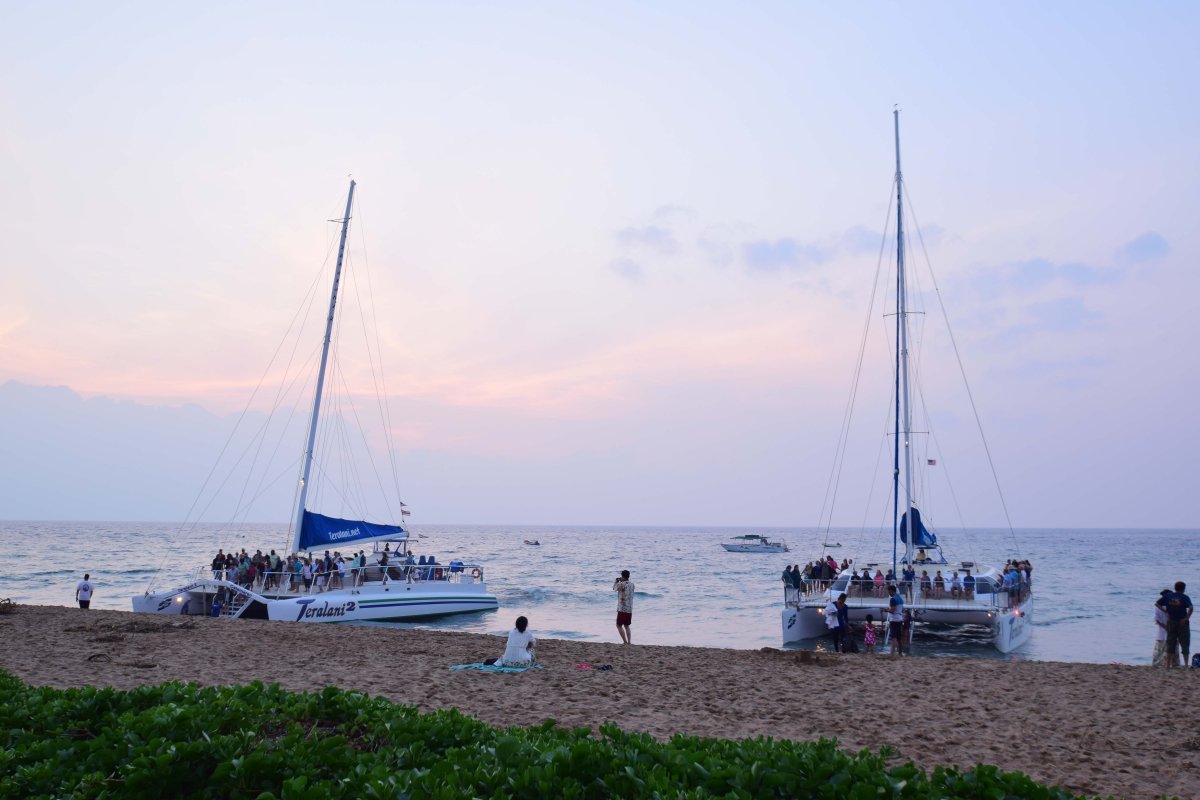 Kaanapali Beach, Maui
8. Enjoy Hawaii's Beaches & Famous Sunsets
No list of relaxing things to do in Hawaii would be complete without a beach suggestion. Of course, there are a ton of options when it comes to beaches in Hawaii, but some will naturally be more relaxing than others.
The Punalu'u Black Sand Beach is a must-see when you're on the Big Island of Hawaii. Its name comes from the unique black sand that makes up the shore. It creates a one-of-kind visual when the waves break on the shore, and you'll want to experience this amazing visual for yourself.
Kapalua and Kaanapali Beaches on Maui are both wonderful beaches to check out if you want to kick it on a beach that offers walk-to service, including drinks and dinner. Sunsets are also crazy beautiful, as they boast outer-island views of Molokai and Lanai.
Even bustling Waikiki has its charms at sunset. There is certainly something to sharing the experience of a Hawaiian sunset with thousands of others who have made a conscious effort to be present and drink in the experience. There is a certain peace to the moment that seems to connect everyone on the shore.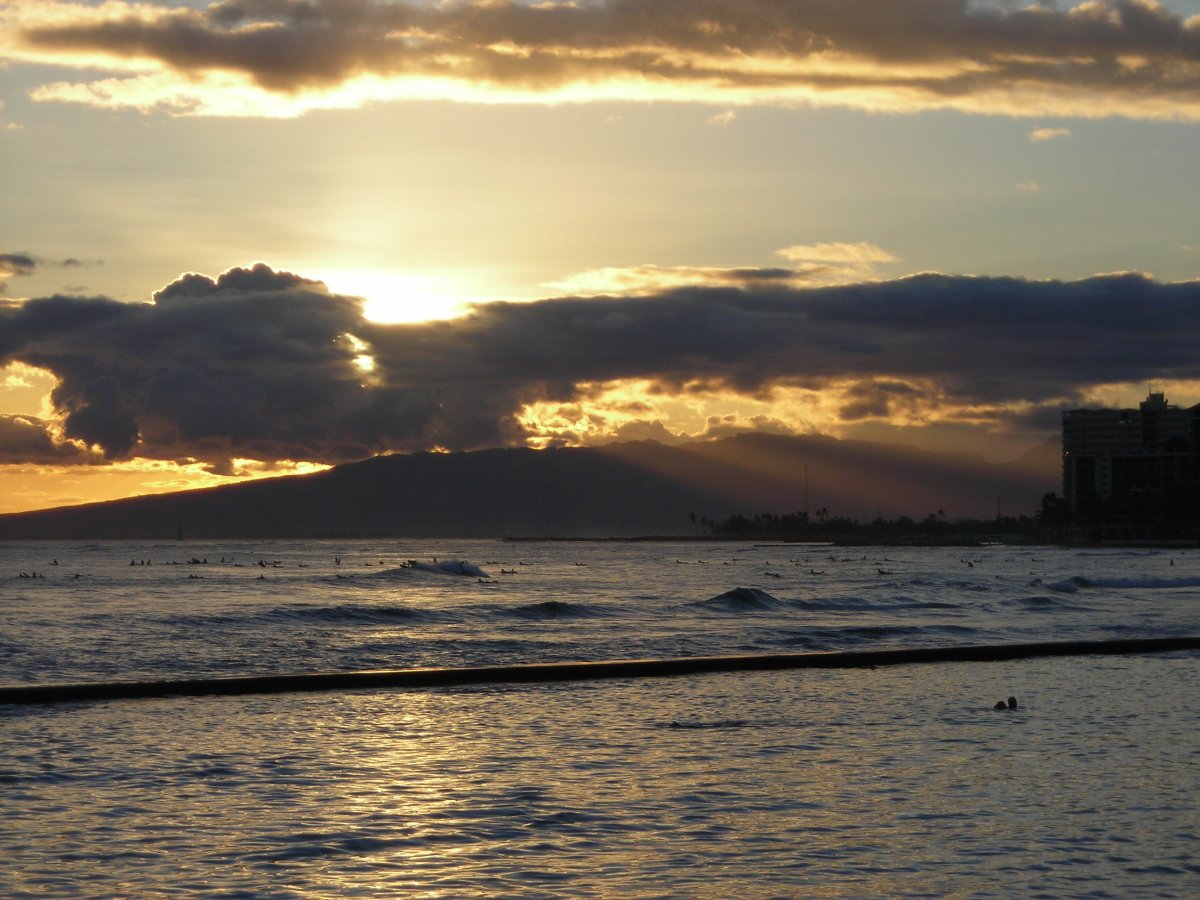 Waikiki Sunset, Oahu
Remember to Book Chill Out Time in Hawaii!
We hope you'll be mindful of taking time to recharge in Hawaii and not just running around sightseeing or touring. Hawaii is truly is the perfect place to relax, feed your soul and find some inner peace.
Blog Subjects: Hawaiian Vacation