A Perfect Day Trip on the Hawaiian Island of Oahu
Back

By John Di Rienzo
June 17, 2015
Aloha! Today I would like to share with you an itinerary for the island of Oahu that includes great beaches and tasty local eats.
Oahu, home to Honolulu, is by far the best-served island in Hawaii in terms of nonstop flights from the U.S. Mainland and Asia. For this reason, Oahu is often the first island many visitors to Hawaii experience. At first glance, it can seem utterly urban and overdeveloped. But the skyscrapers of Honolulu and Waikiki are part of the island's charms, and belie a wilder side that I feel is one of the most beautiful in Hawaii.
I have lived on Oahu and vacationed there for many years since. Each time I visit, I learn something new about the island and often, about Hawaii's history. Oahu, after all, was the last seat of the Hawaiian Monarchy and a star witness to America's history in the Pacific.
What makes Oahu such a great destination, and why I enjoy visiting so much, is that it offers a perfect mix of unique urban experiences and quintessential Polynesian escapism. Honolulu is very much a mid-Pacific melting pot, with Asian and Western cultures coming together to create a city with a unique personality and culture. With its rich past and dynamic present, it is one of America's greatest cities, and is not to be missed.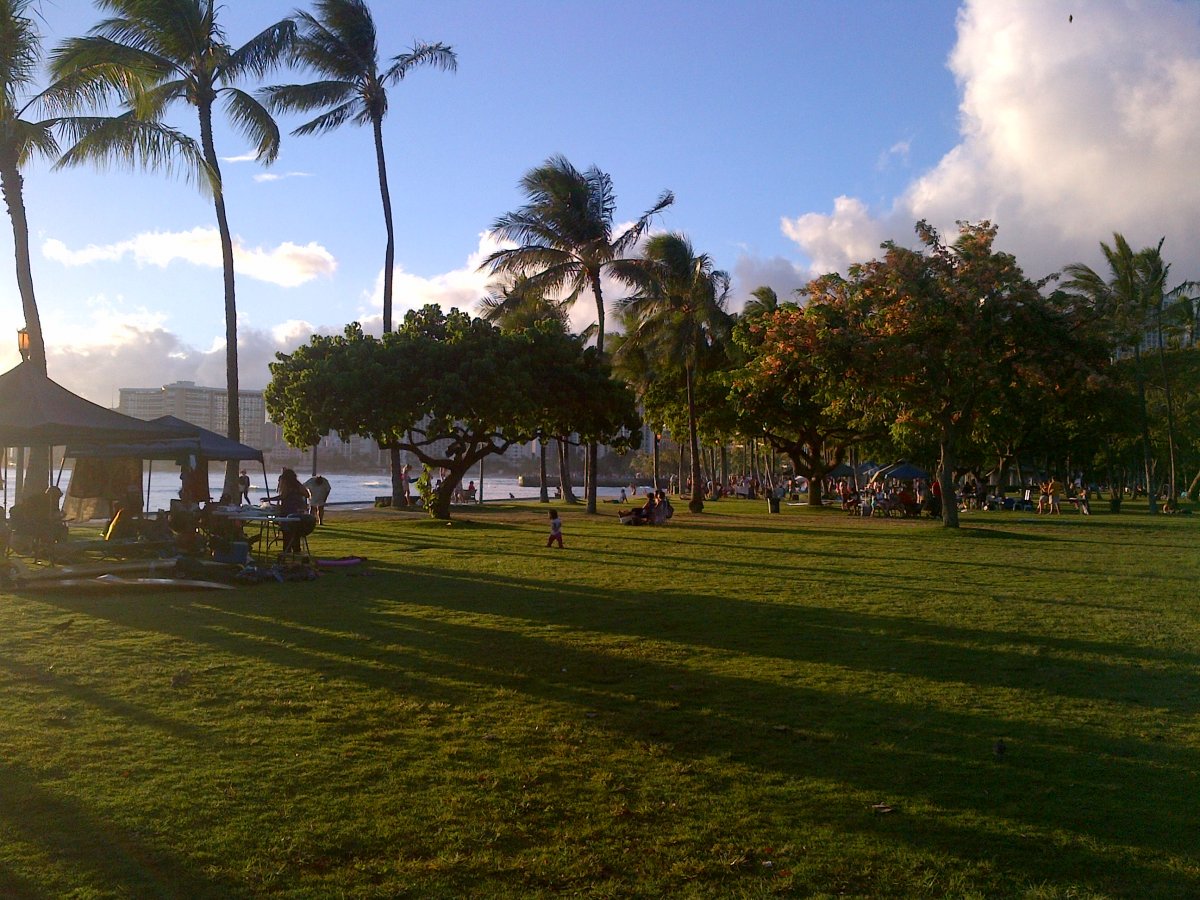 This is the first of two posts on Oahu, and it will focus on the more rural Windward Side and North Shore. The tour I outline below is one that can be taken in one day by people on a tight schedule or over a series of days. It will require a car, though I suppose it could be done via TheBus, the island's mass transit system.
THE GREAT OAHU DAY TRIP
On this drive, you will pass through towns sitting on blue Pacific waters with the majestic Ko'olau Mountains jutting up behind them, and you will be able to stop at some of the most beautiful beaches to be found in Hawaii for a swim.
This drive starts in Waikiki and will take you a full day if you do it all at once; if you leave at 9 a.m., you will probably get back to town at around 7 or 8 p.m. You will basically be doing a big loop around the eastern half or Windward Side of Oahu, and coming back through the middle of the island.
STAGE 1 – THE WINDWARD SIDE
The Windward Side of Oahu refers to the eastern shore of the island. To begin, drive out of Waikiki and take the H1 freeway East. You are going to take the Kalanianaole Highway to the Kamehameha Highway and work your way around the island.
FIRST STOP: HANAUMA BAY STATE PARK
Some people avoid Hanauma Bay because it has become such a popular snorkeling spot. However, it is a snorkeler's paradise and I still think it's worth it, especially if it is your first time to the Islands. Admission to the Bay is controlled, and it can fill up, so it is best to go early in the morning. If you are coming from the North American Mainland, take advantage of your jet lag and get out there early to enjoy this amazing natural wonder. Parking can be a challenge and you will need to go through a short orientation before going down to the Bay.
You can easily spend several hours here. However, the Bay, though it is beautiful, is not a place to linger in my opinion. Just get down to the beach, check out the fish, and move on. If you are eager for some beach time, amazing swimming beaches can be found further along on this drive.
Leaving Hanauma Bay, turn right and continue driving towards the Windward Side (away from Honolulu). The view is very dramatic on this part of the ride, with the road winding over the ink-blue Pacific.
OPTIONAL STOP: SANDY BEACH – BE VERY CAREFUL HERE! HEAVY SHORE BREAK!
Eventually you'll see signs for Sandy Beach. The shore break here is merciless, so it is not a spot for swimming, but it is a fun place to stop and watch the boogie boarders, skim boards and body surfers brave the massive waves. The water is also a gorgeous shade of blue here.
OPTIONAL STOP: MAKAPU'U BEACH - ONE OF MY FAVORITE BEACHES
Like Sandy Beach, Makapu'u has big shore break and is not ideal for swimming. However, the setting of Makapu'u is stunning. Flanked by cliffs and with Rabbit Island sitting just off shore, there is plenty of eye candy to take in Makapu'u. Even if the water is rough, and swimming is not possible, the beach is worth a stop because of its dramatic beauty. But if you want to swim, keep going, as amazing swimming beaches are just ahead up the coast.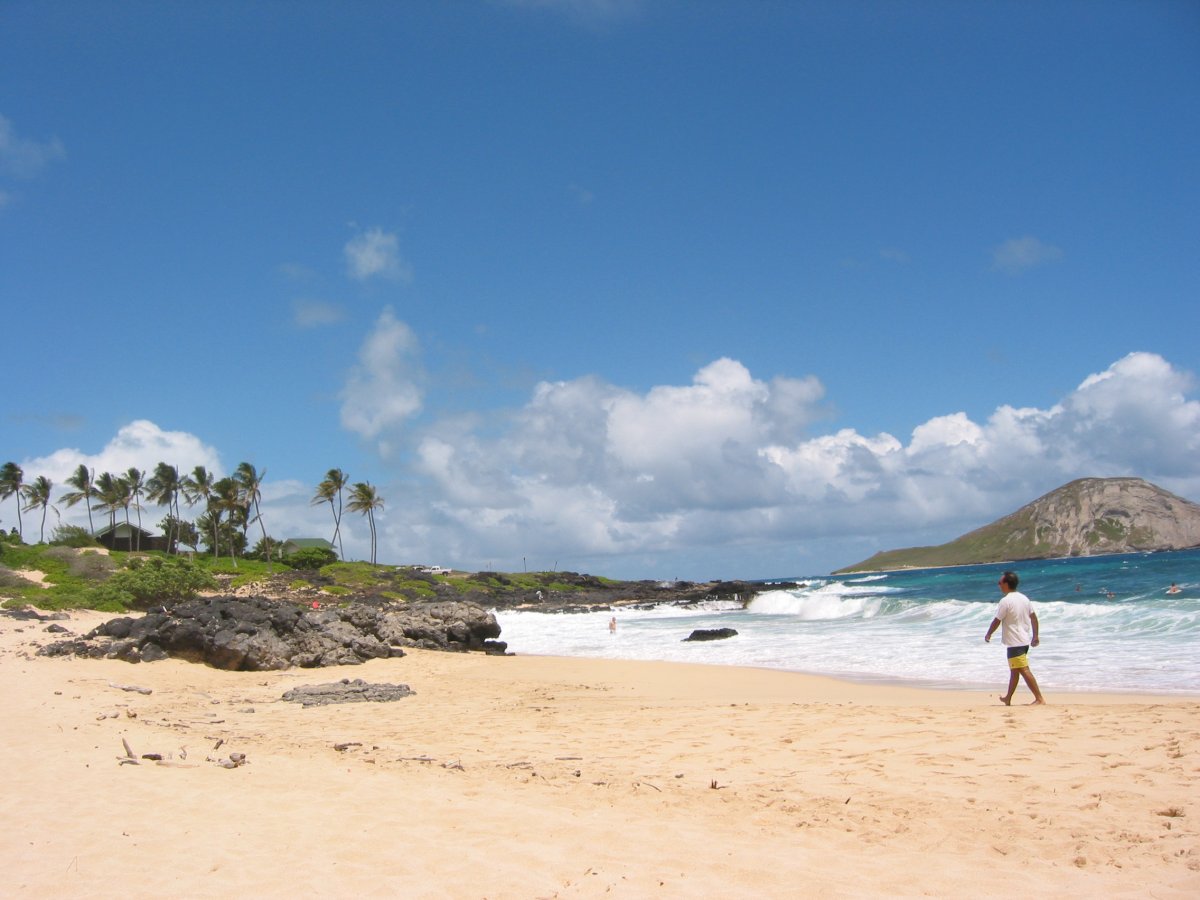 WAIMANALO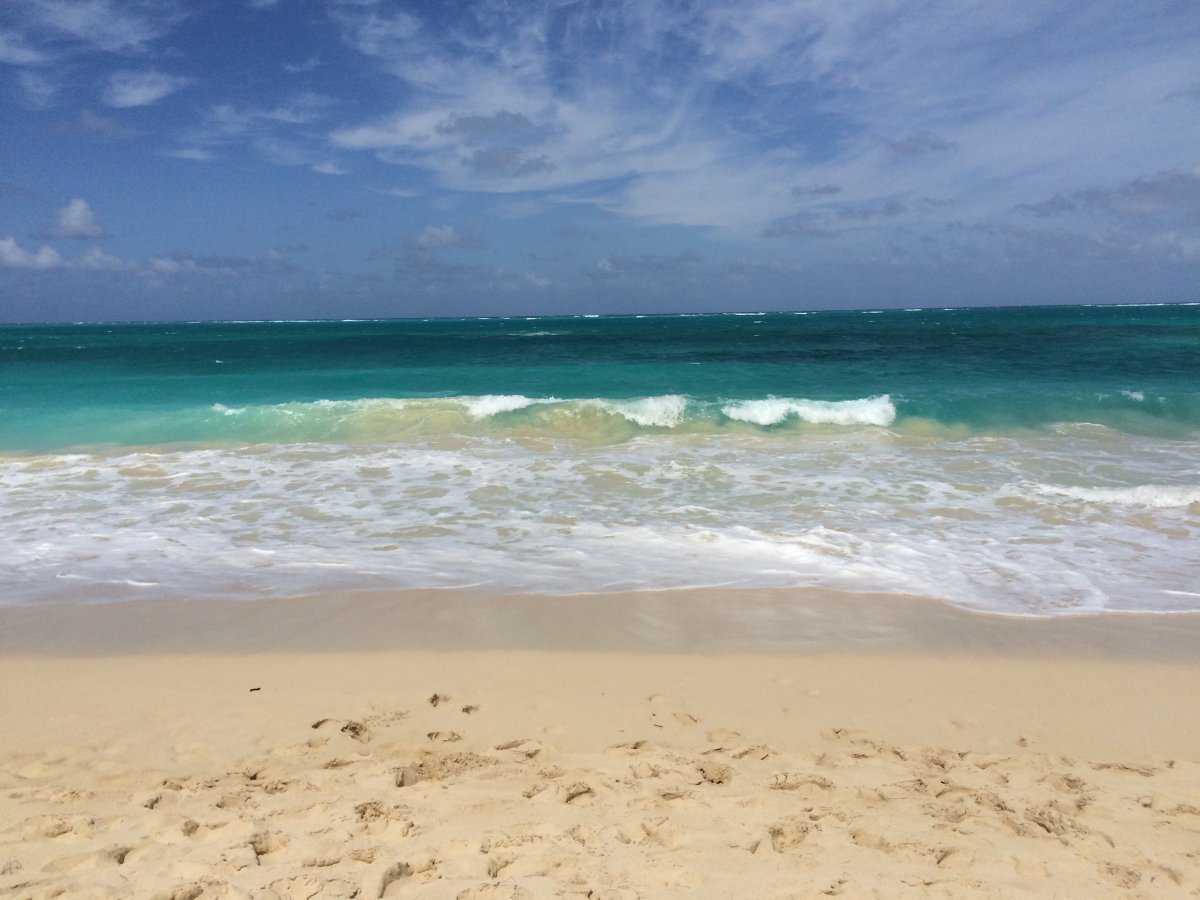 Pulling out of Makapu'u Beach, turn right and continue working your way up the coast. The scenery soon becomes very lush and small-town Hawaii unfolds around you. You will be entering an area called Waimanalo.
Food tip – If you're hungry, just past Makapu'u, in Waimanalo, is a shave-ice and plate lunch shop called Keneke's. They offer classic "local" food – Teriyaki chicken, Shoyu-chicken etc. It's a great place for a quick, and inexpensive, bite to eat.
Unlike the rough waters of Sandy Beach and Makapu'u, Waimanalo's reef-protected beaches offer ideal conditions for swimming. The water here beckons with its many shades of pale blue. You will drive right alongside the ocean for miles. Just stop and jump in if you're tempted, though Waimanalo Beach Park has facilities.
Exotic Estates has a vacation home right on the water in Waimanalo: The Coral Palace. This stunning oceanfront estate can host small events and accommodate up to 20 guests!
KAILUA & KANEOHE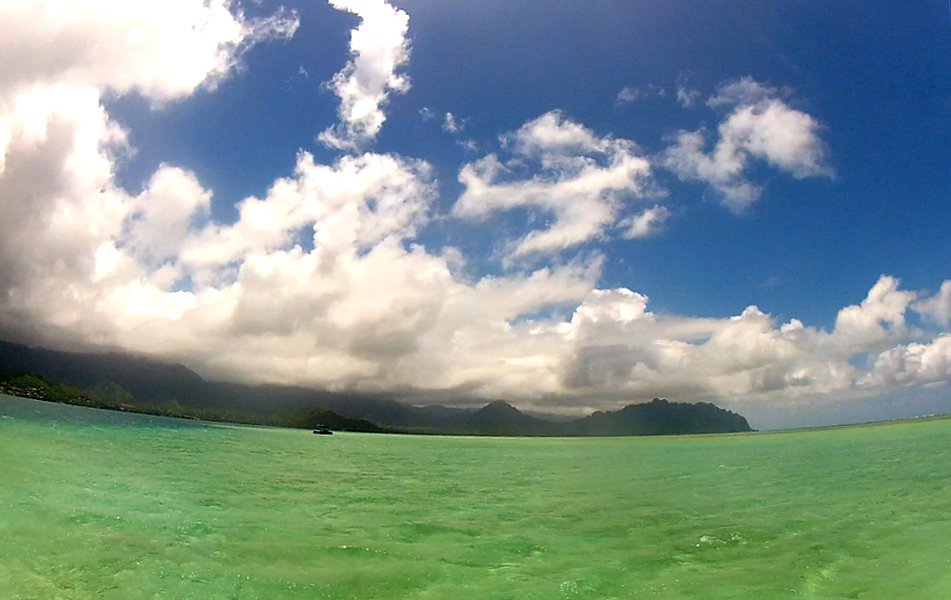 If you keep driving up the coast, eventually you'll reach beautiful Kailua and just beyond, Kaneohe. This is the main town of the Windward Side and is home to Kailua Beach Park, many times rated among the best beaches in the U.S. If you want to go swimming, this beach offers calm, blue waters. The beach has shade trees as well, so some in your party can enjoy a break from the sun while others enjoy the warm, calm ocean waters.
Food tip – There is a popular restaurant just across from the beach called Buzz's offering steaks and other hardy meals.
Exotic Estates offers several incredible vacation homes in and around Kailua, check them out here: Kailua Vacation Rentals.
INTERESTING STOP - THE BYODO-IN TEMPLE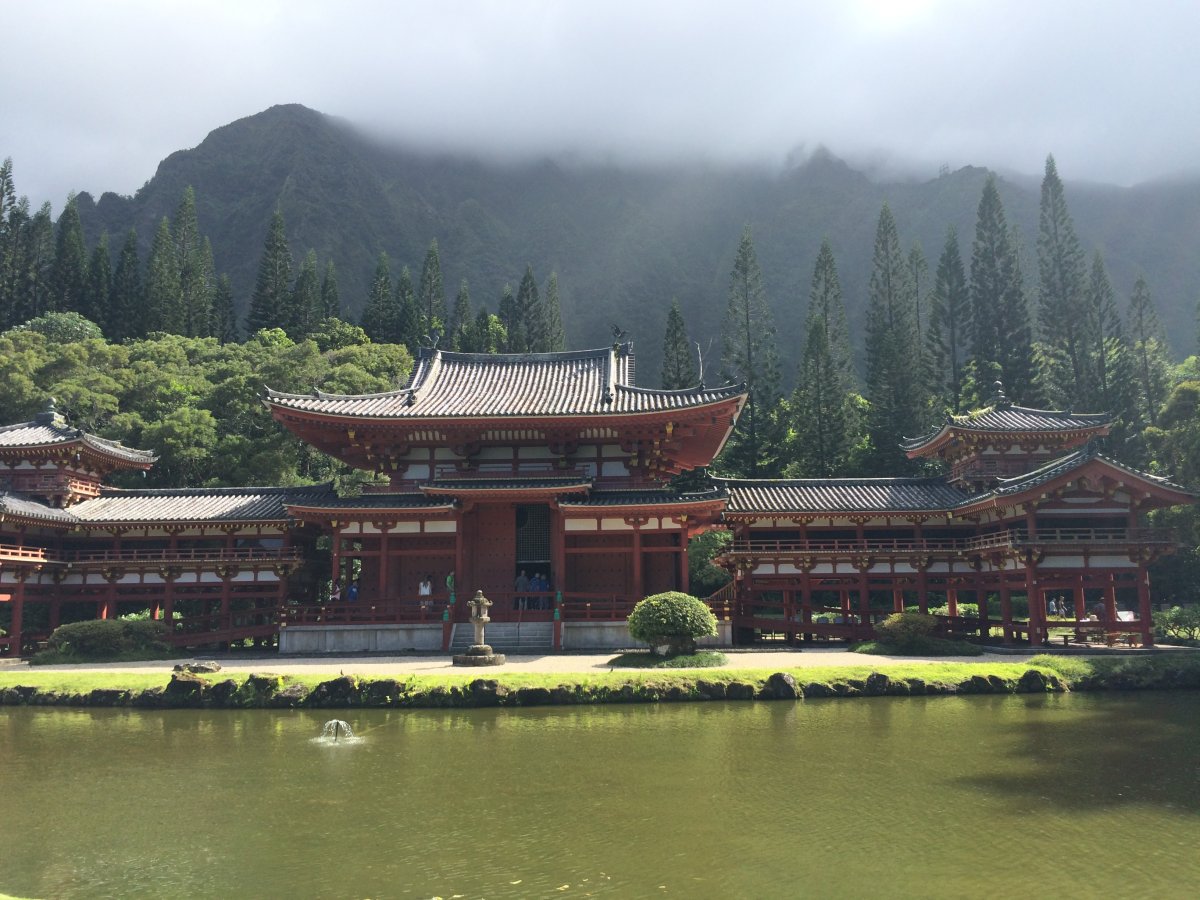 Located in Kanaeohe, just north of Kailua is the Byodo-In Temple.
The Byodo-In Temple is a gorgeous replica of an ancient Japanese Buddhist temple set against the Ko'olau Mountains and offers a dramatic backdrop for photos.
The Temple can be a little tricky to find, but just look for Highway 83. It is tucked away in the Valley of the Temples on Kahekili Highway just by the mountains; the road runs parallel to Kamehameha Highway.
Continuing north along the coast, you will find the landscape becomes more dramatic and rural. There are places to stop and snack along the way, along with beaches that are often very empty.
GOAT ISLAND (MOKUAUIA) – FOR THE ADVENTUROUS
This is an excursion that requires time and a sense of adventure. Located just off the coast of the town of Laie, right before you reach the North Shore, is Goat Island. The island offers a quiet and secluded beach on one side and a bird sanctuary on the other. It is possible to wade out to Goat Island during the low tide, but boogie boarding or kayaking over is better. You will need reef shoes and you will want to make sure that you don't get stuck by the high tide. The reward is a sliver of beach that is perfect for swimming and an interesting walk around the bird sanctuary area.
Exotic Estates offers the fabulous Hale Koa Estate in Laie. This luxurious Oahu vacation home sits right on the beach and comes with many custom designer features.
STAGE 2: THE NORTH SHORE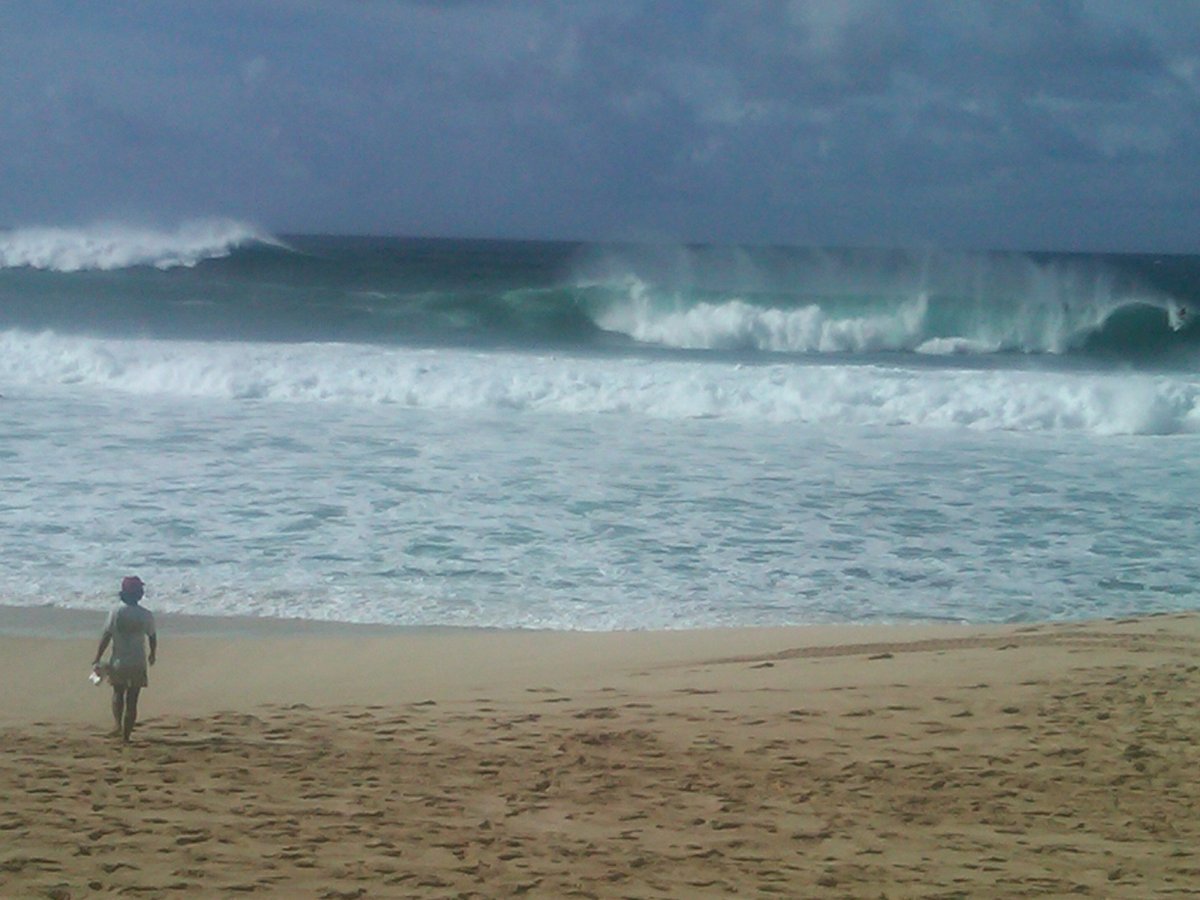 Rounding the tip of the island after Laie, past Kahuku, you will enter the fabled North Shore. The North Shore of Oahu is home to some of the world's most famous beaches. It is a place of surfing lore, with its massive waves, but has a very tame side during the summer months.
PRAWNS & FRESH COOKED CORN
Past Kahuku, as you drive up into the North Shore area, you will notice prawn (shrimp) farms and restaurants on the side of the road. This is certainly touristy, but still an enjoyable pit stop if you like shrimp. There's one called Romy's that is quite popular, you can look for the shack just past Kahuku.
Continuing on, you will also notice farmers selling fruit and vegetables, including cooked corn – a very tasty and inexpensive treat!
SUNSET BEACH & THE 7 MILE MIRACLE
Soon, you'll find yourself driving by Sunset Beach and the Banzai Pipeline. The strip of famous surfing beaches along Oahu's North Shore is known in the surfing world as the Seven Mile Miracle. During the winter months, the North Shore captures powerful swell energy generated by storms far off in the Aleutian Islands. The surf can be huge and lots of fun to watch, but in the summer, the swell action switches to the South Shore of Oahu, and the North Shore becomes a great place for swimming.
BANZAI PIPELINE
If you want to see the Banzai Pipeline, look for Eukai Beach Park, just after Sunset Beach. Pipe is just to the left. Park only in designated areas as traffic police are on the lookout and ready to ticket.
Note that in summer it is quite calm, but if you are there from November through March, you have a good shot if seeing some amazing waves and world-class surfers.
WAIMEA BAY
During the winter months, ferocious waves can top 30 feet at Waimea Bay. However, during the summer months, the water is placid and Waimea is a wonderful beach for swimming. Take a look at the photo above, as it captures the summer time vibe of this amazing beach.
In general, Waimea is an awesome beach year-round, with two very distinct personalities.
Exotic Estates offers luxurious and family-friendly homes on the North Shore of Oahu, including several located in front of famous surfing breaks such as the Bonzai Pipeline and Sunset Beach. Check out our North Shore homes here: Exotic Estates North Shore Oahu Vacation Homes.
HALEIWA TOWN
Haleiwa is the main town of the North Shore. You can stop in Haleiwa town for food or to check out its many shops. There are loads of T-shirt shops here hawking obligatory North Shore surf memorabilia, but there are also galleries and artisans of different types selling wares.
There is a famous shave ice store here called Matsumoto Shave Ice. The lines can get incredibly long at this shop, and, truth be told, there are plenty of places nearby to grab a sweet treat. Anywhere in Hawaii, just keep your eyes peeled for a colorful shave ice sign and enjoy!
HEADING BACK TO TOWN
At Haleiwa Town you will see signs for Honolulu. You will drive back through the middle of the island, towards and through Wahiawa, where you will pick up the H2 Freeway and eventually end up near Pearl Harbor. Just keep driving until you can jump on the H1 freeway towards Honolulu and Waikiki.
The drive through the center of the island will take you through the old Dole pineapple fields. Dole operates a very touristic visitor center, where you can enjoy everything pineapple. Other than that, you will get a sense of the size of the island driving through the fields, and how important a crop pineapple once was to the island's economy.
If you are driving back during the weekday, be prepared for Honolulu rush-hour traffic!
The next post will involve other activities to enjoy on Oahu, with a focus on Honolulu, Pearl Harbor and Waikiki.
Here is a link to all of the fine vacation homes offered by Exotic Estates on the island of Oahu: Vacation Home Rentals on Oahu.
Blog Subjects: Oahu