Exotic Estates Tour of Mega Luxury Vacation Rentals
Back

Luxury Vacation Planning with Mega Mansions from Hawaii to Mexico
Exotic Estates was founded in the beautiful islands of Hawaii to provide discerning travelers with a curated collection of exceptional vacation rentals. Starting with only one luxury rental, our home collection has grown to 500+ exquisite vacation rentals across several in-demand destinations.
If you are looking for the ultimate lavish vacation home, let us take you on a tour of the Exotic Estates collection of Mega Luxury Vacation Rentals! We have carefully procured these gorgeous homes to provide our guests with ultimate indulgence when choosing your next holiday. From Maui to Costa Rica to Mexico, we will introduce you to a few of the most prestigious mega luxury rentals in our impeccable collection!
Gemini Palace – Oahu
Starting our tour on the gorgeous island of Oahu in Hawaii, one of the most stunning of our collection is the Gemini Palace. Oahu is both vivacious and laid back, a tropical paradise that allows you to be as active or as relaxed as you wish! Gemini Palace is one the most striking and contemporary executive beachfront estates on world-renowned Kailua Beach.
Constructed in 2008, the estate features two homes (main house and guest house) separated by a resort-style pool with elegant umbrellas and lounge furnishings. Other features include a steam sauna, movie theater, beautiful manicured yard and pristine sandy beach access.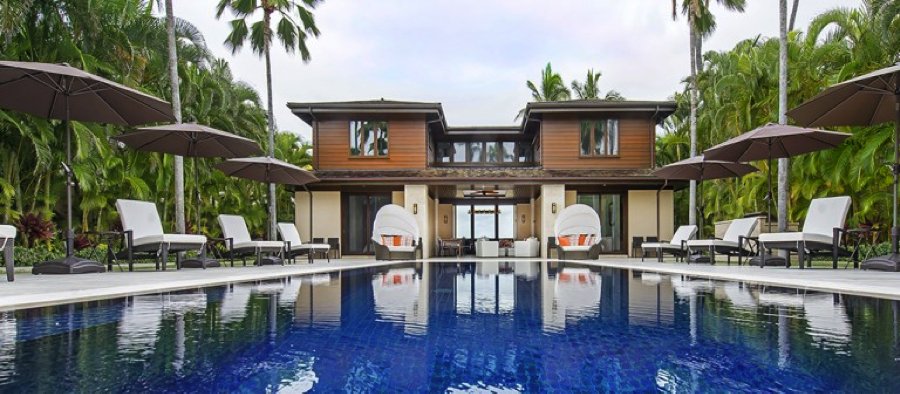 Every part of the two homes, impressively designed with striking hardwood and granite is designed to allow the most discriminating guests to feel satisfied and luxuriate. Enjoy breathtaking views from private lanais, remote controlled curtains, beautiful interiors and spacious bathrooms with hot tubs.
The main kitchen area is extremely elegant with a custom-shaped dining table, elegant chandelier lighting, full kitchen with stainless steel appliances and an open attached living room, which all open through sliding glass doors onto the spacious yard and glittering ocean!
You are sure to feel like celebs in this mega luxury vacation home!
Black Rock Estate - Maui
If you are planning the ultimate luxury getaway on the picturesque island of Maui, you will want to check-out at the magnificent mega-luxury rental, Black Rock Estate.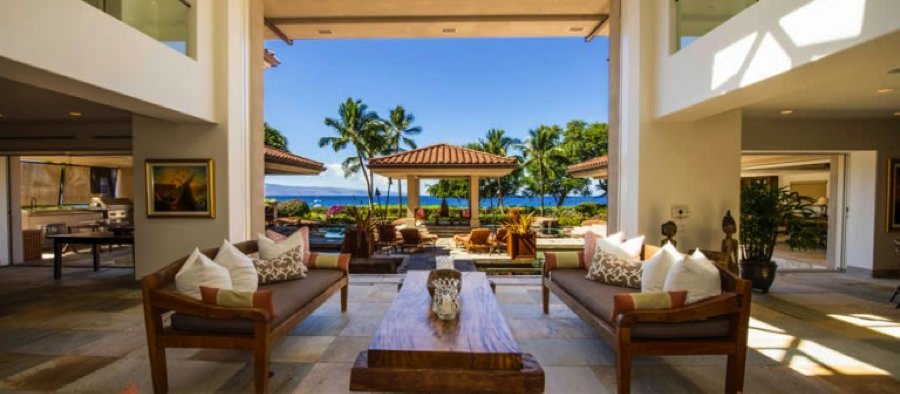 This phenomenal 11,000 square foot home in Kaanapali, Maui is located on one acre of beachfront perfection. Upon entering this estate, you will be welcomed into a fantasy vacation world echoing Balinese and Hawaiian themes.
All parts of the Black Rock Estate are outrageously beautiful, creating a new standard in luxury estate living. Black Rock Estate can comfortably accommodate up to 16 guests, so you can invite all of your family and friends to this beautiful property in paradise.
This home offers a total of eight bedrooms and the indoor space is outfitted with a spacious gourmet kitchen, two private dens, a game room, library and a wet bar, a media room, an indoor gym, a fully equipped security system, and gated entry with a secure three-car garage and a tarmac.
The outdoor living space is truly sublime, with numerous Bali-style outdoor lounge areas, a private cabana that beckons as an ideal sport for a relaxing vacation massage, a gorgeous swimming pool and spa Jacuzzi area, and one of the best views of West Maui from all vantage points.
Set beachfront, enjoy open-aired access to all parts of this home, and revel in awaking to the melodic sounds of rolling waves, and palm tree leaves dancing in the wind. Bask in the unrivaled elements of exquisite estate living, at the Black Rock Estate!
Rainbow Falls Estate – Big Island of Hawaii
Enjoy the majestic waterfalls of the Big Island at Rainbow Falls Estate!
Saving the most exquisite of vacation rentals in Hawaii for last, let us give you a tour of Rainbow Falls. This mega mansion showcases the best in luxury living and was handpicked by Exotic Estates.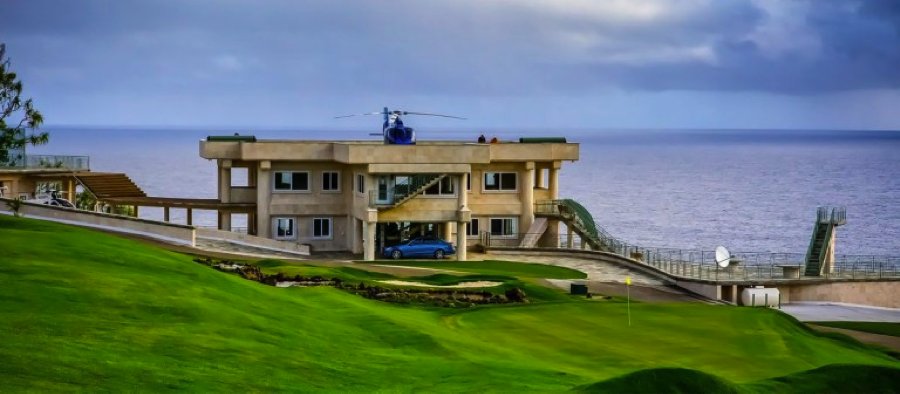 Rainbow Falls is perched on a cliff along the Hamakua Coast in Ninole, Hawaii.The property gets its name from the incredible double waterfall that is on view from every room. Every day, rainbows seem to end at these glorious falls, bestowing a blessing on the land and its guests.
Rainbow Falls boasts its own golf course, an Olympic-sized 16 ft. deep swimming pool complete with two-story waterslide and 21 ft. diving platform, and a tennis and basketball court with ample spectator seating.
While designed for a family, the home is also ideal for corporate retreats and the ultimate destination wedding in Hawaii, with plenty of space on the grounds for a fabulous wedding experience!
The entire complex is over nine acres, with nearly 10,000 sq. ft. under roof. Highly desirable materials such as Italian Travertine marble have been used in designing the home.
The main home offers 8,100 sq. ft. of luxury living, with five bedrooms and six full and two half baths. There is accommodation for 12 lucky guests to stay overnight on the property, in comfortable bedrooms, each with stunning views of the Pacific Ocean and enchanting waterfalls that flank the property.
Casa Tres Cervezas – San Miguel de Allende, Mexico
Traveling to the romantic and tranquil town of San Miguel you will find the unique and luxury villa complex, Casa Tres Cervezas.
Four different properties have been combined to create this 8,000 square foot, one-of-a-kind luxury vacation estate. The owner's appreciation for exquisite local and international craft and artisanal detail is seen in the home's indoor and outdoor spaces alike – it has taken a team of artists and designers five years to complete. Updated with every modern convenience while maintaining the property's Old-World atmosphere, your comfort is assured.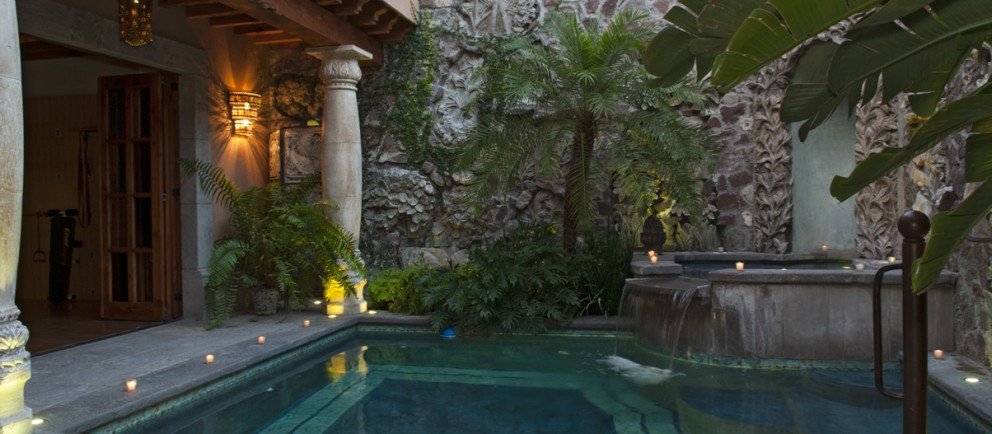 Casa Tres Cervezas is only a couple blocks from the historic central square in San Miguel de Allende, with its centuries old buildings and churches, folk-art-filled shops, and trendy restaurants and cafes, Casa Tres Cervezas is a peaceful oasis in the hustle and bustle of town.
Cantera stone walls and columns throughout the property have been hand carved and sculpted in intricate designs by Mexican craftsmen whose families have passed their skills on for generations. The estate's swimming pool and spa are in their own garden courtyard and there is spacious exercise room for yoga. Fully staffed, Casa Tres Cervezas includes an on-site bilingual concierge, a private chef, housekeepers, and gardeners.
Self indulge at the beautiful mega luxury home of Tres Cervezas!
Villa Guanacaste – Guanacaste, Costa Rica
Finally, we take you to the heart of Central America where you will find the sumptuous mega luxury rental, Villa Guanacaste.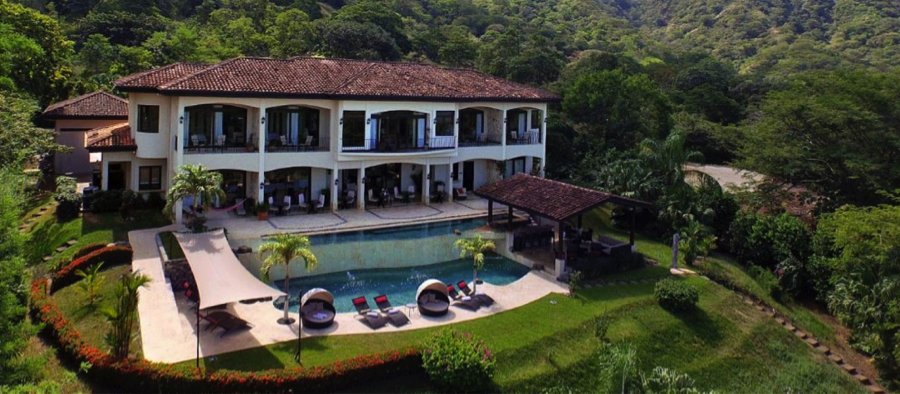 Villa Guanacaste is a luxurious mansion in the Costa Rican Pacific Coast village of Playa del Coco. This mega-luxury villa is run like a mini hotel: an elegant private vacation home rental with hotel-like services. Prices include three à la carte meals per day and full staff service, including an indulgent swim-up bar service at the home's wonderful pool.
Overlooking the charming village of Playa del Coco and the Gulf of Papagayo, this two-story mansion is designed to offer solitude, ocean views and the ultimate secluded retreat for vacationers seeking a mega-luxury home experience. The vast Villa features eight luxurious bedrooms, each with en-suite bathrooms, flat-screen TVs, safe deposit boxes and either private balcony or direct terrace area access.
On the first floor, there are two spacious bedrooms that open directly onto the pool patio. Upstairs there are five bedrooms, each with its own balcony. The luxurious master bedroom comes a giant en-suite bath, complete with oversized rainfall shower and a private whirlpool tub.
Capable of hosting up to 25 guests, this mansion is ideal for special birthdays, anniversaries and even small weddings. What makes Villa Guanacaste so unique is the unparalleled service. At this villa, you literally just need to bring yourselves, as everything is already here!
Discover Ultimate Luxury Rentals at Exotic Estates
Here at Exotic Estates, we have collected these Mega Luxury Vacation Rentals to fit your lifestyle and rental needs. It is our goal to cater to our guests, bringing you the finest vacation homes from around the world. We cordially invite you to continue the tour of beautiful luxury rentals today!
Blog Subjects: Mega Villas