Malibu Summer Activities
With our luxury vacation villas in gorgeous Malibu, you can spend your summer vacation in this world-famous Southern Californian ocean side paradise!
Stretching over 32 miles, Malibu is a beach town like non-other. Driving along Pacific Coast Highway (PCH) from LA, Malibu feels part European Riviera, with homes perch on steep hillsides overlooking the blue sea, part Hollywood glam with its fancy cars and beautiful people and part Hamptons with its sometimes quaint country-feel. Even with all of that, the entire area is underpinned by an undeniably chill surf vibe, as Malibu is one of the historic homes of surfing outside of Hawaii, and the culture and ethos still run deep among the mansions, tony shops and Bentleys that ply PCH and the winding roads that lead up to Cliffside palaces.
Malibu offers beautiful weather year-round. As soon as your car sees that Malibu sign on PCH, you will understand why Hollywood stars and athletes escape to this stunning oceanfront community. It's just next door to zany LA, but a world away.
And, while it may be difficult to leave your beautiful Malibu vacation villa, some of Exotic Estates' LA locals have compiled a list of a few of their favorite places in Malibu for you to enjoy during your visit!
These are more or less laid out in the order from encounter when driving up PCH from Santa Monica/LA.
The Getty Villa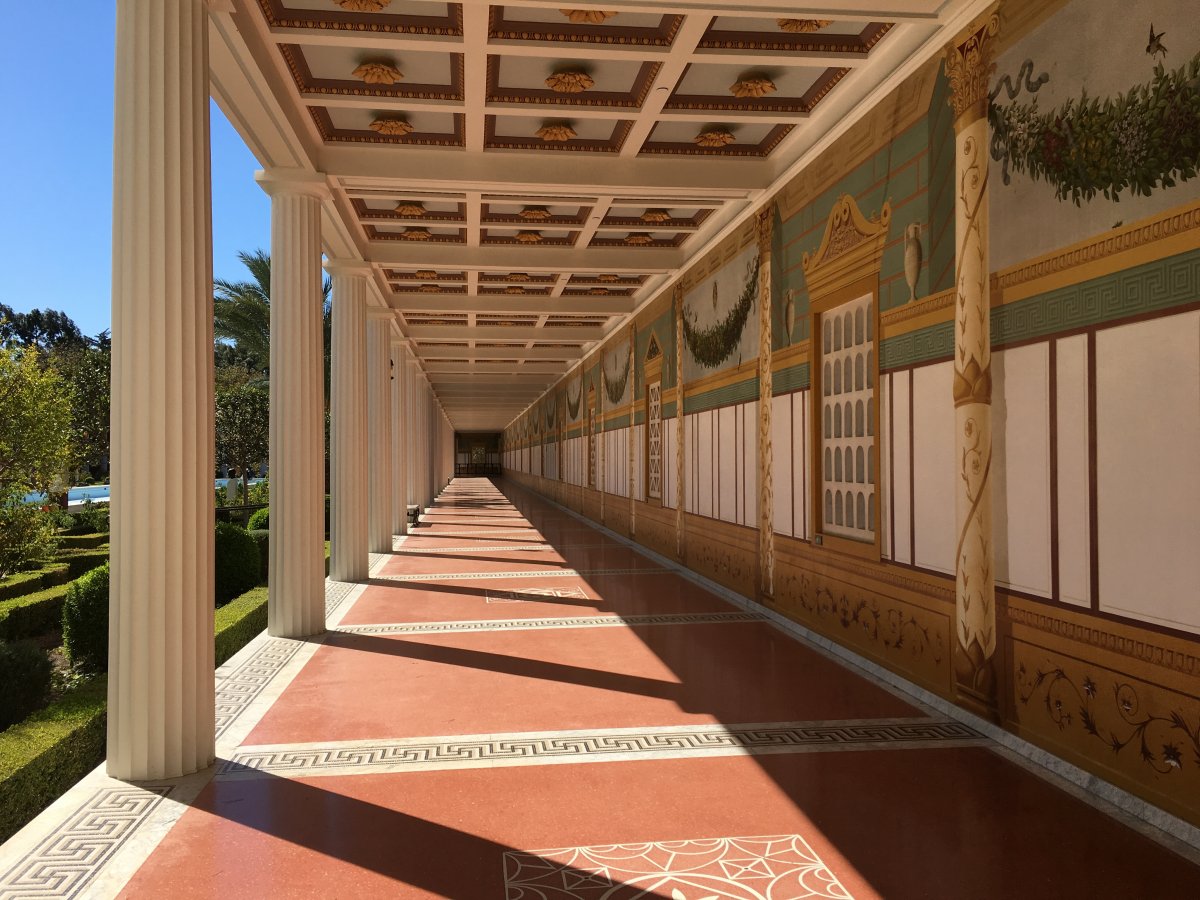 While technically not in Malibu, we are including the Getty Villa as a Malibu must-do because of its proximity. It's located on PCH just before you reach the Malibu line in Pacific Palisades, and it is certainly worth a visit. This is not to be confused with the Getty Center, which is a massive museum located further inland, which is also a worthwhile excursion.
This world-renowned educational center and museum is dedicated to the study of the arts and cultures of ancient Greece, Rome and Etruria. At the Getty Villa you will be wowed by spectacular examples of art from these cultures, all meticulously displayed in an incredible Italianate villa that was gifted by the Getty family.
The Villa itself is a source of inspiration, with its grand scale and rich detail. The grounds include a theater and a stunning pool, which has been dry as of late, in respect of the drought conditions that have impacted California for several years.
The Villa offers over 1,200 works in over 23 galleries, with five additional galleries that feature changing exhibitions.
Entry can be limited on busy days, so be sure to reserve your visit in advance.
Moonshadows
Up next is Moonshadows, a popular restaurant and watering hole located in a building that sits at the ocean's edge. With stunning views, Moonshadows is favorite haunt of visitors and locals, and you may even see some celebs. Depending on who you talk to, it is either famous or infamous, as it was where Mel Gibson had his little meltdown and run-in with the police.
It can have a "bridge and tunnel" feel sometimes, and be sceney, but it still offers a great outside bar overlooking the water. We love going here at the end of the afternoon to enjoy a cocktail as the sun goes starts to set.
Dukes – Surfing/Hawaiian Themed Eatery
Up PCH a little further is Dukes, a surfing/Hawaiian-themed restaurant. A sister to the restaurants in Hawaii located on Waikiki, Maui and Kauai, you will enjoy all your island favorites here. Named after Duke Kahanamoku, the restaurant is yet another reminder of Malibu's place in the pantheon of legendary surf towns.
Located ocean-side, Dukes is a fun place to go for pupus (snacks) and mai-tais after a day in the sun, and can be fun, casual place to celebrate a birthday in a Hawaiian surf-themed setting.
It gets busy on weekends, but you shouldn't have to wait too long. Try sitting on the outdoor patio behind the bar and if you're dining inside, be sure to get a window seat, as it's not uncommon to have dolphin sightings just outside!
Nobu Malibu
Nobu, the famed sushi chef, has an incredible outpost in Malibu.
Nobu Malibu is along the ocean, not far from the Malibu Pier. Like his other restaurants, Nobu Malibu is an in-demand reservation, so if you want to go out for a fabulous sushi dinner, plan ahead and make a reservation!
Also, Nobu is a less casual spot, so think Malibu beach chic when dressing for the night.
Malibu Family Wines
During your stay at your awesome Exotic Estates Malibu vacation villa, make reservations at Malibu Family Wines for one of the most distinctive wine tastings in Southern California.
Enjoy flights of wine at one of the large outdoor picnic tables that can accommodate up to 10 people or rent an entire school bus that fits up to 13 guests for a very unique tasting experience!
The gazebo is also available to rent and is perfect for small events fitting up to 30 people. Malibu Family Wines also offers a "wine safari" that tours the Semler Estate Vineyards where you can feed exotic animals such as zebras, water buffaloes, and alpacas while you enjoy Semler and Saddlerock wines. At only $75 per person, this wine safari is truly a one-of-a-kind experience!
Malibu County Mart
Fill up your vacation rental with fresh, local California eats from Malibu County Mart.
This high-end market has a farm stand-like atmosphere but also includes your fashion favorites such as L'Occitane, Calypso St. Barth, and 7 for All Mankind. So you can stock up on organic food supplies and also pick up the perfect outfit for a night out at one of Malibu's more tony restaurants.
You will also find boutiques and vintage shops, and world-class dining experiences.
Our favorite is Tra di Noi, a delicious Italian cuisine!
With so much to do in Malibu, you will be busy during your vacation! Enjoy the luxury of your private vacation home and pick from one of our gorgeous Malibu Villas!
Exotic Estates Malibu Vacation Homes
Malibu Cordoba Villa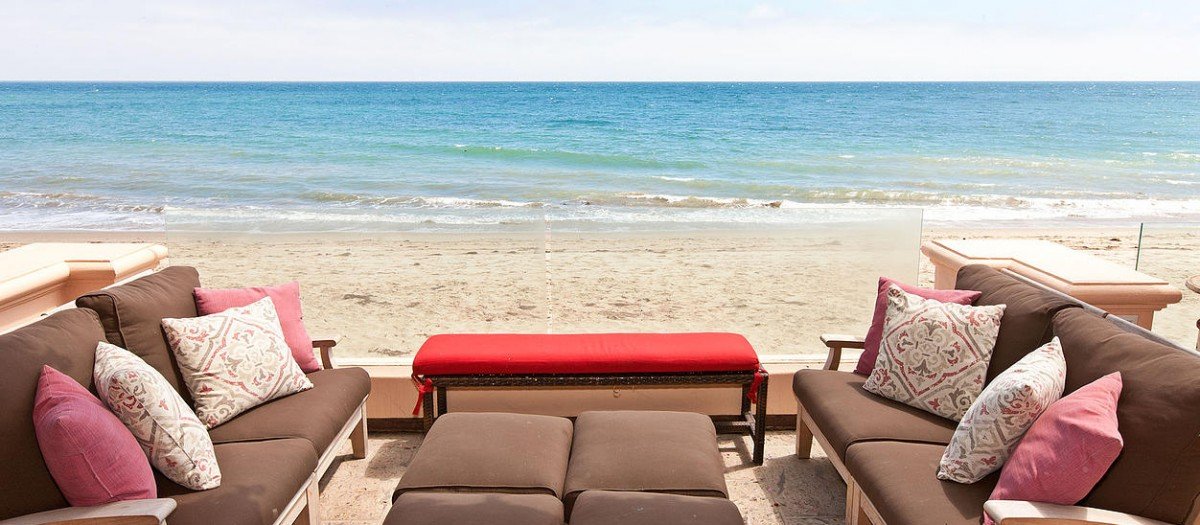 This specatular Malibu vacation rental is nestled in the heart of the Pacific Coastline. Featuring an elegant and modern décor, you will love the 180-degree views of the ocean from almost every room in this villa. Walk out onto your private patio that looks over the secluded beach below. Watch the brilliant colors of the Southern California sunset while you enjoy a glass of wine.
Offering four bedrooms and four bathrooms, this beachfront vacation villa can accommodate up to eight people. Perfect for families or groups, this Malibu home has everything you need to experience a relaxing and carefree vacation.
Malibu Heights Villa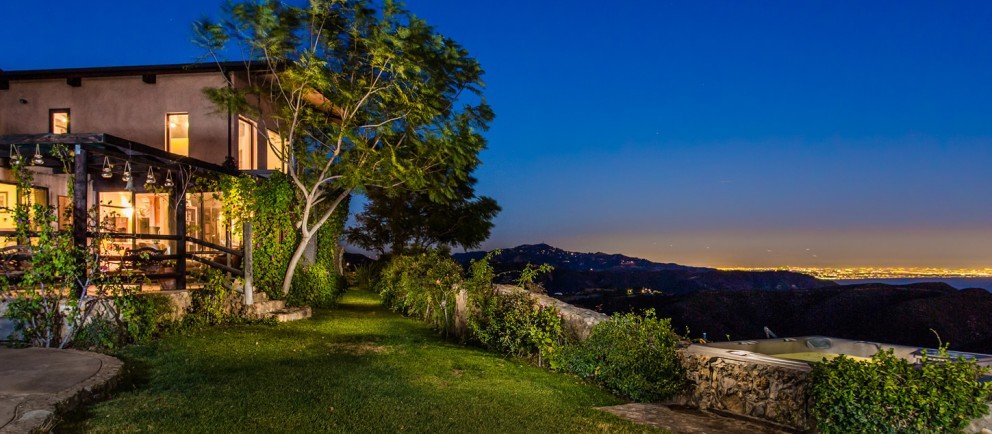 This exclusive Malibu vacation rental sits on top of a mountain and offers gorgeous panoramic views of the Pacific Ocean. Tucked away in the hills, you will experience ultimate relaxation and privacy. With over 45 acres and 7,000 square feet of living space, you and your guests will get lost in the luxury of this impressive home.
Featuring a gourmet kitchen, breakfast bar, wine cooler, and large dining area, guests can prepare fresh, home-cooked meals and satisfy even the pickiest of eaters. Dine alfresco on the large outdoor patio as you look out onto the beautiful ocean. Boasting five bedrooms and four bathrooms, each room features glass doors that open to the beautiful views and you can let the sounds of the ocean rock you to sleep.
The perfect hideaway after fun days in Southern California, Malibu Heights Villa is the perfect vacation home for your next holiday!
Malibu Producers Villa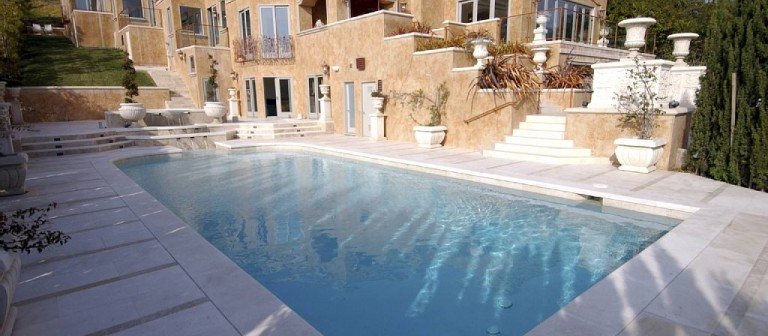 This spacious and luxurious Malibu vacation villa is perfect for large groups! With the ability to accommodate up to 15 guests, this five-bedroom and six-bathroom home features gorgeous style for even the most discerning crew.
Offering over three acres of outdoor space, guests will love the lush green gardens, sparkling private pool with a waterfall, and access to a private beach! Built on several levels, this villa has numerous balconies to look over the spectacular views and an elevator that makes navigating easy. Designed to entertain, the living room is large and boasts beautiful contemporary paintings. There are also two wet bars, a well-equipped kitchen with Viking appliances, and a double stove and large island making it ideal for caterers. This would not be a Hollywood-worth retreat without a screening room. The villa's 11 person theater is the ideal place to watch flicks with your posse, or perhaps screen your own latest epic!
Each bedroom offers a private balcony and an en-suite bathroom with spa tubs and steam rooms, leaving every guest feeling pampered!
Come feel like a movie-star and stay at the Malibu Producers Villa!