Malibu Beaches and Canyons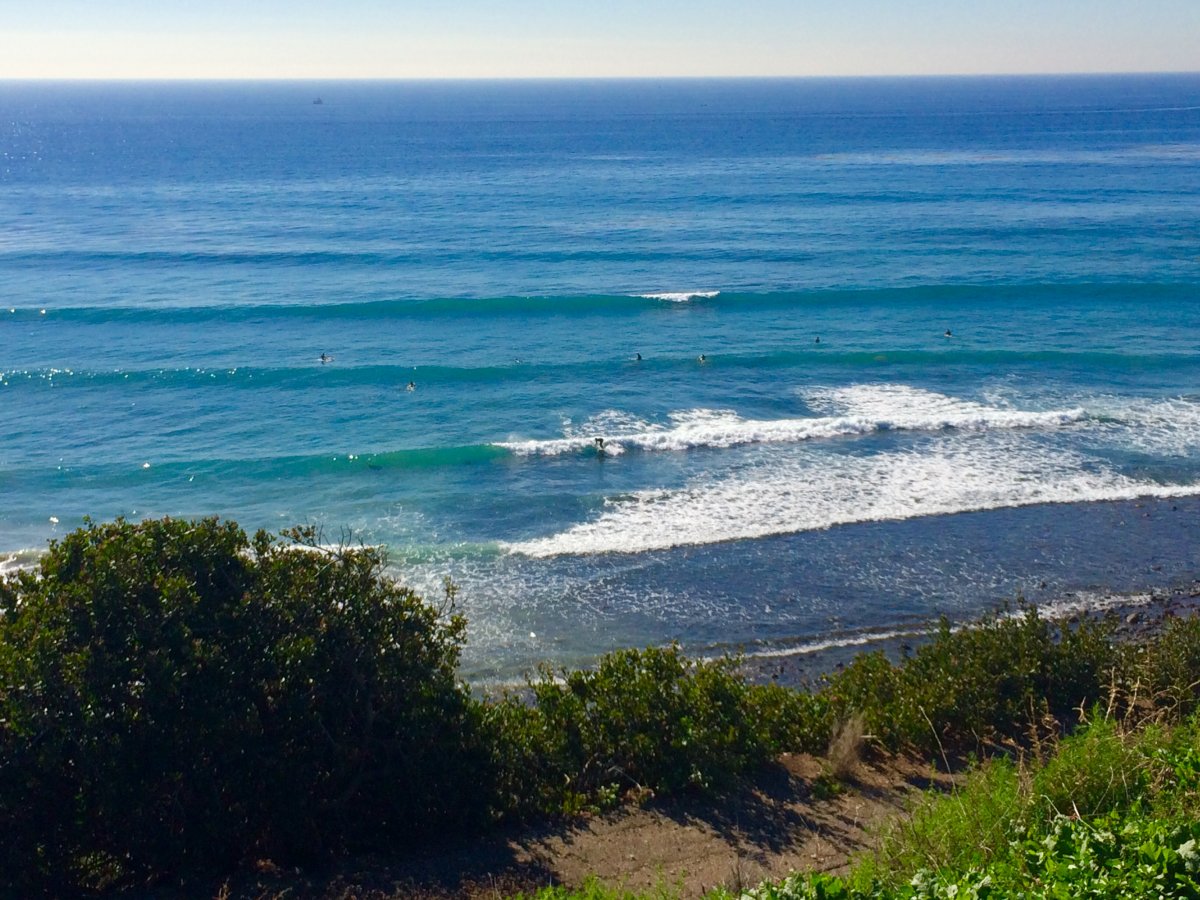 Malibu is the gem of Southern California and holds some of the most beautiful and famous beaches in the world. Take a tour down the coast of this luxurious town and find out which California beach will be your favorite!
Solstice Canyon
This trail is located in Malibu and takes you on a tour through the gorgeous Santa Monica Mountains. You will enjoy stunning views, including the ever-present Pacific Ocean and the rolling hills of Malibu. Near the end of the trail, you will find a year-round waterfall.
Make sure to bring plenty of water and snacks as the entire hike is about six-miles long, although shorter versions can be planned.
Point Dume State Beach
This unique Malibu beach is a must-see and offers gorgeous views from the hill that overlooks the point, from which you can walk down a staircase to the coastline.
A locals' favorite, you might get the chance to see California Sea Lions and other sea life passing through. At low tide, you will find tide-pools that are brimming with sea-life, a perfect place to see starfish!
A famous background for Hollywood movies, you won't want to miss one of the most gorgeous spots on the West Coast!
Zuma Beach
Considered one of the most beautiful on the coast of California, you will find Zuma Beach just north of Malibu.
Zuma is a well-serviced and appointed beach, with food stands, bathrooms and changing areas. There is ample parking as well.
Offering wide, flat sands and beautiful views of the Pacific Ocean, which tends to take on a striking shade of blue here, Zuma is a favorite spot for family beach outings.
Bring your umbrella and your beach chair and soak up the warm SoCal sun, or bring the volleyball and play a few games on the beach courts for a little exercise.
Not far from downtown Malibu, you can spend your day at the beach and watch the sunset while you dine alfresco choosing from many gorgeous outdoor patios!
Zuma Jays – Surf Shop/Surf Rental
If you are thinking about surfing in Malibu and don't feel like schlepping a board all the way from home, you can always rent a board at Zuma Jays. Zuma Jays is located in the commercial center of town and will rent all types of boards at reasonable rates.
You can also get a wetsuit here, which is advisable unless you are here in mid-summer. The weather may be consistently warm here in Southern California, but the Pacific Ocean stays refreshingly cool due to Humboldt Current.
El Matador, La Piedra and El Pescador State Beaches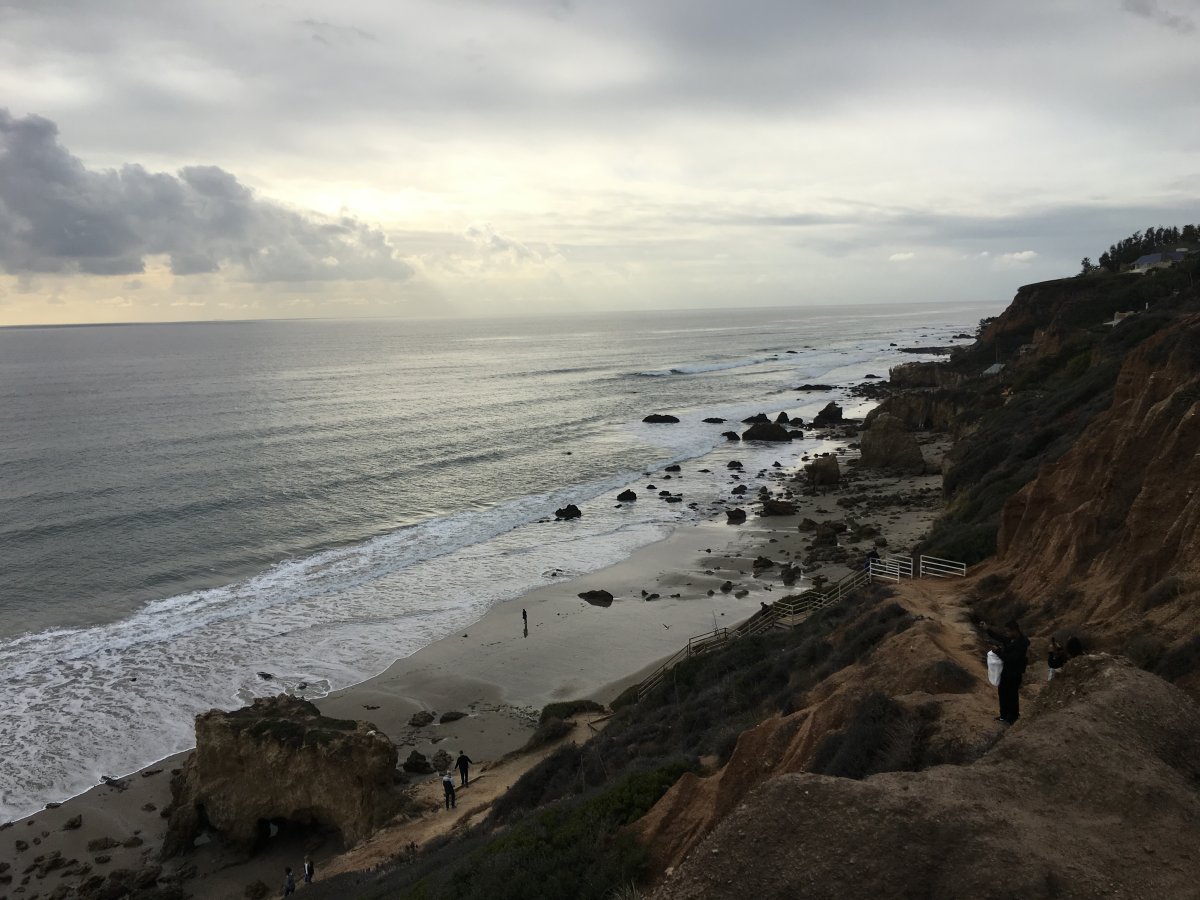 These are some of the most picturesque beaches you will find in the LA area. Each is well maintained and easy to access.
El Matador offers a certain ruggedness that you won't find at some of the other beaches. As you walk down the steep staircase to the coastline, you will see the steep cliffs towering around you and the famous arched rock along the shoreline. Take a few minutes and enjoy the beautiful sounds of the waves crashing over this massive landmark.
At each of these beaches, make sure you pay for your space as you are likely to get a ticket if you don't! You can also park on PCH but be very careful as cars speed past and watch for no-parking signs.
County Line (Ventura County Line)
Technically outside of Malibu, and in southern Ventura County (hence Ventura County Line) County Line is another classic surfing beach. Its name has been included in Beach Boys songs and the beach is still a popular surf spot to this day.
County Line is easy to reach and parking is generally manageable along PCH; park on the beach side of the road, not on the opposite side as you can get ticketed. You can even take surf lessons here.
As an added bonus, across the street is Neptune's Net, a fried fish shack with fried clams and other greasy seafood delights. Burgers and other standards are also on the menu along with lots of cold beer.
On weekends, Neptune's Net is a popular motorcycle hang-out spot – not of the scary Hell's Angels variety – rather the more benign "Hollywood producer meets Easy Rider" variety. These men and women are likely retreating to a fab villas at night – just like you!
One of the world's most sought-after destinations, Malibu is the perfect place for your holiday in Southern California. We hope that our list of must-sees helps you plan your trip!
Malibu Pier / Malibu Lagoon State Beach
Just beyond Zuma Jays and Nobu is the Malibu Pier and arguably the most famous beach in Malibu – Malibu Lagoon State Beach.
Malibu Lagoon State Beach is a word-famous surfing beach, big "back in the day" and still very popular today. Parking is a real challenge here during prime hours and on the weekends it's downright maddening. However, if you can put up with parking hassles, the reward is a beautiful beach park with views of the Malibu Pier and surfers riding down the line.
Surfers Note – if you are a novice surfer, be careful here (and at all surf spots for that matter), as the break gets very crowded and conditions can be challenging. When it gets crowded, surfers jockey aggressively for the break and fights have broken out over drop-ins and other faux pas.
Compared to other Piers in California, the Malibu Pier is much less busy and only contains a few shops and restaurants; however, the restaurant at the end of the pier serves up a fantastic breakfast!
Take a walk down the pier and you will find a quiet place to enjoy the ocean and views of the coastline and gorgeous beachside homes. You might even run into fisherman reeling in the catch of the day!
Exotic Estates Malibu Vacation Homes
Malibu Pines Villa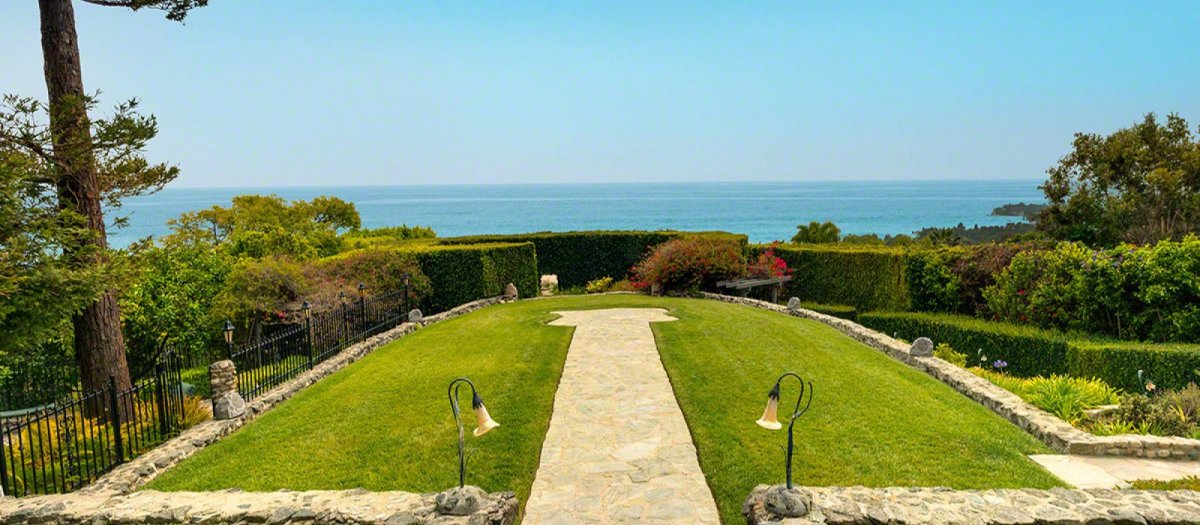 Malibu Pines Villa is the perfect way to experience the magnificent views of the Pacific Ocean! This majestic estate is perched above the ocean and resembles a stone castle. This five-bedroom Malibu Vacation Home offers ultimate privacy, a manicured three-acre yard, and beautiful terrace. Fit for royalty, you are sure to feel like a celebrity during your stay!
The sumptuous master suite boasts a California king-size bed, an en-suite bathroom with a jetted bathtub, a fireplace, lounge area and private terrace with an ocean view! From the home, follow meticulously laid cobblestone paths, edged by soaring pines, down to the pool terrace, which boasts a lap pool with a soothing waterfall and spa, and gorgeous panoramic views of paradise.
You will also love the gourmet grill and a large outdoor dining table with space for up to 10 guests. For golfers, a putting green makes for a fun way to practice your game during the afternoons.
The Malibu Pines Villa is within easy access of Malibu beaches, shopping and Santa Monica and Venice. Fly into LAX and you're a short drive up Pacific Coast Highway from this incredible Malibu retreat!
Malibu Cool Villa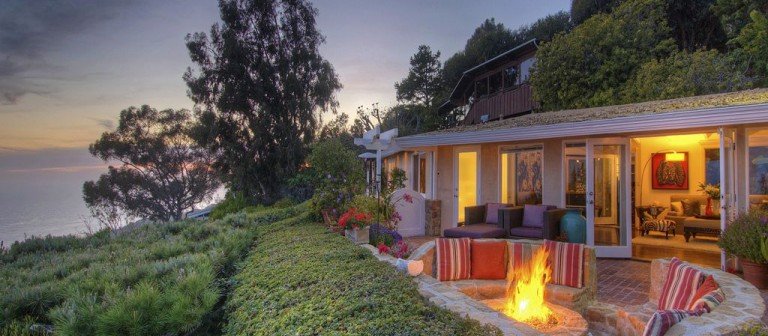 Welcome to paradise at this Malibu vacation rental! Offering gorgeous views of the Pacific Ocean, guests will love the fire pit terrace, the outdoor Jacuzzi, and the expansive views from almost every room of the home.
Located on an exclusive road, guests will love the celeb-style privacy, guaranteeing a vacation of peace and quiet. The villa looks as though it was decorated by an LA music industry executive, complete with music memorabilia and pop-art adorning its walls.
Contemporary design with a mid-Century flair is the hallmark of the home and the gourmet kitchen is a Chef's dream! Complete with stainless steal appliances and a large center island, meal preparation is a breeze. Guests can dine indoors or out, but will never be without a world-class view!
If you're looking for a cool Malibu pad to enjoy a quiet retreat, Malibu Cool Villa is for you!
Malibu Marble Villa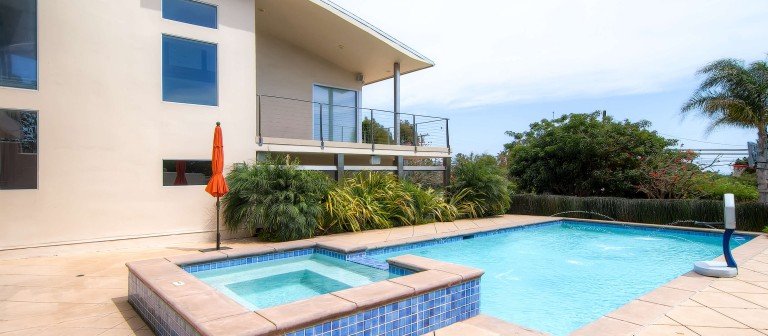 As you enter Malibu Marble Villa you will know you are in paradise! This classic Malibu vacation home features stunning 180-degree views of the Ocean and is surrounded by lush tropical landscaping.
Guests will love the private pool and spa where you can relax while you soak up the warm California sun! Feeling adventurous? Only steps away you will find your very own private beach or the famous Zuma Beach, which is only a short drive away! For relaxing nights at home, this Malibu Villa offers two living rooms with comfortable seating and a large TV.
When you're ready to explore, you are only a short drive from Hollywood, Rodeo Drive, and downtown Los Angeles. You are also close to world-class beaches, restaurants and shops.
Come enjoy all the Malibu has to offer at Malibu Marble Villa!
Photo Credits:
Santa Monica Mountains: By Doug Dolde at English Wikipedia - Transferred from en.wikipedia to Commons., Public Domain, https://commons.wikimedia.org/w/index.php?curid=8978468
Point Dume: By Doug Dolde at English Wikipedia - Transferred from en.wikipedia to Commons., Public Domain, https://commons.wikimedia.org/w/index.php?curid=6552757
Point Dume Planet of The Apes: Fair use, https://en.wikipedia.org/w/index.php?curid=4575385
Zuma Beach: By Dave Parker - Own work, CC BY 3.0, https://commons.wikimedia.org/w/index.php?curid=3994433
Zuma Jays: Photo courtesy of www.zumajays.com