Take a Tour Through Palm Springs with Exotic Estates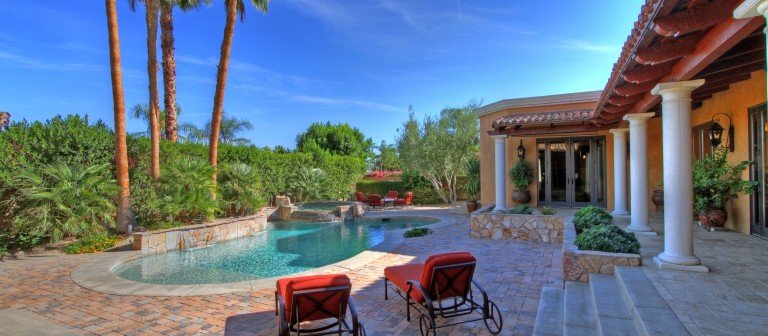 When you think of Palm Springs, thoughts of poolside pleasures and peaceful getaways come to mind. Pack your bathing suit and sunscreen and get ready for a personal tour of this sunny desert retreat!
El Paseo
Otherwise known as the "Rodeo Drive" of the desert, this stylish center is filled with delicious dining options, designer stores, and lovely boutiques. With over 300 stores to choose from, El Paseo is a shopper's paradise and a great way to cool off on scorching days. Enjoy the beautifully manicured gardens of flowers and palm trees as you shop 'till you drop!
Windmills
As you may notice on your way to this California paradise, the desert floor of Palm Springs is decorated with windmills. Stop on the way and take the time to watch over 3,500 towering machines that are creating enough energy to power nearly 200,000 homes (over one-and a-half percent of California's electricity). Join a group or take a private tour with Palm Springs windmill tours!
Aerial Tram
Embark on an aerial journey to get a birds-eye view of Palm Springs! Palm Springs Aerial Tramway takes you to the top of Chino Canyon on a ten-minute ride that passes through several climate zones. You can enjoy lunch at the Peaks Restaurant and Pines Café as you enjoy stunning views of the gorgeous landscape all year round! You might even get to see the skiers during the winter months!
Date Capital of the World
Palm Springs is known as the "Date Capital of the World," and there is no better place to learn about the history of this fruit than at Shields Date Garden. This family-owned garden and café have been in business since 1924. These delicious dates are grown without chemical fertilizers or pesticides. It's also a fruit that's higher in potassium than bananas. They are a sweet and yummy treat, but don't take our word for it, stop by the café and try the Shields Date Pancakes!
Palm Springs Art Museum
Experience modern and contemporary art of the Americas at this gorgeous world-class museum! Located in the heart of downtown Palm Springs, you will find a sophisticated collection of art that has been loaned or donated by the area's affluent residents. Enjoy works from Marc Chagall, Pablo Picasso, Andy Warhol, and Ansel Adams. With over 150,000 square feet, you will get lost in this extraordinary culture-filled museum. Take a break and dine at the café, and don't forget to take home a souvenir from the store!
Back to Nature
With plenty of hiking trails and gorgeous canyons, you will never have a dull day in the springs. Perfect for outdoor enthusiasts, you will find trails of all difficulty levels. Get out and enjoy the sun while you take in the breathtaking views of the desert wonders such as mountain vistas, waterfalls, and beautiful rock formations. For a complete list of all Palm Springs hiking trails, visit http://www.hiking-in-ps.com/palm-springs-hiking-trails/.
The Living Desert
The perfect outing for the kids, visit The Living Desert! Housing over 450 wild animals that are natural inhabitants to the desert, this exciting zoo and botanical gardens is a great way to spend your day. Representing animals from Africa and North America, enjoy over 1,200 acres of animals, fun shows, hiking trails, and the botanical gardens. You might catch sights of African Sea Turtles and the Amur Leopard - your kids will definitely have an unforgettable experience at The Living Desert!
Palm Springs Air Museum
Visit the home to one of the world's largest collections of flyable World War II airplanes! Housing a plethora of historic artifacts of America, take a tour of the 27 Warbirds and test your flight skills on the flight simulator. The museum was named one of the top 14 aviation museums in the world by CNN Travel and you will learn about it from one of the docents, many of who actually flew the planes or served on the ships.
Stay with Exotic Estates
Welcome to desert luxury at Villa Bel Air Palm Desert. This Palm Springs vacation home features four bedrooms and four bathrooms with 4,600 square feet of living space. With the ability to accommodate ten people, this desert villa is perfect for your next getaway with family or friends.
Enjoy the sunny days while you cool off in your own private pool and hot tub. Guests can relax and enjoy the covered backyard and patio when the sun is high. Also, offering a fully equipped kitchen and outdoor BBQ, you and your guests can enjoy a fresh home-cooked meal as you dine alfresco on the terrace.
The master suite features a king-size bed and large walk in closet with direct access to the patio. Wake up and enjoy your morning coffee while you take in the fresh desert air!
A golfer's paradise, this villa is close to over 100 courses. Guests are also close to shopping, dining, and other activities! Come relax and experience the elegance of Villa Bel Air Palm Desert!