The Big Island Beckons
Back

On our recent trip to inspect our Hawaiian Vacation Villas, we had the opportunity to explore the Big Island while inspecting our collection of Big Island luxury homes.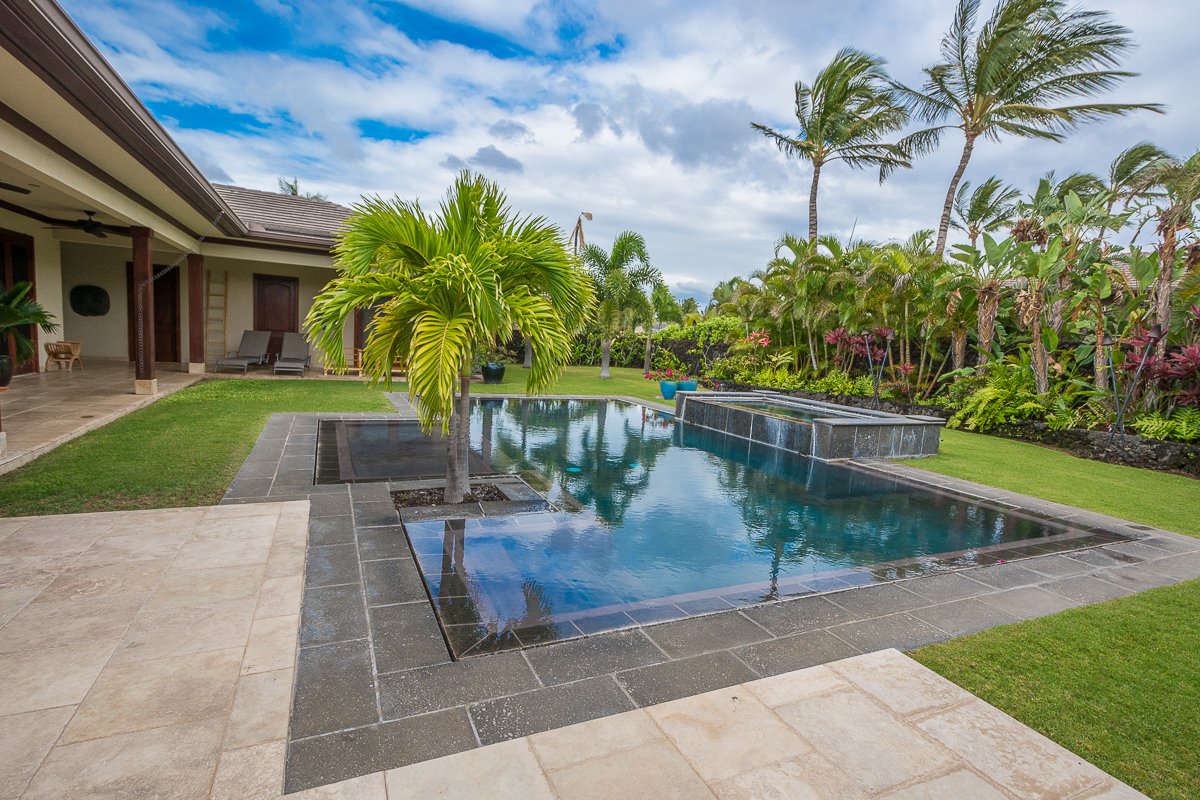 As soon as you arrive on the Big Island, you can immediately feel the "Mana," or energy of the island. Although this is the biggest Hawaiian island it is also the youngest. Remarkable for more than just its size, the Big Island also features one of the most active volcanoes in the world, beautiful black-sand beaches, world-class snorkeling and scuba diving, and many more adventures!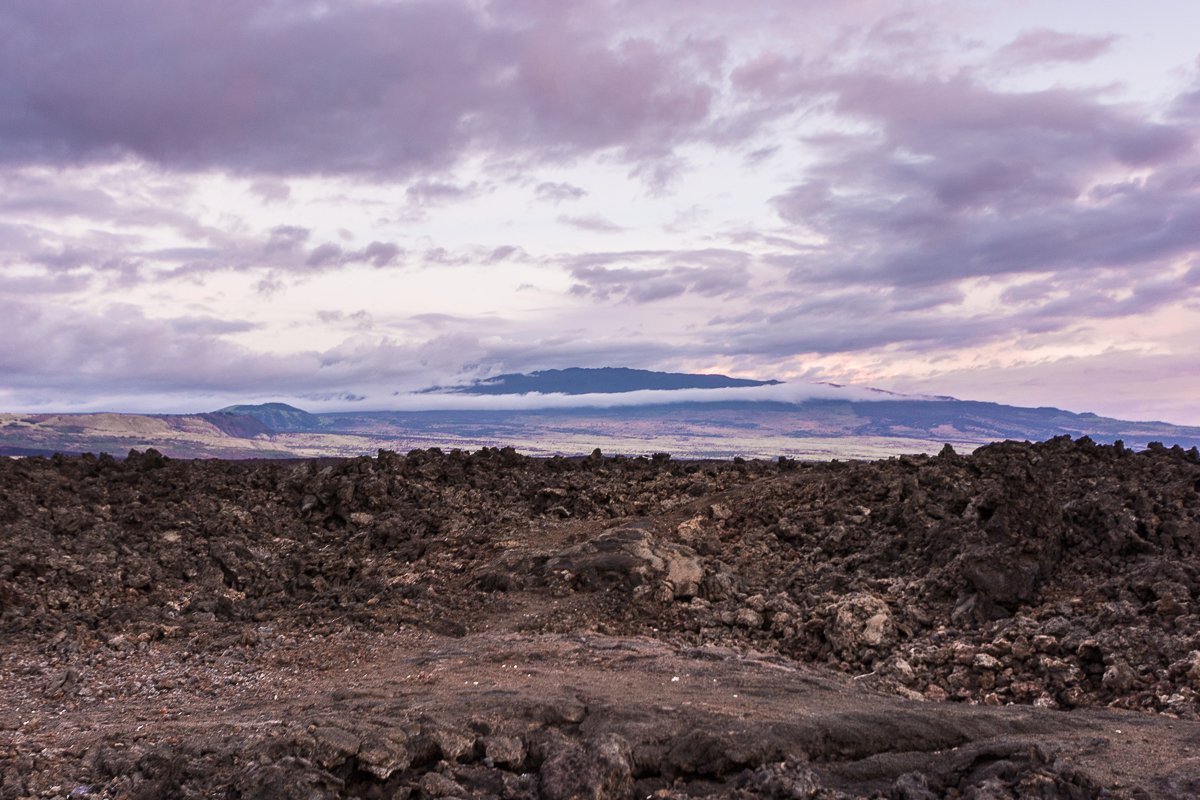 The diverse terrain of the Big Island comes from being born of fire. Here, you will find the high mountains of Mauna Kea, Mauna Loa, Hualalai, Kohala, and Kilauea. Mauna Loa, which encompasses over half of the island, is the largest shield volcano on earth. The entire island is about the same size of Connecticut, spanning about 4,050 square miles (and still growing from volcanic activity).
Perhaps still not as popular as Oahu or Maui, the Big Island is not to be missed! The island is truly immense and diverse, boasting lush tropical landscapes, a western plain-like central plateau that is home to one of the largest cattle ranches in America, rugged otherworldy lava fields, and a massive umbrella of blue sky that encompasses it all!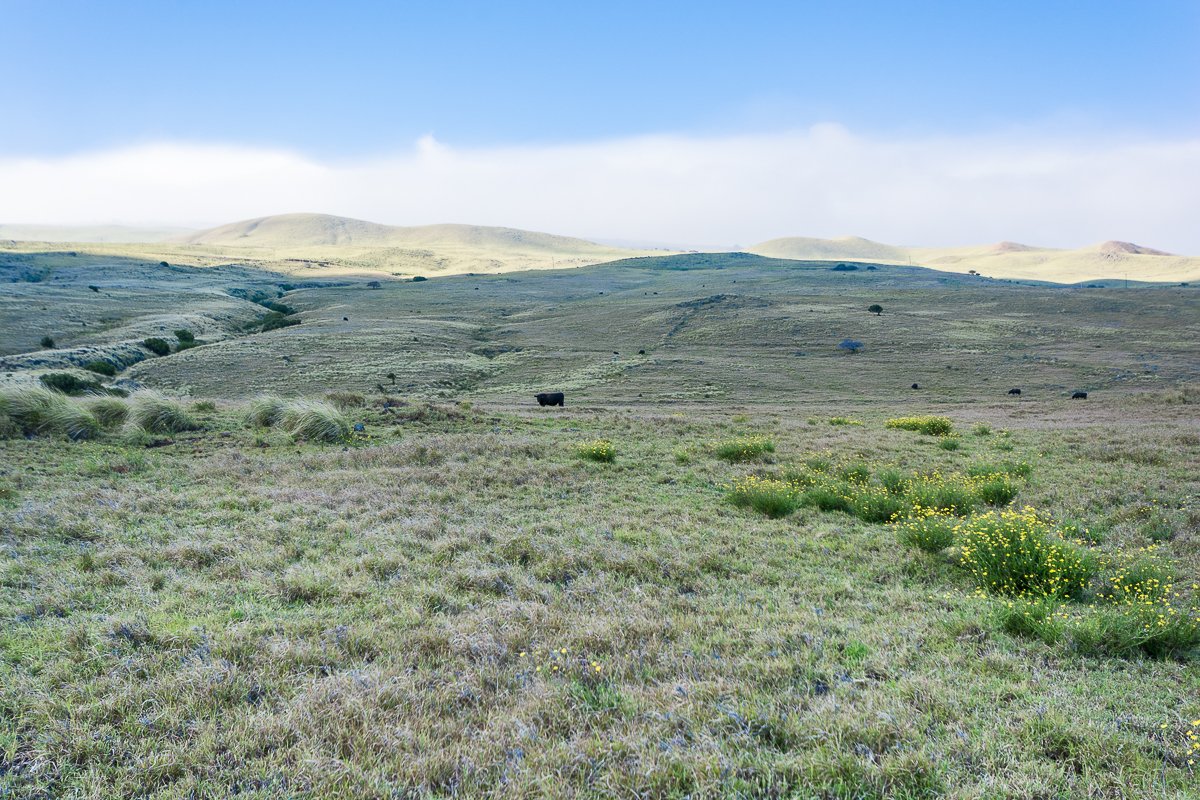 Our ultimate goal is to serve as a valued consultant in your quest for the best vacation home for your group and budget. To achieve this, we inspect our inventory on a regular basis to stay familiar with our luxury villas and ensure that our homes will offer a relaxing and comfortable getaway for you and your group! Take a tour of our gorgeous Big Island Villas and learn why this beautiful island should be on your must-see list.
Arriving in the Big Island
Arriving at Kailua-Kona Airport on the Big Island is a quintissentially Hawaiian experience, with an outdoor airport set in the lava fields and planes that are met by stairs, old-school style. Because the airport is so small, it is easy to find your way to your rental car by means of a shuttle.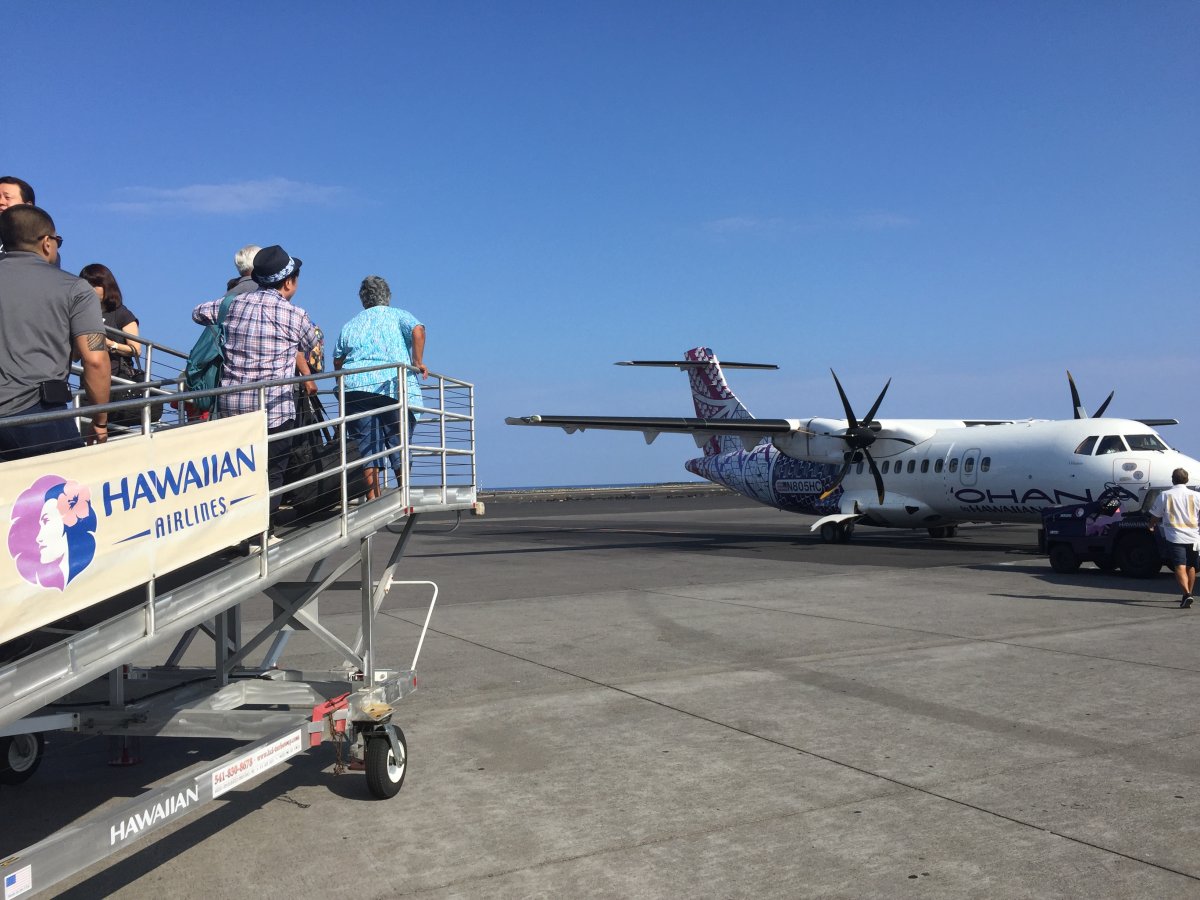 While the airport may be small, it is still well-serviced by many US carriers, including nonstop service from the US West coast by Alaska, American, Delta, Hawaiian and United. Connections to Kailua-Kona are available from Honolulu and Maui by way of Hawaiian Airlines.
As you prepare to land in Kailia-Kona, be sure to look out of the window to view the vast landscape of old and new lava. Quite a different scene than the green neighboring islands!
For those lucky guests who will be staying at an Exotic Estates Big Island vacation villa, before heading to your home, we suggest making a quick stop at the Costco in Kona to stock up on a few items. Be sure to grab some fresh local fruit and a bottle of wine for stargazing while in the hot tub; the skies put on an amazing display on the Big Island, home to the Keck Telescope.
The Kohala Coast, stretching north of Kona, is dotted with well-planned resort communities. The development began with the Mauna Kea Resort and Mauna Kea Beach Hotel – still a great hotel offering one of the best swimming beaches in Hawaii. Interestingly, the hotel has a blue-blood pedigree, having been founded by the Laurance S. Rockefeller Company; we are told he scoured the Hawaiian Islands by helicopter until he found the perfect spot for his hotel!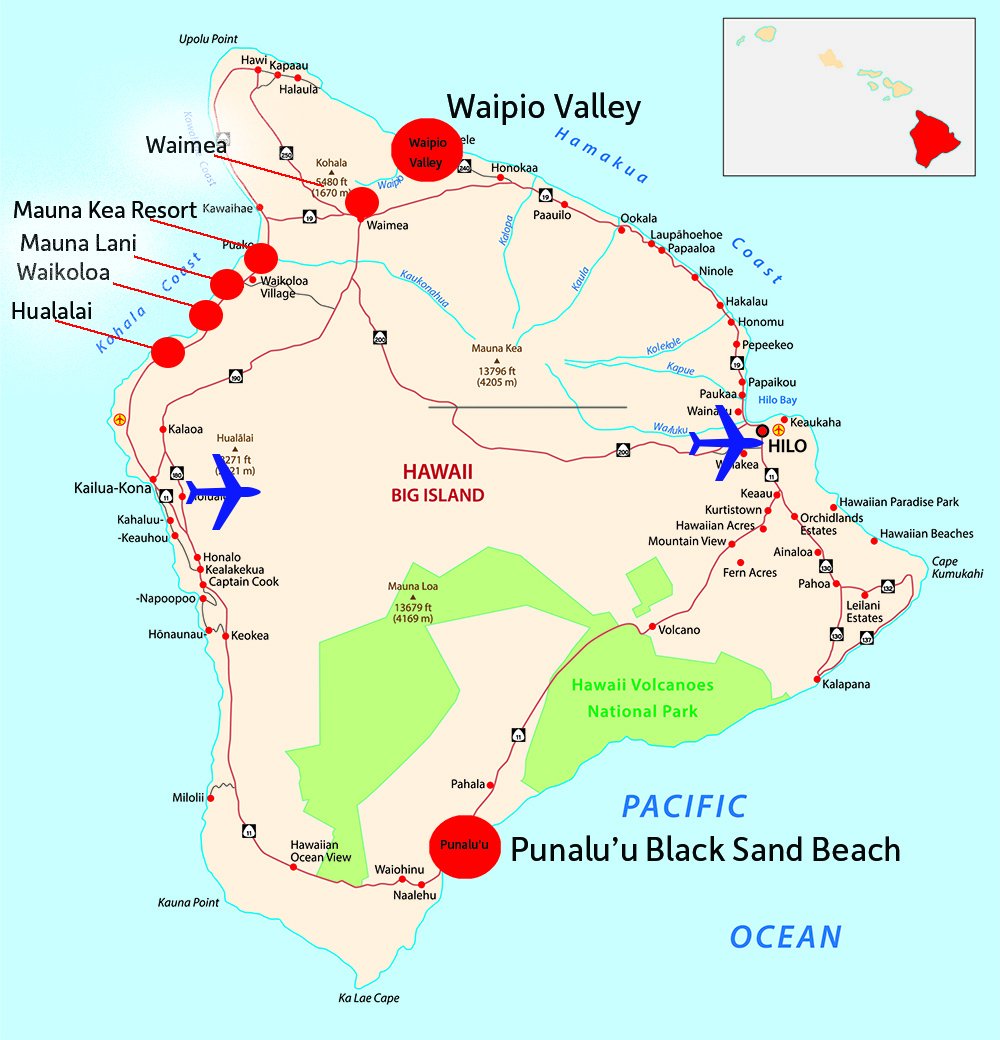 As you start your journey along the west coast of the Big Island, notice the gorgeous scenery and space that surrounds you. On clear days or early in the morning, you may catch a glimpse of the towering Mauna Kea or Mauna Loa. As you drive through, you are truly immersed in a landscape unlike any other in the United States. From lava deserts to warm beaches to cooler highlands, the island offers striking and diverse views. You will certainly be adding the Big Island to your list of favorite vacation spots!
Exotic Estates Big Island Villas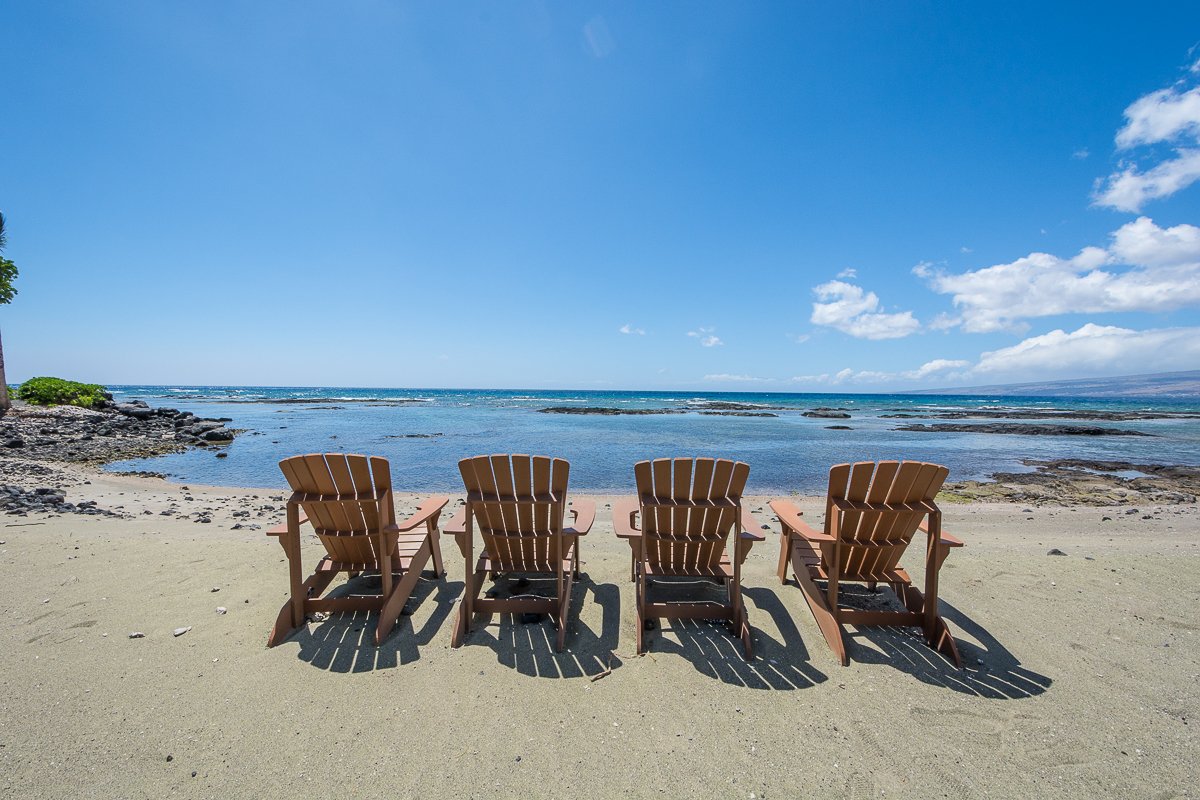 From Kailua to Waimea, many of our Big Island Villas are located on championship golf courses and offer stunning ocean and fairway views. They also feature gorgeous private pools and Jacuzzis, en-suite bathrooms, gourmet kitchens, and beautiful lava-rock outdoor showers. With so many high-quality villas providing a luxury experience in such a unique and historic location, the Big Island beckons!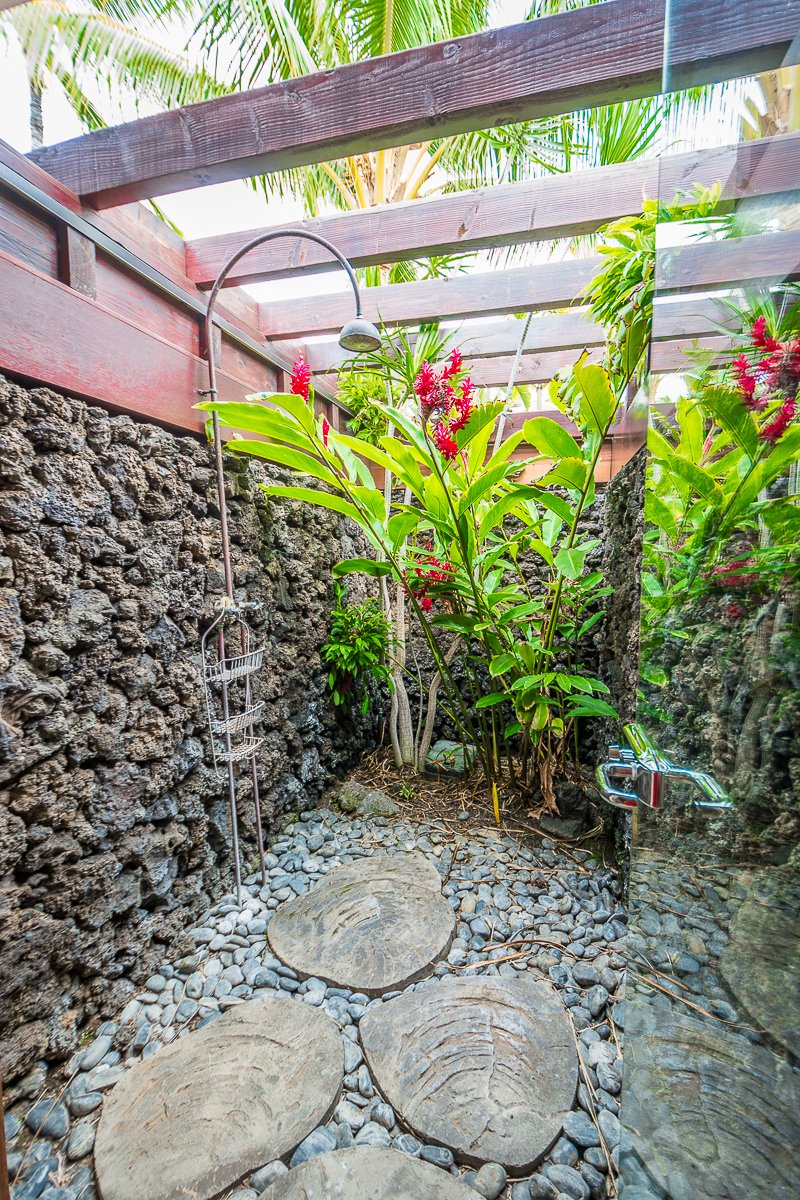 Whether you need three bedrooms or six, you are sure to find the perfect villa in our collection to fit your needs. From a couples retreat to a multi-generational family getaway, the Big Island has something wonderful to offer everyone!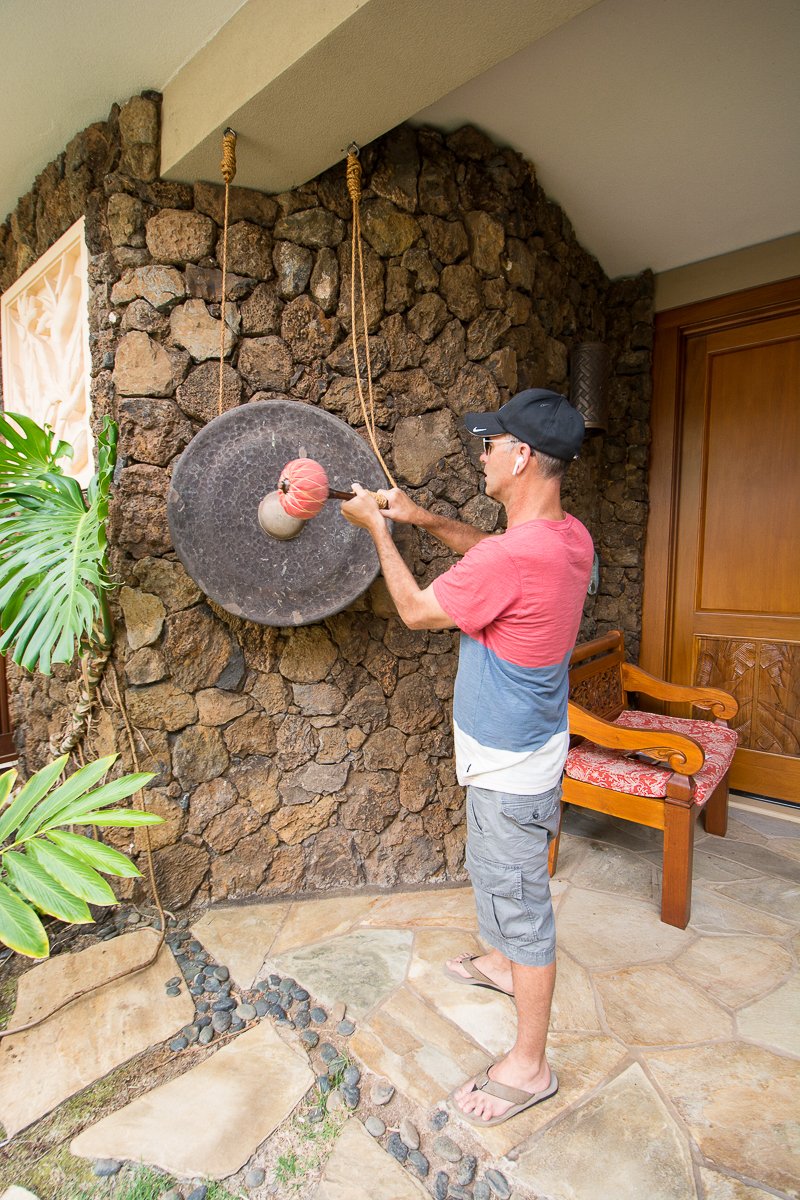 Kailua-Kona
Located only minutes south of Kona International Airport, Historic Kailua Village (also referred to as Kailua-Kona) is a gorgeous coastal town in the heart of the sunny Kona Coast. Those who would like to stay in this area can enjoy a stay a Kona Sunset Villa, offering three bedrooms and a luxurious private pool area.
Hualalai Resort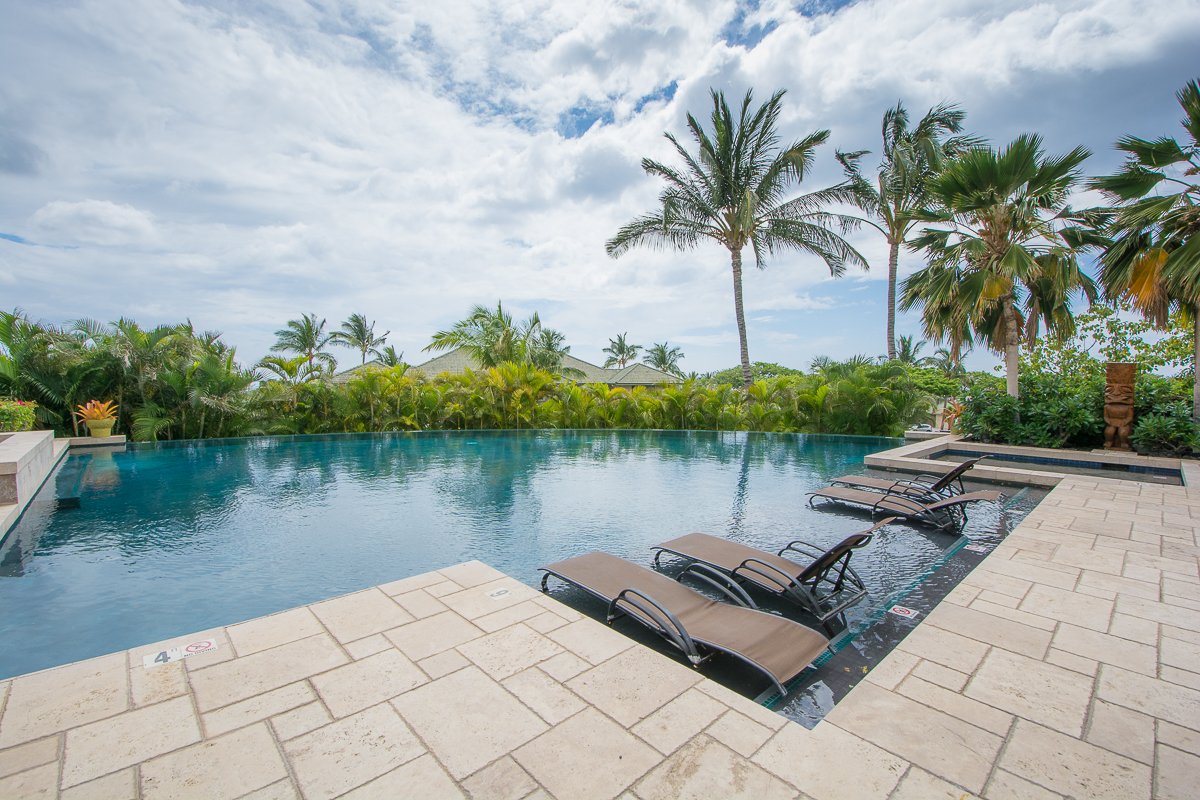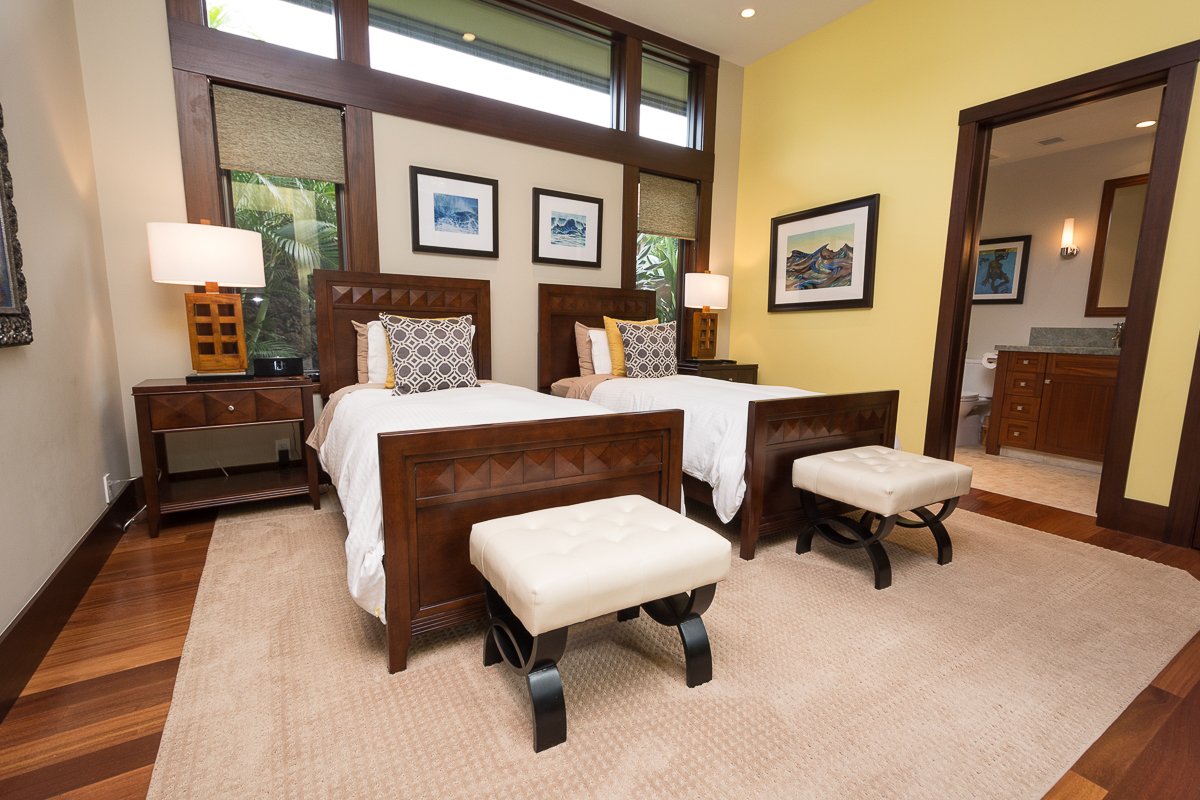 Hualalai Resort is world-famous for exclusivity and charm. The vacation homes here offer the privacy of a villa with a convenience of a resort. These goregoues villas are usually only short golf cart ride from the Hualalai Resorts Sports Club & Spa, the Golf Club and restaurants. Guests enjoy access to the Four Seasons Resort with a fee.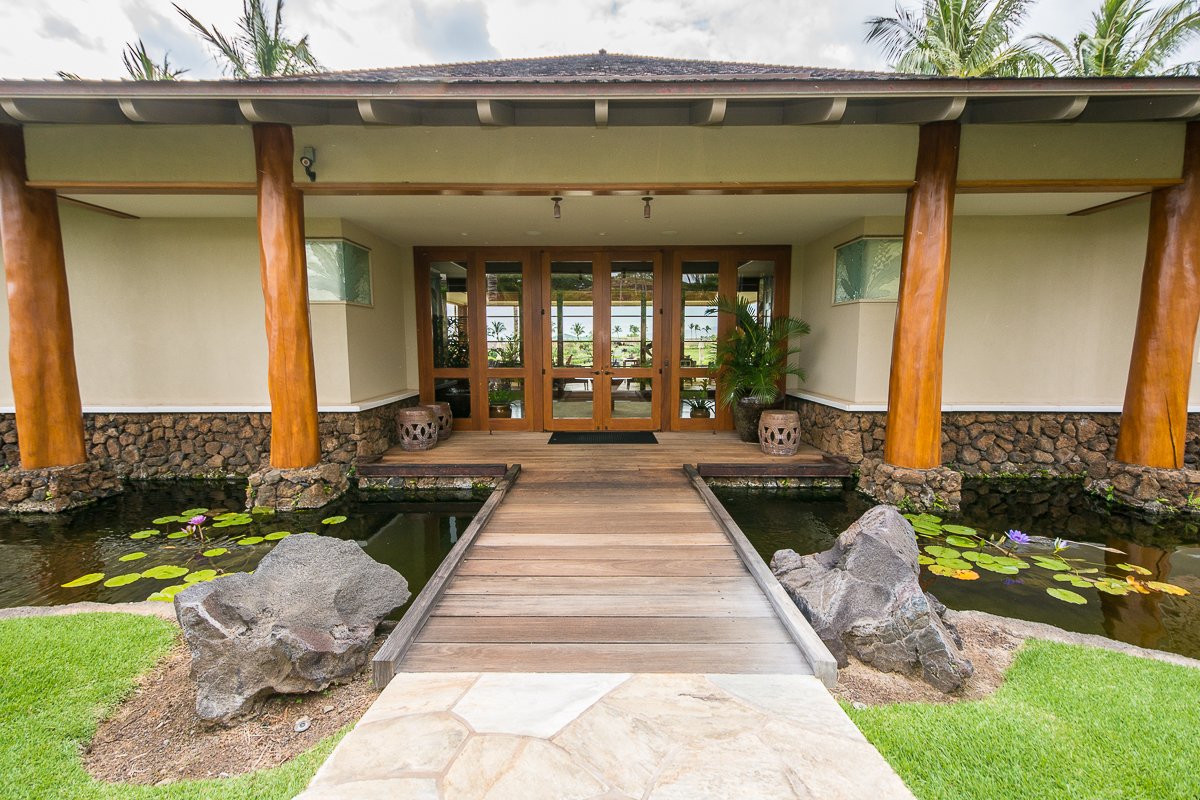 Here are just a few of the fabulous homes we inspected at the Hualalai Resort!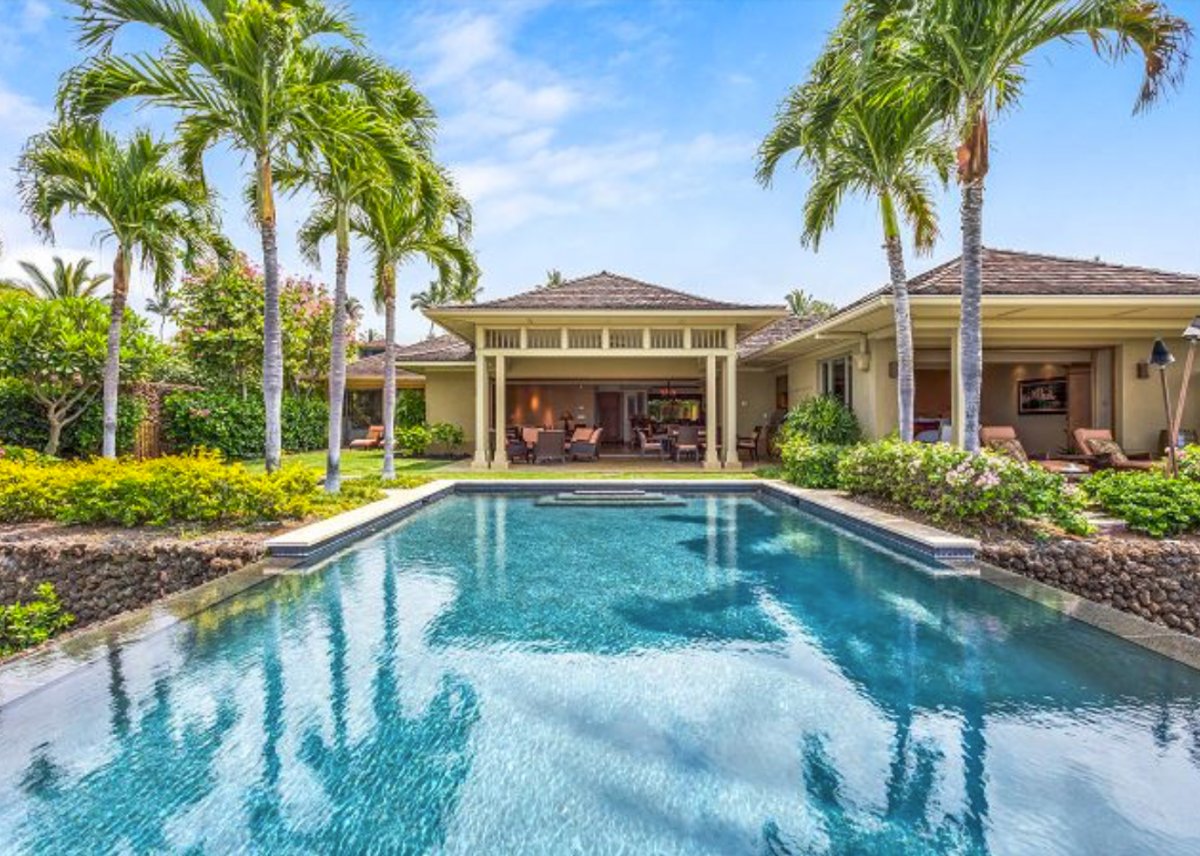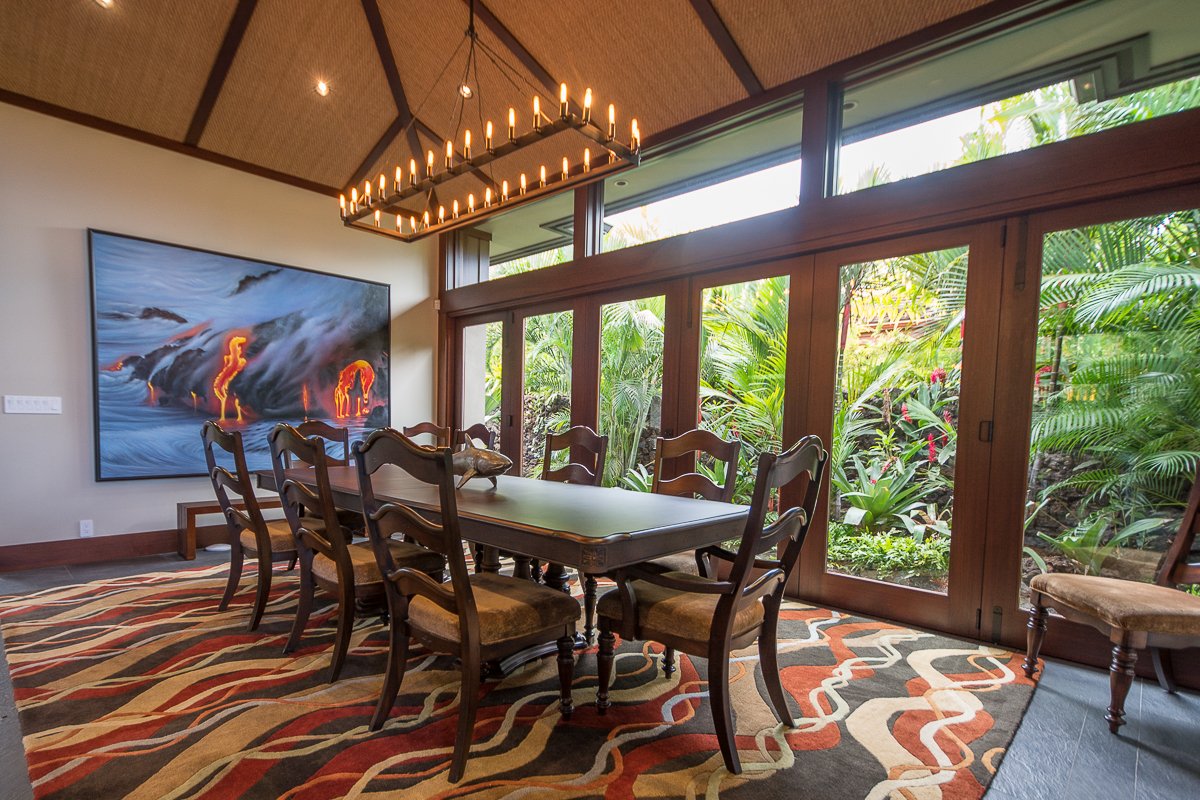 Waikoloa
Further north you will find Waikoloa Resort, which is where the Hilton and Marriot hotels are located. In this resort you will find two championship golf courses, golden sand beaches, and the Hapuna Beach State Recreation Park.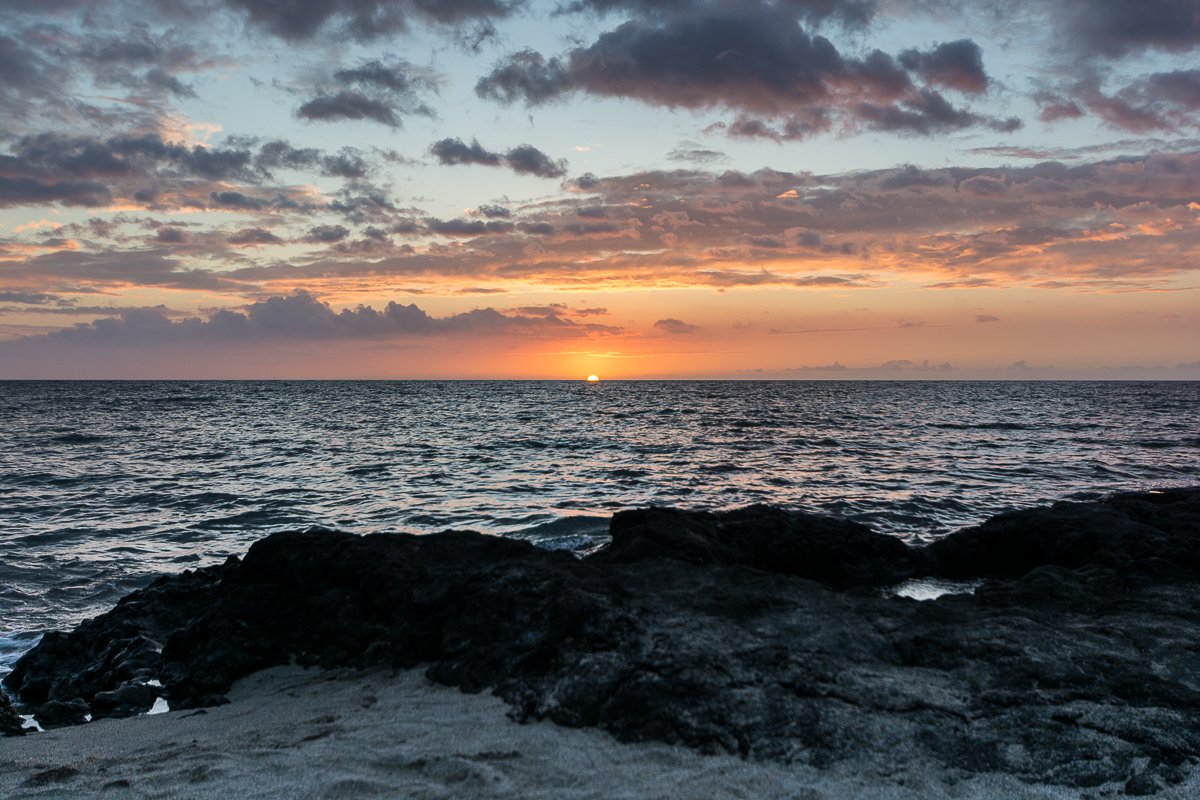 Our favorite in this area is the Reef Walk Oceanfront Villa, which can accommodate up to 8 guests and features gorgeous blue floors and a ceiling that resembles the clouds. The elegant finishing will amaze, as well as the unique theme assigned to each bedroom.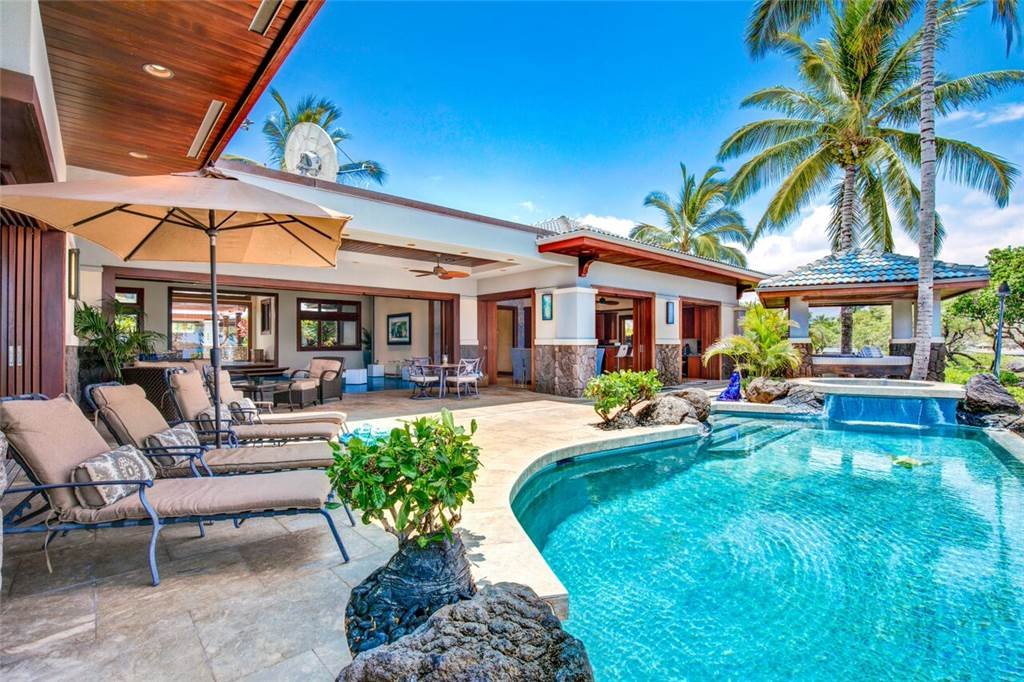 The master suite is a private retreat that boasts a gorgeous ocean view and features an indoor hot tub. With receding doors that open fully to a private outdoor garden, you can enjoy your tropical environment in the outdoor lava-rock shower!
Puako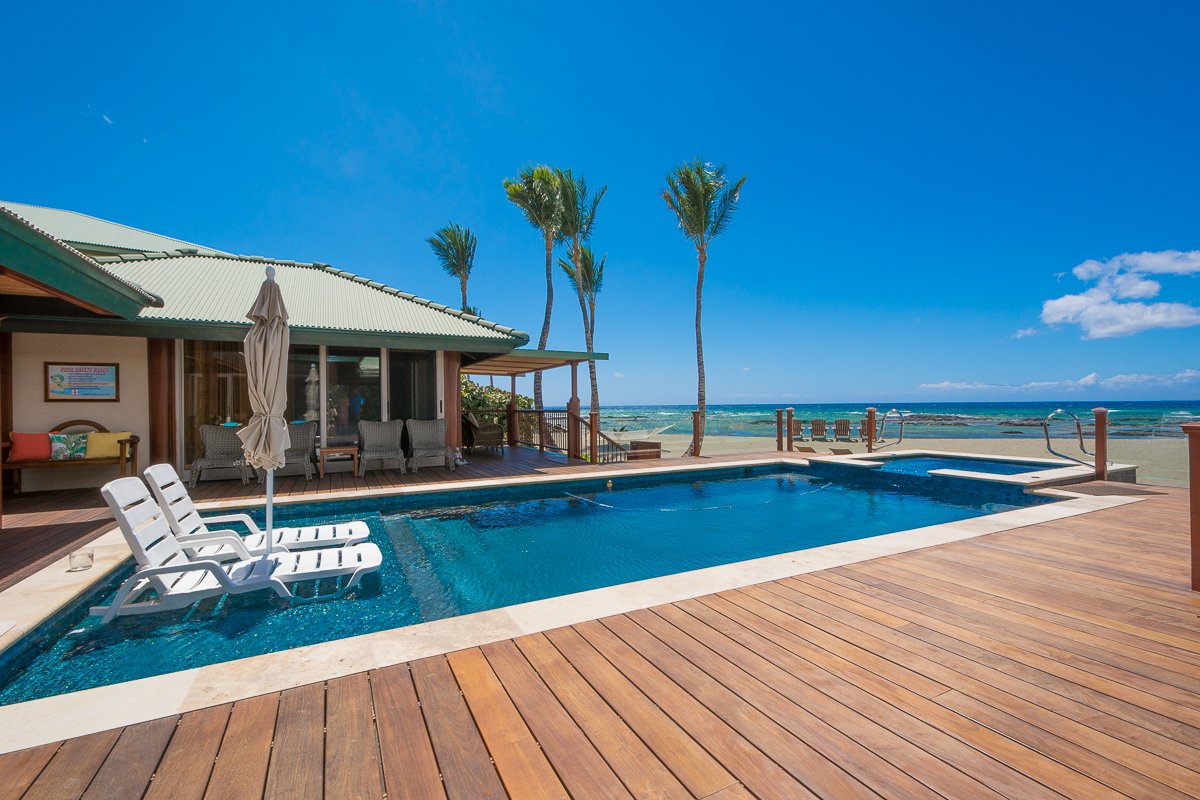 As we continued along the coast, we had to opportunity to inspect a true gem, The Puako Hylton which sits beachfront and offers 4 luxurious bedrooms and has the ability to accommodate 10 people.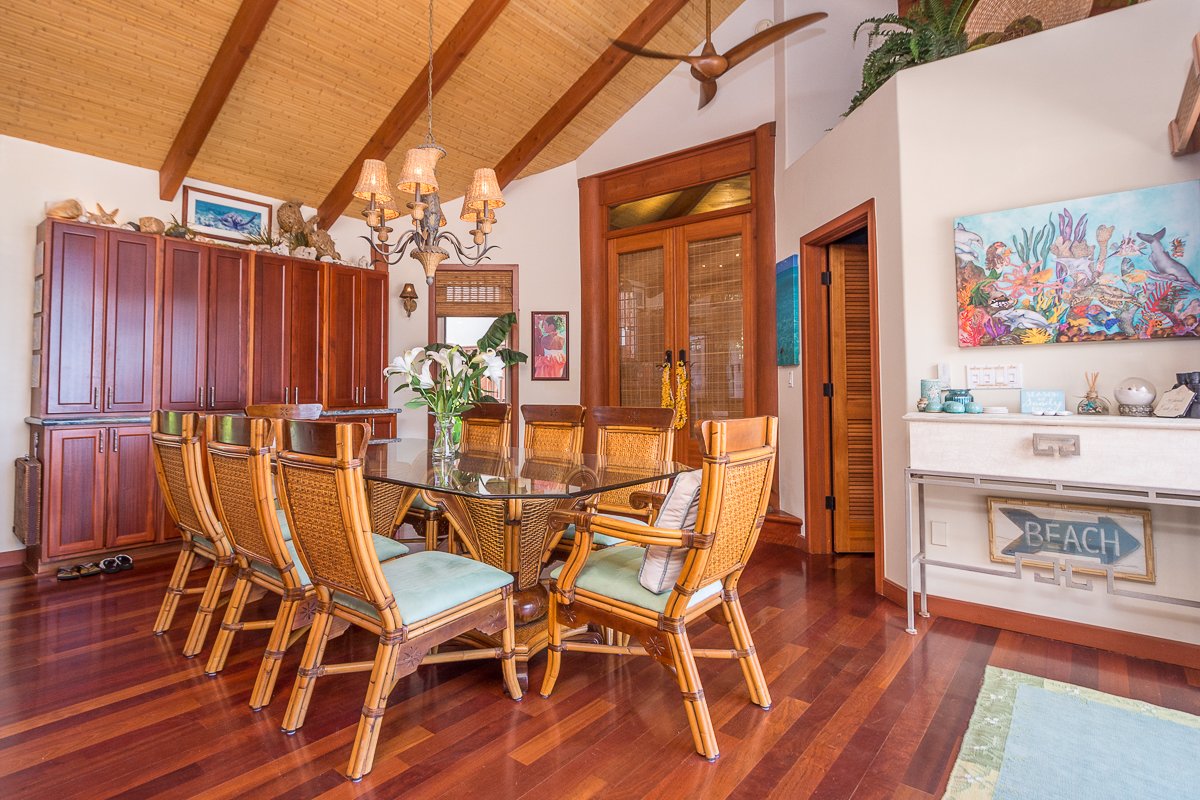 This stunning Big Island vacation rental is situated in one of the island's oceanfront communities on the sunny Kohala Coast. Designed in an exotic Balinese-style, you will feel immersed in tropical luxury at The Puako Hylton Beach Villa. This home is the ultimate in idyllic Hawaiian vacation escapes. Its unique design offering both privacy and ample common living areas, as well as its ocean front location, makes it favorite for all groups!
Mauna Kea Resort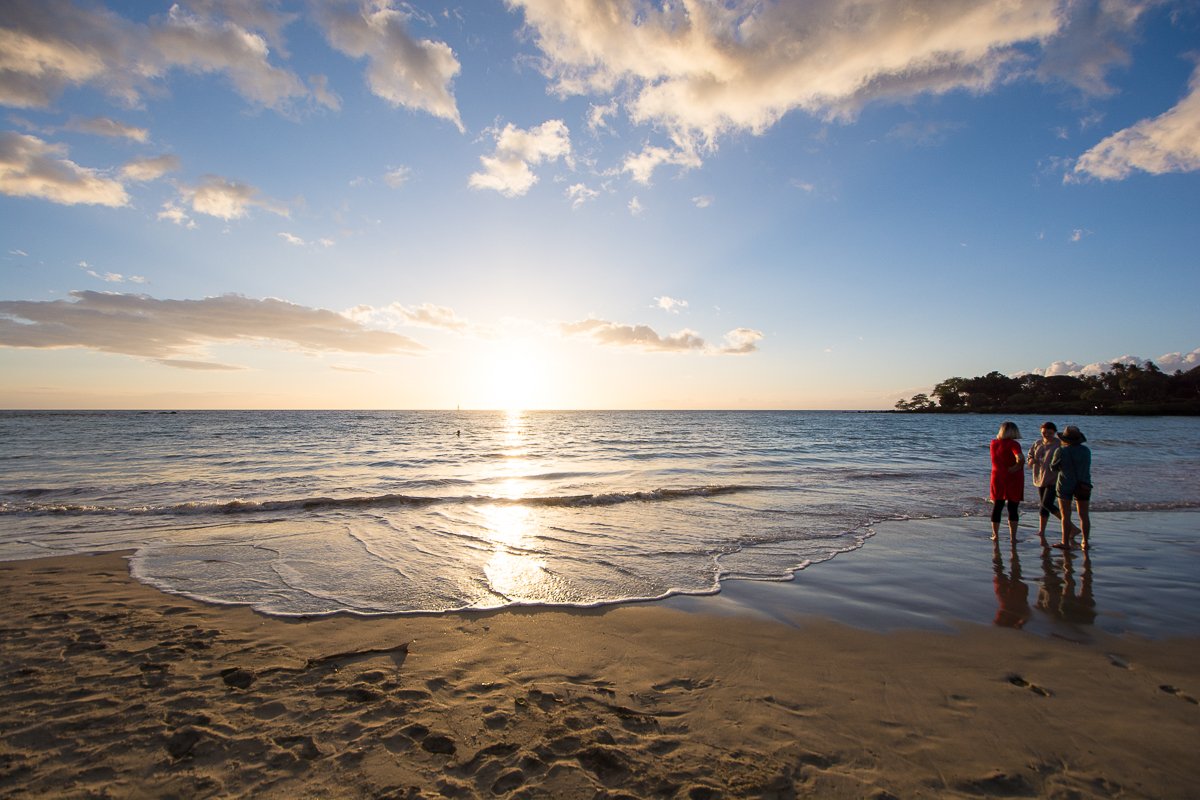 This beautiful resort community gets its namesake from the tallest mountain in Hawaii. The resort offers luxury villas in a prime location along the Kohala Coast while embracing the natural beauty of the Hawaiian Islands.
The Mauna Kea Beach hotel was one of the first to feature a now classic open design that allows breezes to flow freely through the structure. However, as nice as the hotel is, the amazing vacation homes that surround it are the real draw for our clients and people in the know!
Some of our favorites in this resort area are Mauna Kea Mid Century Villa, Mauna Kea Titleist Villa, and Mauna Kea Resort Villa.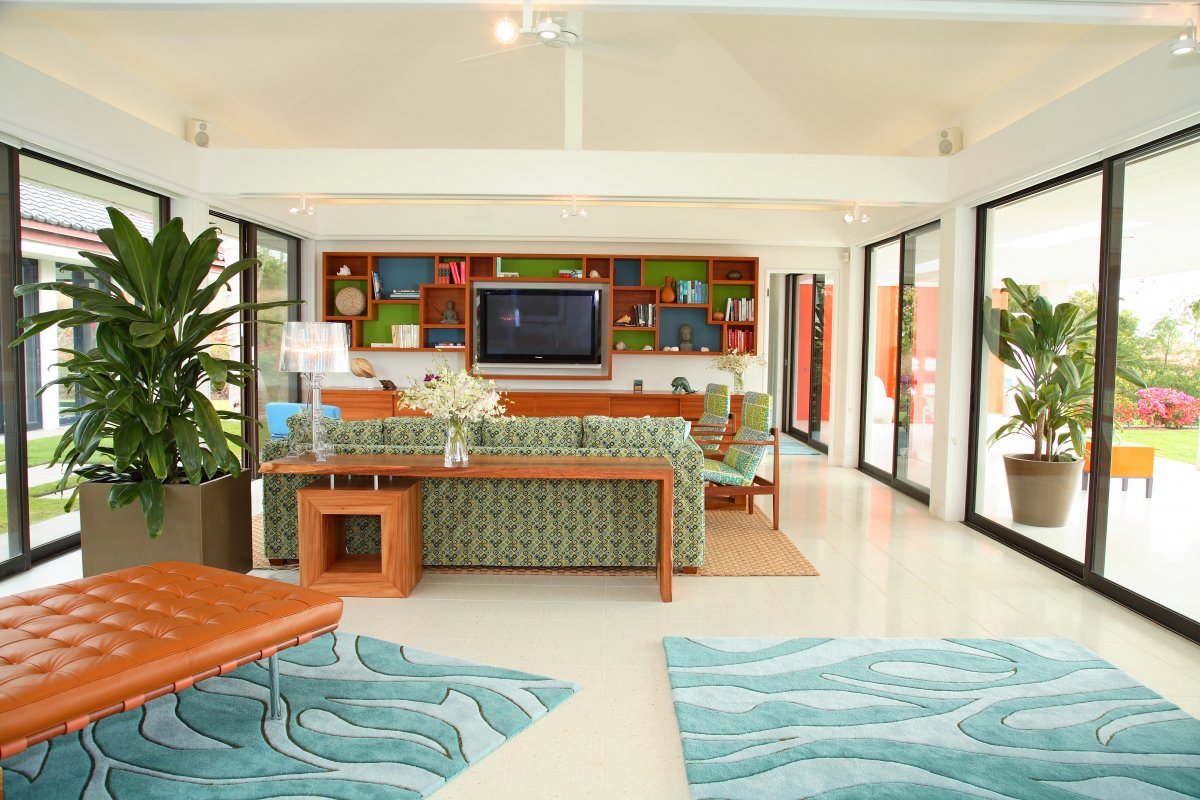 Many families have been renting Mauna Kea villas for years, because the area is gated, well-maintained, offers peace and quiet, exceptional golfing and beach access - and relative value versus the other islands. The area is in higher demand today, but, for now, you can still find first-class vacation homes at a lower price point than Maui and Oahu.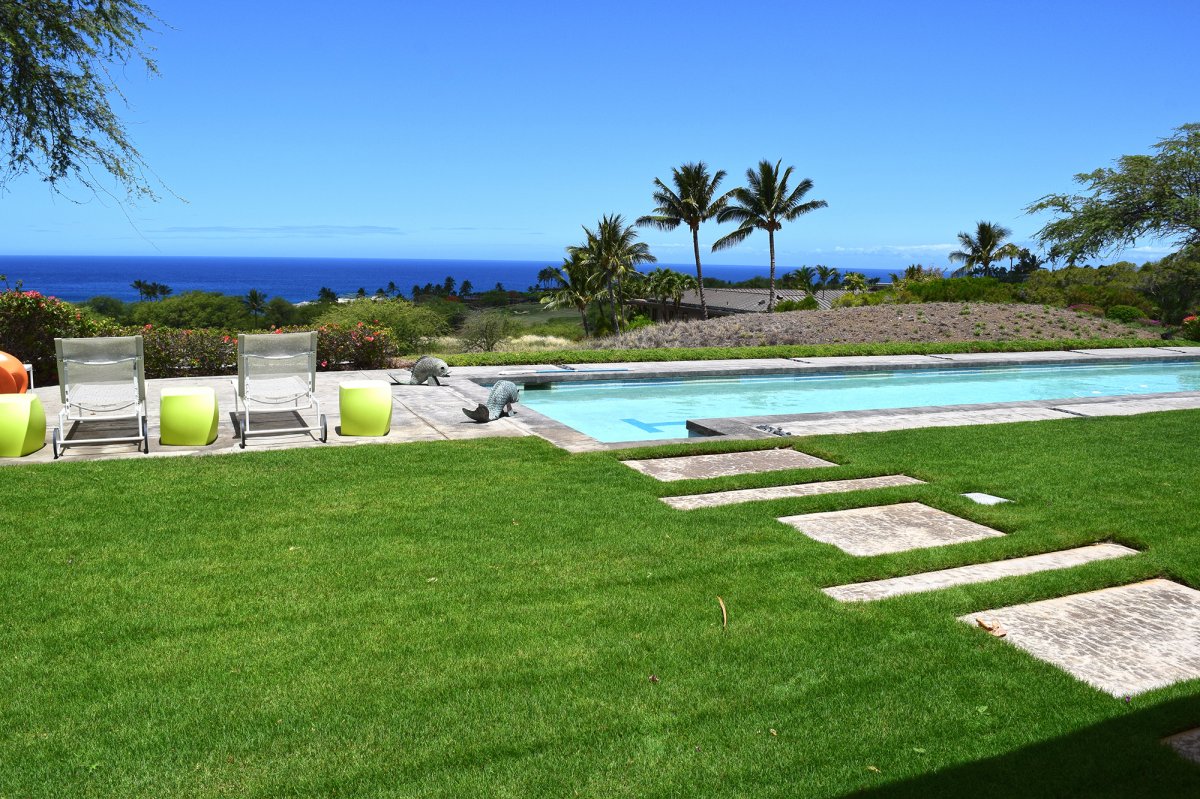 One of the best parts about staying in a vacation home on the Mauna Kea Resort, or its sister property, the Hapuna Resort, is that guests get access to the incredible, fully serviced beach at the Mauna Kea Beach Hotel, as well as the pool, for just $65 a day. This is a no-brainer considering the incredible facilities and amazing beach, which is ideal for swimming due to its sandy bottom, a plus on the rugged and coral-heavy Kohala Coast.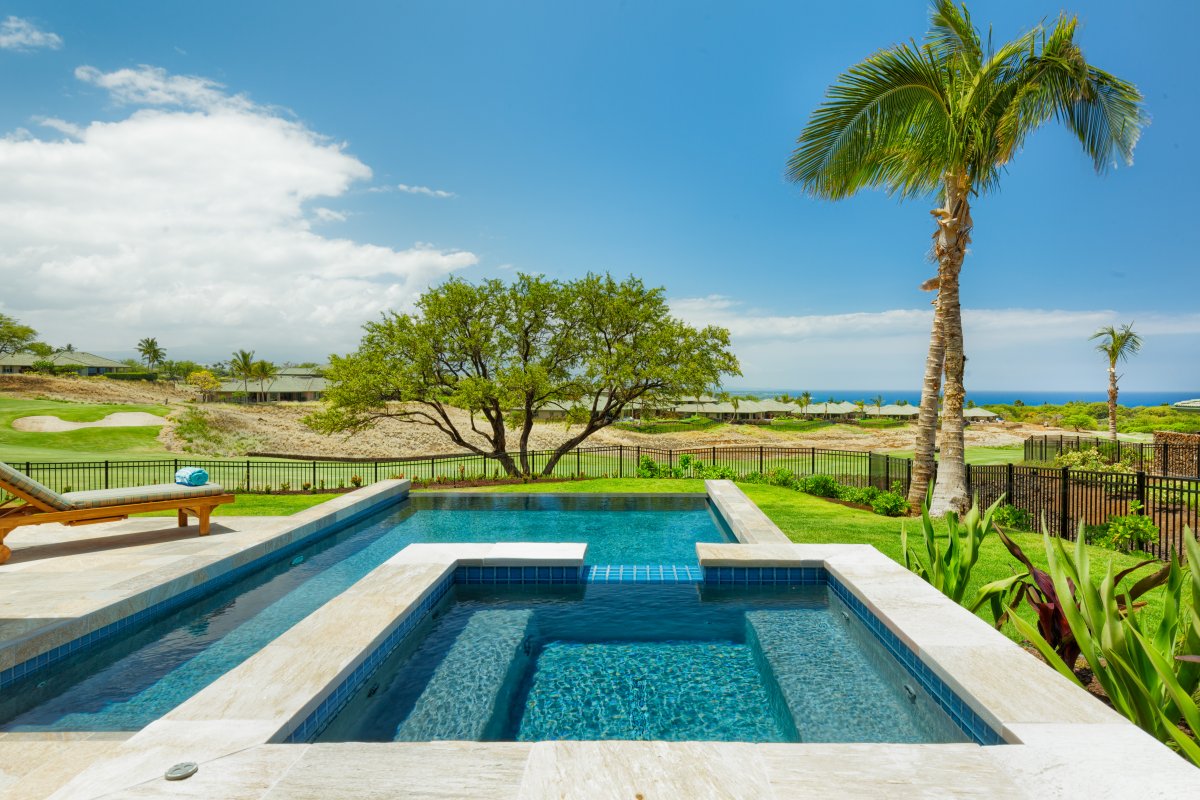 The beach is accessible to the public, but on busy days access is limited and having a resort pass will ensure that you have a place in the sand! Also, like many of the resort areas along the Kohala Coast, there are excellent golf courses to be enjoyed here, and many of the homes look out onto the greens and fairways.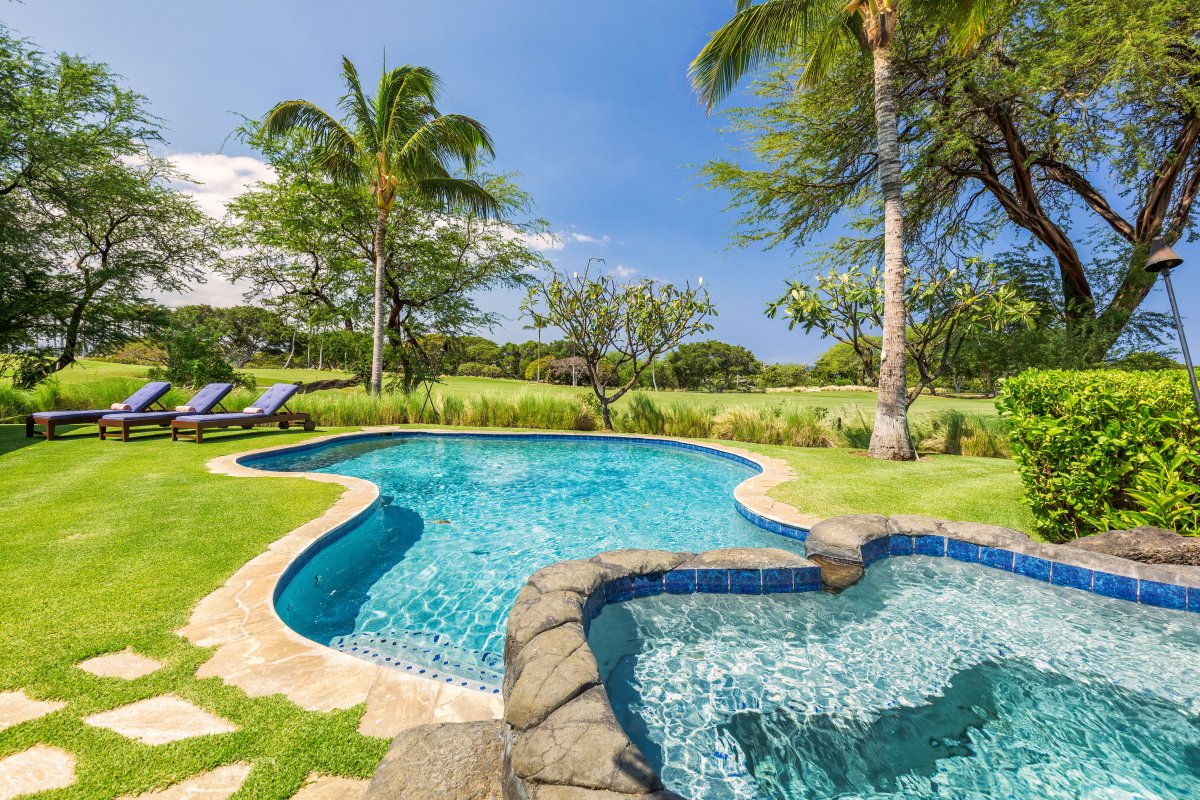 Thank you for taking our tour with us! Be the first to view our new Big Island video and see how Exotic Estates is working hard to make your vacation dreams come true. See you in Hawaii!
Written by Shanon Searls
Blog Subjects: Big Island, Hawaii