Oahu Villa Renters - Making the Most Out of Waikiki
Back

By John Di Rienzo
Waikiki Beach on the Hawaiian island of Oahu has been luring visitors since the days of the Hawaiian monarchy, when it was a choice surfing spot.
The birth of Waikiki as we know it today, the overseas tourist mecca, started in the late 1800s, when the first hotel was built along the shorefront. Two early hotels are still there in their glory, and they are both still two of the most famous and prestigious hotels on Oahu if not in Hawaii: the Moana Surfrider Hotel (Westin) and the Royal Hawaiian hotel (Luxury Collection).
The Moana hotel is the older of the two hotels, and it has a beautiful, colonial charm, with rocking chairs on its long wooden porches and a great bar under an old banyan tree on the beach. The Royal Hawaiian hotel boasts a classic art deco look and is sometimes referred to as "The Pink Palace."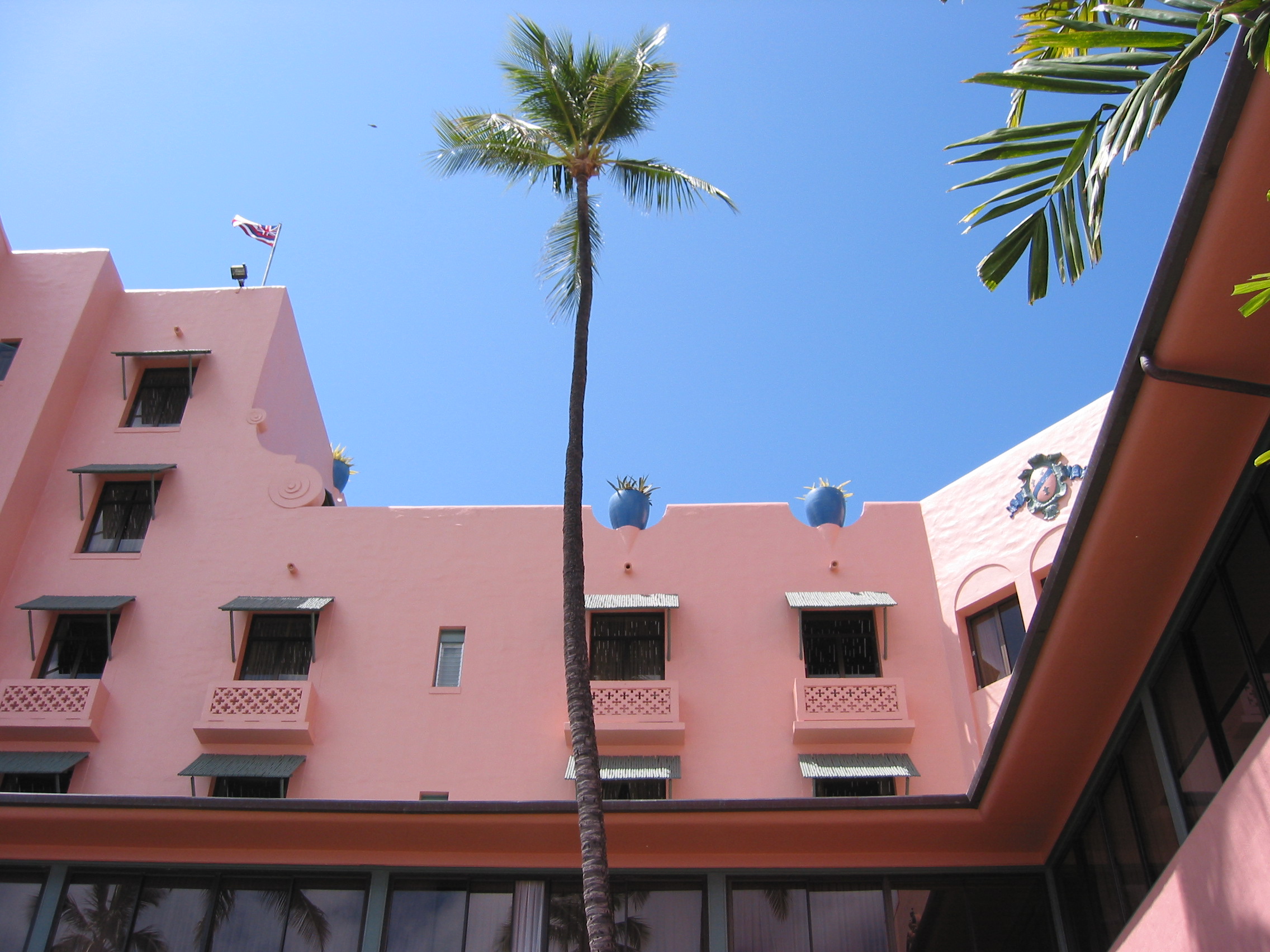 Royal Hawaiian Hotel - by John Di Rienzo
Even though we prefer the comfort and benefits of staying in a home (an Exotic Estates Oahu villa of course), we still love this world-famous beach and hotel corridor for its many charms, old and new. Even the classic hotels help create a mystique and timeless charm, which connects us to the past.
Here are just a few of the ways that vacation home renters, from Kailua to Kahala and beyond, can enjoy this famous stretch of beach.
What Exactly Counts as Waikiki Beach?
When people refer to Waikiki, they are referring to a general area that includes beachfront, city blocks and canal-front land. This area runs roughly from the Ala Wai Canal on the west or downtown Honolulu side, to Kapahulu Avenue on the Diamond Head-side. It is basically the dense stretch of hotels, high-rise and low-rise condos and shops that dominate this part of the City of Honolulu.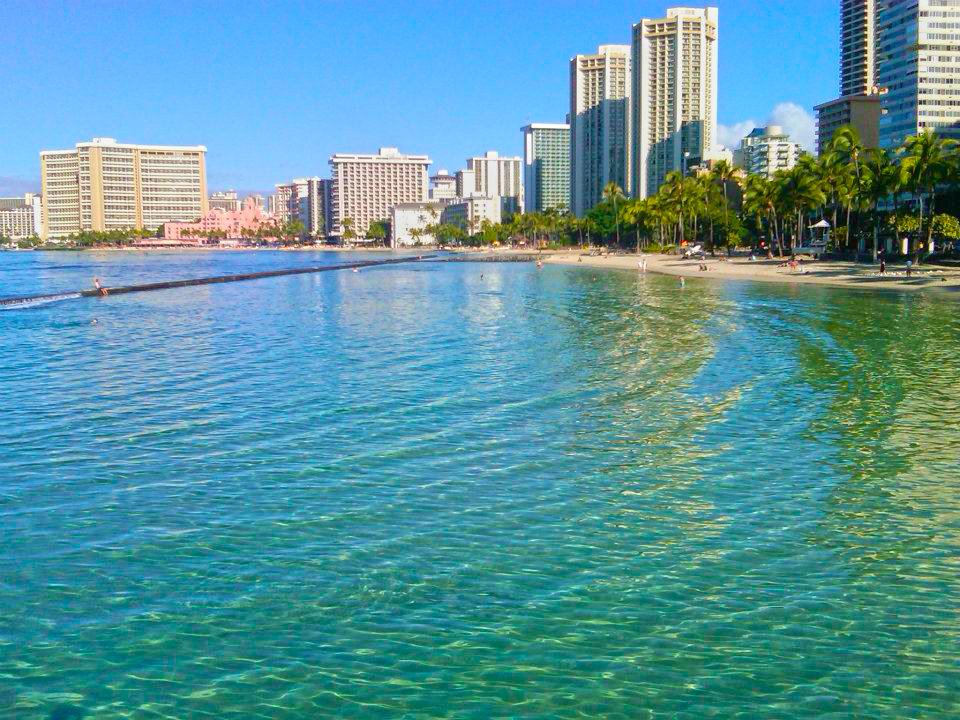 View of Waikiki Beach - by John Di Rienzo
However, for the purpose of this post, we'll also include the area at the foot of Diamond Head in our discussion, because of its proximity. This is the area located on the other side of Honolulu's great Kapiolani Park, which is home to the Honolulu Zoo and hosts weekly art fairs and large festivals.
In terms of feel and nature, the neighborhoods below Diamond Head and the small cluster of hotels that sit on the ocean, are a world away from Waikiki proper, though they are within walking distance or a short Uber ride from all the action. This Diamond Head side of the great sweeping arc that creates the coastline of greater Waikiki is referred to as the Gold Coast, and it is home to million-dollar Exotic Estates Oahu vacation villas.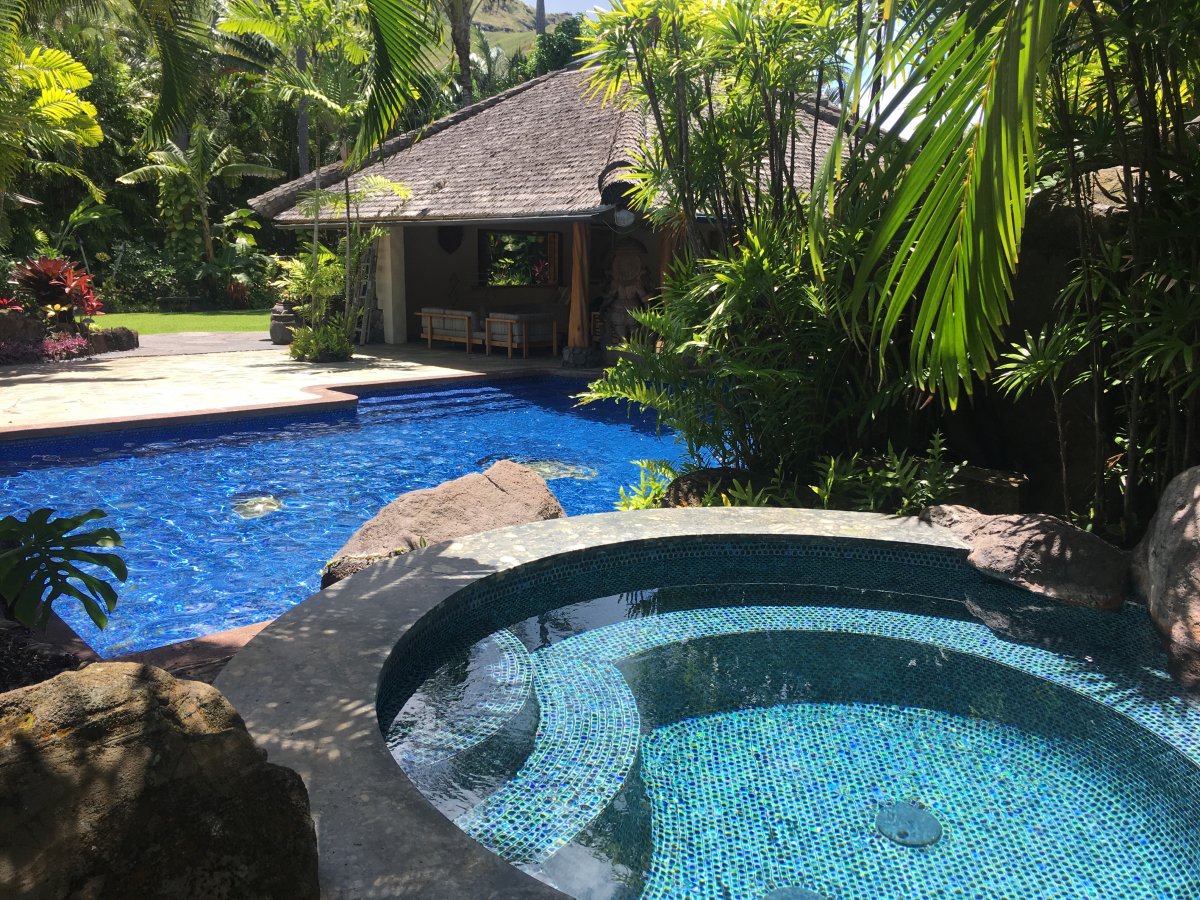 Paul Mitchell Estate - by John Di Rienzo
Waikiki is actually made of up several beaches, with Waikiki referring to the section of beach that runs roughly in front the Royal Hawaiian hotel down to the Moana Hotel. Moving west along the beach, towards Diamond Head, Waikiki Beach proper is followed by Kuhio, Queens and Sans Sauci (or Kaimana) beaches.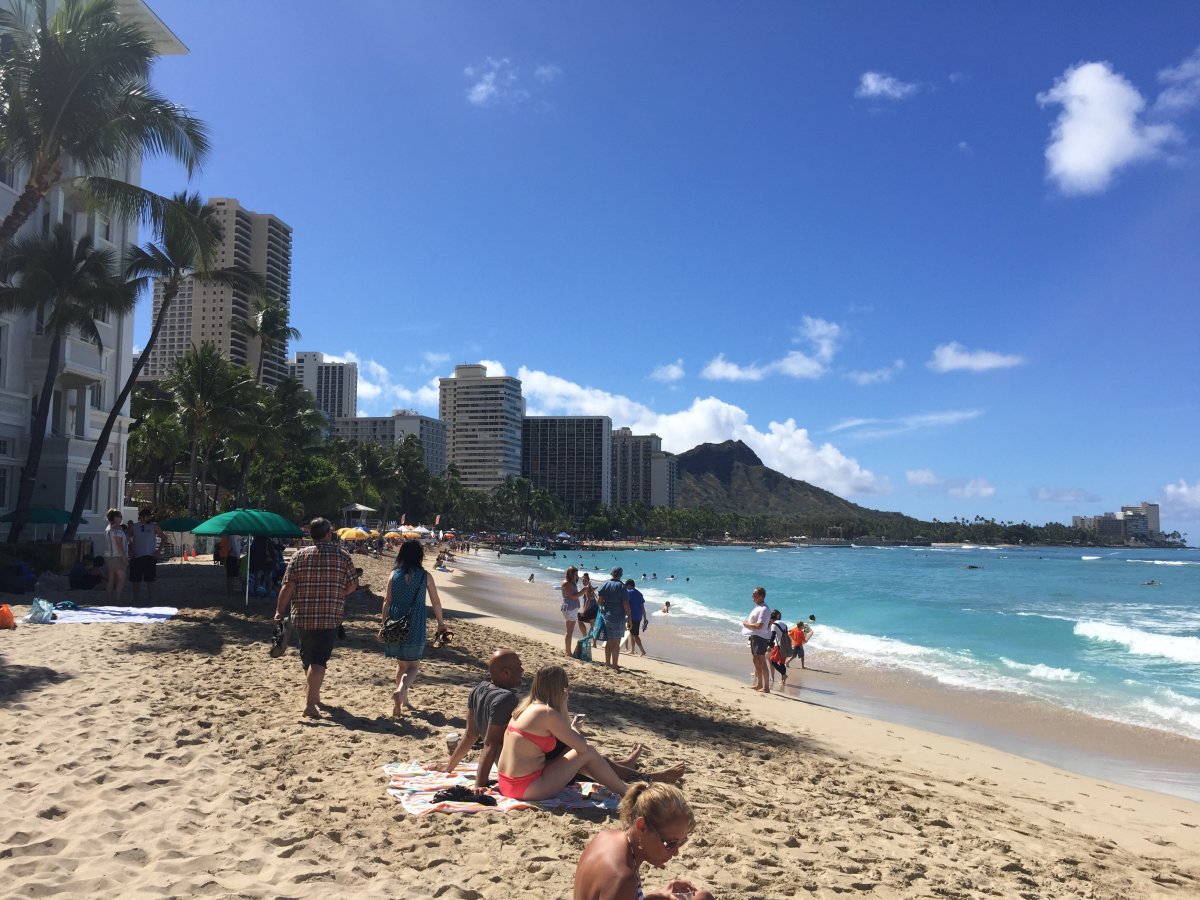 View of Waikiki Beach and Diamond Head - by Shanon Searls
The section of beach in front of the Reef Hotel and elegant Halekulani is Fort DeRussy Beach, and the section furthest west, near the Hilton Hawaiian Village, is Kahanamoku Beach. After that you hit the Ala Wai Canal and then Ala Moana Beach Park.
Renovation of Waikiki – a Manufactured Paradise, in Paradise
Waikiki went through a major civic renovation around 15 years ago that left it with nice stone sidewalks, polished parks and a collection of bronze statues installed to honor figures from Hawaii's history. Included is the statue of Duke Kahanamoku, King Kalakaua and the Queen Kapiolani. The statue of Duke is often decorated with leis and it's a wonderful place to take a snapshot, with the waves that he once rode still rolling in, in the background.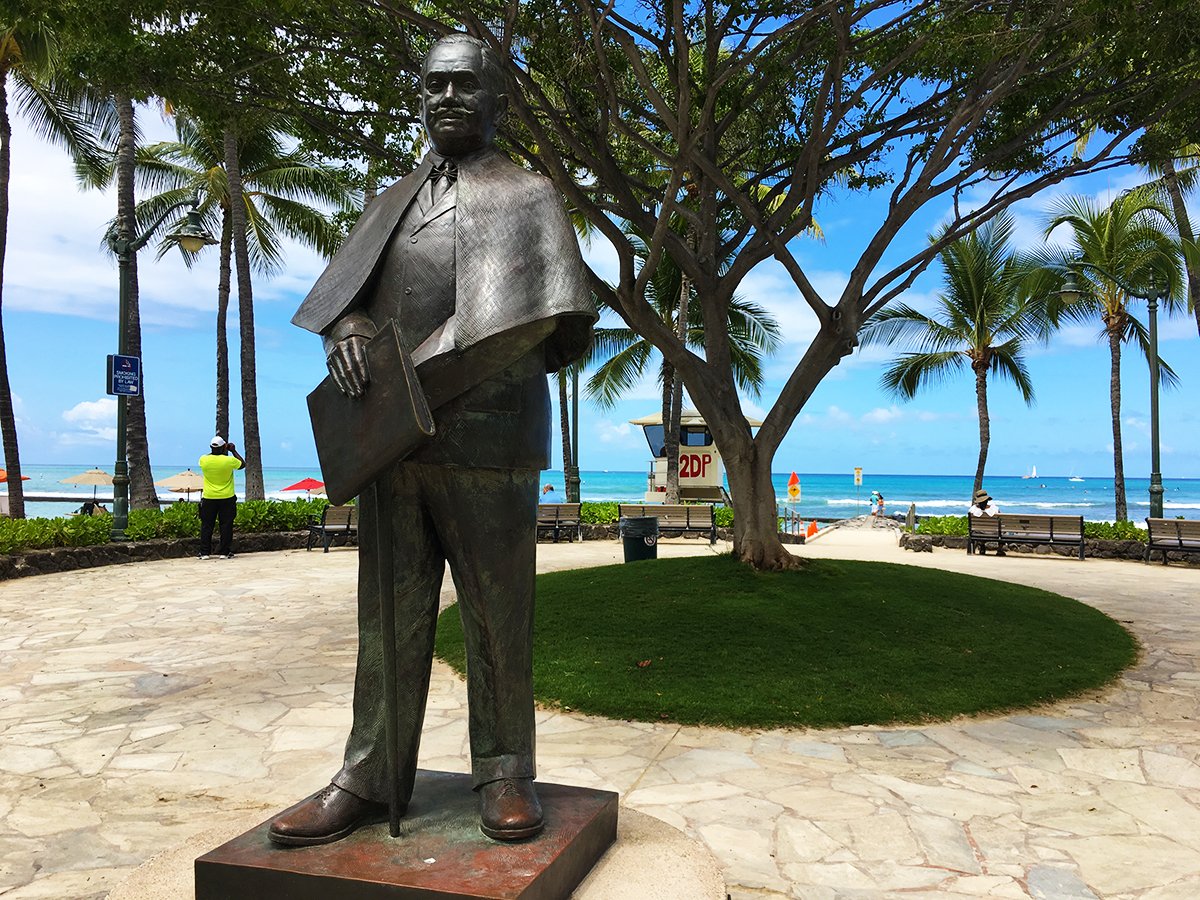 Waikiki Bronze Statue - by John Di Rienzo
There is Hawaii-inspired landscaping right along the beach, which includes stylized fishponds with waterfalls and adds to the manufactured tropical paradise that is both Waikiki's historic charm - or detractor – depending on your mood and perspective.
A lot has been done to create the feeling that you are in a Hawaiian tropical paradise, designed to play upon stereotypical concepts that have shaped Hawaii tourism dreams since its earliest days – as if blue Hawaiian waters, rolling waves, surfers, rainbows and the always regal and wild-looking Diamond Head were not enough!
Surfing Waikiki's Famous Rollers
Waikiki was a royal surf spot for the Hawaiian Monarchy, that is known for sure. However, the man who made surfing a world-wide phenomenon from California to Australia to New York, is the one and only Duke Kahanamoku.
Duke was a strapping Hawaiian man born in the waning years of the Hawaiian monarchy. He was an Olympic swimmer for the US team in the early part of the 20th century and he traveled around the world showcasing his swimming prowess, and, thankfully, introducing people to the noble Hawaiian sport of surfing.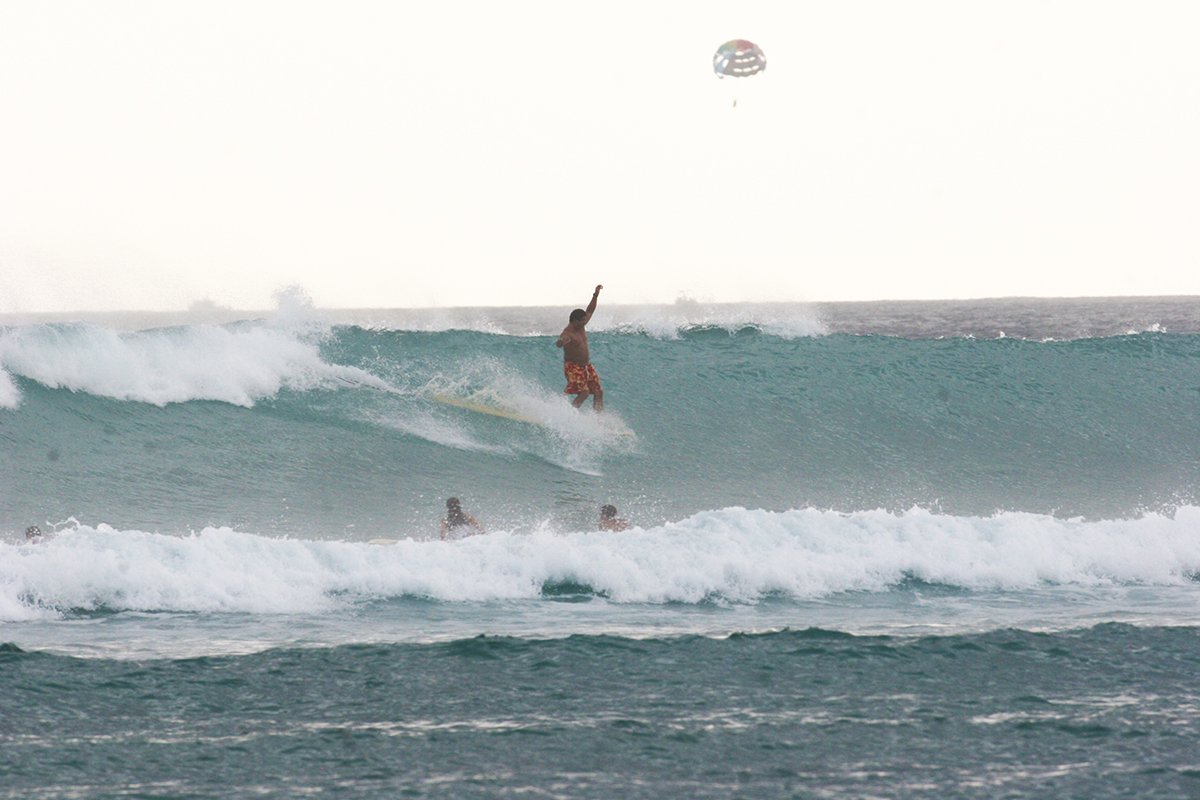 Surfing on Waikiki Beach - by John Di Rienzo
Waikiki Beach was the home break, and he and his club of fellow watermen were known as the Waikiki Beach Boys. These guys were the stuff of lore from the 1920s until the middle of the century. They worked Waikiki and serviced the hotels, teaching surfing and outrigger canoeing to visitors. They hobnobbed with many socialites of era, and had a famous protégé in Doris Duke, who (I was told on a tour of her estate Doris Duke's Shangri La – see Post for details) was one of the first haole (non-Hawaiian/western) women to learn the sport of surfing.
Since Duke's time, many people have learned to how to surf on Waikiki's famous rollers (including yours truly). South facing, the waves are very mellow (if nonexistent) during the winter months, but the breaks in front of Waikiki come alive when the summer swell hits. It can get big so be careful and heed warnings! (Tip! Certain areas can have jellyfish at times – see jellyfish calendar by Waikiki Aquarium).
Renting a Board
It's easy to rent a longboard on the beach for an hour or a day, and even get a lesson if it's your first time. The cost runs around $10 - $15 an hour. We recommend walking over to Hawaiian Oceans Waikiki, which is a stand located on the beach, just across from the Hyatt, on the side of the beach close to the banyan tree that's on Kalakaua (there are also hula shows there regularly).
Hawaiian Oceans Waikiki also offers private and group surfing lessons for a reasonable price. We rented from them when we were touring our villas on Oahu and they could not have been nicer and easier to work with!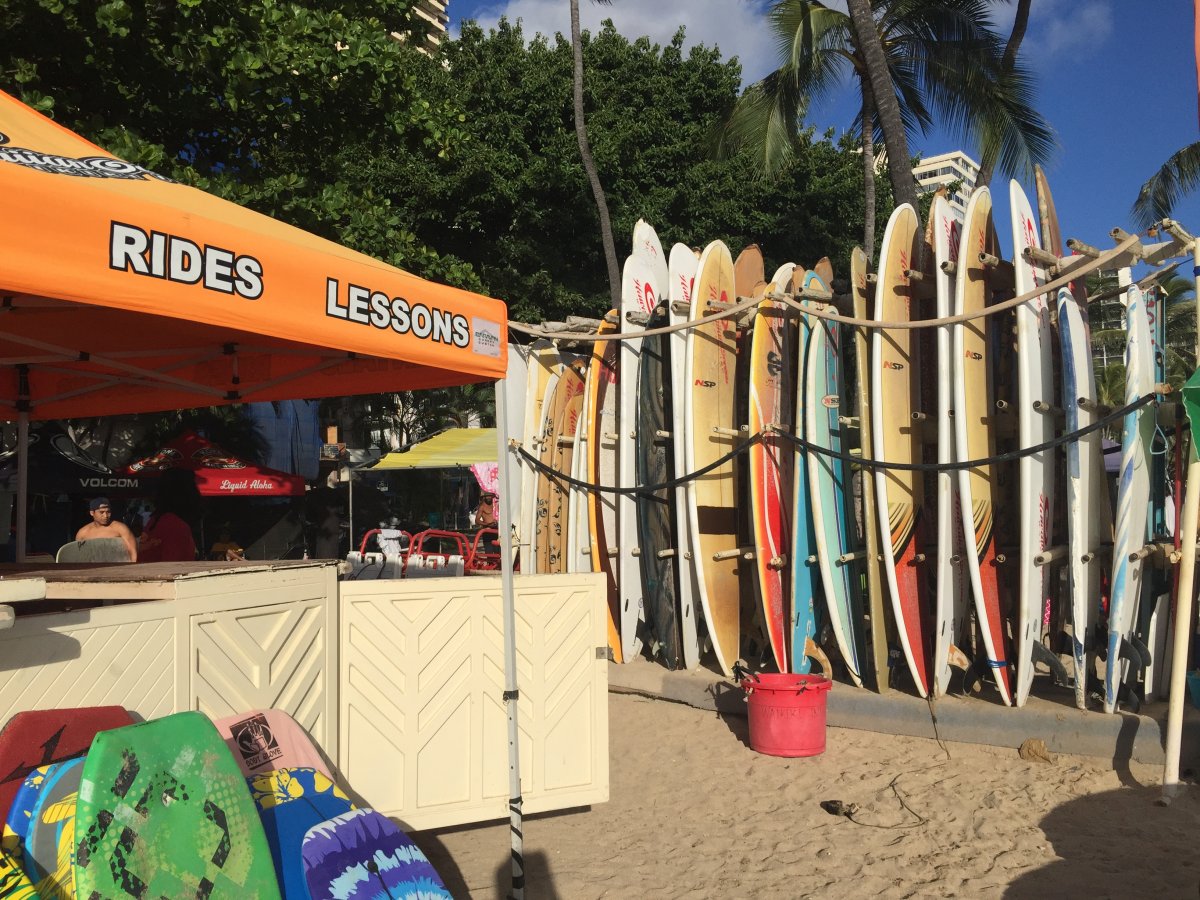 Surfboard Rentals - by Shanon Searls
Make a day of it and join the many people throughout history who discovered their love of surfing on the beach that gave birth to modern-day surfing.
Shopping in Waikiki
Waikiki used to be dominated by simple tourist-oriented stores selling clothing and, of course, trinkets to take or send home from paradise. One can still find those stores, the T-shirt shops and memorabilia hawkers, however, the arrival of upscale international brands has made a profound impact on the streetscape.
You'll see Prada, Tiffany, Chanel, Yves Saint Laurent and Apple. If you don't want to splurge on clothes or technology, have no fear, as there is a Ross and plenty of other places to pick up items you may need or want at a decent price.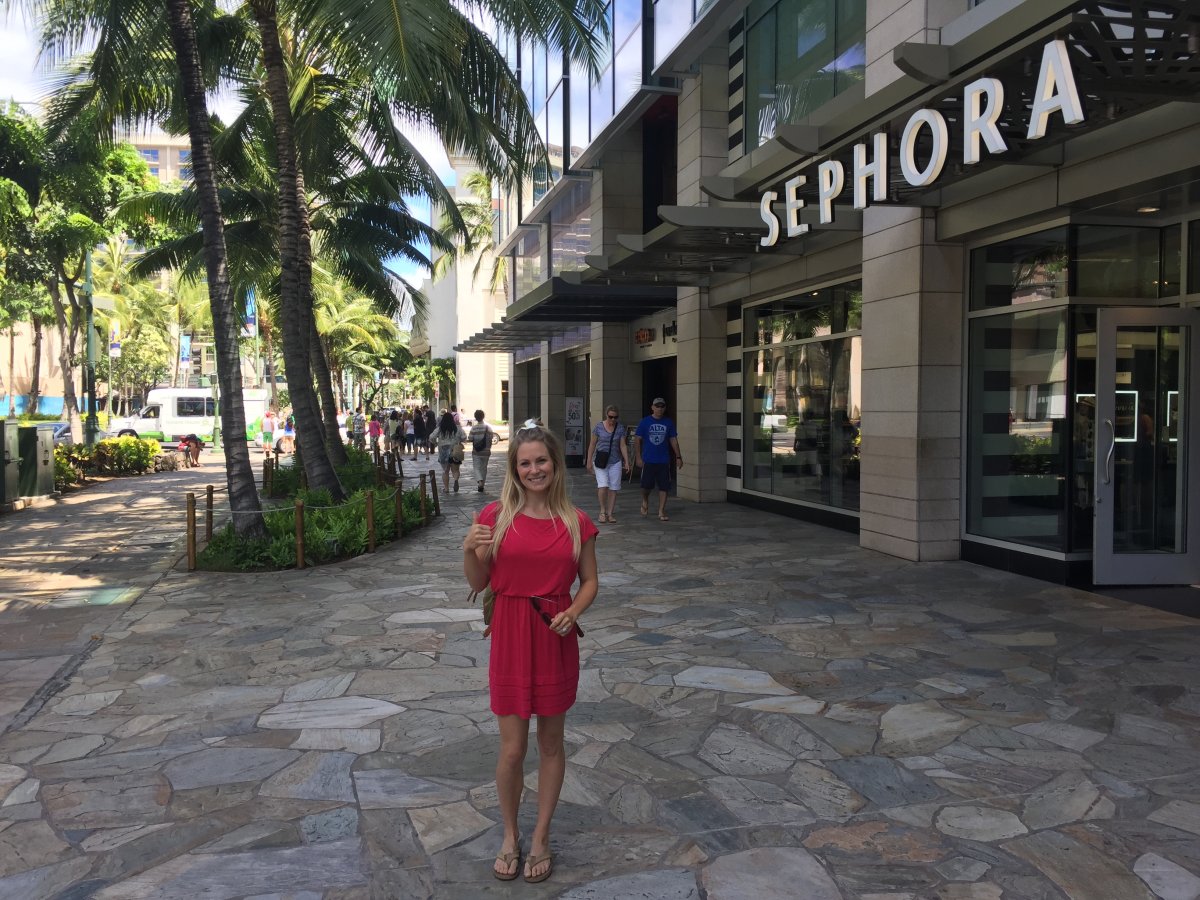 Waikiki Shopping - by Shanon Searls
The luxury shops are concentrated on the western end of Kalakaua Avenue, near Fort DeRussy. For a variety of shops in one spot in Waikiki, including an Apple store and Tumi (for the extra bag you'll need to buy to take home all your items), you'll want to visit the Royal Hawaiian Shopping Center.
Further down Kalakaua Avenue, towards Hyatt, an iconic spot that epitomized the tiki-bar chic of old Waikiki was the International Marketplace. The International Marketplace used to be a confusing collection of stands and shops selling endless tchotchkes and souvenirs under a massive banyan tree that added to the tiki-room vibe; think mall designed by Walt Disney and Gilligan. Some miss the old stands and tick-tacky paradise it hawked, but the new shops offer a lot of options, from Intermix to Saks to Crazy Shirts, a local T-shirt establishment that sells high-quality Hawaii-themed shirts and other items.
ABC Stores
One chain has a dominant, strangely ubiquitous presence in Waikiki: ABC Stores. ABC stores are Hawaii's tourist-oriented convenience store. The shops vary in size from store to store, but each one tries to offer a little bit of everything. At these shops, you can find a quick breakfast on the run, macadamia nuts packed in travel cartons, endless selections of Hawaiian tchotchkes, beer, liquor and candy. You'll also find swim trunks, snorkels and other beach essentials in a pinch – at decent prices. They seem to be on every corner and in every storefront, which can seem annoying at first, but they really come in handy. Make use of them!
Something Unique - Hats Made to Order - Newt at The Royal
Treat yourself to the ultimate panama-style hat at a charming store located in the Royal Hawaiian hotel. The store has a wonderfully vintage feel, along with photos of royals and others wearing hats of the same style.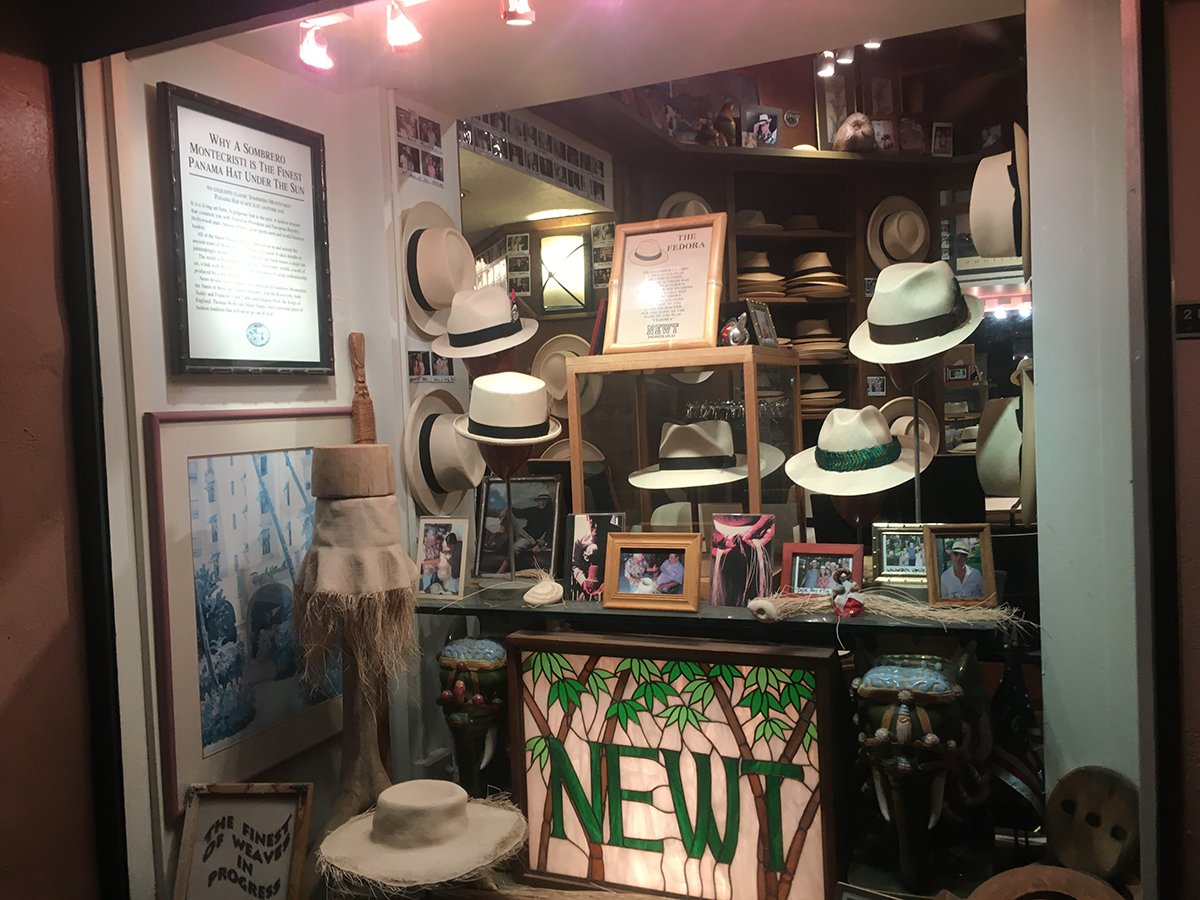 Newt at the Royal Window - by John Di Rienzo
These are not cheap keepsakes, these are bespoke fashion items that will cost you. The gentelman who works at the shop will tell you all about them and then fit you out with your own hat that will last you a lifetime! Check out Newt on the garden-side of the Royal Hawaiian.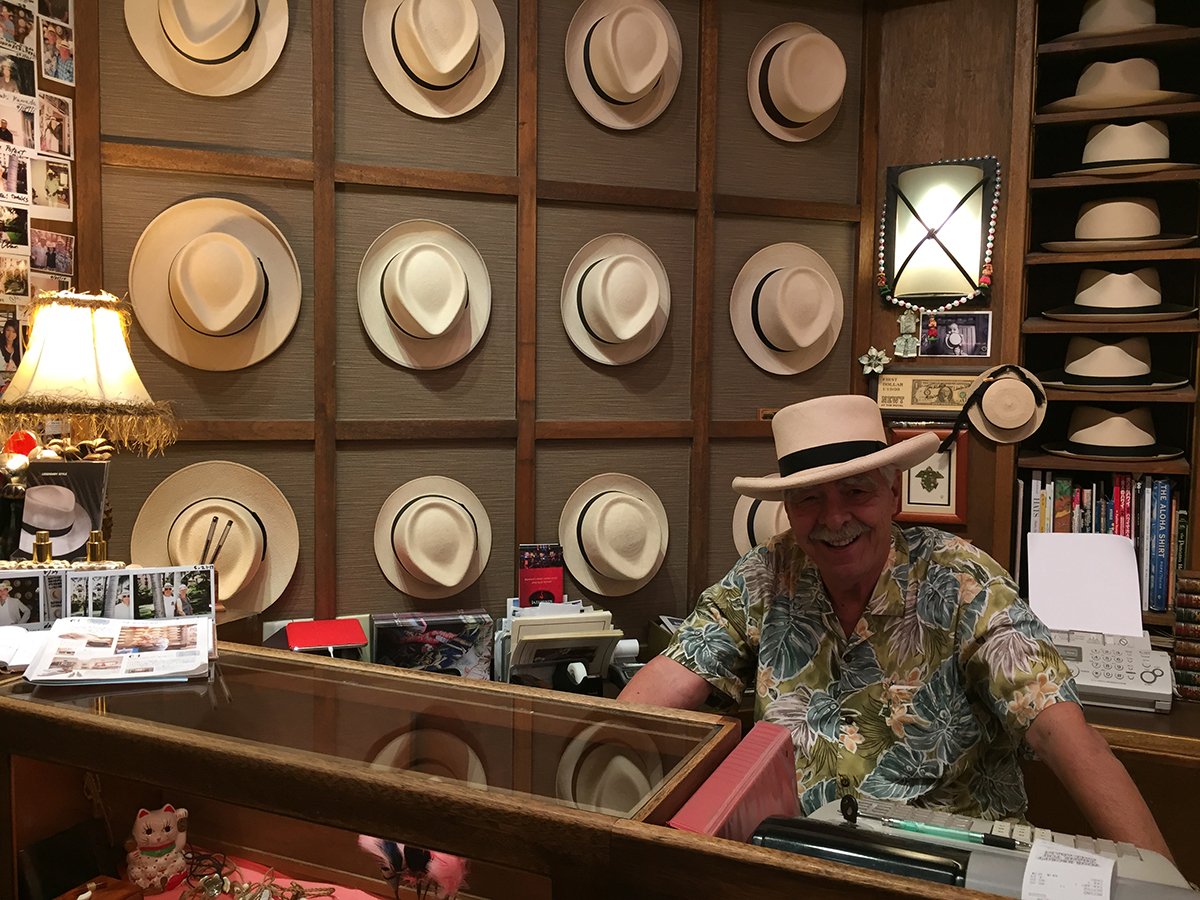 Newt at the Royal Window - by Shanon Searls
Food and Drinks
Waikiki is a fantastic place for enjoying restaurants and a cocktail at one of the many festive bars! There are simply too many to list, which is why Waikiki should be on your list; whatever your scene or budget - you'll find it in Waikiki.
Here are some of our favorite spots.
Gyoza no Ohsho
This is a simple ramen joint in Waikiki, behind the Hyatt. If you're walking around and want a cheap, hearty and tasty meal, jump into this little gem and enjoy a bowl of ramen or some gyoza.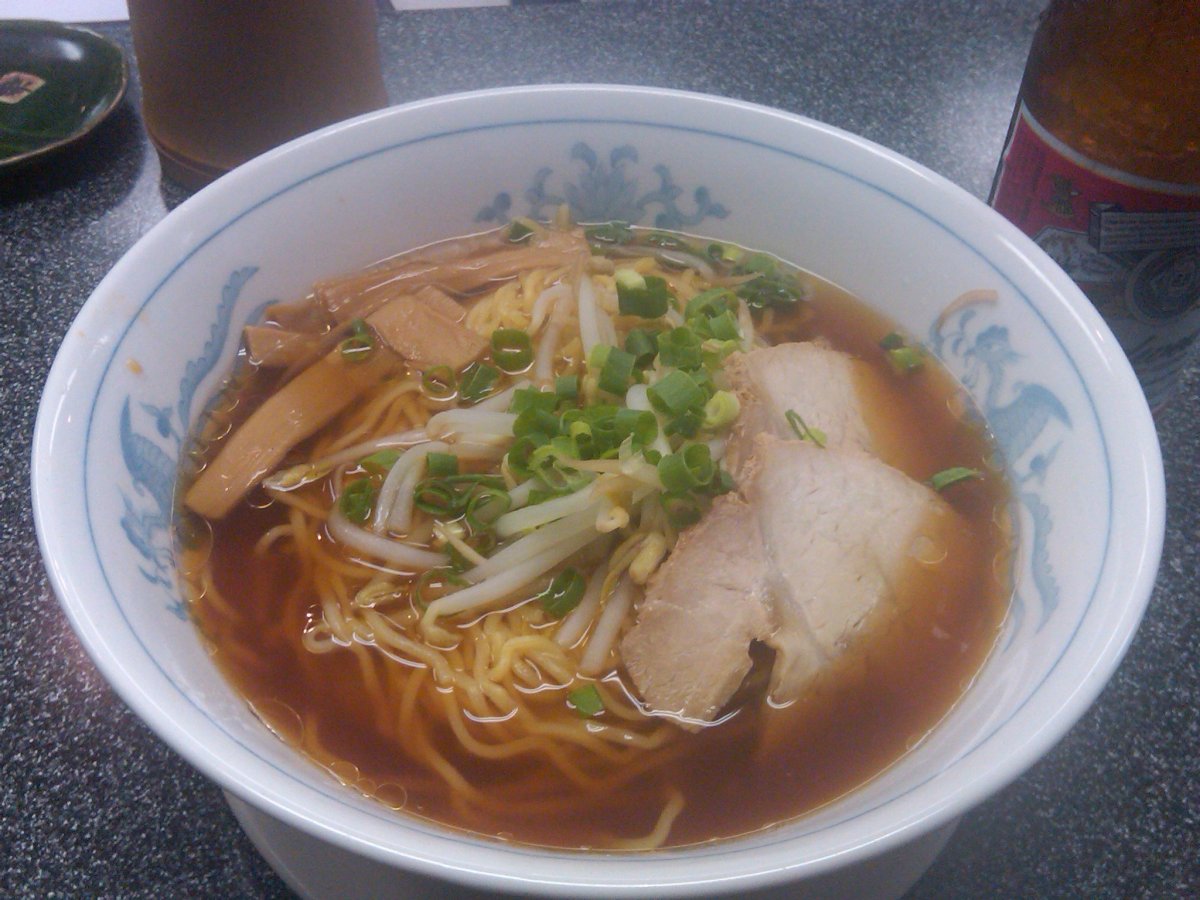 Gyoza no Ohsho - by John Di Rienzo
Yoshitsune
If you want an authentic Japanese restaurant with tatami rooms, check out Yoshistune. Yoshitsune is located in the Park Shore hotel, on the corner of Kapahulu and Kalakaua near the Honolulu Zoo.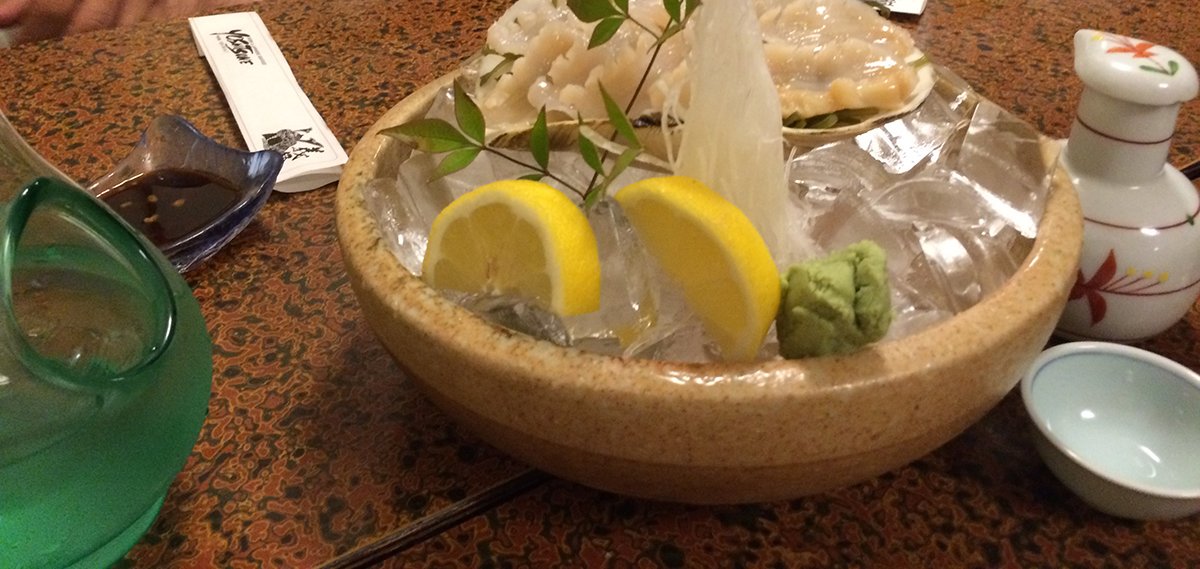 Yoshitsune - by John Di Rienzo
Duke's
Duke's is a famous surf-themed bar that sits right on Waikiki Beach. Duke's has restaurants on the other Hawaiian Islands as well as the US West Coast, but there is nothing like enjoying a Mai Tai and pu-pus on the beach at Waikiki, within sight of the rollers that made its namesake Duke Kahanamoku rode back in the day. It gets crowded for dinner, so be prepared to wait if you go during prime hours. The bar is always festive and the tables in the bar area are first-come, first-served, so you may be able to grab a couple seats there.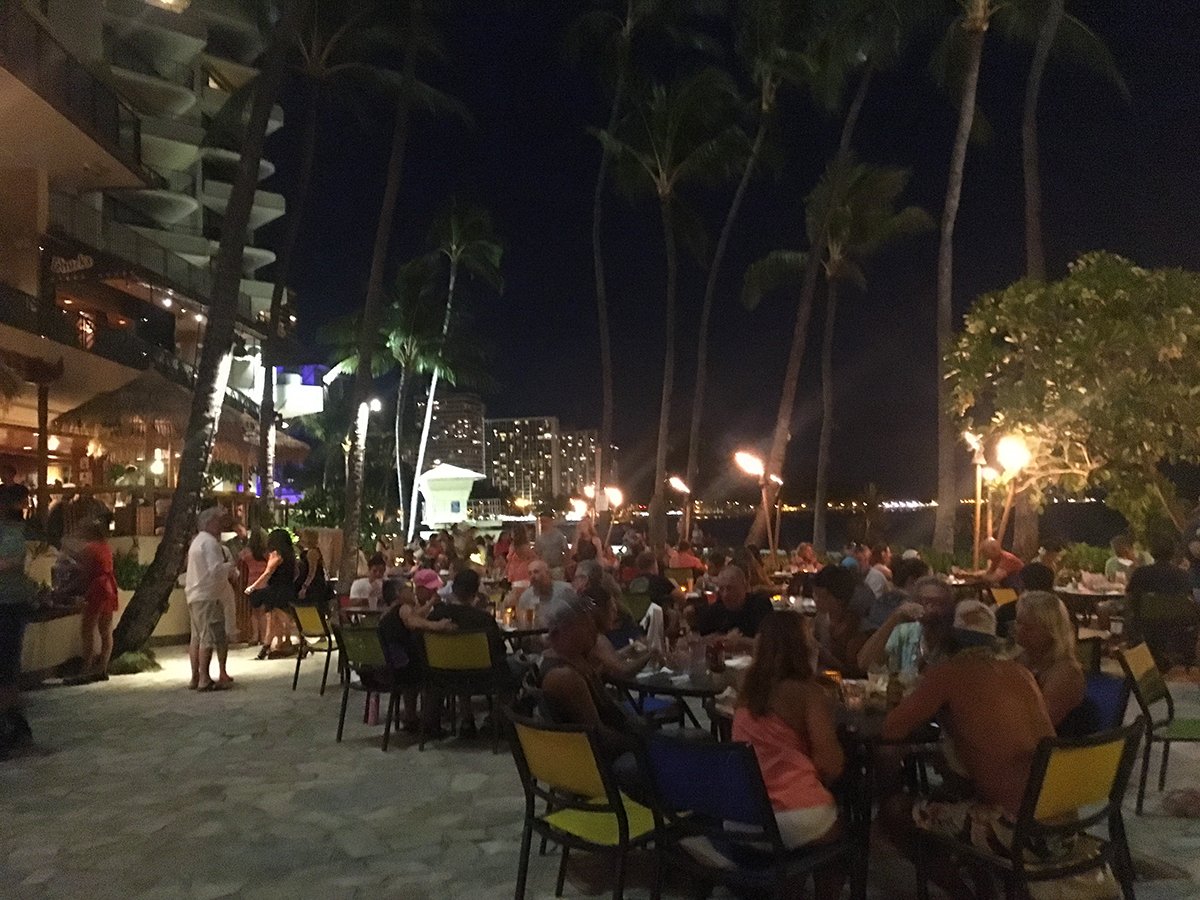 Duke's Waikiki Patio View at Night - by John Di Rienzo
Wasabi Bistro
Another great spot is the Wasabi Bistro. This little slice of Japan is tucked away in the pool area of the Breakers Hotel in Waikiki, on Beachwalk. You need to open the gate to the road (very old-school), you'll enter a Japanese-themed two-story hotel, and towards the rear of the pool area you'll find the entrance to Wasabi Bistro.

Wasabi Bistro - by John Di Rienzo
House Without a Key
The House Without a Key is located over the beach, inside of the most elegant hotels in Waikiki. It will offer you a classic Hawaiian upscale setting in which to enjoy a cocktail. Their Mai Tais are epic and strong – beware!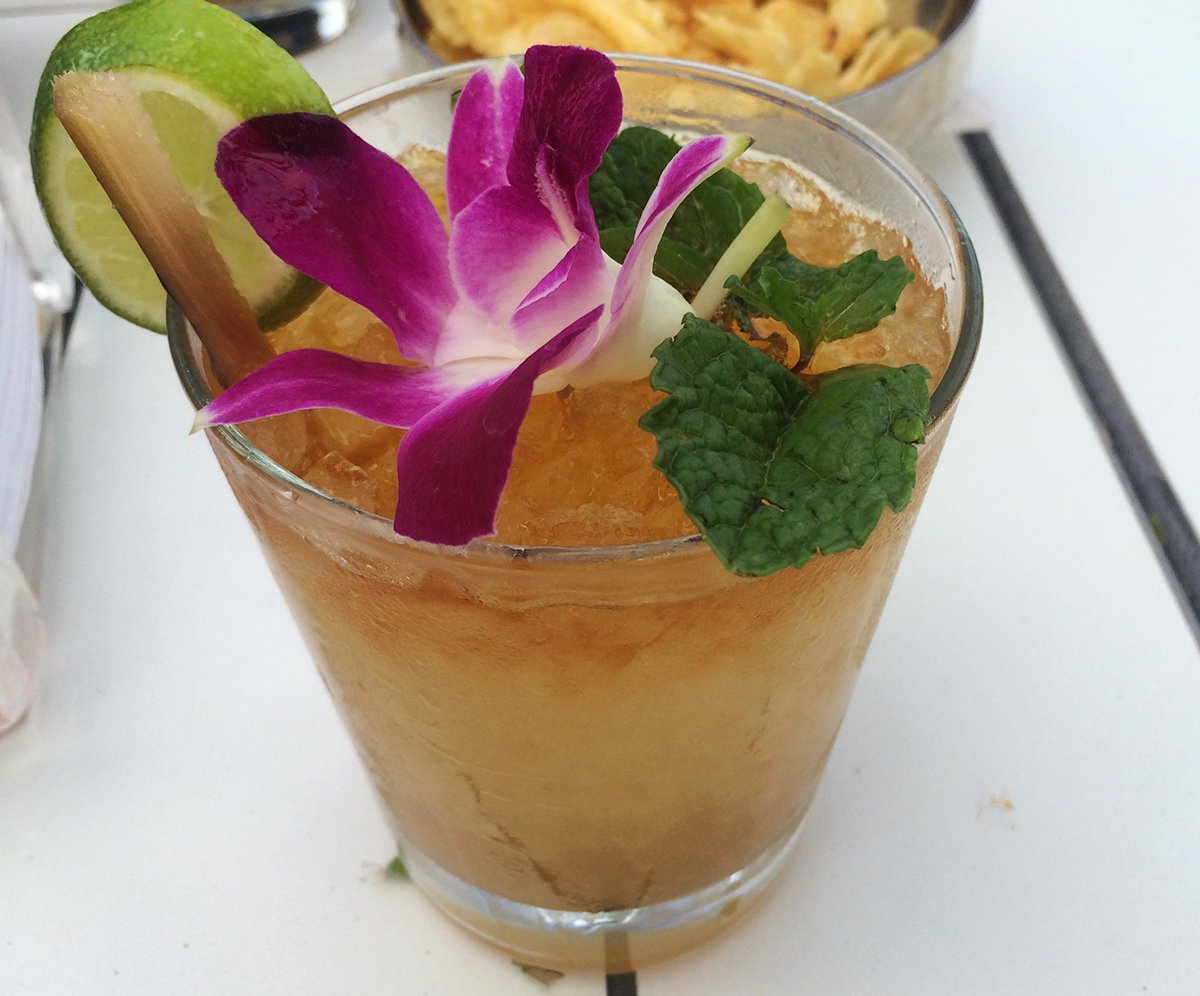 Halekulani Mai Tai - by John Di Rienzo
However, it is the gorgeous setting and the skilled Hawaiian musicians who play there each night. There is also usually a very skilled hula dancer, who has a decidedly Golden Age of Waikiki style. Expect crowds around sunset and know that hotel guests do get seating priority, so if you want to be there during the magic time of day, get there a little early!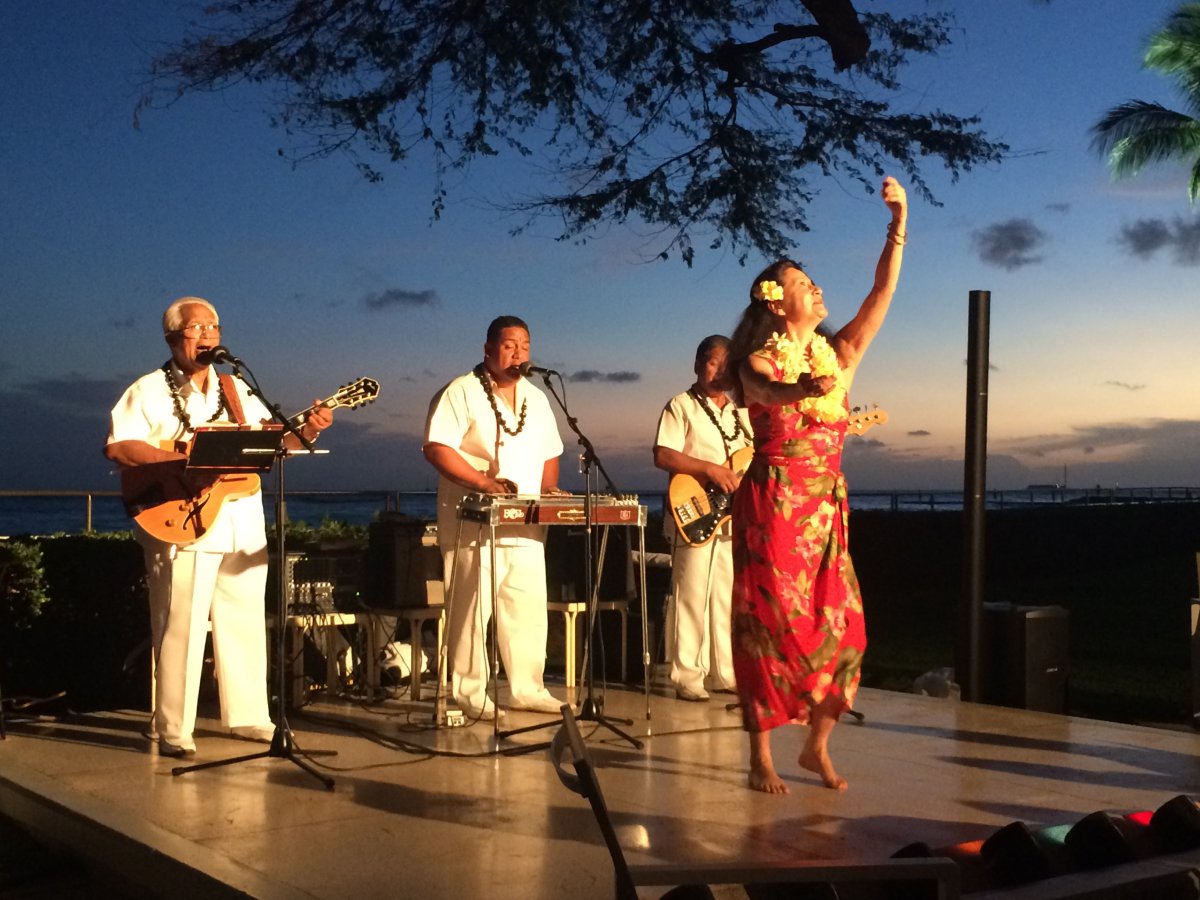 Halekulani House Without a Key Hula - by John Di Rienzo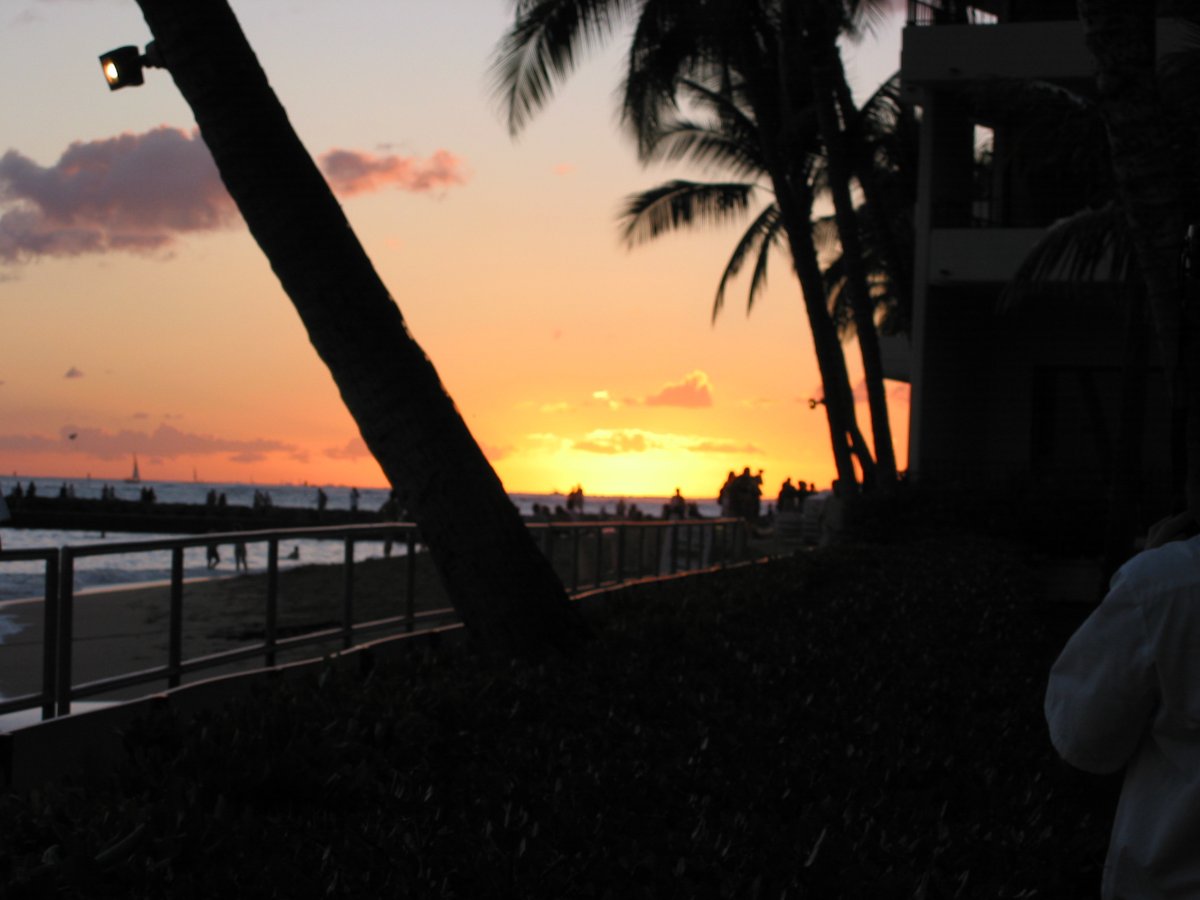 Halekulani Sunset House Without a Key Hula - by John Di Rienzo
Hula's is a beloved local bar in the Waikiki Grand condo across from the Honolulu Zoo. The bar has served the Honolulu LGBT community for decades. The bar is on the second floor and offers a great happy hour, with cheap pitchers and open-air views of Diamond Head, Kapiolani Park and water. The bar is welcoming to all and gets crowded late nights and the weekends.
In addition to all these spots there is also the usual restaurants that you find in tourist destinations, including a Hard Rock Café, a Cheesecake Factory and all the usual fast-food places that you know from home.
Culture in Waikiki – Urasenke Foundation - the Ancient Art of Tea
There is more to Waikiki than just sand, sun, food and libations. Of course, Hawaiian culture is found throughout Waikiki, from statues of its kings and queens to the hula dancers that perform in the various venues. However, there is Japanese culture present as well. The Japanese immigrants have had a huge impact on Oahu over the past 100 years or so. You'll see Buddhist temples throughout the islands (check out the Byodo-in), but tucked away in Waikiki, on Saratoga Street across from Fort DeRussy, there is the Urasenke Foundation.
The Urasenke Foundation is dedicated to preserving the ancient Japanese tea ceremony. The Foundation is located in in a small building, next to the vintage Japanese-themed hotel The Breakers, where the Wasabi Bistro is located.
Here it is possible to experience and learn about the ancient ceremony. Guests pay a nominal fee and are led to a tea room. You will sit on the tatami mats and be served by a tea master. The experience is a wonderful way to introduce young adults to a Japanese culture in an interactive way.
Read about Urasenke here along with their contact info.
The bottom line is, whether you are renting a Kailua Villa or a villa in Honolulu, make use of Waikiki as a place for great dining and entertainment at all price points - and there are spots to enjoy and learn about Hawaiian and Japanese culture.
Exotic Estates Oahu Vacation Villas
Also, be sure to check out Exotic Estates' many quality Oahu vacation homes for your next visit to Hawaii's most iconic island. Here's some inspiration for you - there are more where these came from!
This luxury Oahu vacation home, which sits over the pristine, clear blue waters of reef-protected Lanikai Beach, was constructed in the early 30s. It was been lovingly restored, keeping a quaint Hawaii cottage feel with modern conveniences, including a modern kitchen with classic retro design elements. There is a main house and a guest house as well as a "boat house" above the garage with a separate entrance. In all the home can accommodate up to 14 guests so this is an ideal property for a large family vacation!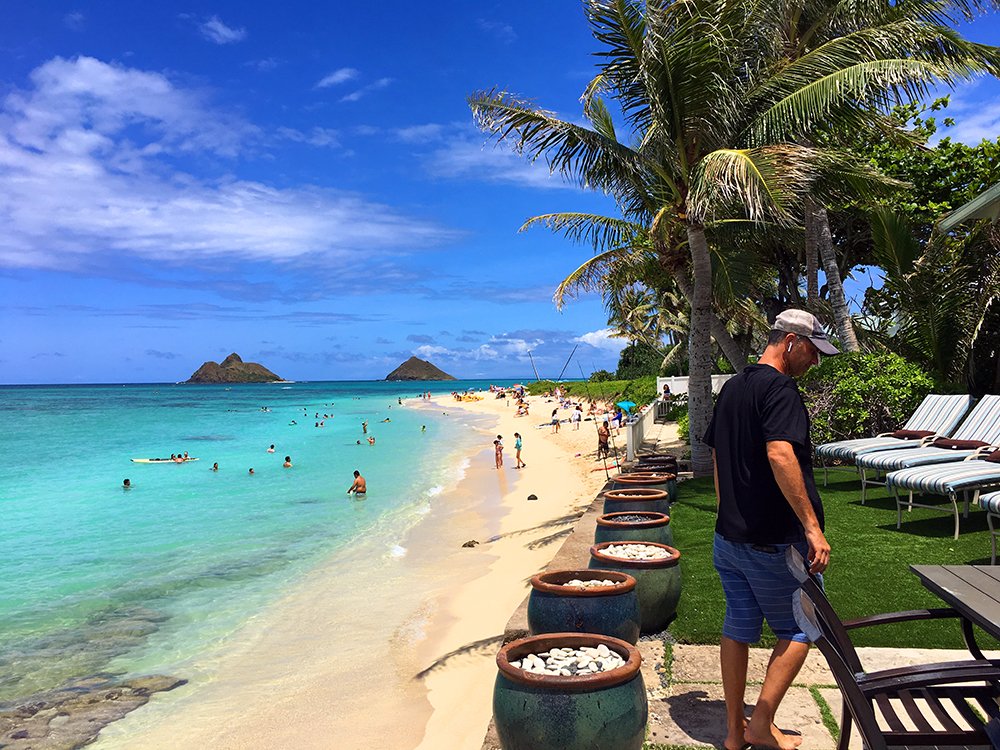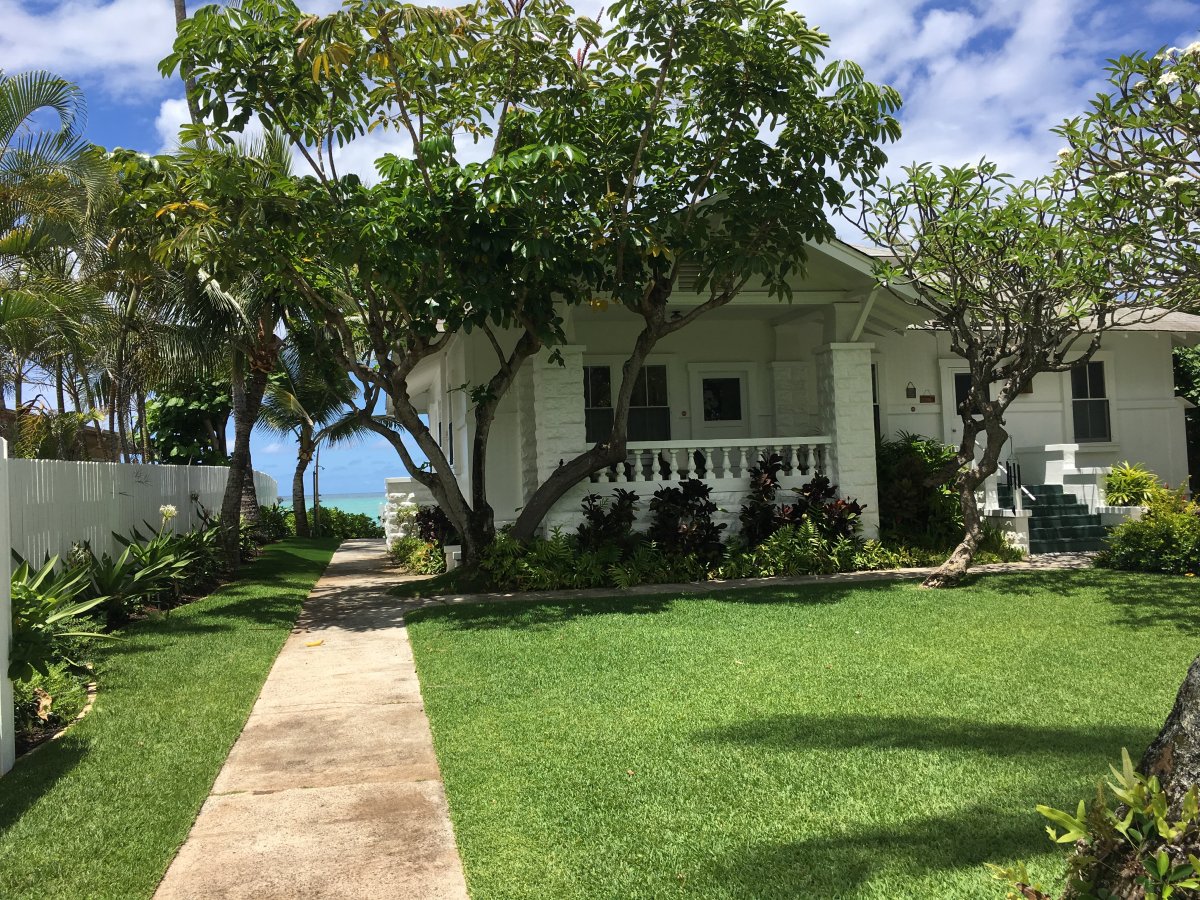 This home is ideal for those who know and love Oahu and are looking for a private piece of paradise to host an unforgettable vacation with friends and family. This is pure Hawaii. The villa's six bedrooms that can host up to 12 people and all come with air conditioning to ensure comfort all year long.