Visitors from the U.S. Mainland or other countries have asked, "are there official nude sunbathing beaches in Hawaii?" the unfortunate answer is "No," there are no beaches where nudity is officially allowed.
Topless Permitted - Nude, well...
Although nudity is not legally allowed on Hawaii state beaches, Mayor Alan Arakawa of Maui is quoted in Maui News* as saying, "sunbathing topless is permissible by Hawaii law"—YES, you heard that right! There are no laws prohibitting topless sunbathing in Hawaii, therefore it is not considered a criminal offense if you are found sunbathing without a top. In Hawaii, there are laws against indecent exposure and lewdness, but the law does not apply to topless sunbathing.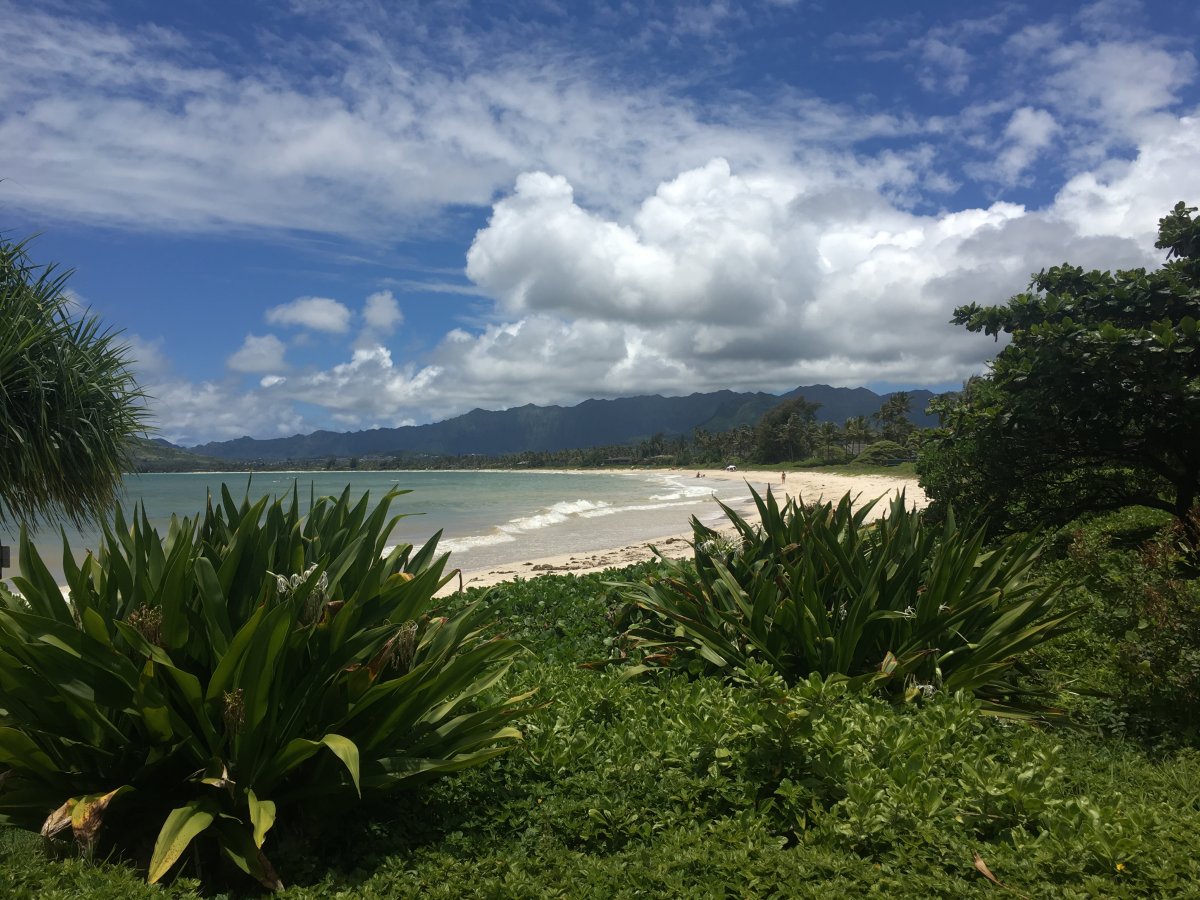 The Hawaii state obscenity code may ban nude sunbathing on all Hawaii state beaches, but that does not stop locals and visitors from getting a line-free tan while in the Aloha State. There are plenty of quiet spots in the Hawaiian Islands, i.e. non-state beaches, where residents and travelers can go to enjoy time under the sun in just their birthday suit!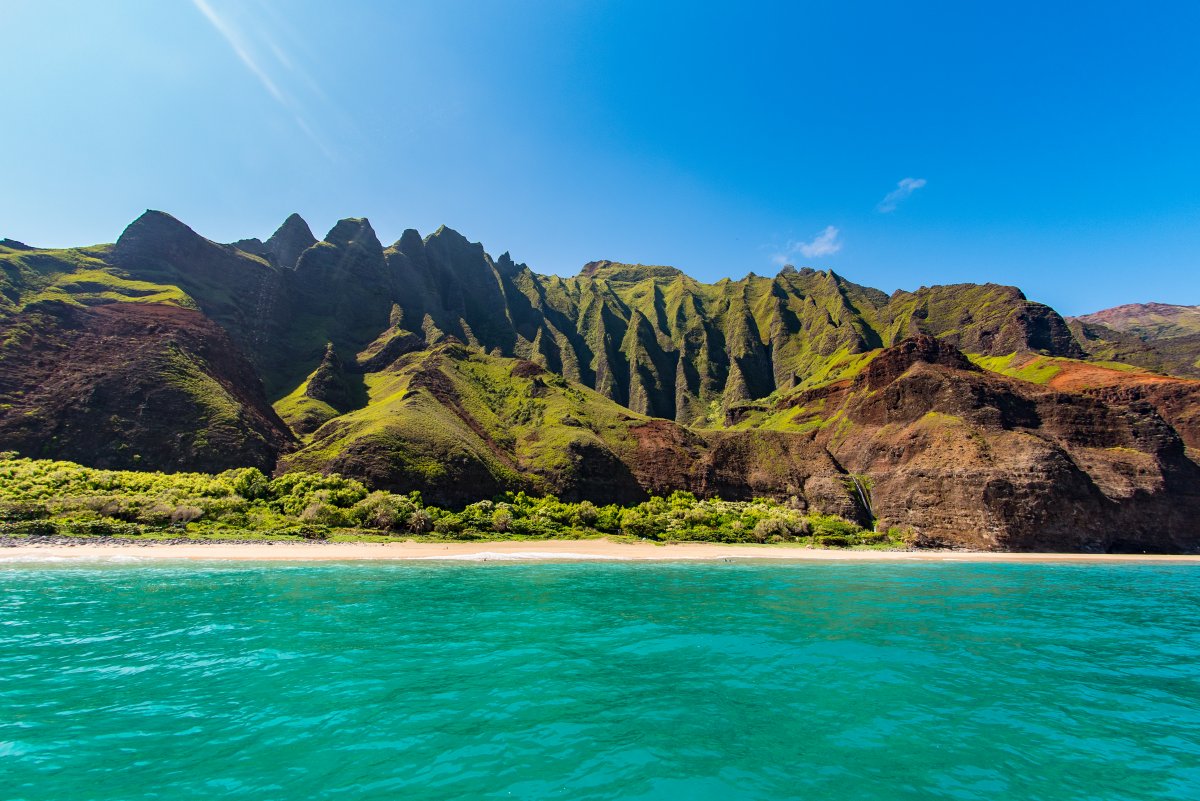 According to our research, there was a big case in 2000 (HI. v. Milford and HI v. Kalama**) that said, if someone is simply sunbathing in the nude on a remote beach (non-state park obviously), and they are not intentionally trying to alarm or afront (e.g. freak people out) by exposing themselves, then they are doing nothing illegal by Hawaii law.
So, put simply, just laying out nude on a remote Hawaiian beach, is arguably legal and allowed. But what bothers us, the rub if you will, are the words "intention to alarm" and affront.
Bottom line, if you simply have to get that full-body Hawaiian tan, pick more remote, non-state park beaches where you are less likely to encounter or "alarm" casual beachgoers. Then, your intension will never be called into question!
'Unofficial Clothing-Optional' Beaches in Hawaii
WARNING: We are going to preface this by advising that Exotic Estates does not officially recommend nude sunbathing on these beaches. However, we looked around, and, if you must, the beaches below are known unofficially as beaches where nudity is more or less tolerated. Strip at your own risk!
Little Beach is a quiet 'unofficial clothing-optional' spot located on Makena Beach, just south of Wailea. The beach is tucked on the edge of the coast, protected by lush rolling hills that trail along the beach for added privacy.
This beach is known as Kauapea, but many locals also call this beach "Secret Beach" due to amount of privacy in the area, beautiful scenery, and its hidden location. Kauapea Beach is tucked between Kalihiwai Bay and Kilauea Point, located on the north shore of Kauai. In order to get to the beach, you must take an unmarked trail down the hill to reach the 3,000 ft.-long sandy shoreline. The 'unofficial clothing-optional' area is located further down the beach.
Head to the beautiful black sand beach, also known as "Dolphin Beach", located on the east coast of the Big Island. This 'unofficial clothing-optional' beach spot is tucked in between the trees and the coastline, offering the privacy to enjoy a naturist afternoon!
Tucked along-side Route 83 and Oahu's northeast coastal line, you will find Kahuku Beach, one of the 'unofficial clothing-optional' beaches on Oahu. While the crowds set up camp at Polo Beach, you can take the road less traveled and escape to the lesser-known Kahuku Beach!
Families Beware
Those of you traveling with children please be advised, you may run into nude or topless sunbathers if you venture out into less developed areas. If you would like to avoid these encounters while spending a day with your family, it is best to stay near busy beaches and avoid those with less foot traffic. This is also a good idea from a safety perspective, as the larger, more-trafficked beaches will have more lifeguards on duty.
While there are many hidden spots on the islands, the best spot for nude sunbathing is, of course— at your own private Hawaiian Vacation Home!
Whether you are looking for a quiet place on the beach or a hilltop villa with incredible ocean views, our Exotic Estates vacation specialists can help you find a Hawaiian vacation home that offers privacy and fabulous outdoor amenities!
Here are a few that offer total privacy and fabulous pools.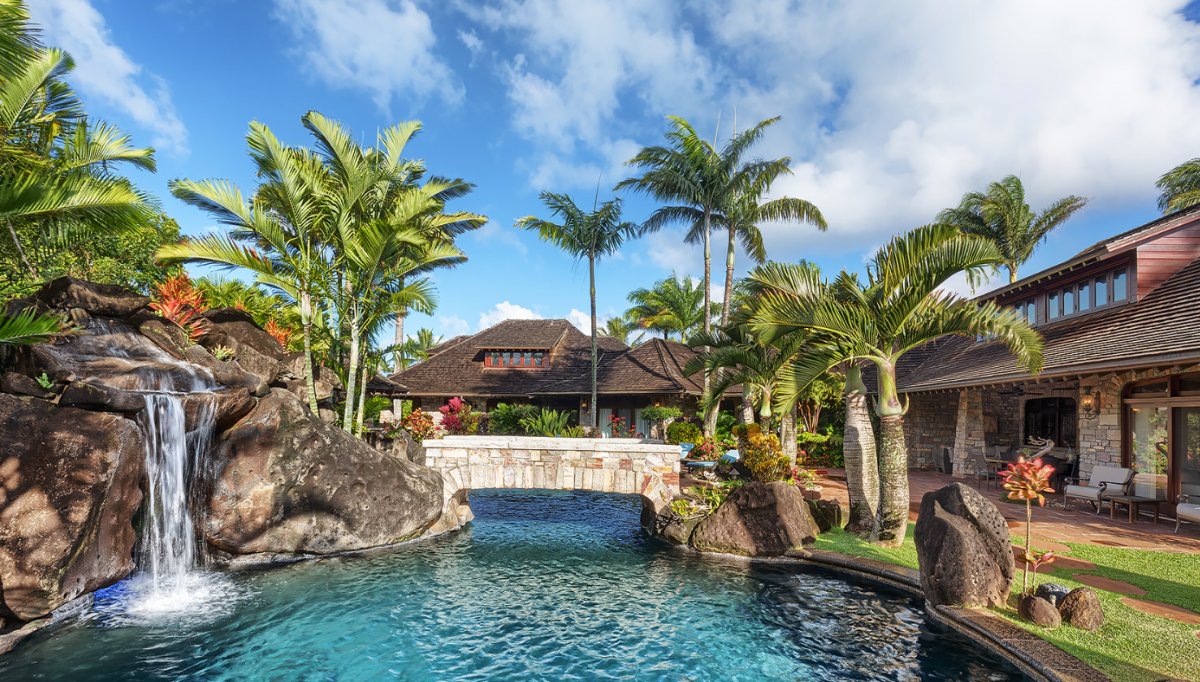 This villa has one of the most amazing pools we have ever seen. It's a massive 90,000-gallon salt-water pool that comes with waterfalls, bridge and natural landscaping. There is even an outdoor shower area that has a wall of orchids that blooms at certain times of the year. Even if you are not usually into hanging around in the buff, this incredible Kauai villa sort of makes you feel like taking it all off and communing with nature in a sumptuous and private setting.
Clothed or not, this Kauai Vacation Home is an amazing place for a stay with friends and can accommodate up to 12 guests.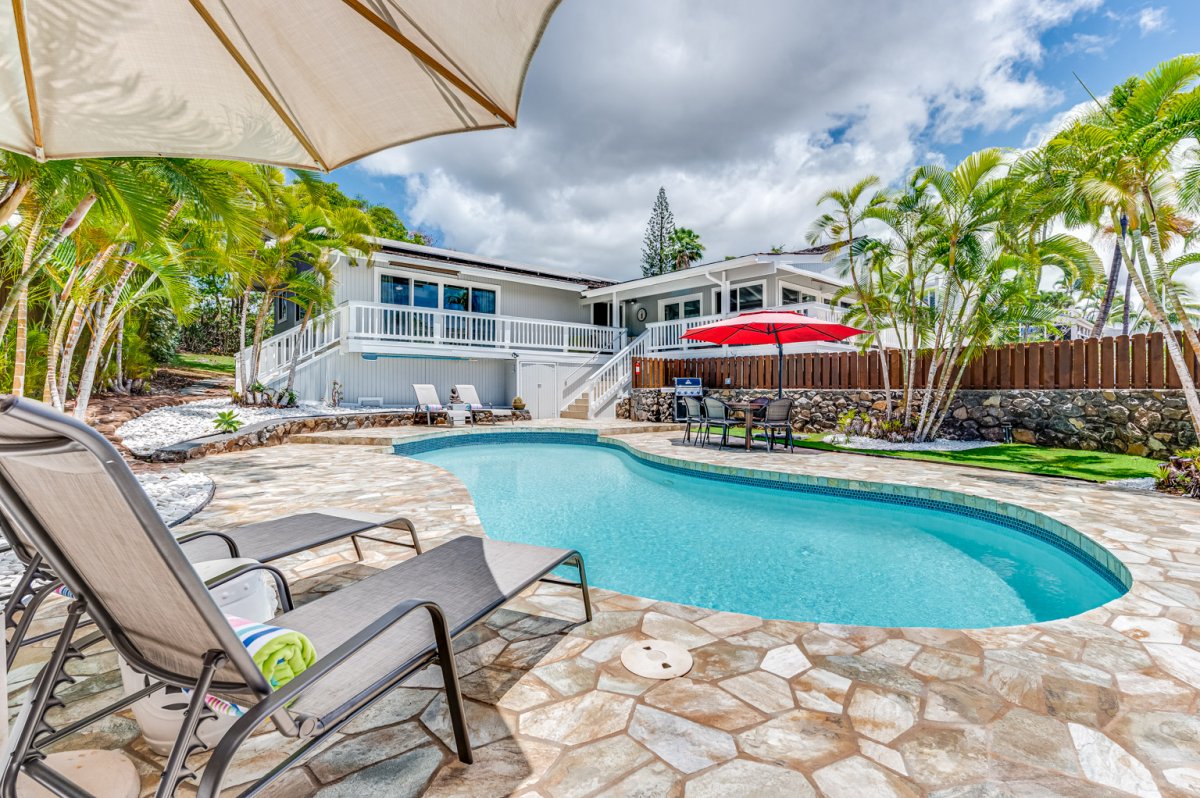 With its private, fenced swimming pool and lanai, a large grill space, and a billiards room with a pool table, there is plenty of space to relax and privacy here at Kaanapale Hale. These are actually just a few of the many perks vacation home has to offer. Imagine rising to the Maui sunshine, and enjoying a fresh, tropical breakfast on the outdoor patio. Take an early dip in the pool and prepare for a day of golf or beach fun in beautiful Kaanapali.
Kaanapali Hale is a five-bedroom, three-bathroom Maui vacation rental situated in the heart of the world-class Kaanapali Golf Resort. This vacation home is conveniently located in between the Royal and the Kai golf courses. Kaanapali Hale is an ideal vacation villa for a family vacation, or a Maui group golf vacation.
Enjoy gorgeous views of the blue Pacific Ocean, and the outer islands of Molokai and Lanai from windows and the private front lanai. Here, ten guests can be accommodated with five spacious bedrooms, and 3 bathrooms.

The master bedroom boasts an en-suite bath and king-size bed, quality furnishings, and an inviting porcelain bathtub creating a spa-like setting. Two bedrooms with queen-sized beds are quiet and cozy with access to the outdoor balcony. In addition, a fourth bedroom features a queen-size bed, and the fifth bedroom two twin size beds.
Here we have a Big Island villa that offers a great deal of privacy and luxury. Located in a prime position, within the gated, luxury enclave of Pauoa Beach, in the Big Island's Mauna Lani Resort, the Pauoa Beach Oceanfront Villa delivers a 5-star vacation rental experience. Travelers seeking elegant surroundings, access to private Club amenities, and easy access to one of the Kona Coast's best beaches will fall in love with this home.

The four-bedroom, 5,000 sq. ft. Big Island Villa is designed to take in ocean views from multiple vantage points. Boasting stately, tropical elegance, the villa is nestled within the landscape in a manner that provides privacy without obstructing the views.

Seen from above, one can appreciate the elegant footprint of the home, with a formal entrance that opens onto a lush Zen courtyard and the main home's living spaces. Inside, Pauoa Beach Oceanfront Villa is designed for easy, Hawaiian-style indoor-outdoor living; The main interior living spaces connect via folding pocket doors to the expansive covered lanai found at the rear of the home. This design allows the fresh ocean breezes to flow through the home and provides an ideal setting for sunset soirees.
This Big Island villa accommodates 10 and is located in Mauna Lani, one of the best resort areas on the island, situated on the Kohala Coast between Waikoloa and Mauna Kea Resorts.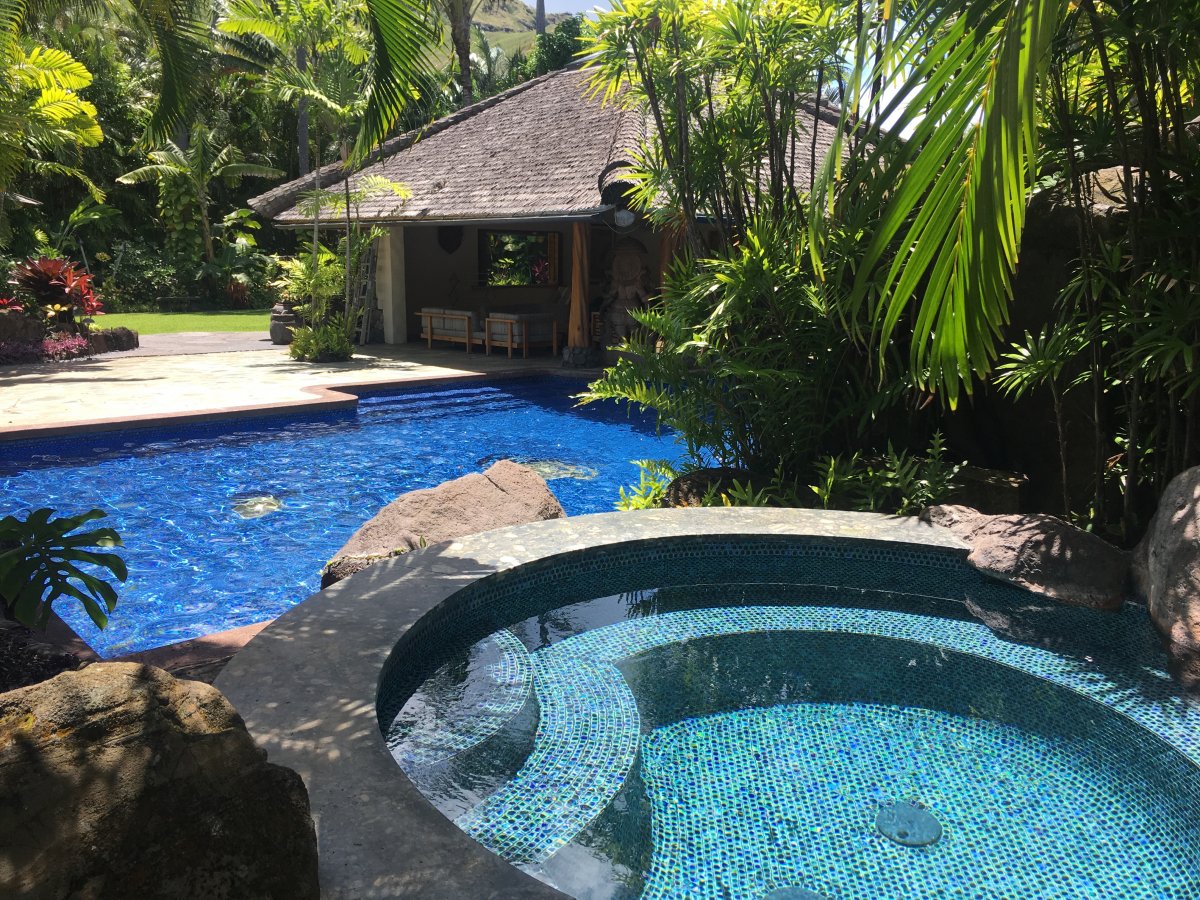 This spectacular Oahu villa is located on the golden sands of Lanikai Beach. The home is a gated commune, built by the famous stylist Paul Mitchell. It's a truly stunning property that affords guests absolute privacy in the inner courtyards, pool and lawn areas. The home is inspired by classic Hawaiian design and culture, with warm woods, exotic fish ponds and an opulent pool area that boasts a fabulous wateffall and landscaping.
The home accommodates 14 guests in total style and would be ideal for groups who enjoy taking it all off by the pool!
Email our Hawaii Villa Specialists to learn about these and other villas that may be well-suited to your vacation style! You also call 888-628-4896 to speak with an agent live.
*mauinow.com - Ask the Mayor: Can Women Go Topless at the Beach? February 20, 2017
**http://oaoa.hawaii.gov/jud/22457.htm