Where to Stay on St. Barth
Back

Where to Stay on St. Barth
St. Barth, or St. Bart's for many English speakers, is a small island in the French West Indies. Like Capri, it draws in a tony and trendy crowd each season, due to its legendary beauty and swanky beach lifestyle.
Also, just like Capri, St. Barthelemy is small, less than 10 sq. miles in size, but it feels a lot bigger, because it's so hilly and craggy. There is the main port, Gustavia, where the best restaurants and bars are clustered, and then there are the sections, or Quarters, on the other side of the hill to the east, the north and south.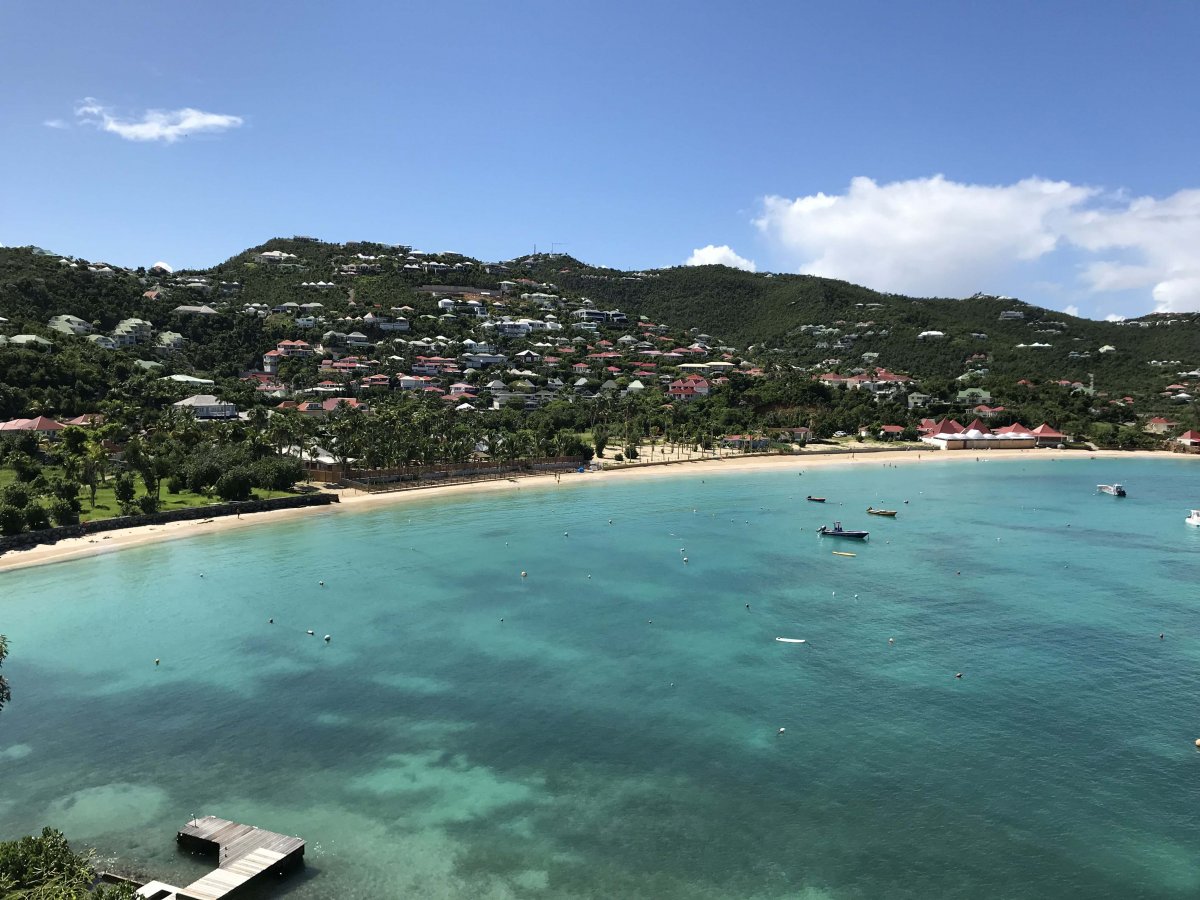 Because of the St. Barth's orientation, some areas on the island offer fab sunset views, while others will give you more morning sun. Some areas boast long sweeps of beach that are home to world-famous hotels and Riviera-style beach life, while others are downright quiet and 'neighborhoody'. Then there are those spots that have a more remote feel, and one should not be surprised to see visitors enjoying the sun and sea au naturel. All of these different sides of St. Barts, mind you, are within short distances of each other.
Even as a visitor, you quickly adapt to the size and short distances take on greater proportion. After hanging on out St. Barth for a few days, a 15-minute drive can seem quite long!
Here is a guide to considering which zone may be right for you, along with a stand-out villa that will give you easy access to the area.
Gustavia – St. Barth
If there is a downtown, a heart, a capital of St. Barth, it is Gustavia. This is where the main harbor is, where visitors arriving by ferry from St. Martin or by private yacht slip into town. It's also where most of the eating, dining and shopping – and partying - gets done. If you want to stay close to where the action is, to where the Kardashian and Hilton-crowd will get into trouble, consider staying near the Gustavia town.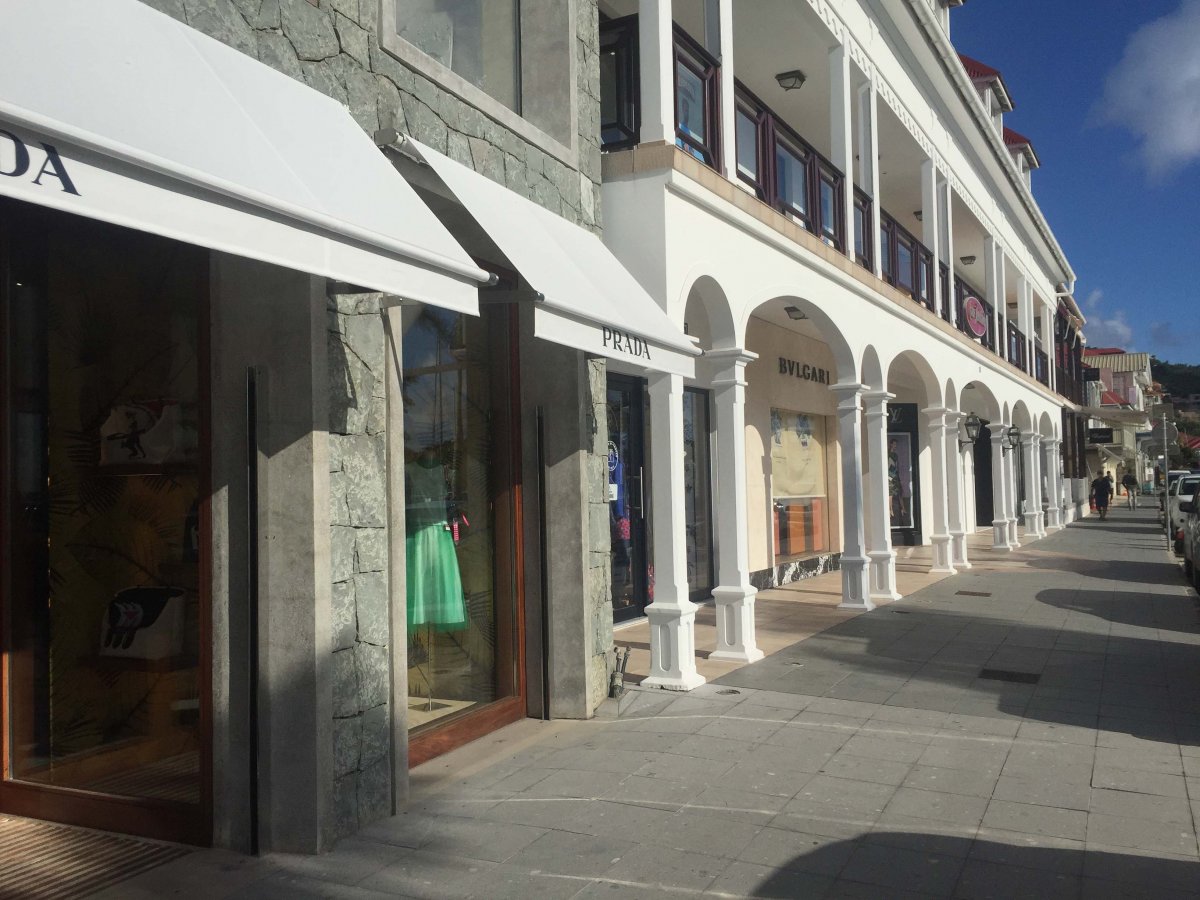 Very updated and modern "adult" house within a 10-15-minute (steep) walk to central Gustavia, so the house and you can be party central. This is the sort of house that shows up in celebrity Instagram feeds.
Because you're right in town, you're also very close to Shell Beach, one of the most popular on the island. Kids love it because of all the little shells that ring the waterline, hence the name.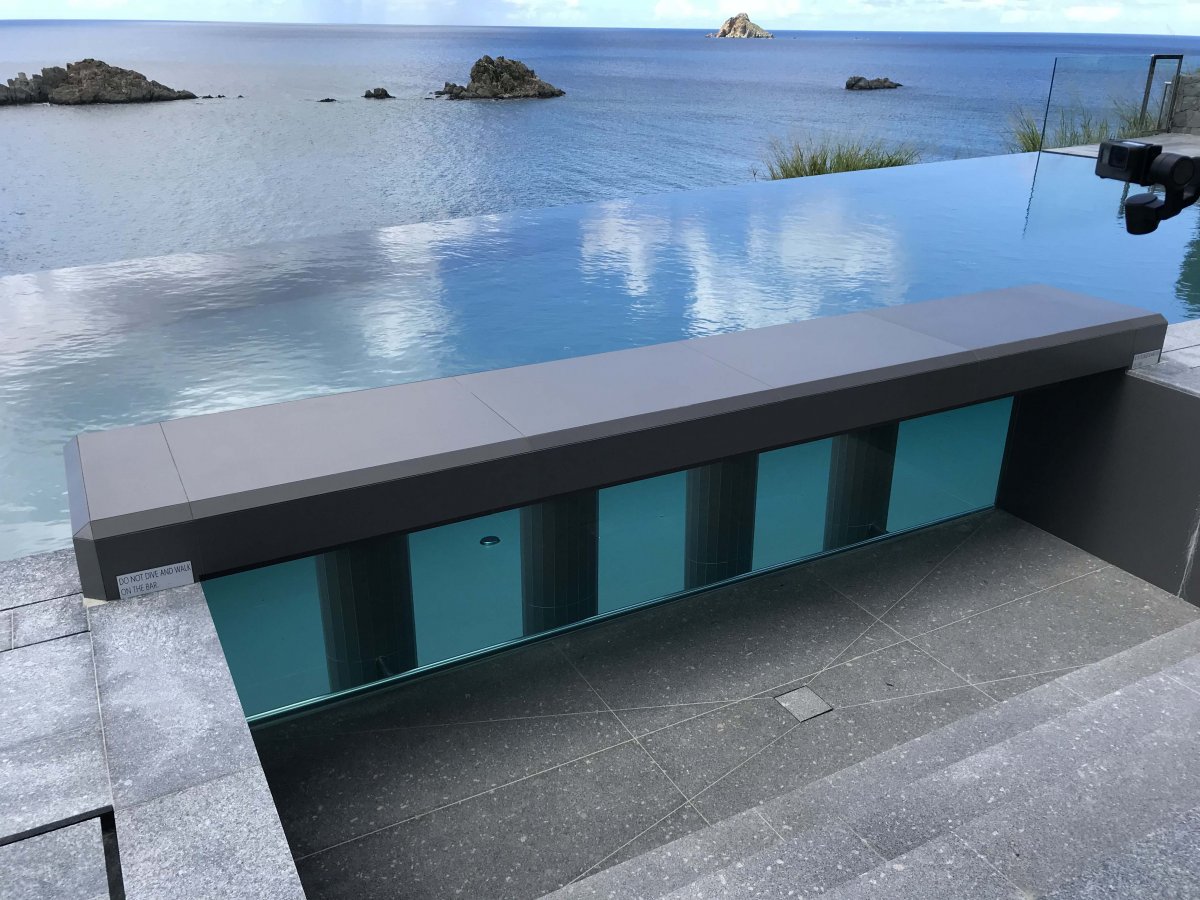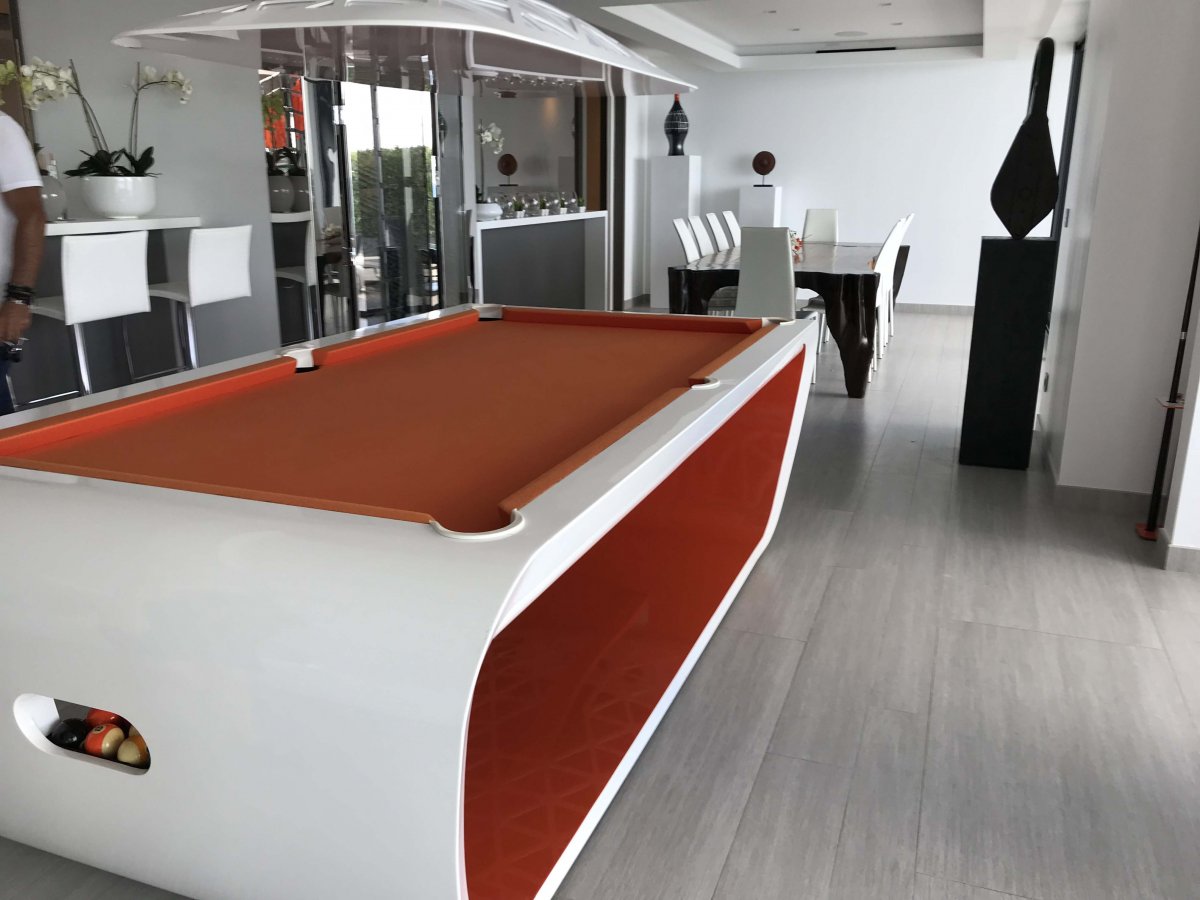 What we liked about Axel Rocks:
Great villa for partying adults, has a sort of high-end Vegas or Miami quality to it
Beautiful and unobstructed views of the Caribbean
Infinity pool with a "underground" window to peak at the swimmers (hello)
Celebrities have stayed here, think Miami meets LA for a vibe.
Looks sharp on Instagram feeds.
Considerations:
We feel it's not really for kids, as there's a big glass/resin spiral staircase that does not look friendly to little (or big) wet feet. It's just very "adult."
Corossol – St. Barth
Looking at the map, Corossol is not far from Gustavia town, on the same southwestern side of the island. A map belies the topography which is very hilly indeed, so it's by no means just a straight shot from town. The hilliness helps to keep this little spot cove-like and private.

What's great about Corossol is its historic nature as a local fishing village. While there are some modern dwellings being precariously and impressively etched out of the upper slopes, the waterfront is dominated by simple homes; these are the cottages belonging to the areas long-time residents, many of whom made their lives on the sea. At night you can walk by and still see fishing net hanging on the walls of some of the cottages. A saint sits atop of a large boulder here, a memorial for fishermen.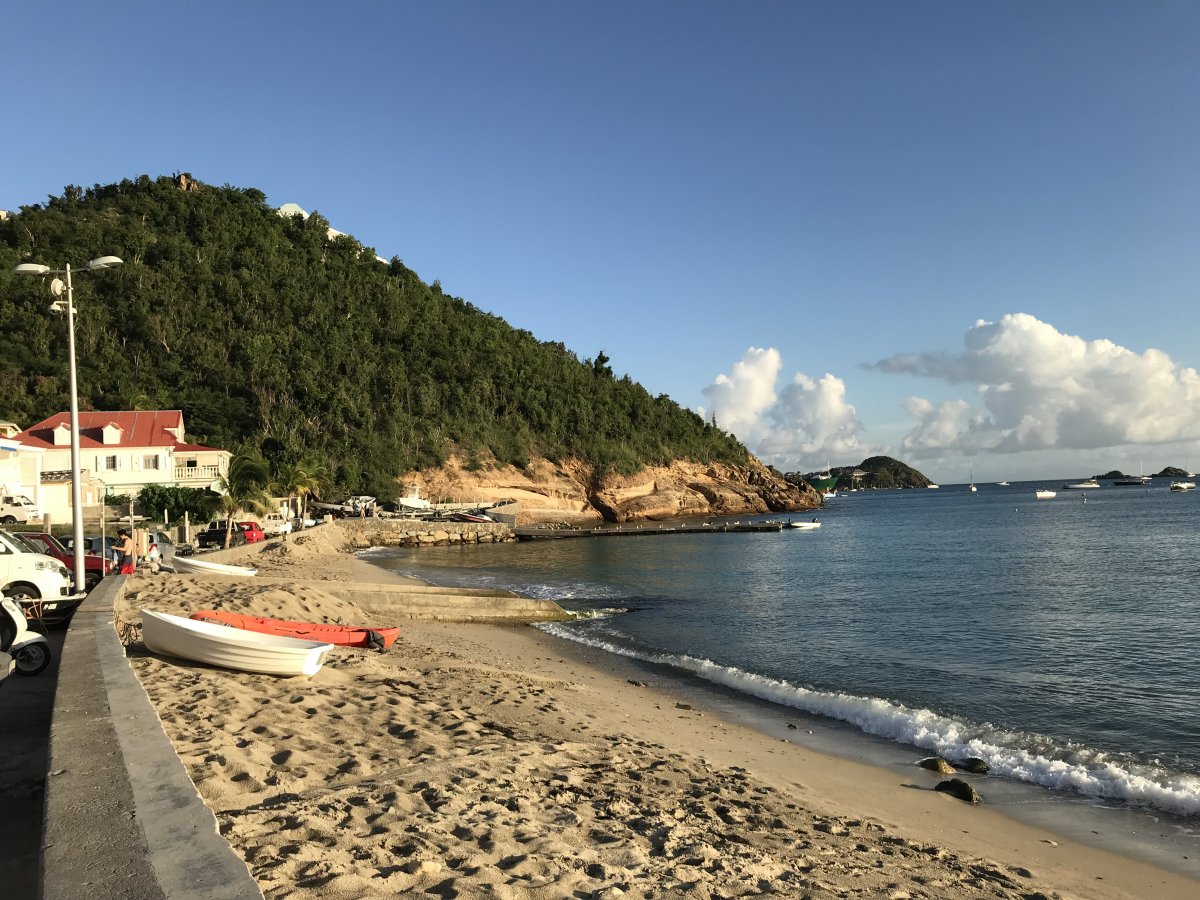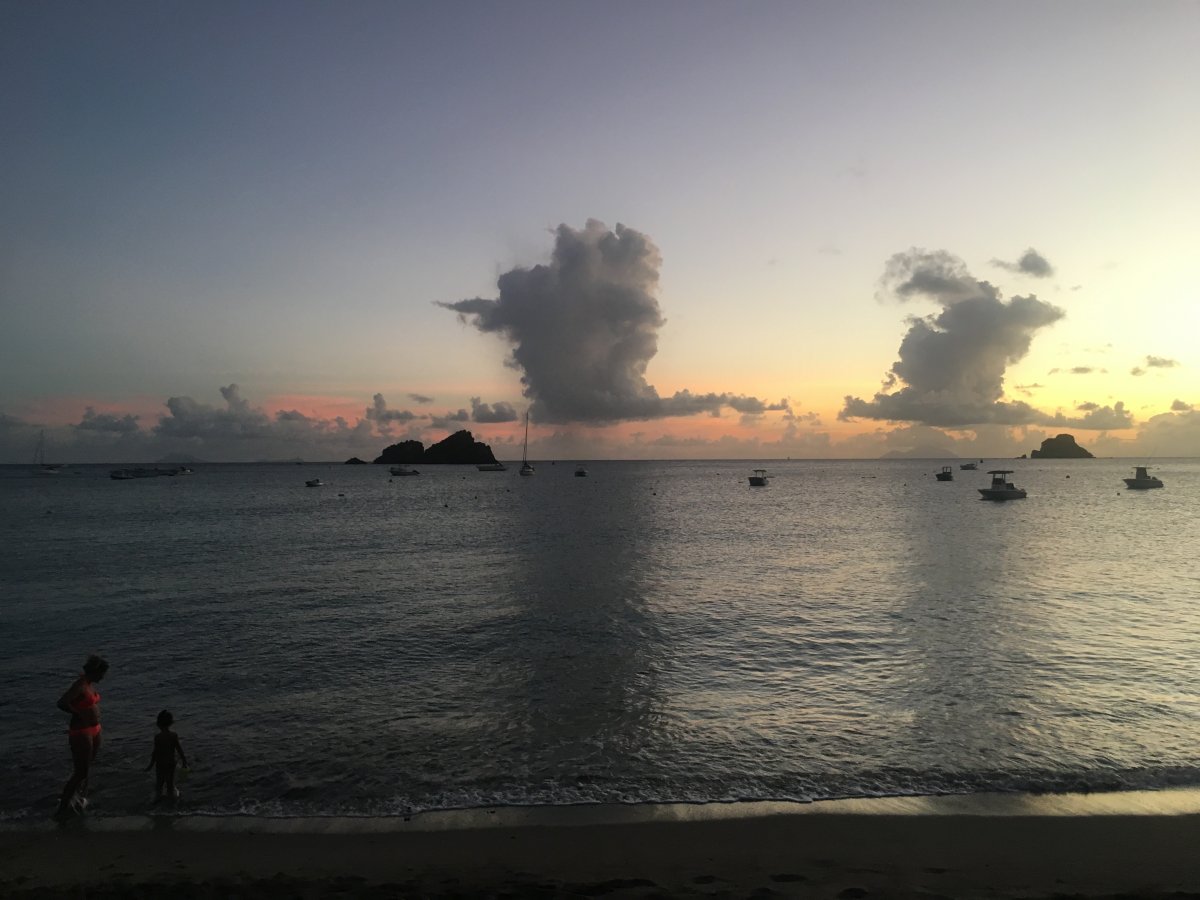 If you want to get away from the trendy party set, this little beach is a great spot for an afternoon swim. Also, because of its orientation, you'll even be able to catch a sunset here. We did and it was marvelous!
For digs, we think the view from above can't be beat.
St. Bart's Executive Villa is a very modern two-bedroom villa overlooking the Corossol-side of St. Bart's, with beautiful blue waters. The villa has three bedrooms, with two very large masters upstairs on opposite ends of a large the living room and a room off the pool area. There is also an incredible terrace. The views from this home, including the bedrooms, are stunning. We call it the Executive Villa because you're quite simply at the top of the heap here, literally and figuratively.
What We Liked About St. Bart's Executive Villa:
Updated, modern executive style; sleek and any demanding visitor will have a hard time finding issue.
The home is on a quiet hillside – birds chirping, and an infinity pool/patio looks out to ocean and Saba island; great sunsets!
It's VERY techy - TVs drop down from ceiling; geeky tech people will love it.
Located above one of the more "local" neighborhoods
Large master on the entire upper-level with private jacuzzi and lanai
Perfect place for New Year's Eve as you can see the fireworks going off above Gustavia!
Considerations:
The villa is located way at the top of a steep drive. This may be an issue for some tepid drivers.
We recommend a Mini Cooper to navigate the narrow steep roads
St Jean – St. Barth
The next area that we'll discuss is St. Jean. St. Jean/St. Jean Bay is just over the saddle of the island from Gustavia, on the north side of St. Barth. The beach is adjacent to the airport, which means planes can come quite low over the western end. No big planes here though, so no worries on noise from big jet traffic.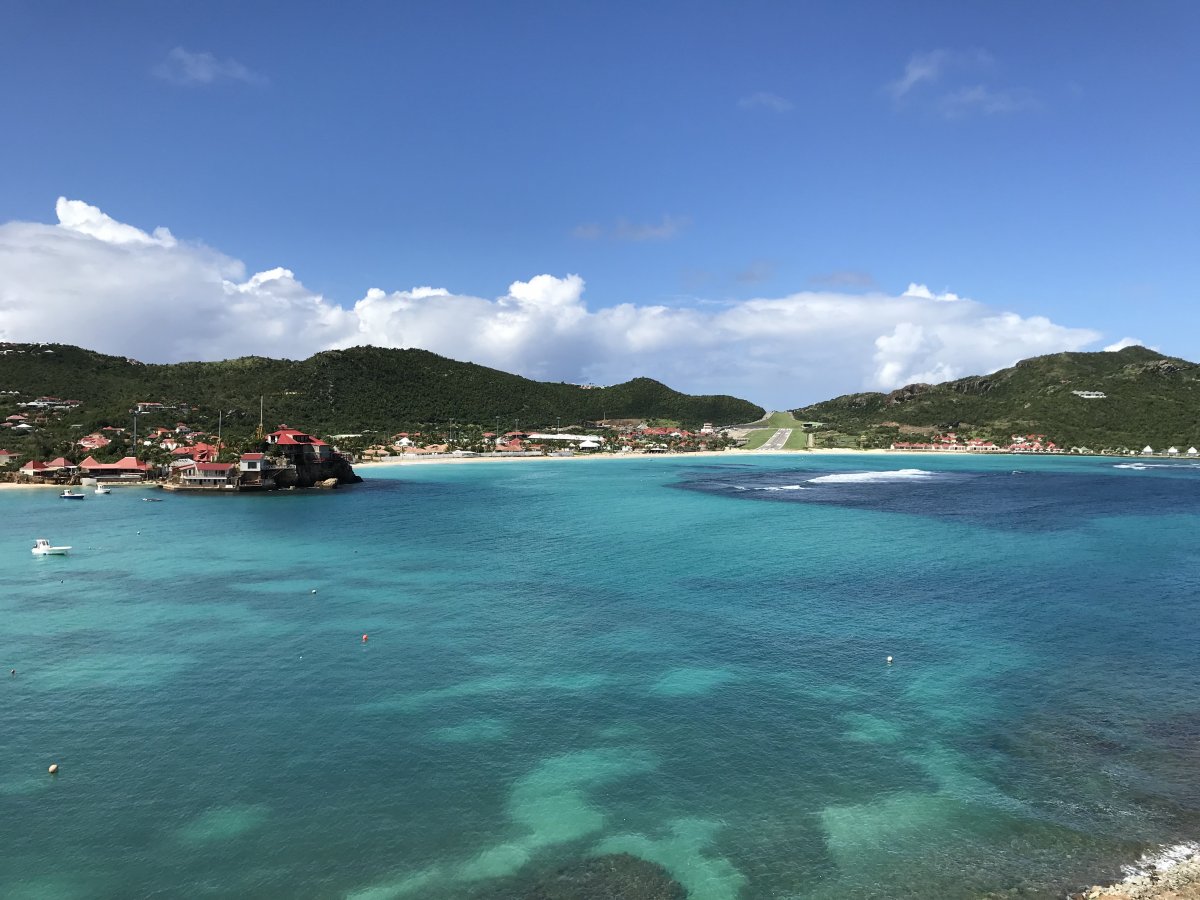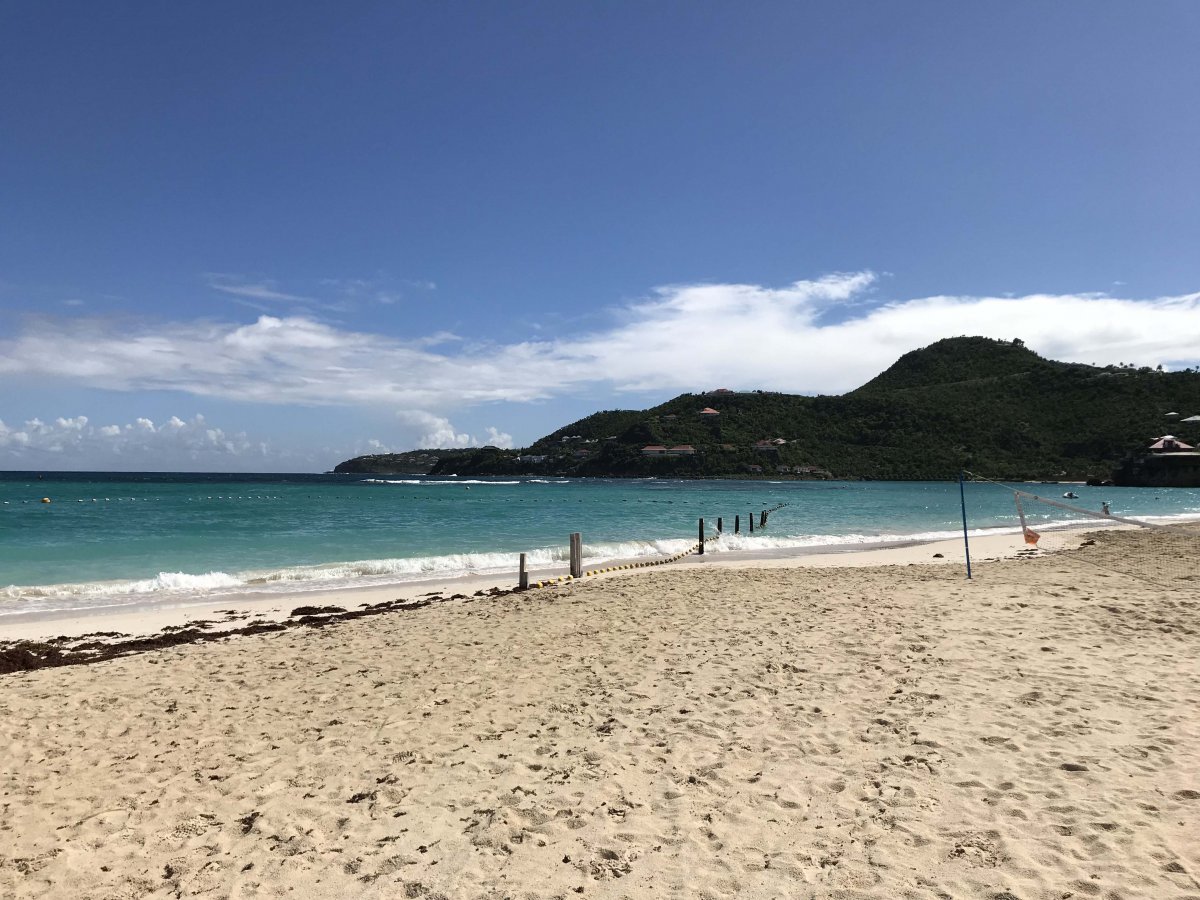 Besides being a fun area with convenience stores, little markets and cafes and boutiques, St. Jean is quite famous for the its grand sweep of beach and the Eden Rock Hotel that is (was/will be) the center of beach life there. Surprisingly, St. Barth is a fun little surfing destination during the right swell, and you'll see surfers out at St. Jean on a regular basis. It can get quite fun, and there are surf shops here (our Concierge should also be able to hook you up).
We liked St. Jean because it felt a like a complete neighborhood unto itself, meaning you didn't need to go into Gustavia if you didn't want to, as the local shops and the big mall across the street from the airport have everything you can possibly need, including a supermarket to stock up your villa!
If you like the idea of staying right on the beach, then the aptly named St. Barts Beachfront Villa may be for you. The villa is an updated and modern four-bedroom beachfront property. The home comes with a great pool and even a little "nanny cottage" in back yard. The home is a favorite of Hollywood A-listers vacationing with family.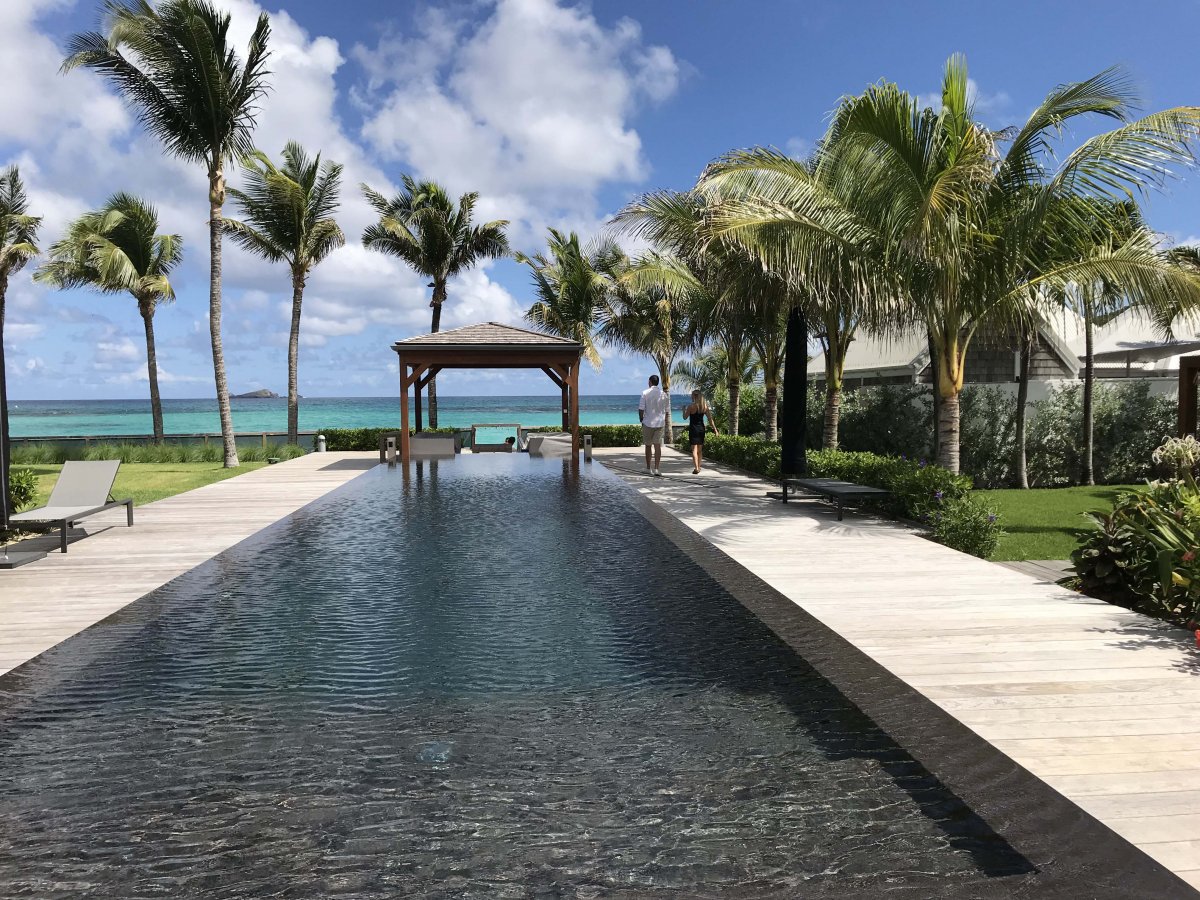 What we liked about St. Barts Beachfront Villa:
Beautiful beachfront property on St. Jean beach – one of the best beaches on St. Barts– a local favorite, also good for surfing!
Four-bedrooms, all with en-suite baths
Massive overflow pool on the beachfront patio
Gazebo on the beach-side
Pearl Beach, the restaurant of the Tom Beach Hotel, is "a stone's throw away" – perfect for beers and cocktails
Superette/Super Market close
Could work for two or three families traveling together
There is a separate living area from the bedrooms that's nice for entertaining
Considerations:
On the beach, so be sure to watch little kids and no swimming past the designated areas.
Saline Beach – St. Barth
Going down to the south side of the island, Saline is another special area on St. Barths due to its sense of remoteness. It's quite strange as nothing is far from anything else on this island, though Saline feels somewhat remote.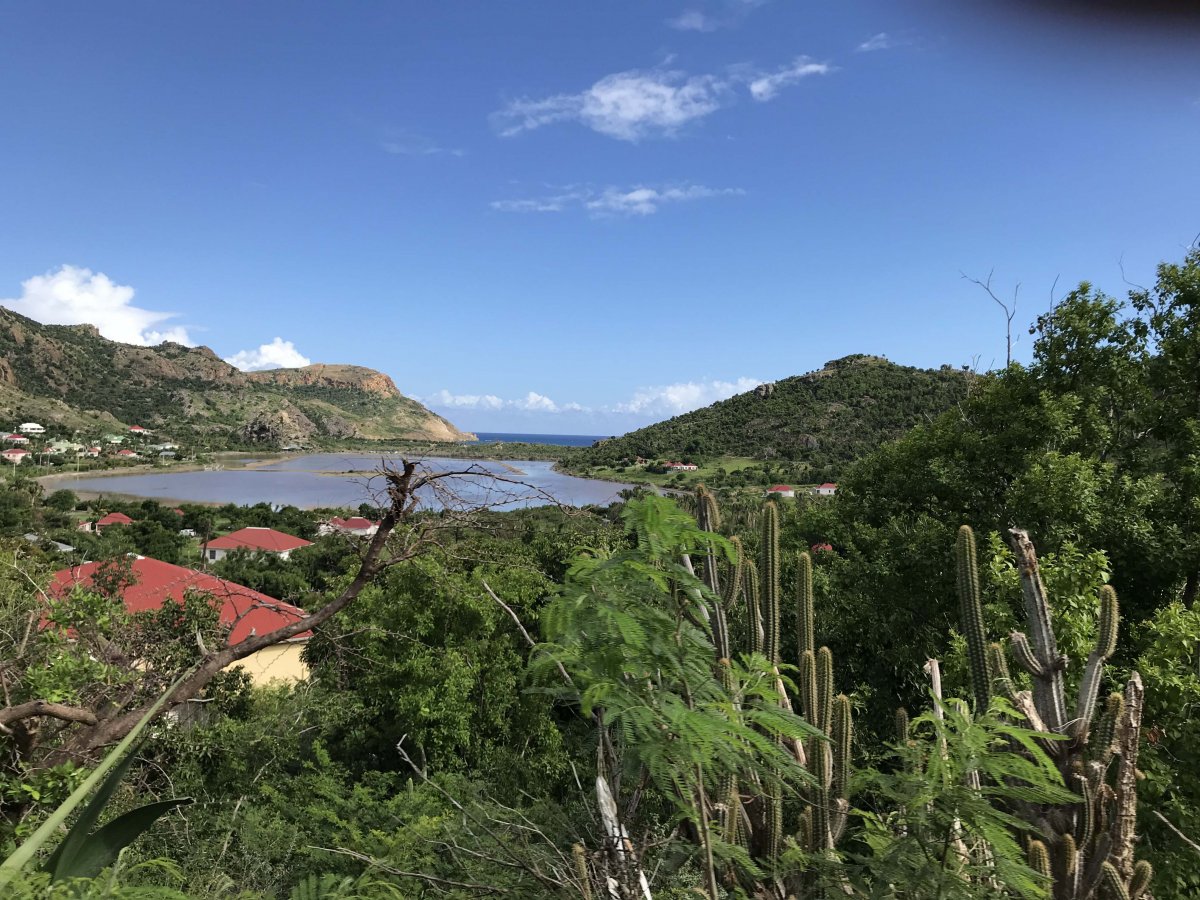 The area gets its name from its original role in salt production, you can still see the salt ponds as you approach (above). The beach is quiet, the water is Caribbean blue, and there is a nature reserve on one end. This leads us to our next dramatic home.
If you are looking for a large villa that will offer total privacy or a villa that can host an incredible destination wedding if desired, consider Dunes. This home makes a statement. From its hulking size to the edgy, modern, open-air architectural concepts, it could easily feature as the St. Barth retreat of a sexy James Bond villain.
The villa sits on the other side of a nature reserve on Saline beach, so it's VERY private and BIG – good for destination weddings. It's an extravagant home that's very modern, with a massive driveway that goes under the house and allows guests to go directly into the home, almost like a hotel.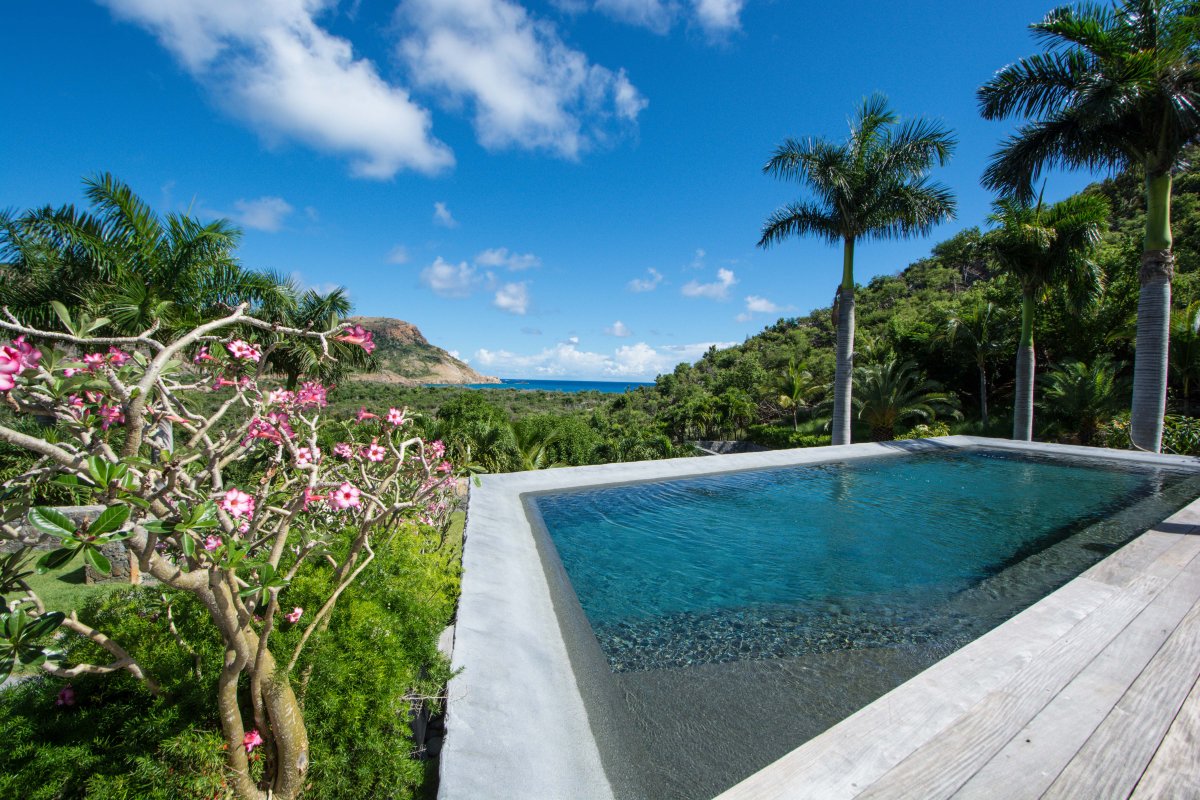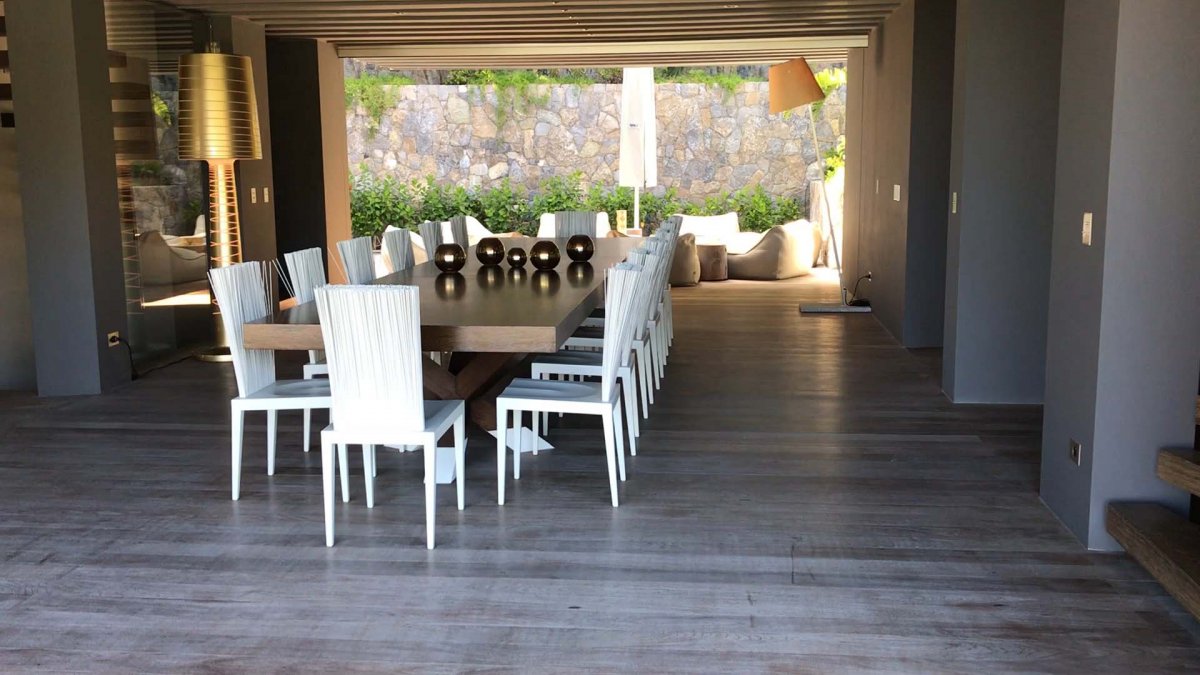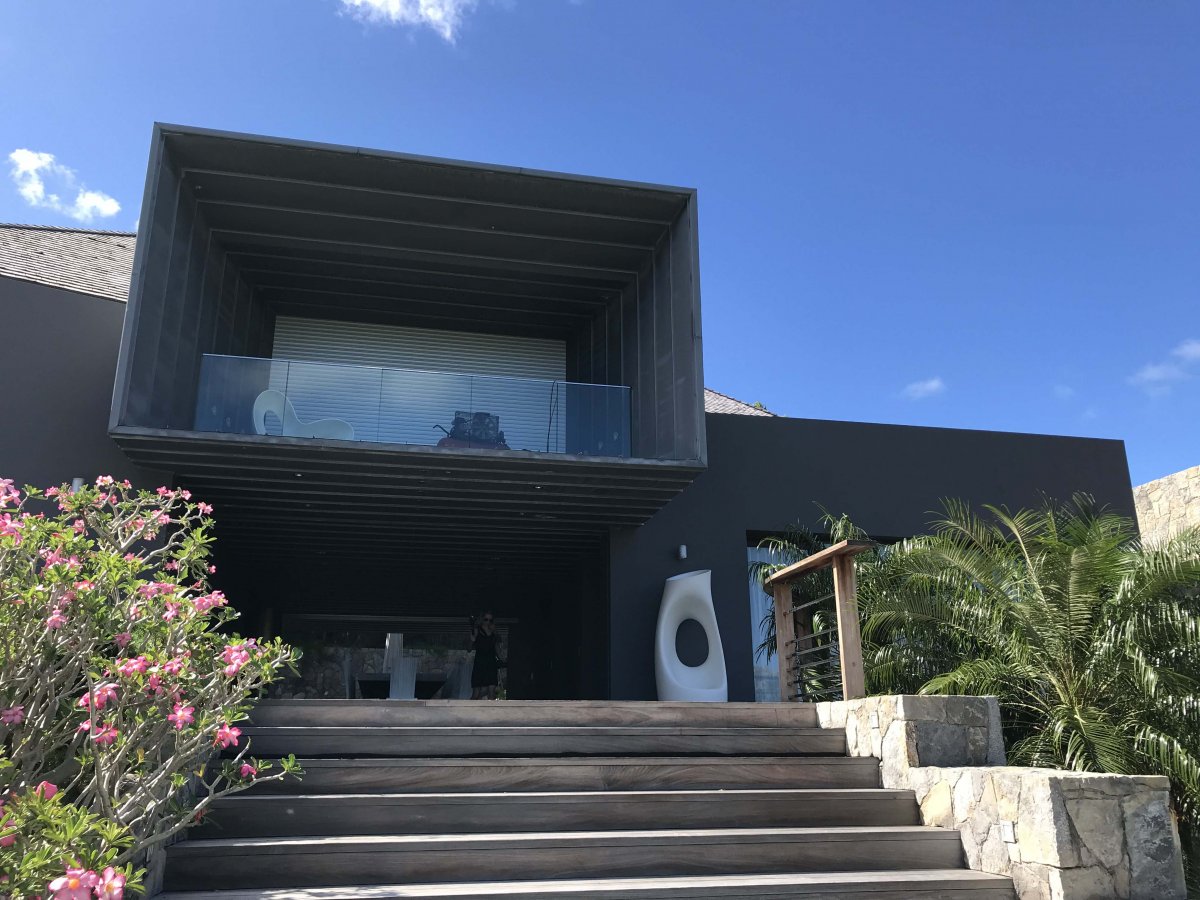 What we like about Dunes:
Extremely private villa – you are in your own world here
Private road to get to the villa at end of Saline Beach
Easy beach access
Ideal for big events and destination weddings
Huge open dining, living and kitchen area, this is about entertaining
All bedrooms are en-suite and have terrace access
Massive pool area on two levels
On-site caretaker
Considerations:
15-minutes to town
Premium budgets
Gouverneur St. Barths
Located down on the southern point of St. Barts is the gorgeous area of Gouverneur. This area is next to Saline and just beyond Lurin. What striking about Gouverneur is its beach. Truly a stunning stretch of sand that is literally home to billionaires. Lucky for you, you can stay above the beach and look down on the entire epic, from a lofty perch, in utter comfort.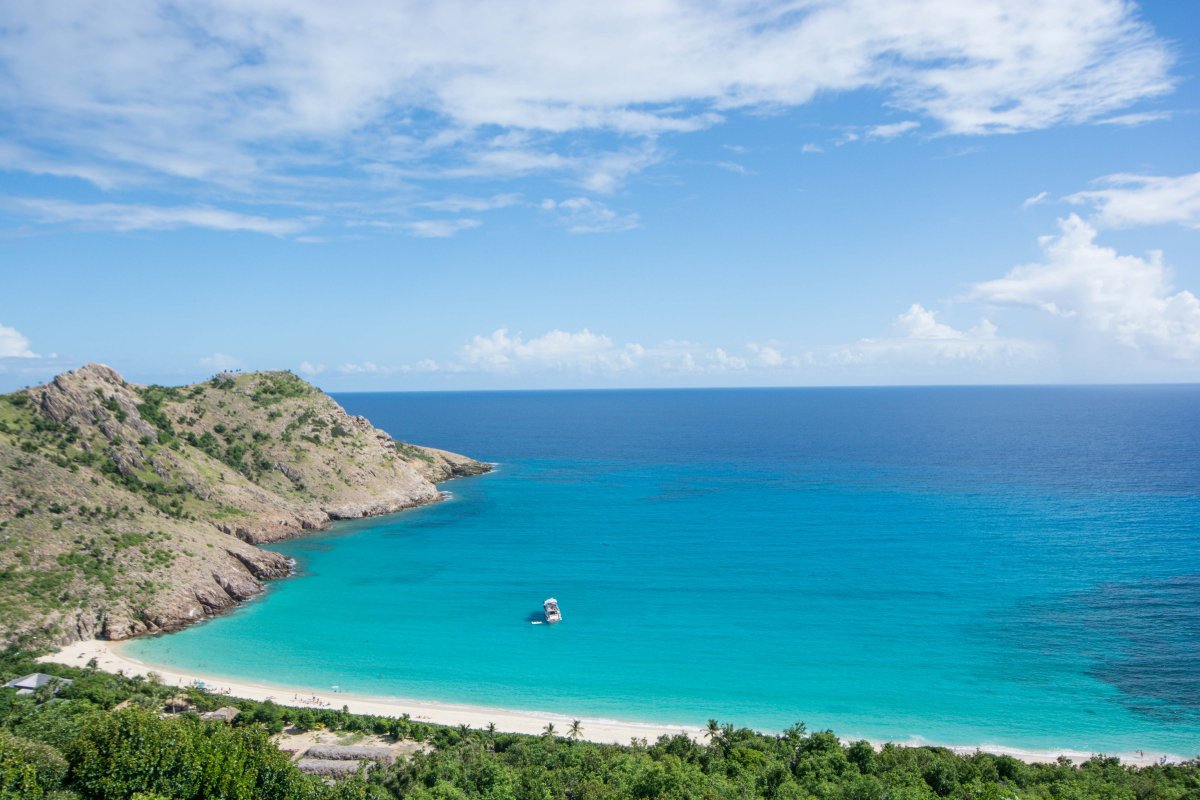 There are three properties at the top here that can be rented together if there is a large party, but we're going to focus on just two.
This villa is the highest of the set of three. It's very clean looking with an unbelievable infinity pool, designed so the pool meets the Caribbean in the most dramatic way. It almost seems as though sailboats anchored below are going to sail right into your pool! This property is modern and bright and comes with a view that will take your breath away.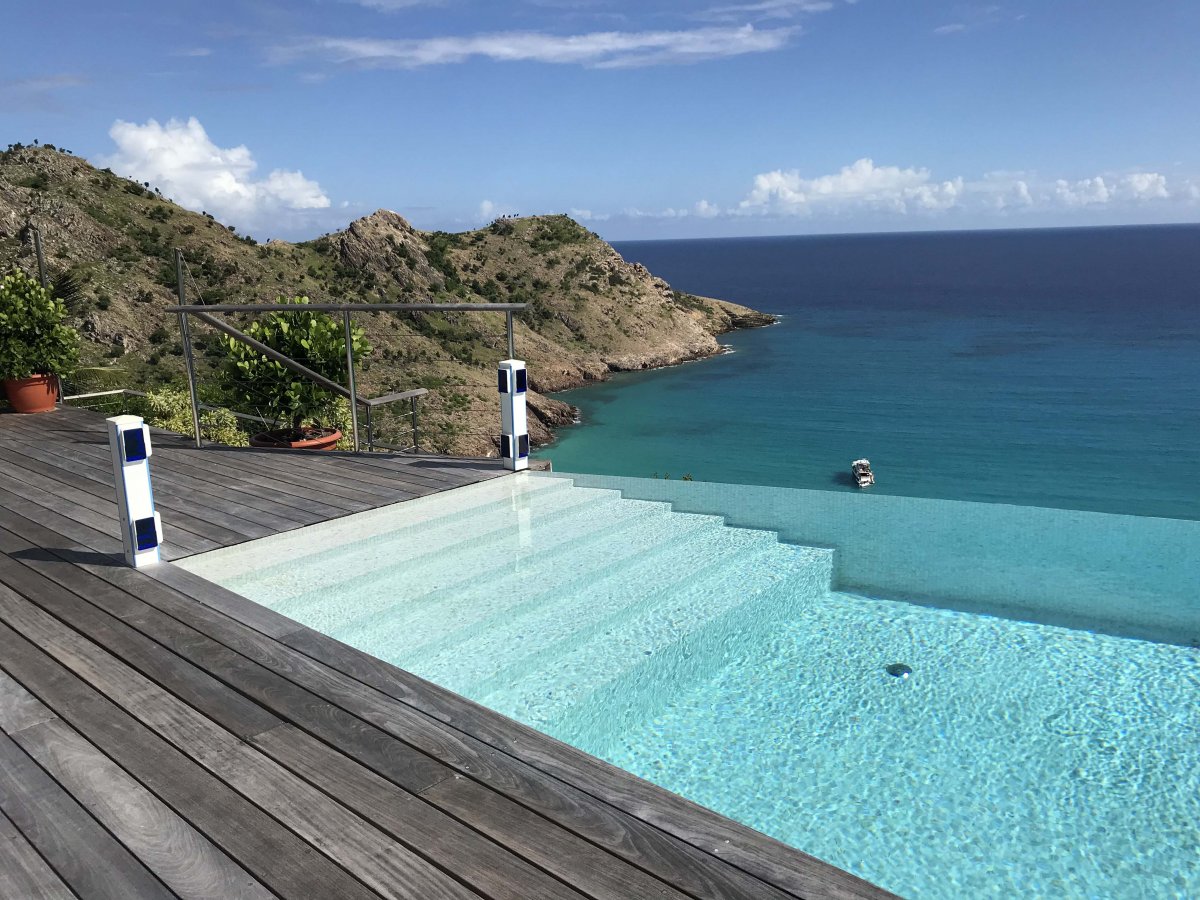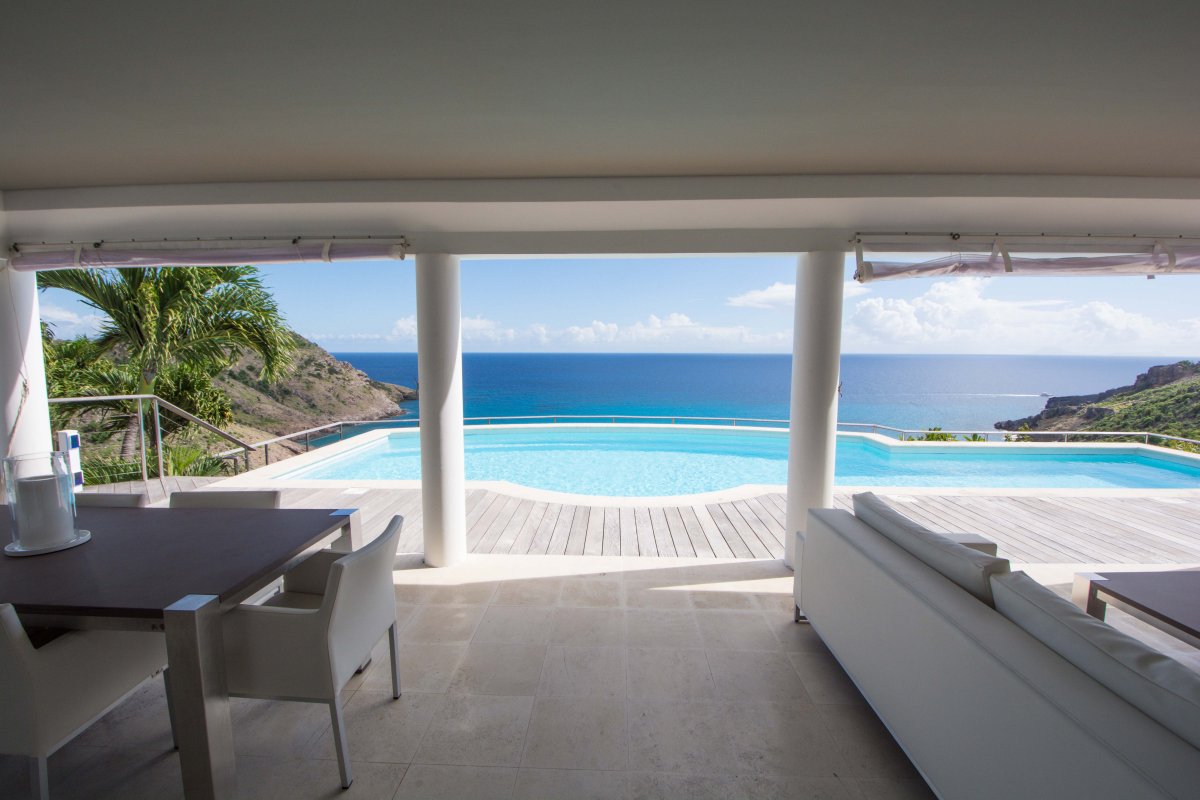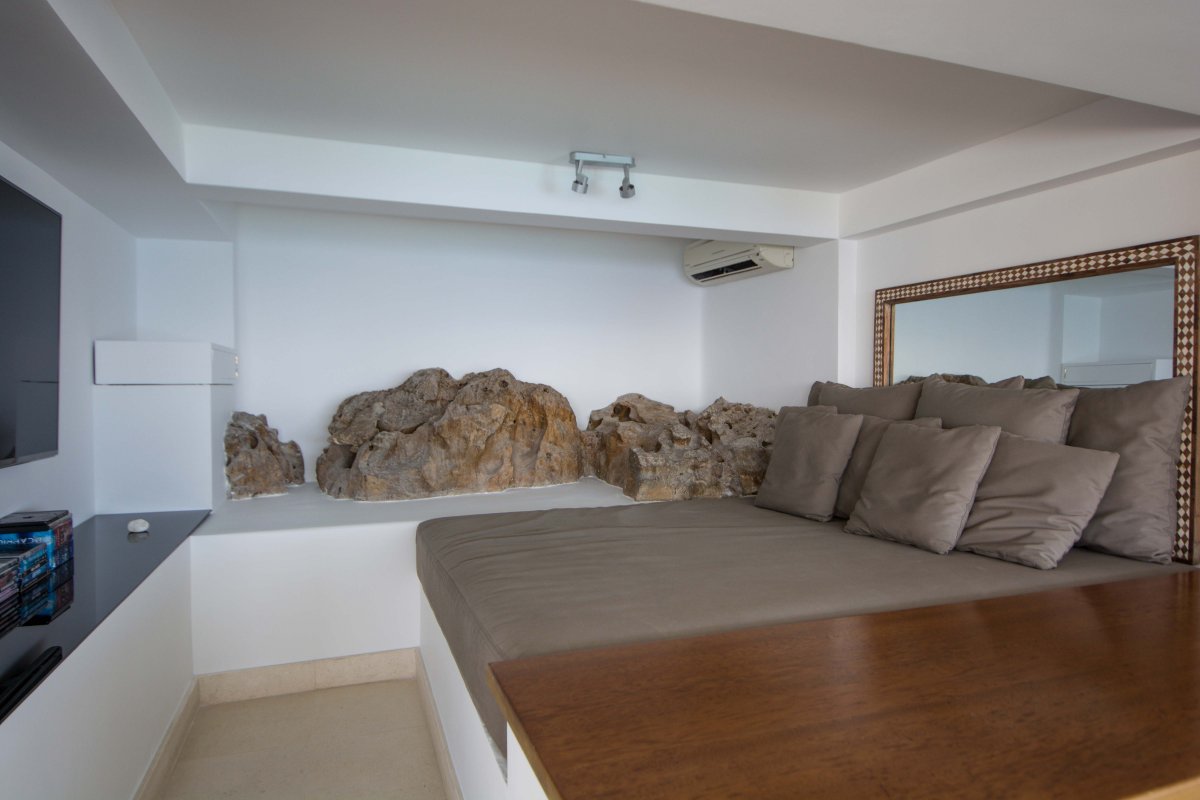 What we like about it Gouverneur Beach Villa:
Crazy gorgeous infinity pool and terrace view – billion-dollar views
Very updated with clean surfaces and mod, but comfy, furniture design
Unparalleled views of the beach below
Fun architectural elements that make use of its position at the top of a rocky cliff. The rock is incorporated into two of the rooms, a TV viewing bed/ "bedroom" downstairs and the bathroom next to it. Kids young and old will LOVE this little nook for watching TV and sleeping. Very unique.
Modern, clean kitchen.
Could work for a family or friends sharing.
Considerations:
Gouverneur Jewel – Located in Gouverneur
This is a one-bedroom villa, with a very unique interior design, totally different from the others. This sleek villa screams romantic weekend for two or honeymoon. It's located in between two other villas but is totally private.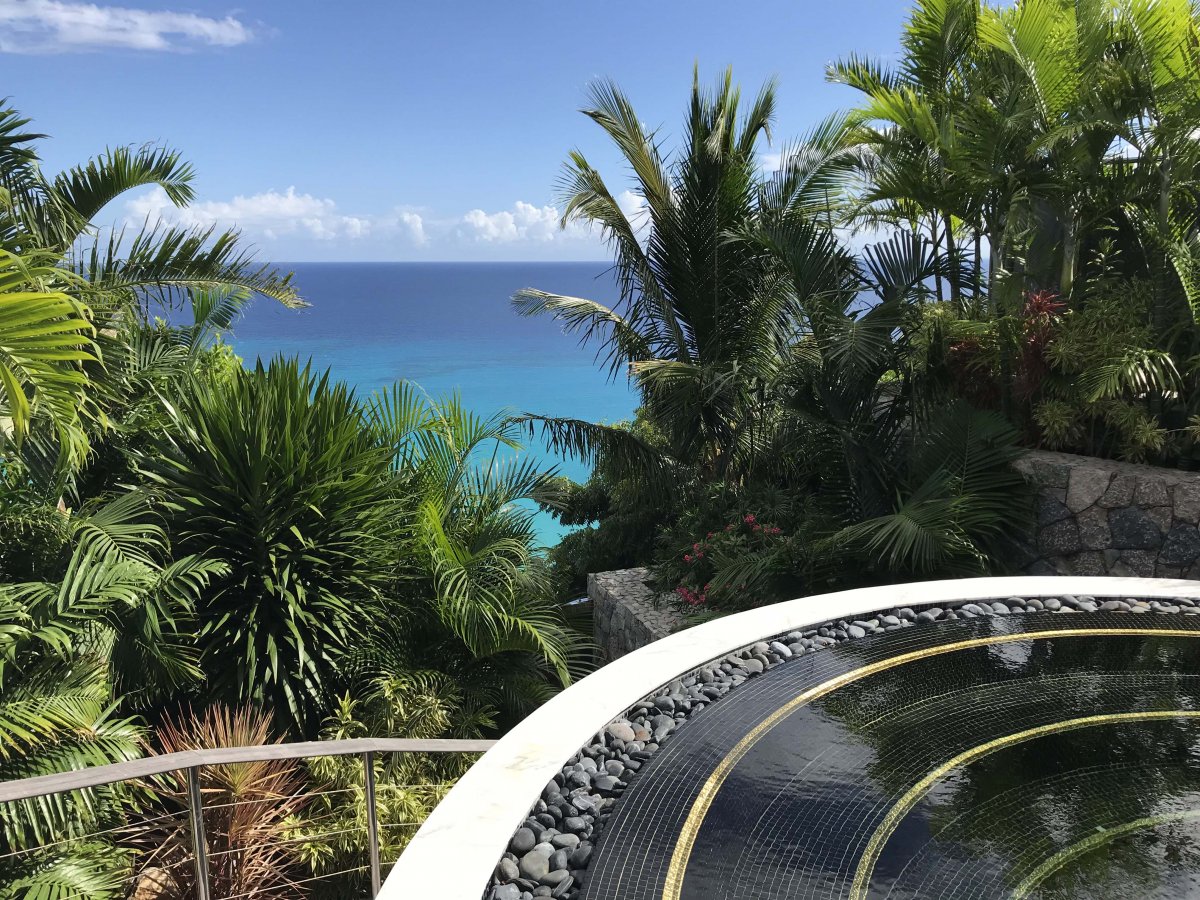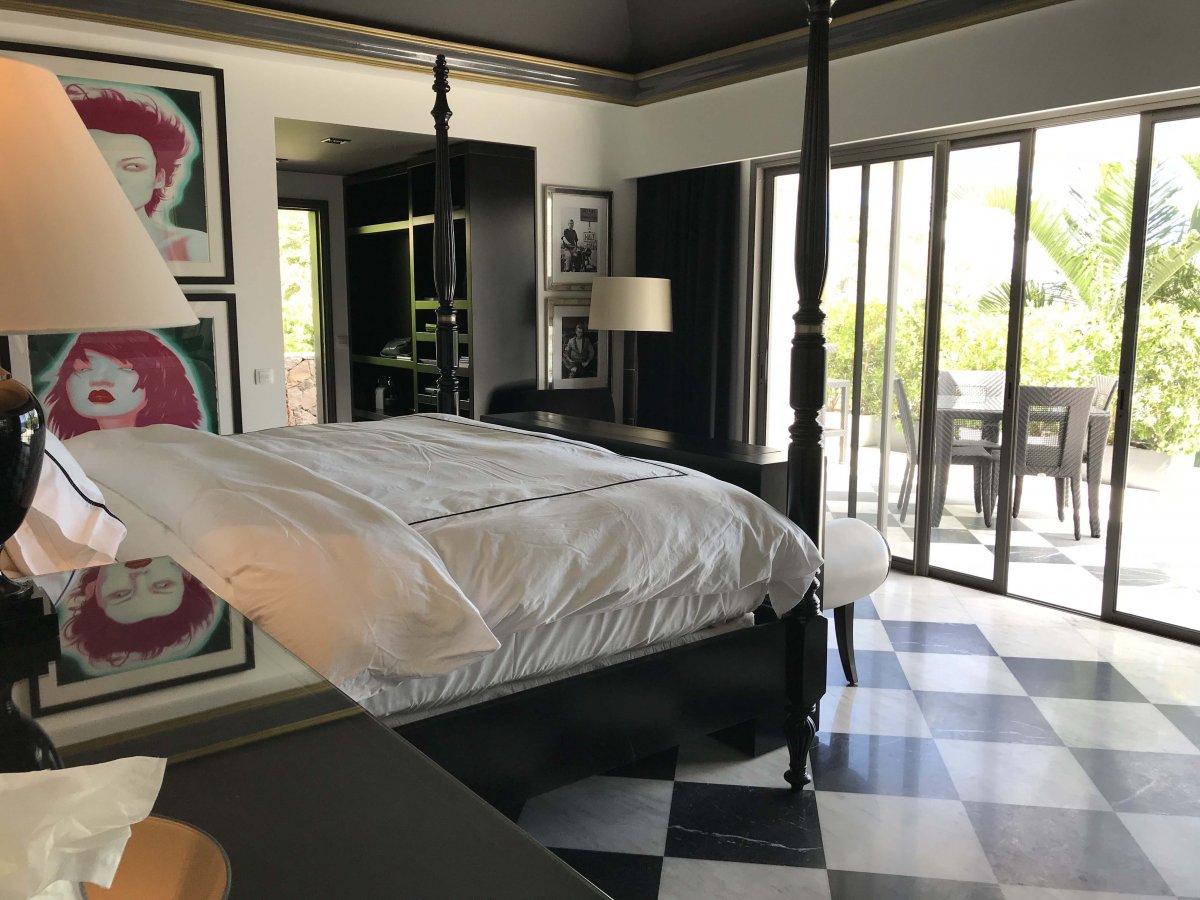 What we liked about Gouverneur Jewel:
Very sexy design – private round pool with black and gold tiles
Good size for a one-bedroom
Totally updated
Private outdoor setting, this place screams clothing optional, nobody can look up or over and see people in the pool or on the small deck.
Steam room/Hammam
Considerations:
Petite, designed for a couple. No families or sharing.
Not so much about the view as it's got lots of vegetation around for privacy.
Kitchen alcove – not for people looking to play gourmet chef on their vacation
Anse des Cayes – St Barths
This little neighborhood is just over the saddle of the island, to the north of Gustavia. Driving from Gustavia you climb to the top of a hill and bear left at a roundabout that takes you up and over to the neighborhood. It's a nice spot because the airport and St. Jean are just as close as Gustavia.

Also, right in front of the airport is the largest shopping mall on the island, making it an essential spot to stop and purchase items for your villa. The island's largest supermarket is located there, so it's easy to run over to the shops from your villa in this area.

Many of the homes in Anse des Cayes sit over a gorgeous sweep of beach, which is often barking with waves. It's a favorite spot of surfers but it can be rocky so perhaps not the best swimming beach. Lovely for walking and there is a little liquor store just down by the water. However, this little spot feels quiet and neighborhoody, and we loved its position that made it close to town, the shops at the airport mall, and to the beaches at St. Jean and Lorient.

A gorgeous little two-bedroom villa boasting incredible views of the Caribbean, this charming abode boasts a classic Caribbean style.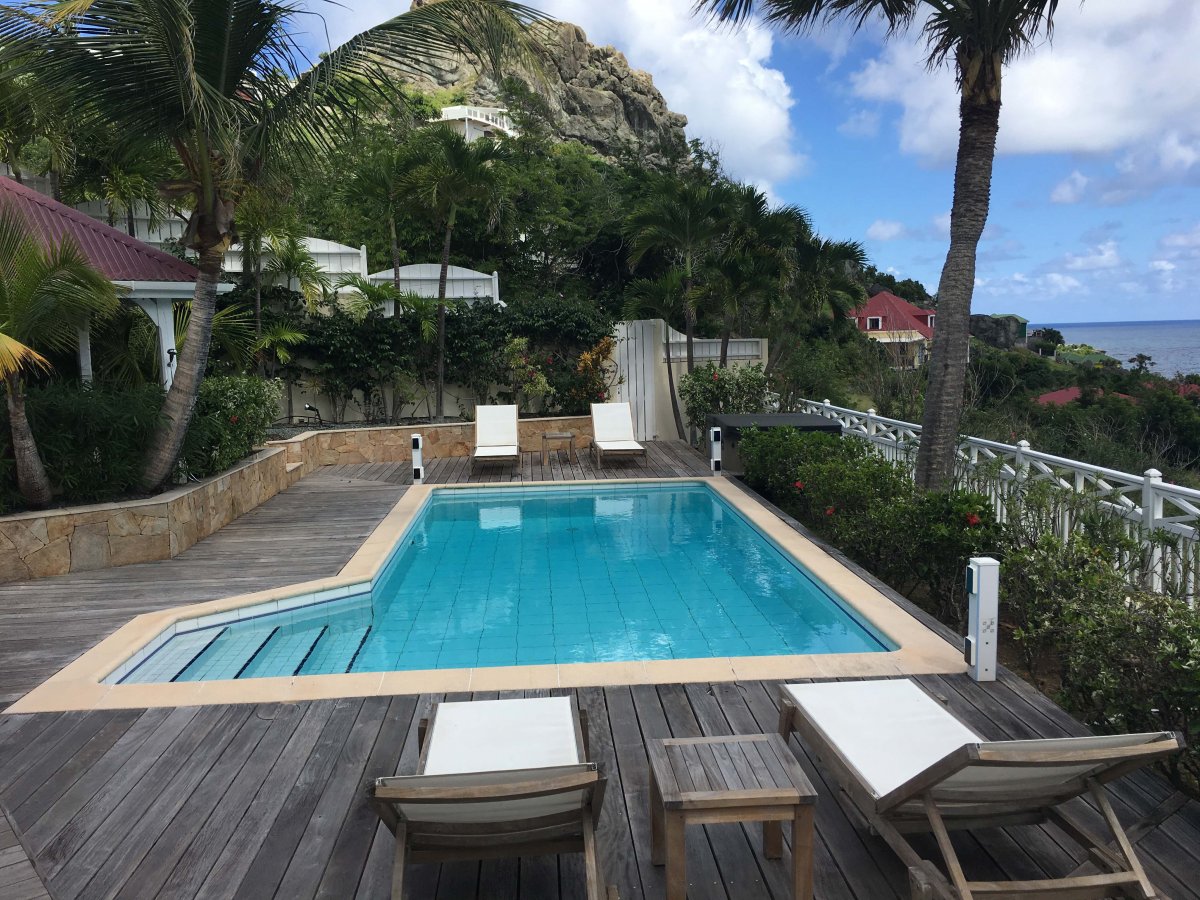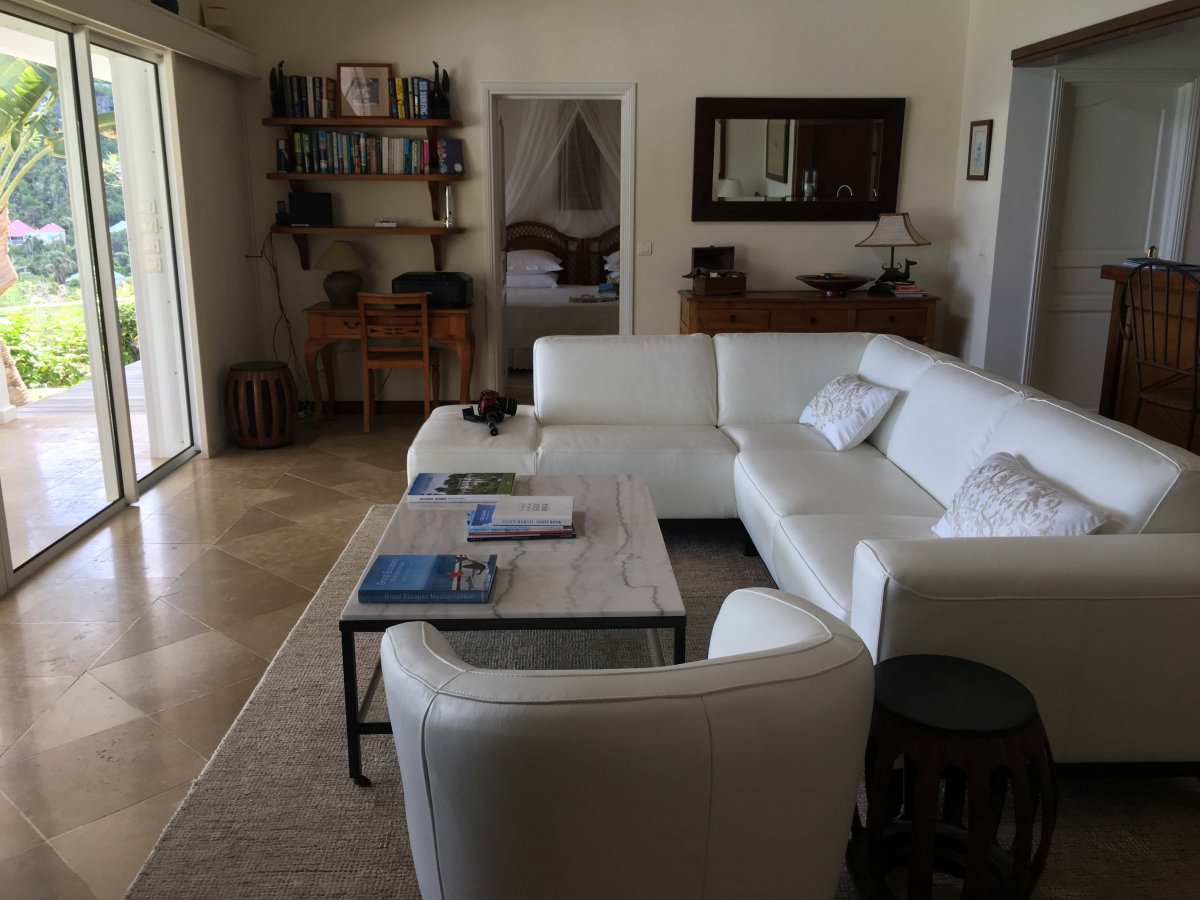 What we liked about Villa Cayes:
Clean and simple
Classically Caribbean with lots of wood and teak with a nautical theme.
Beautiful views of the bay
Walking distance to the best surf beach on island
Large outdoor area with shaded gazebo.
Considerations:
No brainer! Perfect for friends sharing or a small family.
Anse du Petit Cul de Sac – St. Barth
Located in the far eastern side of St. Barth is the area of Petit Cul de Sac. You're only perhaps 15 or 20 minutes from Bulgari and Cartier in Gustavia, but it's feels a world away. In this section of the island, the ocean waves can be strong. There are some spas and activities to be enjoyed here, so you may not find any reason to leave Petit Cul de Sac!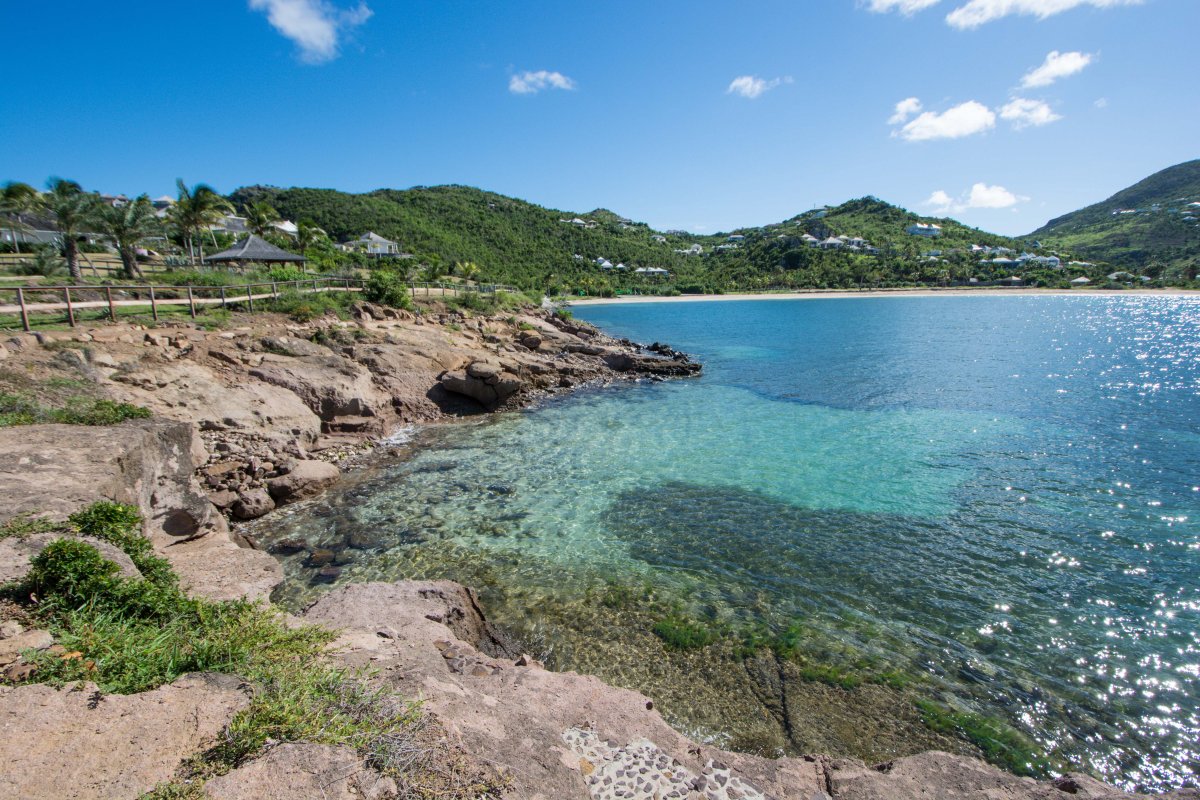 Located at the end of a private drive, with a commanding presence on a massive tract of oceanfront land, we found a chic and family-friendly four-bedroom property that ends on a dramatic beach – rocky but you are walking distance to famous natural rock pools that more adventurous types will enjoy.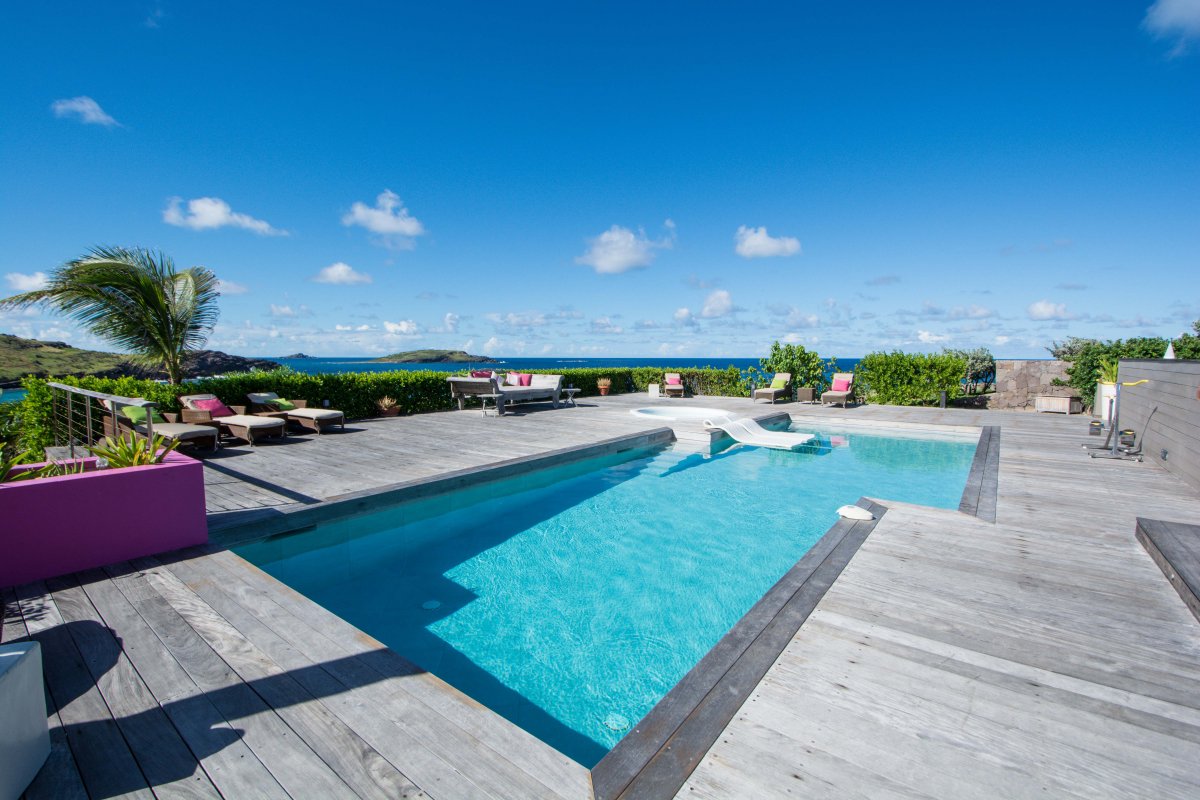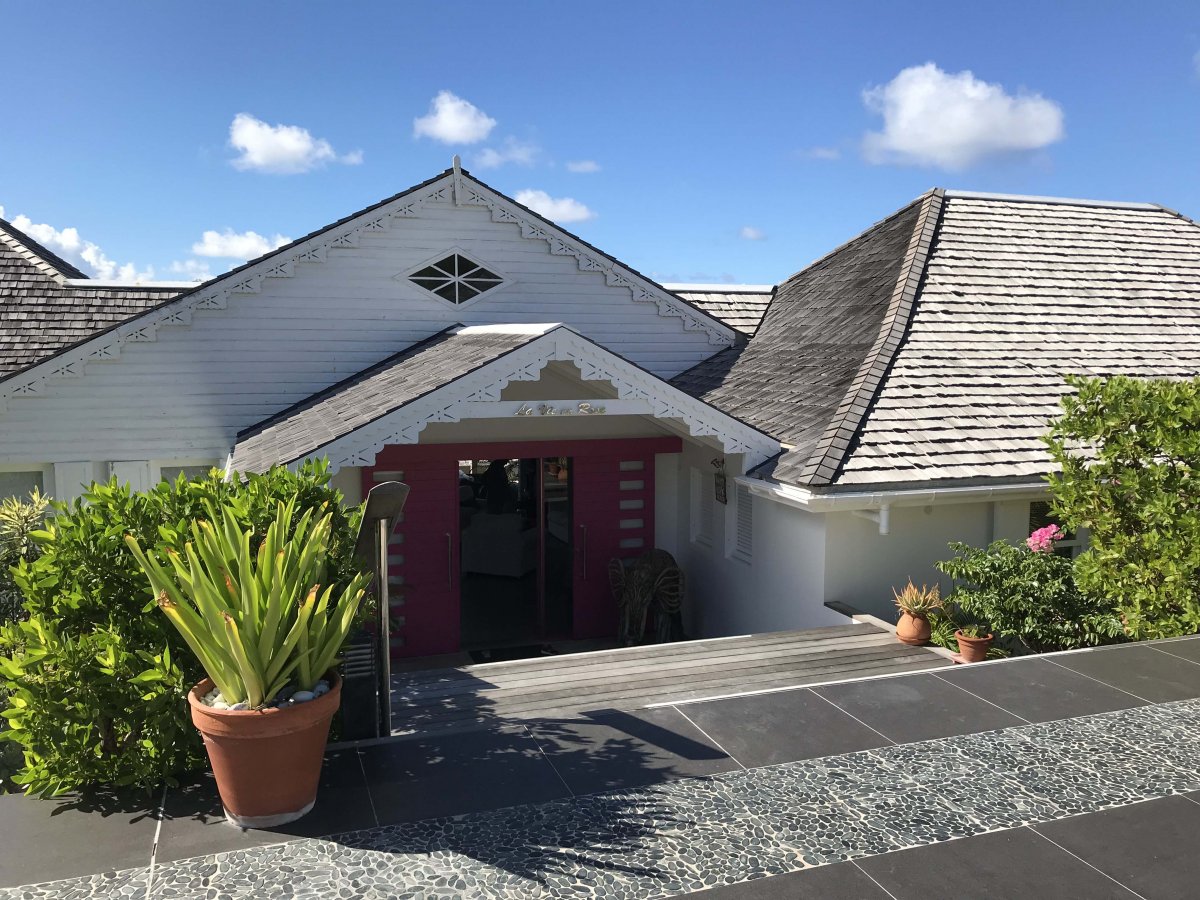 What We Like About St. Barts Seaside Villa:
Private road
Location is incredible – very large oceanfront property with a walking path to the beach and natural pools.
Warm and friendly – would fit in with East Hampton with ease; it has an East Coast sort of lived-in upscale quality
Private gym, good for families sharing as well
Massive deck with pool and covered dining area that walks down to yard.
Great for an event or destination wedding.
This is luxury and family-friendly at the same time, again, like an old family beach house out on Long Island.
Consideration:
One of the furthest from Gustavia – about a 15 or 20-minute drive, but the location could not be more peaceful, utterly private and relaxing.
These are just a few spots to get your St. Barth vacation ideas flowing. There's also Lurin and Lorient, and all of them offer something special.
Contact us today and we'll connect you with a luxury Exotic Estates St. Barth Vacation Rental!